California's reparations task force met again on Friday in San Diego with public comment from speakers who urged bold action and for the state to go forward with payments to African Americans as repayment for slavery. After comments by Dr. Shirley Weber, California Secretary of State, one speaker blasted the suggested amount of $223,000 per resident as insufficient.
Reverend Tony Pierce came to the microphone and slammed the idea of limiting the cash payouts to California residents: "There should be no residency requirements for California! We have to encourage our people to come back to California! What better way to encourage our people to come back to California if we have no requirements?"
"How will reparations be paid?" he added. "Immediately!"
After being told that his time is up, Pierce yelled at the audience, "And $200,000 is not enough! $223,000 is not enough!"
In December, one attendee at the task force meeting called for $350,000 per eligible individual.
California resident and Civil Justice Association of California member Marcus Champion called for "direct cash payments, tax-exempt status, free college education, grants for homeownership, business grants, access to low to no business funding and capital." He called for the creation of The Office of American Freedmen Affairs to handle eligibility on reparations.
Speaker Josiah Williams, a member of American Redress Coalition of the California Bay Area, called for a specific targeting of the reparations claims.
"I wanted to add that if there is anyone else who has their own claim, they can definitely write it up, get someone to champion it and I would support them in that effort," he said. "But this is for a specific group of people."
California Secretary of State Weber opened the comment period to the public by imploring action on reparations.
"I want to make sure that the work gets done and the work continues. San Diego has turned out because they want to know what you're going to do," she said. "They want to impact it, and they are strong supporters of reparations. And we will need every supporter in California and beyond to pull this off."
California was admitted to the union on September 9, 1850 as a free state.
According to the State of California's Department of Justice website, the bill AB 3121 "charges the Reparations Task Force with studying the institution of slavery and its lingering negative effects on living African Americans, including descendants of persons enslaved in the United States and on society."
The website also cautions anyone expecting quick action in 2023, saying, "Under AB 3121, any reparations program will need to be enacted by the Legislature and approved by the Governor. The Reparations Task Force's role is to develop recommendations for future Legislative action. Therefore, at this time, there is no claims process."
The New York Post reported on January 16 that San Francisco was considering a "one-time payment of $5 million to each Black resident of the city deemed eligible as recompense for the "decades of harm they have experienced."
Meanwhile, the California Reparations Task Force has a July 1, 2023 deadline to report to the state legislature with recommendations.

⬇️ Top Picks for You ⬇️
Biden Dog Bites Another Secret Service Agent; 11th Incident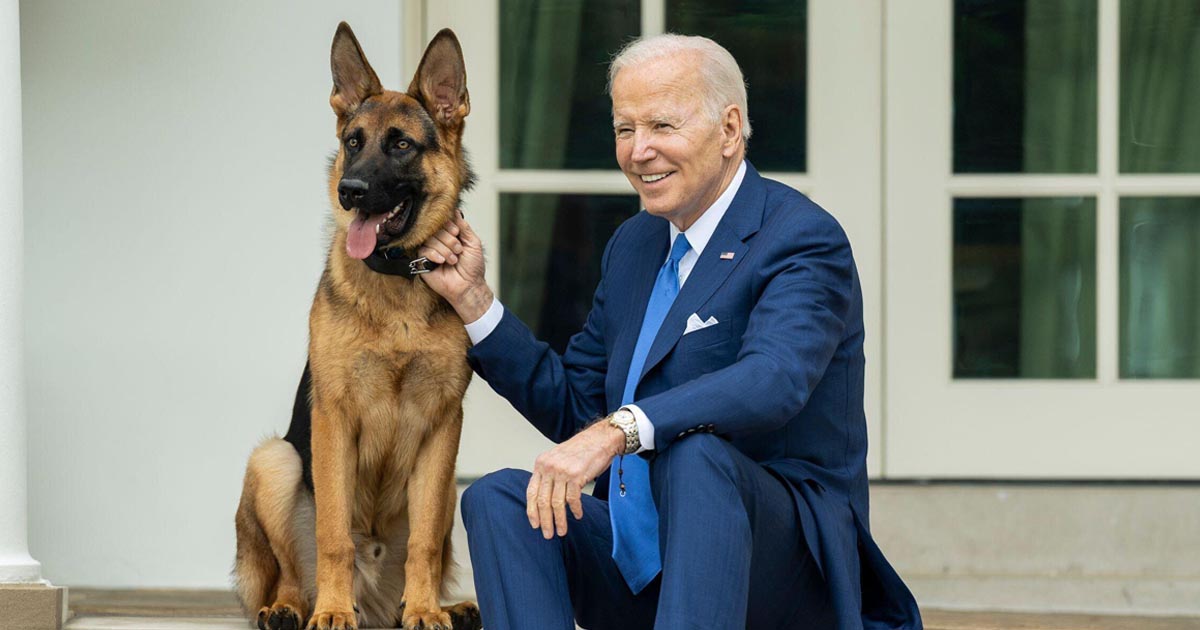 President Joe Biden's younger dog, Commander, bit another US Secret Service agent at the White House Monday evening, CNN has learned, the 11th known biting incident involving the 2-year-old German Shepherd.
"Yesterday around 8 p.m., a Secret Service Uniformed Division police officer came in contact with a First Family pet and was bitten. The officer was treated by medical personnel on complex," USSS chief of communications Anthony Guglielmi told CNN in a statement.
The injured officer spoke with Secret Service Uniformed Division Chief Alfonso M. Dyson Sr. on Tuesday and is doing OK, Guglielmi said.
Commander has been involved in at least 11 biting incidents at the White House and in Delaware, according to CNN reporting and US Secret Service email correspondence, including a November 2022 incident where an officer was hospitalized after the dog clamped down on their arms and thighs.
White House officials said in July that the Bidens were working through new training and leashing protocols for the family pet following the incidents.
Asked by CNN whether the new training had taken place or if any further action would be sought, Elizabeth Alexander, communications director for the first lady, said in a statement that "the First Family continues to work on ways to help Commander handle the often unpredictable nature of the White House grounds."
"The President and First Lady are incredibly grateful to the Secret Service and Executive Residence staff for all they do to keep them, their family, and the country safe," she continued.
Another of Biden's dogs, Major, was involved in biting incidents at the White House. The German Shepherd later moved out of the White House, and Commander arrived at the White House in 2021.
The July email correspondence, obtained through Freedom of Information Act requests by the conservative group Judicial Watch, reflected 10 incidents.
In one incident in October, first lady Dr. Jill Biden "couldn't regain control" of the dog as it charged a member of Secret Service staff.
"I believe it's only a matter of time before an agent/officer is attacked or bit," the staff member warned in an email.
While Secret Service agents are not responsible for the handling of the first family's pets, they can come into frequent contact with the animals.
"This isn't a Secret Service thing. This is a this is a workplace safety issue," CNN contributor and former USSS agent Jonathan Wackrow told CNN.
"There's uniqueness here where it's the residence of the president of the United States, but it's also the workplace for hundreds, thousands of people. And you can't bring a hazard into the workplace. And that's what is essentially happening with this dog. One time you can say it's an accident, but now multiple incidents, it's a serious issue," he added.
Wackrow called it a "significant hazard" for agents on duty at the White House residence.
"I'm sure that the Bidens love the dog. I'm sure that it's a member of the family like every dog is, but you're creating a significant hazard to those who support you – support the office of the president," he said.