An activist protesting a bill was placed in handcuffs outside the Oklahoma State Capitol after he allegedly threw water on a state representative and then assaulted his arresting officer.
On Tuesday, dozens of so-called "trans-rights" activists gathered in the Capitol building in Oklahoma City, Oklahoma, to protest HB 2177, which would ban "gender-reassignment" surgery for almost all minors and for adults who use insurance. The bill would also ban medical professionals from prescribing puberty blockers and cross-sex hormones to children. The measure passed the House overwhelmingly, 80-18, and will be delivered to the state Senate for consideration.
Though state representatives voting in accordance with the will of their constituents would seem to be democracy in motion, some of the activist protesters became enraged after the bill passed. One such activist wearing a pride flag with the word "equality" emblazoned on it reportedly approached Rep. Bob Ed Culver (R-Tahlequah) and hurled water at him.
When a member of the Oklahoma Highway Patrol then guided the suspect out to a stairwell, the suspect allegedly threw water at the trooper and then "open-handedly hit" him "on the shoulder," KFOR reported.
As the trooper attempted to place the suspect under arrest in the stairwell, another activist, who claimed to be married to the suspect, experienced an emotional meltdown. "He's trying to assault my partner!" the apparent male yelled before repeatedly shrieking for help.
Another trooper then responded that help had arrived. "We're right here," the trooper assured the overwrought protester, but his assurances did little to assuage the person in the "transgender" cape, who then screamed that the officers were "actively suppressing" the protesters.
The entire incident was caught on camera, though the alleged attack against Rep. Culver is difficult to see.
Culver has released a statement, confirming that he intends to press charges. "If water being thrown on me had been the extent of the action taken, I would not have given it a second thought," the statement said. "However, I cannot stand by while our highway patrolmen are assaulted for simply doing their jobs.
"Taking all of that into consideration, I have decided to press charges against the individual who assaulted me and the patrolman and will cooperate fully with the law enforcement investigation," the statement concluded.
Freedom Oklahoma, which claims to be the "only statewide 2SLGBTQ+ advocacy organization," tweeted in support of the arrested suspect and even intimated that its members may engage in further acts that defy "rules of decorum."
"It's absurd to demand that marginalized people being attacked also respond within rules of decorum that were never meant to welcome us," Freedom Oklahoma wrote in a tweet thread, adding that it has reached out to the suspect and "ensured they have access to bail support." The tweet thread also suggested that the suspect identifies as "transgender." It is unclear whether the suspect is a member of the organization.

⬇️ Top Picks for You ⬇️
Trump Suggests Manhattan DA Bragg 'Dropped' Case Against Him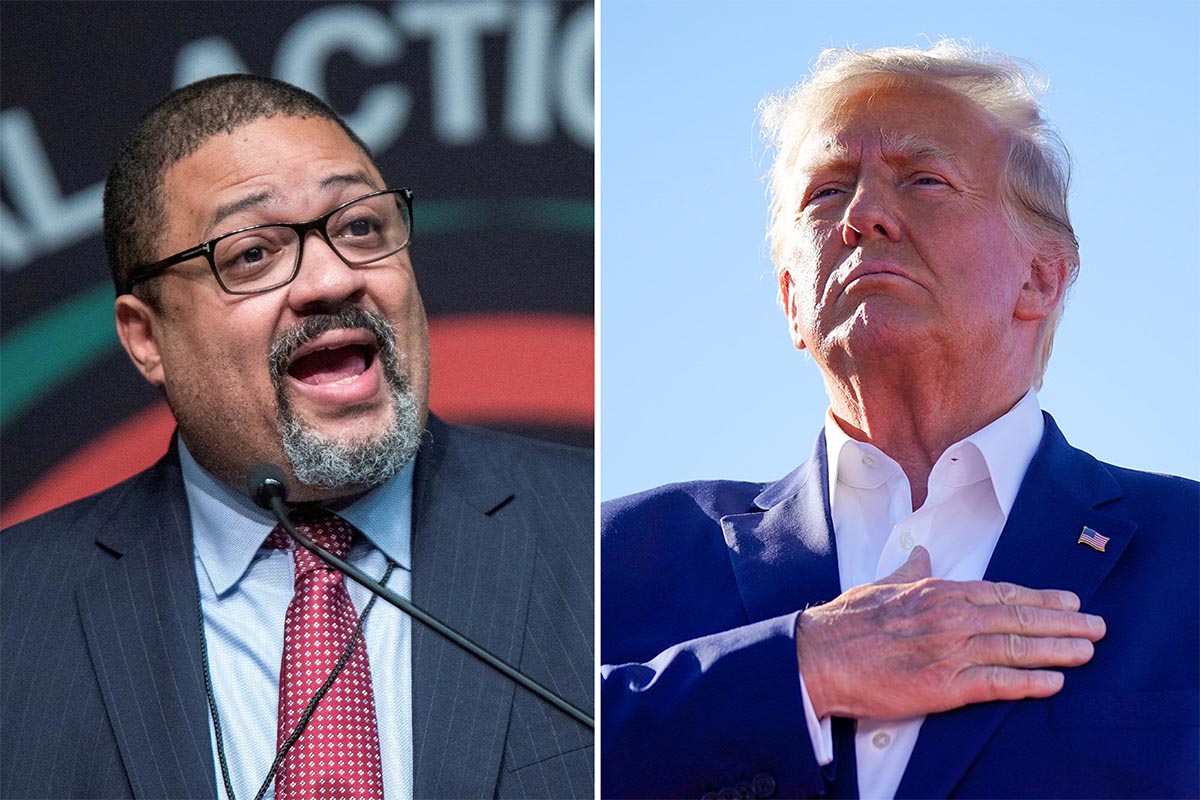 Former President Donald Trump is now suggesting Manhattan District Attorney Alvin Bragg may have dropped his case against him, about a week after he claimed he would be arrested.
After a rally in Waco, Texas, on Saturday, Trump told reporters on his plane, "I think they've already dropped the case … they have absolutely nothing." Trump did not provide evidence for his assertion Saturday.
"It's a fake case. Some fake cases, they have absolutely nothing," the former president said. Trump also reiterated his criticism of Michael Cohen, a former Trump lawyer who has testified against him in the Manhattan grand jury case and previously served time in federal prison on tax fraud and other charges.
Trump also denied mainstream media reports that suggested he was trying to incite violence with his Truth Social posts that criticized Bragg's investigation: "No, I don't like violence and I'm not for violence. But a lot of people are upset."
On Truth Social, the former president made a similar statement regarding his belief Bragg's case is "DEAD." He wrote that the "Witch Hunt against me is DEAD, no evidence at all, & it has been conclusively proven that I did nothing wrong." He dismissed Cohen as a "disbarred lawyer & convicted Felon."
Last week, an attorney in Trump's circle, Robert Costello, told media outlets that he testified before the grand jury and sought to denigrate Cohen's testimony against the 45th president in the investigation, which reportedly is connected to so-called hush money payments that were given to adult performer Stormy Daniels during the 2016 presidential campaign. A lawyer for Cohen, when reached for comment, declined to issue a statement, although Cohen told MSNBC last week that Costello never represented him and disputed his testimony.
Bragg's has not returned a request for comment, and The Epoch Times cannot verify the authenticity of Trump's claims. Previous Epoch Times requests for comment from the DA's office have gone unanswered.
Over the past week, Bragg's office has issued one public statement on the case, and that came in response to a House Republican letter seeking testimony and information about the DA's case or whether his office would arrest Trump. A letter sent by his general counsel said that it was Trump who created a "false expectation" he would be indicted last week, although he provided no other details.
Responding to the House GOP's letter, Bragg's counsel wrote that it "only came after Donald Trump created a false expectation that he would be arrested the next day, and his lawyers reportedly urged you to intervene. Neither fact is a legitimate basis for congressional inquiry."
During the Waco rally, Trump declared that his "enemies are desperate to stop us" and that "our opponents have done everything they can to crush our spirit and to break our will," and that the Manhattan district attorney was investigating him "for something that is not a crime, not a misdemeanor, not an affair."
He added: "But they failed. They've only made us stronger. And 2024 is the final battle, it's going to be the big one. You put me back in the White House, their reign will be over and America will be a free nation once again."
Trump did not make any direct references in his speech to Waco's history, telling the crowd of thousands that he told Lt. Gov Dan Patrick he wanted to hold his rally in a place with overwhelming support, not "one of those 50-50 areas," and said he told Texas officials, "Let's go right into the heart of it."
At several points, Trump criticized Florida Gov. Ron DeSantis, who, despite not announcing it, has long been expected to run for president in 2024 and is seen as Trump's strongest potential challenger for the GOP nomination. Trump called his onetime ally disloyal and said he was "dropping like a rock" in the polls.
In addition to the Manhattan case, Trump is also facing an investigation in Georgia as well as federal investigations into his handling of allegedly classified documents and possible obstruction, as well as statements he made on Jan. 6, 2021. The former president has denied wrongdoing in those instances.