WATCH: Bill Maher Roasts Woke Revolutionaries Who Scream at 'Reality,' Say Biology Is a 'Theory'
Comedian Bill Maher blasted woke revolutionaries who think they can change human nature during his show Friday, drawing parallels between the woke movement in the U.S. and the Chinese Cultural Revolution.
During Friday's episode of HBO's "Real Time with Bill Maher," Maher took aim at leftist activists, saying that they are actually fighting a war with reality and biology.
"If you're part of today's woke revolution, you need to study the part of revolutions where they spin out of control because the revolutionaries get so drunk on their purifying elixir, they imagine they can reinvent the very nature of human beings," Maher said.
If you're part of today's woke revolution, you need to study the part of revolutions where they spin out of control. pic.twitter.com/IYNfDhtR0C

— Bill Maher (@billmaher) February 4, 2023
Maher then discussed communists, who he said believed that they could selfishness from humanity.
"The problem with communism, and with some very recent ideologies here at home is that they think they can change reality by screaming at it, that you can bend human nature by holding your breath. But that's the difference between reality and your mommy," Maher said.
The comedian also joked that he had asked ChatGPT about similarities between Mao Zedong's Cultural Revolution in China and the woke revolutionaries of today, saying that it responded by asking him how much time he had.
Maher referenced Mao's war on the Four Olds of old thinking, old culture, old customs, and old habits before he compared communist reeducation programs to freshman orientation at American universities.
To back up his claims, Maher pointed to Jason Kilborn, a law professor who was disciplined for alluding to racial slurs in a test question about racial bias, and Winston Marshall, a former banjo player for Mumford and Sons who was criticized after sharing that he liked a book by Andy Ngo.
During the monologue, Maher also blasted those who think they can erase gender and make obesity healthy by creating a new human.
"With communists, that human was no longer selfish. In America today, that human is no longer born male or female. And obesity is not something that affects health. You can be healthy at any size. Seriously, we voted on it," Maher said.
Maher, who has been critical of gender theory in the past, blasted The Atlantic as a "formerly serious magazine" because it had published an article about not segregating sports by sex.
"I've spent three decades on TV mocking Republicans who said climate change was just a theory," he concluded. "And now I got to deal with people who say, 'You know what else is just a theory? Biology.'"

⬇️ Top Picks for You ⬇️
Biden Dog Bites Another Secret Service Agent; 11th Incident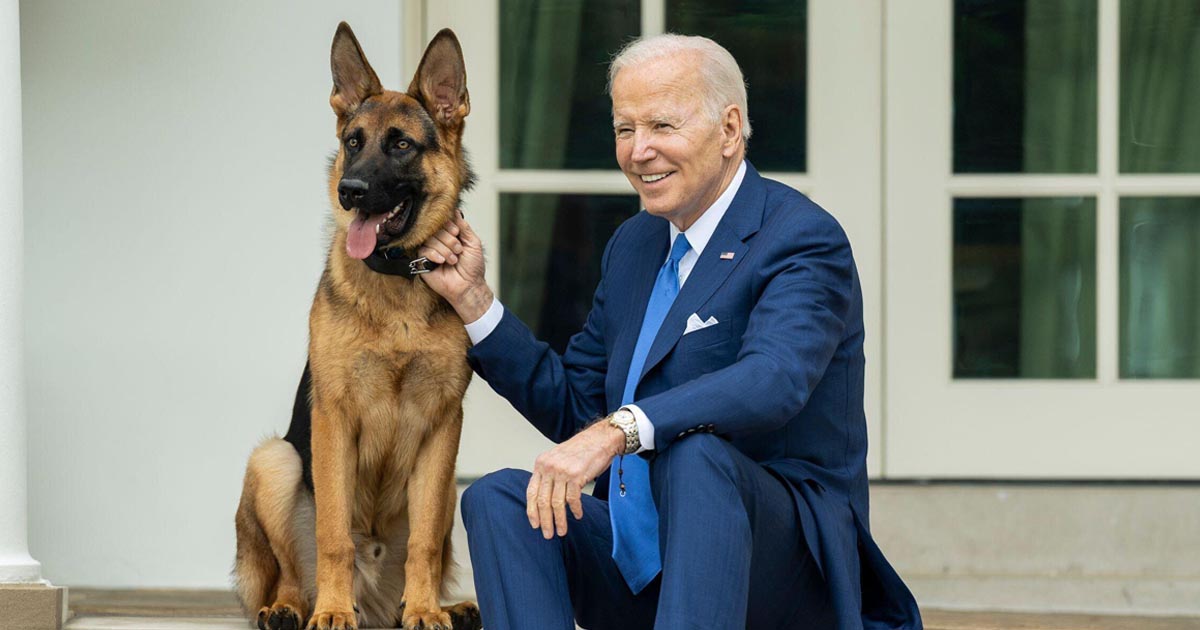 President Joe Biden's younger dog, Commander, bit another US Secret Service agent at the White House Monday evening, CNN has learned, the 11th known biting incident involving the 2-year-old German Shepherd.
"Yesterday around 8 p.m., a Secret Service Uniformed Division police officer came in contact with a First Family pet and was bitten. The officer was treated by medical personnel on complex," USSS chief of communications Anthony Guglielmi told CNN in a statement.
The injured officer spoke with Secret Service Uniformed Division Chief Alfonso M. Dyson Sr. on Tuesday and is doing OK, Guglielmi said.
Commander has been involved in at least 11 biting incidents at the White House and in Delaware, according to CNN reporting and US Secret Service email correspondence, including a November 2022 incident where an officer was hospitalized after the dog clamped down on their arms and thighs.
White House officials said in July that the Bidens were working through new training and leashing protocols for the family pet following the incidents.
Asked by CNN whether the new training had taken place or if any further action would be sought, Elizabeth Alexander, communications director for the first lady, said in a statement that "the First Family continues to work on ways to help Commander handle the often unpredictable nature of the White House grounds."
"The President and First Lady are incredibly grateful to the Secret Service and Executive Residence staff for all they do to keep them, their family, and the country safe," she continued.
Another of Biden's dogs, Major, was involved in biting incidents at the White House. The German Shepherd later moved out of the White House, and Commander arrived at the White House in 2021.
The July email correspondence, obtained through Freedom of Information Act requests by the conservative group Judicial Watch, reflected 10 incidents.
In one incident in October, first lady Dr. Jill Biden "couldn't regain control" of the dog as it charged a member of Secret Service staff.
"I believe it's only a matter of time before an agent/officer is attacked or bit," the staff member warned in an email.
While Secret Service agents are not responsible for the handling of the first family's pets, they can come into frequent contact with the animals.
"This isn't a Secret Service thing. This is a this is a workplace safety issue," CNN contributor and former USSS agent Jonathan Wackrow told CNN.
"There's uniqueness here where it's the residence of the president of the United States, but it's also the workplace for hundreds, thousands of people. And you can't bring a hazard into the workplace. And that's what is essentially happening with this dog. One time you can say it's an accident, but now multiple incidents, it's a serious issue," he added.
Wackrow called it a "significant hazard" for agents on duty at the White House residence.
"I'm sure that the Bidens love the dog. I'm sure that it's a member of the family like every dog is, but you're creating a significant hazard to those who support you – support the office of the president," he said.