Governor Ron DeSantis on Friday tackled tough questions from Real Time host Bill Maher and received repeated applause from the audience when he vowed to "clean house" in the public-health apparatus that brought about Covid lockdowns.
The center-left personality asked why DeSantis decided to run for president, given former president Trump's current domination of the GOP candidate field.
"You did not take my advice," Maher said. "I was on the show- a few times we talked- I said, 'this guy's crazy to run this time. He's- what are you, 45 years old? You just had a birthday, right?"
"Yeah," DeSantis said.
Maher remarked that DeSantis has decades ahead of him in his political career to enter the presidential race. The GOP nomination will be difficult to take from Trump, Maher suggested.
"Why run against Trump? You're trying to thread this needle that will never happen," he added. "You can't disavow him because that's the base, and yet you're running against him. And that's why, I mean, let's face it Ron, if the campaign was going well, you wouldn't be on this show."
DeSantis reminded Maher of Trump's weak spots, namely his leadership during Covid, when he elevated Dr. Fauci to advise the government's pandemic policies. After following those directives in Florida initially, DeSantis reversed course and ended lockdowns and many other Covid restrictions. The governor has been a vocal Fauci critic ever since.
"Oh that's not true," DeSantis said. "One: I don't think he can win the election. I could win the election. Two: I don't think he could actually get the job done that we need to do."
"For example, COVID. I think we need accountability for what this government did to this country with the COVID restrictions mandates and lockdowns. Donald Trump is not gonna do that… He's not going to clean house at CDC, NIH, FDA. I will do that. I will get the job done," DeSantis promised, evoking applause from the audience.
DeSantis defended his record of conservative achievements in Florida.
"The one thing about me in Florida, and even my critics will acknowledge- if he says he's going to do something, he will follow through and get the job done," he said. "So it's about the country. Are we gonna get the country turned around or not? I don't think he's a vehicle that's doing and I have been- when I supported them on things I liked. I've said it, but I've been critical about the things that he didn't do, and I'm gonna continue to do that."
After Maher knocked him for propping up Trump allies that spread the narrative that the 2020 election was stolen, DeSantis doubled down and argued that the aim was to elect Republicans to key seats and positions. DeSantis also called hypocrisy on Maher for coming from the Hollywood world in which it was very popular to spread the false claims that Russia stole the 2016 election for Donald Trump.
"Your friends in Hollywood were cutting ads telling the Electoral College to vote against Trump in the Electoral College because it was stolen," DeSantis rebutted. "They said Russia stole the election, for years they said that. So don't act like this is like a unique thing in modern history of the country."
After the audience again cheered, Maher shot back in jest, "First of all, Ron, I have no friends in Hollywood."
Most polling shows Trump ahead of DeSantis a significant margin in the 2024 race. After the first presidential debate, which Trump boycotted, Republican voters said DeSantis performed best 29 percent compared to 26 percent for conservative entrepreneur Vivek Ramaswamy, according to a Washington Post/FiveThrityEight/Ipsos poll. After the second presidential debate last week, which Trump skipped again, a plurality of Republican primary voters who watched it concluded that DeSantis won again, according to the same poll conducted immediately after the debate.
Left-wing Bill Maher can admit this, but not Donald Trump.

"It's unfair what they did to you because you did handle [COVID] better…You were right. You were like, let's protect the people who are most vulnerable and everybody else can go on with their lives." pic.twitter.com/MSJN61edWj

— DeSantis War Room 🐊 (@DeSantisWarRoom) September 30, 2023
Interview Highlights:
https://twitter.com/AmBrushfire/status/1708035053685538906

⬇️ Top Picks for You ⬇️
Biden Got Recurring $1,380 Payment from Hunter's Firm Starting in 2018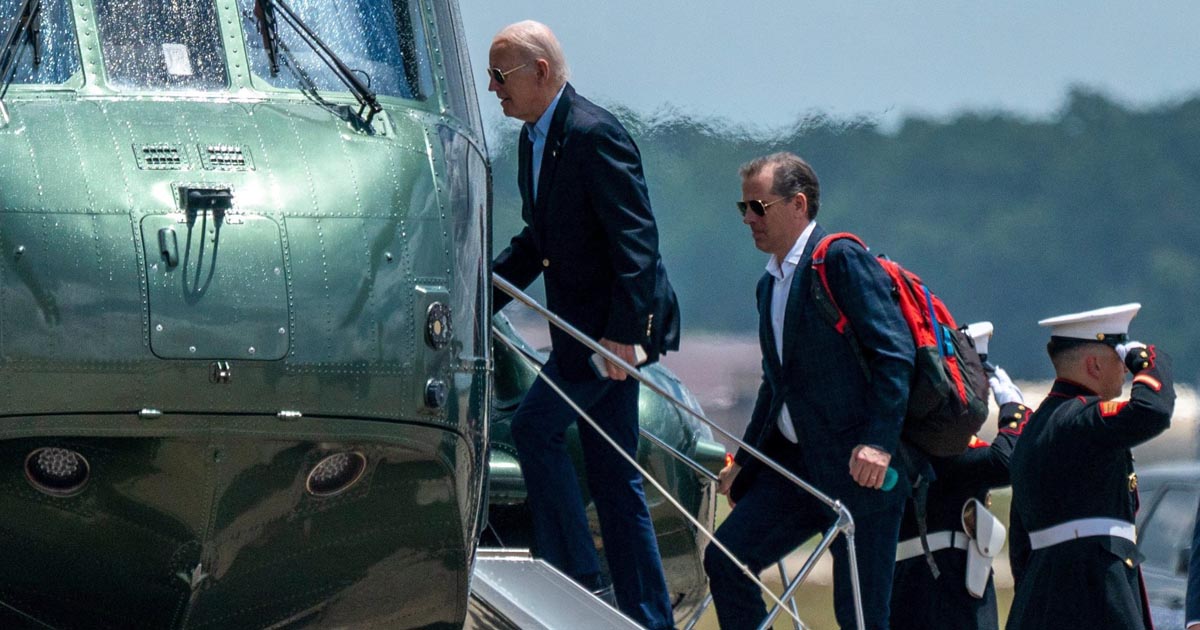 President Biden received a recurring payment of $1,380 from his son Hunter's law firm beginning in late 2018 shortly after a bank money laundering officer warned that the same account was receiving millions of dollars in Chinese government-linked funds without "any services rendered."
A bank order shows that Owasco PC set up a "monthly" transfer to then-former Vice President Joseph R. Biden Jr., with a voided check for the future president included in the documentation, which was released Monday by the House Oversight Committee.
A source told The Post that at least three recurring payments were made — on Sept. 17, Oct. 15 and Nov. 15, 2018 — totaling $4,140 to the elder Biden from Owasco PC, according to the bank records of the firm.
"President Biden and his family must be held accountable for this blatant corruption," Oversight Committee Chairman James Comer (R-Ky.) said in a video release.
"Today, the House Oversight Committee is releasing subpoenaed bank records that show Hunter Biden's business entity, Owasco PC, made direct monthly payments to Joe Biden. This wasn't a payment from Hunter Biden's personal account but an account for his corporation that received payments from China and other shady corners of the world," Comer said.
"At this moment, Hunter Biden is under an investigation by the Department of Justice for using Owasco PC for tax evasion and other serious crimes. And based on whistleblower testimony, we know the Justice Department made a concerted effort to prevent investigators from asking questions about Joe Biden. I wonder why?"
Earlier that year, a January 2019 email from assistant Katie Dodge to Hunter Biden annotated various expenses including "Ford Raptor — Reimbursement to JRB — $1380."
The provenance of the funds is unclear, however, and additional records show that Hunter Biden was knee-deep in two of his most controversial business relationships at the time, with Ukraine's Burisma Holdings and CEFC China Energy.
The evidence emerged as House Republicans prepare to question first brother James Biden on Wednesday and Hunter next week about the president's role in his family's dealings in countries such as China and Ukraine — with a possible floor vote to authorize the ongoing impeachment inquiry this month.
While a presidential candidate, Joe Biden denied that he ever discussed business with his relatives, but evidence has since shown that he met with his relatives' associates from both the Burisma and CEFC ventures.
Documents from the first son's abandoned laptop show that Burisma board adviser Vadym Pozharskyi sought "bank reference" information on Sept. 14, 2018 — one day before the initial transfer to Joe Biden was sought. However, the transaction was not executed for another two days, apparently due to a later-than-expected form submission.
Joe Biden met Pozharskyi at an April 17, 2015, dinner at DC's Café Milano. An unproven FBI informant tip said that Burisma owner Mykola Zlochevsky claimed in 2016 he was "coerced" into paying $10 million in bribes to the Bidens for their assistance in ousting prosecutor Viktor Shokin.
Hunter also was on the tail end of disbursing millions of dollars received from CEFC China Energy — one of two major Biden family dealings with Chinese government-linked firms.
On June 26, 2018 — less than three months before Joe Biden began to receive the monthly transfers — an internal Bank Secrecy Act expert warned colleagues that the institution should reconsider its relationship with Hunter as a result of Owasco PC seeming to receive Chinese funds without "any services rendered."
CEFC transferred $5 million to another Biden family-linked entity, Hudson West III, in August 2017 after Hunter warned a China-based associate of his father's wrath if a business deal was aborted. Much of the large transfer later went to Hunter's Owasco PC.
Prior bank records released by the Oversight Committee indicate that Joe Biden received payments of $40,000 and $200,000 from his brother James, who also was involved in the CEFC venture and other foreign-focused enterprises.
Comer alleged that the $40,000 transferred to Joe Biden's bank account on Sept 3, 2017, was from "laundered" Chinese funds.
James Biden paid Joe Biden $200,000 on March 1, 2018 — the same day that James received a $200,000 transfer from troubled rural hospital company Americore after pledging to use his political connections to secure a Middle Eastern investor, according to bankruptcy filings.
The White House says there's evidence that both transfers were loan repayments, but Republicans argue they have not seen loan agreement documents and note that the funds distributed to James came from a law firm, rather than Joe Biden himself, further clouding the picture.