FBI Director Christopher Wray insisted he is 'absolutely not' working to protect the Biden family as he claimed the agency has not been politicized during a face-off with Republicans on the House Judiciary Committee.
GOP Rep. Matt Gaetz displayed a text message allegedly sent by Hunter Biden where the president's son wrote to a Chinese Communist Party official Henry Zhao on July 30, 2017 demanding money for a business deal.
'I'm sitting here with my father and we would like to understand why the commitment has not been fulfilled,' Hunter allegedly wrote at the time. 'You will regret not following my direction. I am waiting for the call with my father.'
'You seem deeply uncurious about it— almost suspiciously uncurious. Are you protecting the Bidens?' Gaetz asked Wray.
'Absolutely not,' said the FBI director.
'Sounds like a shakedown, doesn't it Director? You won't answer the question and everyone know why you won't answer because to the millions of people seeing this, they know it is a shakedown.'
'People trusted the FBI more when J. Edgar Hoover was running the place than when you are,' Gaetz went on.
'In your home state of Florida, the number of people applying to come work for us … is up over 100% since I started,' Wray shot back.
'They deserve better than you,' said Gaetz.
Gaetz and other Republicans also tore into Wray for the FBI's unlawful uses of Section 702 of FISA.
Section 702 is meant to be used to surveil non-U.S. citizens overseas, and when U.S. citizens are flagged in such probes the FBI can run a query on them for national security.
The FBI admitted to using FISA to run queries 204,000 times in 2022 on American citizens, from January 6 protesters to BLM demonstrators.
'People were looking themselves up, looking their ex-lovers up, using the FISA process as their creepy personal snoop machine,' said Gaetz.
Wray said there have been instances of 'disciplinary action' for improper use of the warrantless search process.
At the end of the year, Congress must decide whether to reauthorize Section 702 and Republicans have said they will not do so without major changes.
JUST IN: FBI Director Wray gets visibly upset after Matt Gaetz calls him out to his face for protecting the Biden crime family by reading a WhatsApp message from Hunter Biden to a Chinese official.

Gaetz: "You seem deeply uncurious about it, don't you? Almost suspiciously… pic.twitter.com/nuw4xfVaHt

— Collin Rugg (@CollinRugg) July 12, 2023
GOP Rep. Ken Buck took a less combative tone while expressing his own concerns with FISA.
'You're still a registered Republican and I hope you don't change your party affiliation after this hearing is over,' he told Wray. 'I want to thank you for leading an agency that protects Americans from foreign terrorists.'
Wray also went on offense against a number of GOP allegation – saying it is 'ludicrous' to say that anyone from the agency was involved in the January 6th attack and 'somewhat absurd' to accuse the FBI of working with social media companies to suppress information on Covid origins.
'Consider the fact that the FBI was the only the only agency the entire intelligence community to assess it's more likely than not that was the explanation,' he said.
Jordan insisted the FBI had worked with social media companies to censor speech – on everything from the Hunter Biden laptop to covid origins and vaccines and mail-in voting.
'That's exactly what you did,' said the chairman. 'And the judge said it last week. Every week people meeting with big tech companies say "Hey, look at this, this violates your policy, take this speech of Americans down.'"
He was referring to a Missouri case where a judge blocked the White House, FBI and DOJ from contacting social media companies due to collusion concerns.
Earlier this week the committee released a report based on documents subpoenaed from Meta and Alphabet finding that after Russia's invasion of Ukraine, Ukraine's intelligence agency enlisted the FBI to help combat 'Russian disinformation on social media.
The FBI transmitted Ukraine's takedown requests to social media platforms like Twitter, Facebook and Youtube.
The FBI should not be conducting warrantless surveillance of American citizens. Period.

We must revise FISA to protect Americans' constitutional right to privacy. pic.twitter.com/LQsV9cNEHq

— Rep. Ken Buck (@RepKenBuck) July 12, 2023
Rep. Andy Biggs, R-Ariz., asked Wray how many undercover agents were at the Capitol complex on Jan. 6.
'I'm not sure there were undercover agents,' said Wray.
"I find that kind of a remarkable statement,' said Biggs. 'You don't know?'
'I say that because I want to be very careful. There have been a number of court filings related to these topics.'
'Are you acknowledging then there were undercover agents?' Biggs pressed.
'As I sit here right now i do not believe there were undercover agents,' said Wray. 'Did you have any assets that day present in the crowd?' said Biggs.
'When it comes to … confidential human sources, that's a place where again I want to be careful. There are court filings,' said Wray.
FBI Director Wray just told me he "does not believe" there were any undercover FBI agents in or around the U.S. Capitol on January 6.

This claim has been already debunked—including by the former U.S. Capitol Police Chief.

Wray will be held accountable for this lie. pic.twitter.com/jJ4RV3PINE

— Rep Andy Biggs (@RepAndyBiggsAZ) July 12, 2023
Judiciary Chair Jim Jordan railed against Wray's FBI for its handling of the Hunter Biden laptop and for a memo written by the FBI on 'radical traditional Catholics.'
'Americans have seen the FBI Richmond Field Office put together a memorandum saying pro-life Catholics are extremists,' Jordan said.
In January a former FBI agent revealed a memo by the agency entitled 'Interest of Racially or Ethnically Motivated Violent Extremists in Radical Traditionalist Catholic Ideology Almost Certainly Presents New Mitigation Opportunities.'
Wray said he was 'aghast' at the memo and the FBI was conducting an investigation into the memo – which he insisted was the product of a single field office.
'As soon as I found out about it, I was aghast and ordered it withdrawn and removed from FBI systems,' Wray said.
"We do not recruit, open, or operate confidential human sources to infiltrate, target, or report on religious organizations,' the director insisted.
Jim Jordan GRILLS FBI Director Wray over targeting of traditional Catholics🔥 pic.twitter.com/BMMQ5K7wCT

— Danny De Urbina (@dannydeurbina) July 12, 2023

⬇️ Top Picks for You ⬇️
Venezuela Is Preparing to Invade Oil-Rich Neighbor Guyana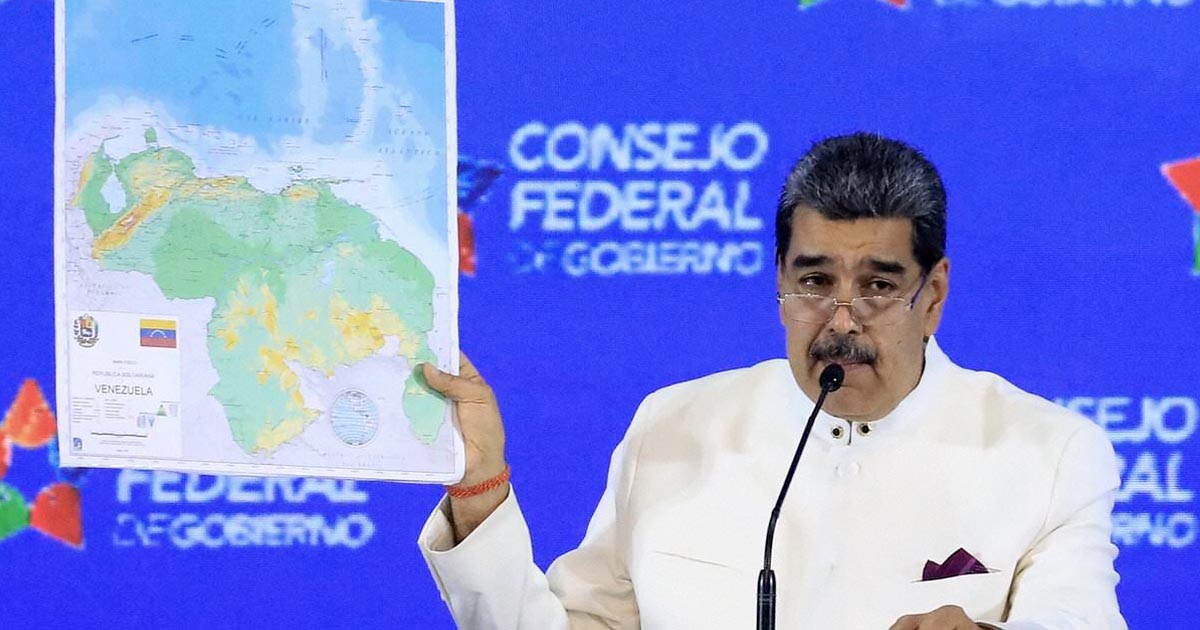 Venezuela's president on Tuesday published a new map of the region showing two thirds of neighboring Guyana 'reclaimed' by Caracas and ordered the state-owned energy companies to 'immediately' begin exploration in the area, as fears rose that Nicolas Maduro could start a war.
Venezuela has claimed Guyana's Esequiba region for over 100 years – ever since the border of the present-day country was drawn up, in 1899. But on Sunday, with his own popularity falling in the face of a newly-unified opposition, Maduro organized a 'referendum' on whether to pursue Venezuela's claim to the territory.
Voters were asked if they agreed with creating a Venezuelan state in the Esequiba region, providing its population with Venezuelan citizenship, and 'incorporating that state into the map of Venezuelan territory.'
The Maduro-controlled Venezuelan National Electoral Council said voters chose 'yes' more than 95 percent of the time on each of five questions on the ballot, and on Tuesday Maduro published his new map.
He has appointed a general, Alexis Rodríguez Cabello, as head of the region and on Tuesday dispatched him to the town of Tumeremo, a remote mining town in the jungle, 120 miles from the border.
Esequiba, about the size of Florida, is rich in minerals and accounts for two thirds of the territory of Guyana – an English speaking nation, which gained its independence from Britain in 1966. Guyana is the only English-speaking country in South America.
Venezuela protested an oil tender announced by Guyana in September, arguing that the offshore areas are subject to dispute and the companies awarded the fields will not have the rights to explore them.
Guyana has denounced Sunday's referendum as pretext to annex the land: in the days running up to it, the Venezuelan defense minister Vladimir Padrino Lopez, known for his ties to his counterparts in Russia and Iran, posted a video of Venezuela troops on parade, waving flags saying 'Guyana Esequiba', colored in the Venezuelan flag.
President Irfaan Ali called the move by Maduro 'reckless' and said his country plans to alert both regional and world leaders of Maduro's attempt to disrupt the peace in the hemisphere.
'It is unfortunate that President Maduro would choose the road of defying an international court order. This speaks volumes about the way in which President Maduro prefers to operate and also points to the fact that he's unconcerned about the peace and security of this region,' he told The Miami Herald.
'The order of the [U.N. court] made it very clear that Venezuela cannot act or take any action that would disrupt the status quo and the status quo is that Guyana exercises governance and control of Essequibo,' he said.
He added that he is seeking the support of the United Nations Security Council, the United States, the Caribbean Community, the Organization of American States and other countries to ensure Guyana's territory is 'not violated.'
'We once again call on Venezuela to retract from this reckless, adventurous move and to allow international law and the ruling of the [U.N. court] to guide our action,' Ali added.
El pueblo y su #FANB están movilizados, decididos e imperturbables a recuperar nuestra Guayana Esequiba, nos mueve el amor infinito a la patria y a cada milímetro del sagrado territorio venezolano, el cual defenderemos por todas las vías y por todos los medios que estén a nuestro… pic.twitter.com/B60slT8xSs

— Vladimir Padrino L. (@vladimirpadrino) November 29, 2023
Guyana has appealed to the International Court of Justice, the United Nations' top court, which on Friday ordered Venezuela not to take any action to change the status quo until the panel can rule on the two countries' competing claims. Any decision could take years.
Meanwhile, Guyana is nervously eyeing its giant neighbor to the north.
Venezuela's military, backed by Russia, Iran and Cuba, massively outnumbers tiny Guyana's: the Venezuelan military counts 123,000 active personnel versus only 3,400 for Guyana, according to an analysis in Brazil's Folha de Sao Paulo newspaper.
Guyana is also dwarfed by Venezuela in weaponry, with Venezuela having 514 armored vehicles compared to only six owned by Guyana.
Such an attack would draw a strong international response, with the lead likely played by Brazil, which borders both Venezuela and Guyana and whose military is significantly larger and more professional than either country's.
At the end of November, Brazil's defense ministry said it 'has intensified defensive actions' along its northern border.
'The Ministry of Defense has been monitoring the situation. Defensive actions have been intensified in the northern border region of the country, promoting a greater military presence,' it said in a statement.