Pennsylvania Senator John Fetterman stumbled over his words, mispronouncing 'infrastructure' and 'delegation', as he spoke to the media on Saturday after showing up in a hoodie and shorts to tour the collapsed I-95 bridge with President Biden.
Fetterman, who continues to recover from a stroke, was slammed earlier today for his casual outfit choice while his fellow Democrat politicians were all smartly-dressed in suits.
In his remarks to the media, Fetterman said that Biden 'is here to commit to work with the governor and the 'delegadation' to make sure that we get this fixed quick, fast, as well, too. This is a president that is committed to 'infructure,' yeah, and then on top of that the jewel kind of a law of the 'infration.'
Biden – no stranger to verbal gaffes – nodded politely as Fetterman stumbled over his speech.
It comes just a few days after the embattled senator sparked health concerns at a Senate Environment Committee hearing Wednesday when he stumbled through his remarks about the I-95 bridge collapse.
The stretch of the East Coast's main north-south highway collapsed last Sunday after a tractor-trailer hauling gasoline flipped over on an off-ramp and caught fire. State transportation officials said the driver was trying to navigate a curve and lost control.
What a duo.pic.twitter.com/if1d3adhwD

— Benny Johnson (@bennyjohnson) June 17, 2023
Biden is greeted in Pennsylvania by Democrat politicians — including Senator John Fetterman, who showed up wearing basketball shorts and a hoodie pic.twitter.com/s7lKSqUtjJ

— RNC Research (@RNCResearch) June 17, 2023
Biden had arrived in Philadelphia for an aerial tour of the collapse site along with Gov. Josh Shapiro, Sen. Bob Casey, Rep. Brendan Boyle and Mayor Jim Kenney.
All were dressed in suits except for Fetterman who was casually dressed in shorts and a hoodie. His appearance drew harsh criticism online with one person tweeting that Fetterman 'showed up ready for a game of hoops.'
Fetterman remained in the same clothes when he gave remarks later in the day. He spoke without notes or apparent auditory device, speaking about his visit with Biden to the collapsed bridge in Western Pennsylvania.
'Guess what? That bridge was rebuilt in a year well, well in front of time,' he said.
Fetterman, who continues to recover from a stroke, struggled a bit with the word 'infrastructure,' concluding his brief remarks by saying "bridges all across American getting rebuilt."
It came on a visit Biden said was more than 'parochial' as workers seek to restore the vital I-95 artery. He said the construction effort would continue 'until it's totally finished.'
'There's no more important project to the country right now as far as I'm concerned, he said, calling it an 'all hands on deck' situation.

⬇️ Top Picks for You ⬇️
Senate Democrats Authorize Supreme Court Ethics Subpoenas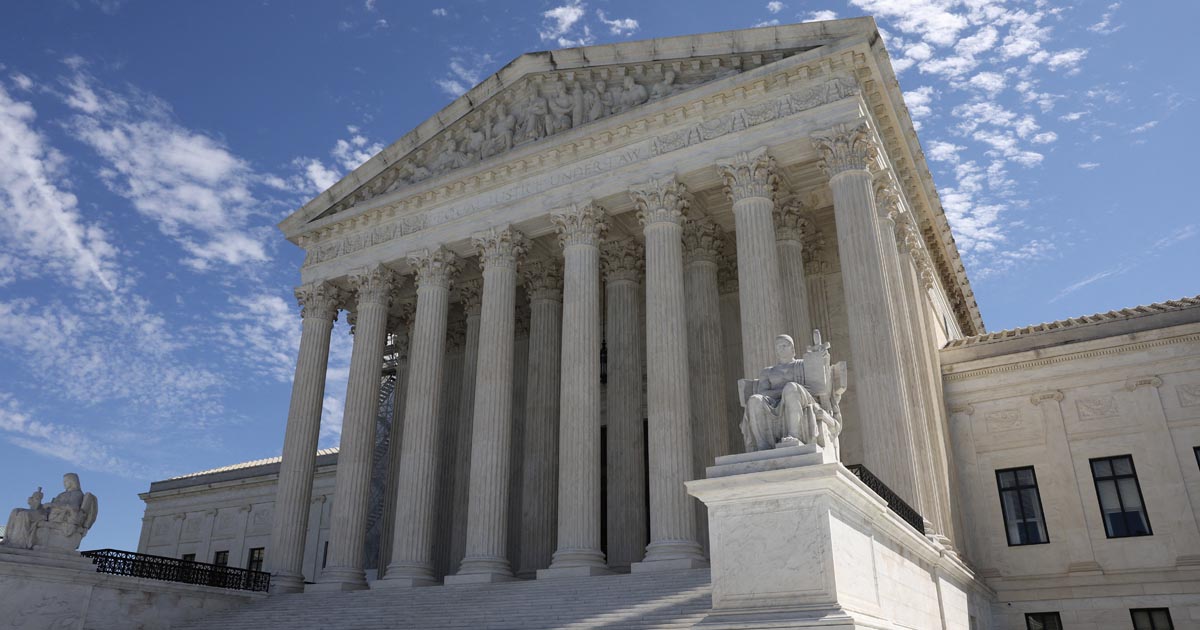 A Democratic-led U.S. Senate panel on Thursday authorized subpoenas to two influential conservatives – Harlan Crow and Leonard Leo – as part of an ethics inquiry spurred by reports of undisclosed largesse directed to some conservative Supreme Court justices.
The Judiciary Committee voted to authorize the subpoenas for Crow, a billionaire Republican donor and benefactor of conservative Justice Clarence Thomas, and Leo, a legal activist who was instrumental in compiling Republican former President Donald Trump's list of potential Supreme Court nominees.
Republican senators walked out of the contentious committee meeting in protest while Democrats cast votes. Some Republicans later questioned the vote's legitimacy, accusing Democrats of violating procedural rules.
"The subpoena clearly wasn't legal," Republican Senator John Kennedy, a committee member, said after the vote.
Senator Dick Durbin, the panel's chairman, said subpoenas were necessary due to the refusal by Crow and Leo for months to voluntarily comply with its previous requests for information. This included itemized lists of all gifts, transportation and lodging provided to any Supreme Court justice.
Durbin also renewed his criticism of a new code of conduct announced by the court on Nov. 13 and promised to continue to pursue the committee's ethics investigation.
"Without an enforcement mechanism, this code of conduct, while a step in a positive direction, cannot restore the public's faith in the court," Durbin said.
Senator Lindsey Graham, the committee's top Republican, told the meeting that Democrats were engaged in a "jihad" against the Supreme Court, whose 6-3 conservative majority has handed major defeats to liberals in recent years on matters including abortion, gun rights and student debt relief.
"When you say you don't want to destroy the Roberts Court, I don't believe you," Graham said, referring to the court under the leadership of conservative Chief Justice John Roberts. "I don't believe a word you're saying."
The committee vote authorized Durbin to issue the subpoenas, which he could do unilaterally, according to a Democratic committee staffer.
If the subpoena recipients fail to comply, Democrats would need 60 votes in the 100-seat Senate to initiate a civil enforcement action, meaning they would need the support of some Republicans. The Democrats also would have the option to make a referral to the U.S. Justice Department, which could choose to pursue criminal contempt proceedings against the subpoena recipients.
Lawyers for Leo and Crow in letters to the committee have criticized the committee's information requests as lacking a proper legal justification. Crow's lawyer had proposed turning over a narrower range of information but Democrats rebuffed that offer, according to the panel's Democratic members.
The news outlet ProPublica reported this year on Thomas's failure to disclose luxury trips and real estate transactions involving Crow, a Texas businessman.
The outlet also reported that Leo helped organize a luxury fishing trip in Alaska attended by conservative Justice Samuel Alito, who failed to disclose taking a private jet provided by billionaire hedge fund manager Paul Singer. Trump chose all three of his appointees to the court from lists of candidates that Leo played a key role in drawing up.
Thomas has said he believed the Crow-funded trips were "personal hospitality" and thus exempt from disclosure requirements, and that his omission of the real estate transaction was inadvertent.
Alito, regarding the flight, said that Singer had "allowed me to occupy what would have otherwise been an unoccupied seat."