Figure skater and trans-identified biological male Minna-Maaria Antikainen gave a debut performance at the European Figure Skating Championships in Espoo, Finland. That ceremony sees female figure skaters holding national flags while Antikainen, wobbling on white skates and with arms outstretched, skates a solo on the ice amid the girls who stand by and watch.
Antikainen then stumbles and falls, and is unable to get back up off the ice until the skater carrying the flag of Finland comes to the center of the ice, helps Antikainen up, and hands the inept trans skater the national blue and white flag.
https://twitter.com/JackPosobiec/status/1619560033985130496?ref_src=twsrc%5Etfw%7Ctwcamp%5Etweetembed%7Ctwterm%5E1619560033985130496%7Ctwgr%5E195565a2d2ffae255adb212e59d66641351867dc%7Ctwcon%5Es1_c10&ref_url=https%3A%2F%2Fthepostmillennial.com%2Fbreaking-finland-showcases-59-year-old-trans-identified-figure-skater-former-farmer-at-european-figure-skating-championships
Antikainen needs the help of a younger woman to be assisted up from the ice, and leans hard on the Finnish flag the young woman holds before taking that flag and skating off into the spotlight while the young woman becomes another face in the shadows.
"The opening ceremony will present skaters at various levels from non-professionals to top athletes. On the ice, we will see Single Skaters, Synchronized Skaters, and Pairs. Included among the performers are Figure Skater Minna-Maaria Antikainen, who defines herself as a gender-neutral woman, adaptive skating performers, and a male synchronized skating team," said coach Helena Tienhaara.
"With the diverse group of performers, we want to show that the ice has space for everyone," choreographer and coach Beata Leppilampi said.
The Championships, running from January 25-29, saw Antikainen give an opening skate to mixed reviews from fans and critics.
An old video, unearthed by Nilsen Report, shows Antikainen leearning ballet in toe-shoes while wearing women's clothes before going out on the ice dressed as some kind of Brunhilda. The video, posted three years ago, indicates that there has been little improvement in Antikainen's skill level
The ISU European Figure Skating Championships claims that their opening ceremony, of which Antikainen was a part, was based on the theme "Just be you." They state that the "Finnish Figure Skating Association promotes the importance of equality and diversity and develops skating according to its values."
Antikainen, who transitioned to presenting as female from male, now uses both male and female pronouns, and identifies as a "gender neutral woman." Antikainen is 59 and was previously a farmer.
Antikainen had a "childhood dream" to become a professional figure skater, though this performance does not indicate that, were it not for the new, much lauded transgender status, there would have been any hope of achieveing that dream.
Executive Director of the Finnish Figure Skating Association and Secretary General of the ISU European Figure Skating Championships Outi Wuorenheimo praised the gender diversity shown in the opening ceremony, saying:
"Figure skating is a very conservative sport with various strict rules. In international competitions, same-sex skating pairs are not allowed, and there is no category for non-binary skaters. I hope that every country will start working for equality and diversity in the field."
That diversity, apparently, includes males who pose as women and cannot skate.
"We want to change the figure skating world by showing that talking about a skater's weight is not the top priority, but muscular, healthy athletes may also succeed at the top level. It is important that we have different-looking skaters of various sizes in the competitions," Wuorenheimo continued.
In her view, figure skating is often perceived as elitist, and having a trans-identifed male who presents as female and wobbles on the ice can assuage those feelings that the sport is not for everyone.
Recent years have seen the emergence of trans-identified males infiltrating women's sports. Trans-identified Laurel Hubbard, a weight-lifter who represented New Zealand at the Olympics though did not place, achieved "Sportswoman of the Year."
Trans-identified college swimmer Lia Thomas represented UPenn at the level of national competition and made away with trophies, titles and records. Thomas was nominated by UPenn to be NCAA Woman of the Year, though backlash against a male being nominated for that honor previously reserved for women athletes was fierce.

⬇️ Top Picks for You ⬇️
Biden Dog Bites Another Secret Service Agent; 11th Incident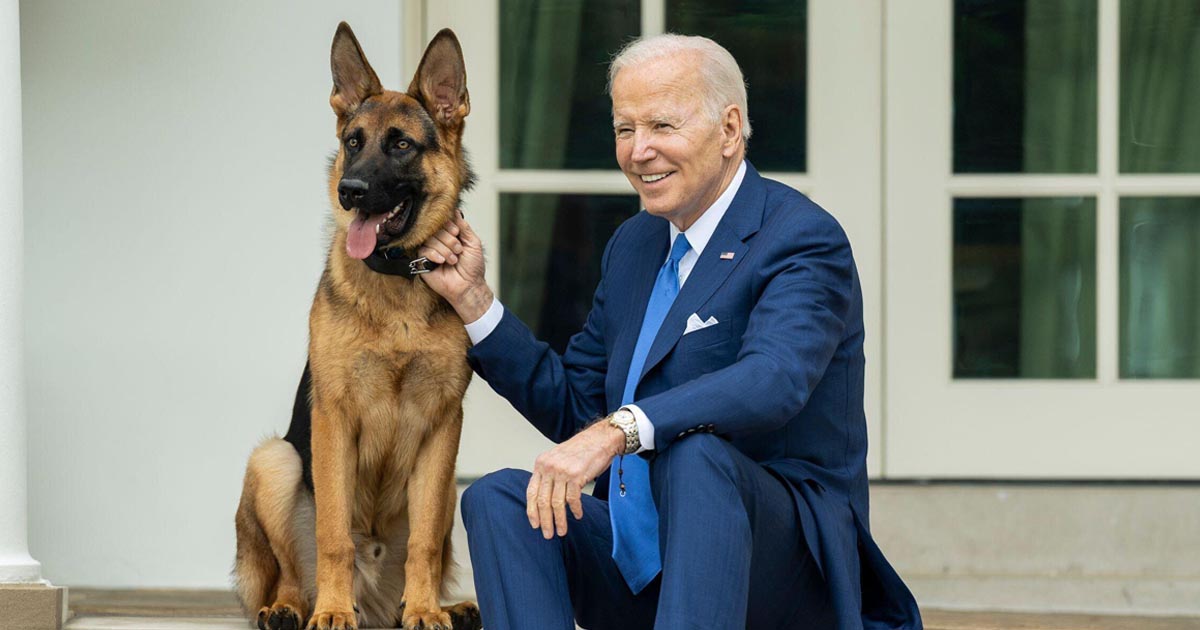 President Joe Biden's younger dog, Commander, bit another US Secret Service agent at the White House Monday evening, CNN has learned, the 11th known biting incident involving the 2-year-old German Shepherd.
"Yesterday around 8 p.m., a Secret Service Uniformed Division police officer came in contact with a First Family pet and was bitten. The officer was treated by medical personnel on complex," USSS chief of communications Anthony Guglielmi told CNN in a statement.
The injured officer spoke with Secret Service Uniformed Division Chief Alfonso M. Dyson Sr. on Tuesday and is doing OK, Guglielmi said.
Commander has been involved in at least 11 biting incidents at the White House and in Delaware, according to CNN reporting and US Secret Service email correspondence, including a November 2022 incident where an officer was hospitalized after the dog clamped down on their arms and thighs.
White House officials said in July that the Bidens were working through new training and leashing protocols for the family pet following the incidents.
Asked by CNN whether the new training had taken place or if any further action would be sought, Elizabeth Alexander, communications director for the first lady, said in a statement that "the First Family continues to work on ways to help Commander handle the often unpredictable nature of the White House grounds."
"The President and First Lady are incredibly grateful to the Secret Service and Executive Residence staff for all they do to keep them, their family, and the country safe," she continued.
Another of Biden's dogs, Major, was involved in biting incidents at the White House. The German Shepherd later moved out of the White House, and Commander arrived at the White House in 2021.
The July email correspondence, obtained through Freedom of Information Act requests by the conservative group Judicial Watch, reflected 10 incidents.
In one incident in October, first lady Dr. Jill Biden "couldn't regain control" of the dog as it charged a member of Secret Service staff.
"I believe it's only a matter of time before an agent/officer is attacked or bit," the staff member warned in an email.
While Secret Service agents are not responsible for the handling of the first family's pets, they can come into frequent contact with the animals.
"This isn't a Secret Service thing. This is a this is a workplace safety issue," CNN contributor and former USSS agent Jonathan Wackrow told CNN.
"There's uniqueness here where it's the residence of the president of the United States, but it's also the workplace for hundreds, thousands of people. And you can't bring a hazard into the workplace. And that's what is essentially happening with this dog. One time you can say it's an accident, but now multiple incidents, it's a serious issue," he added.
Wackrow called it a "significant hazard" for agents on duty at the White House residence.
"I'm sure that the Bidens love the dog. I'm sure that it's a member of the family like every dog is, but you're creating a significant hazard to those who support you – support the office of the president," he said.