An explosion at a chocolate factory in Pennsylvania on Friday killed two people and left five people missing, authorities said. One person was pulled from the rubble overnight.
Rescue crews using dogs and imaging equipment continued to search through the rubble Saturday — hours after the blast that erupted just before 5 p.m. Friday at the R.M. Palmer Co. plant in the borough of West Reading, about 60 miles (96 kilometers) northwest of Philadelphia.
West Reading officials said Saturday they could confirm only two fatalities. The Pennsylvania Emergency Management Agency had earlier said there were five fatalities, citing county emergency management officials, but after an update from the county also indicated that two had died and five were missing.
Chief of Police Wayne Holben said the rescue of one person from the rubble "provides hope that others still may be found." Rescue workers were continuing a thorough search using specialized equipment and techniques. Officials said dogs and imaging equipment were being used to look for signs of life during the careful removal of debris.
Holben said the blast destroyed one building and damaged a neighboring building. The cause remains under investigation, he said.
"It's pretty leveled," Mayor Samantha Kaag said of the explosion site. "The building in the front, with the church and the apartments, the explosion was so big that it moved that building four feet forward."
A UGI Utilities spokesperson said crews were brought in after damage from the blast led to the release of gas that was helping to feed the fire.
"We did not receive any calls regarding a gas leak or gas order prior to the incident, but we are cooperating with the investigation and part of that will be to check all our facilities in the vicinity," UGI spokesperson Joseph Swope said Saturday.
Reading Hospital said Saturday afternoon it had received 10 patients, of which one was transferred to Lehigh Valley Hospital and another to Penn State Health St. Joseph Medical Center. Two were admitted to Reading Hospital in good and fair condition, repectively, and the others had been discharged, officials said.
Kaag said people were asked to move back about a block in each direction but no evacuations were ordered. She had issued an emergency declaration only to allow more resources for first responders. Borough manager Dean Murray said some residents were displaced from the damaged apartment building.
Gov. Josh Shapiro, who visited the site Saturday along with the emergency management agency director, vowed "any and all commonwealth resources needed to support ongoing recovery efforts — in addition to the extensive assets that have already been deployed."
A team of structural engineers and K-9s from a state urban search and rescue task force had been assisting since last night and additional personnel arrived Saturday, he said. A state police fire marshal was also assisting in the investigation, he said.
Philip Wert, vice president of the West Reading council, said the building had been constructed in the late 1950s or early 1960s, and officials had to "access our archive to pull the blueprints last night, in order to get a better layout of the building and the mechanicals and the utilities, where things are."
"The silver lining in all this is someone was found alive, someone was found alive that was in rubble, not knowing whether they were going to live or die, and fortunately we found that person and they've got a second chance, and hopefully fingers crossed we're going to find more," he said.
Officials said R.M. Palmer, which borough manager Dean Murray described as "a staple of the borough," was expected to make a statement.
R.M. Palmer's website says it has been making "chocolate novelties" since 1948 and now has 850 employees at its West Reading headquarters. Its Facebook page includes entries earlier this month advertising Easter treats such as chocolate bunnies and "the newest milk chocolate hollow" in its "bunny family" as one with jelly beans inside. The company is by no means the region's best-known chocolate manufacturer, with Hershey less than an hour to the west.

⬇️ Top Picks for You ⬇️
Republicans Launch Contempt Process Against FBI Director After Viewing Biden 'Bribery' Document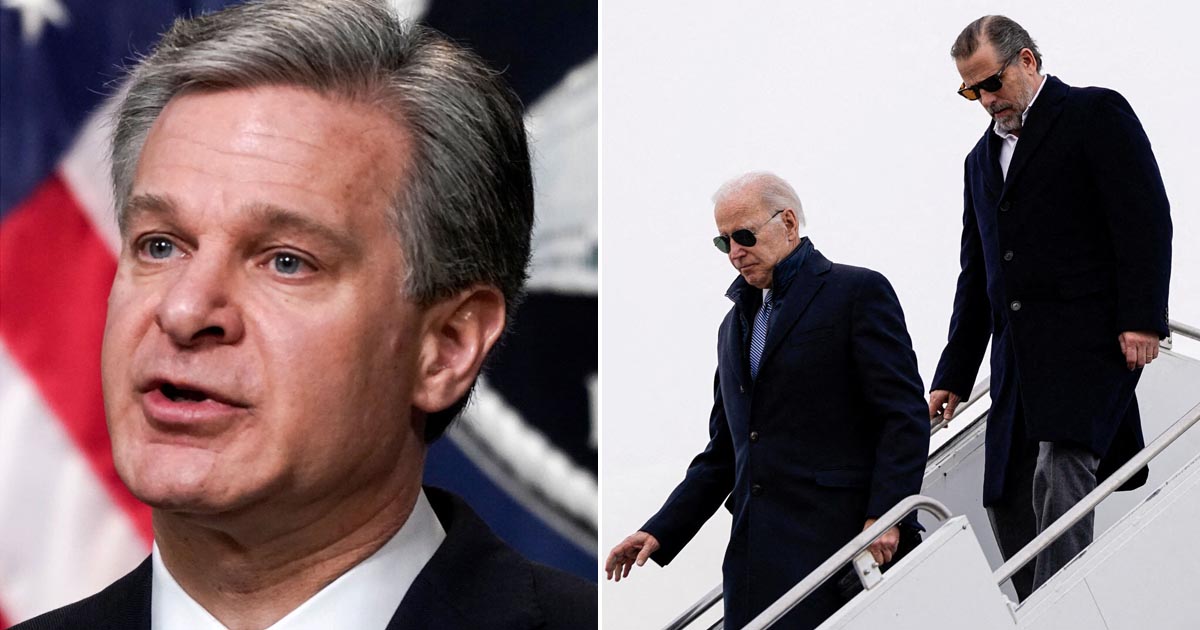 House Republicans are officially starting contempt of Congress charges against FBI Director Chris Wray for failing to turn over Biden 'bribery' document they claim shows then-Vice President Joe Biden was involved in a $5 million 'criminal' scheme with a foreign national.
The escalation comes after the Republican and Democratic leaders of the House Oversight Committee were granted access by the FBI Monday to view the FD-1023 form in a secure facility within the Capitol. The document apparently details an 'arrangement' for an exchange of money for policy decisions.
The Republicans issued a subpoena for the FD-1023 form last month and FBI Director Chris Wray was given a hard deadline of May 30 to hand over the unclassified document, which he did not comply with.
After reviewing the document Monday, Comer told reporters the accusations contained in the form 'suggests a pattern of bribery' consistent with findings the committee has put out publicly.
It's called 'money laundering,' he said, saying it fits within the pattern of over $1 million in Romanian-linked payments to the Biden family revealed last month.
In early May, Republicans released a report digging in on over $10 million received by Biden family members from foreign actors, including previously undisclosed $1 million in Romanian-linked payments, and a 'web' of 20 companies created while President Joe Biden was vice president and pushing anti-corruption efforts abroad.
He also said the FBI record was 'not disproven' and is currently being used in an ongoing investigation that is being conducted by the Department of Justice in Delaware into Hunter Biden's finances.
The 'confidential human source' is a 'trusted, highly credible informant' who has been used by the FBI for over 10 years and has been paid over six figures, continued Comer.
The chairman added that contempt proceedings will begin this Thursday.
'At the briefing, the FBI again refused to hand over the unclassified record to the custody of the House Oversight Committee, and we will now initiate contempt of Congress hearings this Thursday.'
Last week, Comer and Sen. Chuck Grassley, R-Iowa, spoke with Wray by phone and the FBI director offered to let them and Ranking Member Rep. Jamie Raskin, D-Md., view the documents at the FBI headquarters in an attempt to stave off the contempt threat.
'During today's call, Director Wray offered to provide the Committee's Chairman and Ranking Member an opportunity to review information responsive to the subpoena in a secure manner to accommodate the committee, while protecting the confidentiality and safety of sources and important investigative sensitivities,' said the FBI in a statement.
'The FBI has continually demonstrated its commitment to working with the Committee to accommodate its request, from scheduling briefings and calls to now allowing the Chair to review information in person. The FBI remains committed to cooperating with the Committee in good faith.'
Comer also informed Wray that he was also narrowing the breadth of the subpoena for the document by providing two additional terms that may be referenced in the record: 'June 30, 2020' and 'five million.'
Raskin blasted the Republicans' handling of the document in a reporter gaggle following Monday's briefing, calling it 'second-hand hearsay.'
He said former U.S. Attorney Scott Brady for the Western District of Pennsylvania and then-Attorney General Bill Barr did not find any reason to escalate the investigation into all 'allegations related to Ukraine' based on the FD-1023 form.
'I am just surprised that my colleagues want to try to litigate this in public, much less hold the Director of the Federal Bureau of Investigation in contempt for complying with the request when there was a whole process that was undertaken, and that process came to its natural end as I understand it,' Raskin said.
He would not directly confirm that the foreign national alleged in the memo being sought by Republicans is from Ukraine.
Raskin did agree with his Republican colleagues that the whistleblower is considered 'credible.'
The White House has also pushed back, calling the Republican-led investigation 'unfounded' and 'politically motivated.'