Miss Universe 2023 kicked off in New Orleans, with more than 84 contestsants from around the world gathering to compete for the title. Miss Ukraine came costumed as a "Warrior of Light," Miss Switzerland dressed up like chocolate, but the real stunner was owner of the Miss Unvierse beauty pageant Anne Jakrajutatip, a trans-identified biological male.
"The Miss Universe organization from now on is gonna be run by women, owned by trans woman, for all women," Jakrajutatip said to massive cheers from the assembled crowd. "For all women around the world, to celebrate the power of of feminism."
Jakrajutatip came to the stage after the swimsuit competition, during the semi-final round. Jakrajutatip gave an interview to The Journal after taking charge of the organization, and the new Thai owner's identity was front and center for Jakrajutatip, who saw it as an accomplishment that a biological male who presents as female should run a beauty pageant.
Jakrajutatip said at the time of purchase that the buy was "extremely important," not just for Jakrajutatip or the purchasing company JKN Global Group Public Limited, "but for all the women and trans women, particulary all the fans of Miss Universe who've been watching, who have been with us for 70 years now.
"It is the time that we to lift the spirit of women on the stage," Jakrajutatip continued, "and having the platform globally to show to the whole world that we are intelligent, we are beautifully confident, and we can be iconic women."
"The first woman owner of Miss Universe" is transgender pic.twitter.com/gfbp0uGtna

— End Wokeness (@EndWokeness) October 30, 2022
Reactions to the biological male who declared that the pageant's ownership by a biological male who presents as a woman was a win for women were mixed, but many women were somewhat disgusted that a male would pose as a woman and proclaim that progress.
Tanya Posobiec's commentary can be heard over a clip of Jakrajutatip's speech from the event. "This is wild," she said in disbelief, as Jakrajutatip reinforced gender and beauty stereotypes for women while claiming to liberate them. What Jakrajutatip was doing was liberating femininity from womanhood, as perhaps a thief would.
"Diverse cultures," Jakrajutatip continued, "social inclusion, gender equality, creativity, the force of good and of course the beauty of humanity."
The inclusion of biological males in the pageant, and a biological male owner, is so progressive, that it prompted some on Twitter to declare that now "we men" would be in charge.
What is going on at Miss Universe… pic.twitter.com/7fPFEldKTh

— Jack Poso 🇺🇸 (@JackPosobiec) January 15, 2023
h/t @still_boneless pic.twitter.com/vlrSnTmPLM

— Jack Poso 🇺🇸 (@JackPosobiec) January 15, 2023
Others noted that perhaps Jakrajutatip, in touting the pageant as a win for womanhood, had forgotten that Jakrajutatip was not in fact female.
The new boss of the Miss Universe contest proclaims it will now by run by women and will celebrate feminism, inadvertently forgetting perhaps that he is, in fact, a man. pic.twitter.com/MhRjcPFKWc

— Peter Whittle (@prwhittle) January 15, 2023
The pageant, now more than 70 years old, saw Miss USA R'Bonney Gabriel take the title of Miss Universe. She was joined in the final round by Miss Venezuela and Miss Dominican Republic.
The new Miss Universe is the reigning Miss Texas USA from Houston Texas!

So proud. @MissUniverse https://t.co/M1IiPqPr0Q

— Greg Abbott (@GregAbbott_TX) January 15, 2023
Miss Nevada in 2021 was the first openly transgender Miss USA contestant, and the Miss Universe pageant is one of the women's beauty pageants open to biological males who present as female. Kataluna Enriquez was eliminated in December of that year.
Jakrajutatip is from Thailand, which is a global destination for sex change surgeries and procedures. Doctors in that country have been performing these types of surgeries since 1975, and by the early 2000s, Thai officials were promoting the country for medical tourism. By 2017, Thailand was the fifth most popular destination for medical tourism.
Jakrajutatip, 43, began gender transition while studying in Sydney, decided to keep the deep voice Jakrajutatip had, and has an extensive background in business, as well as advocating for "trans rights," having set up the Life Inspired for Transsexual Foundation in Thailand.

⬇️ Top Picks for You ⬇️
Biden Dog Bites Another Secret Service Agent; 11th Incident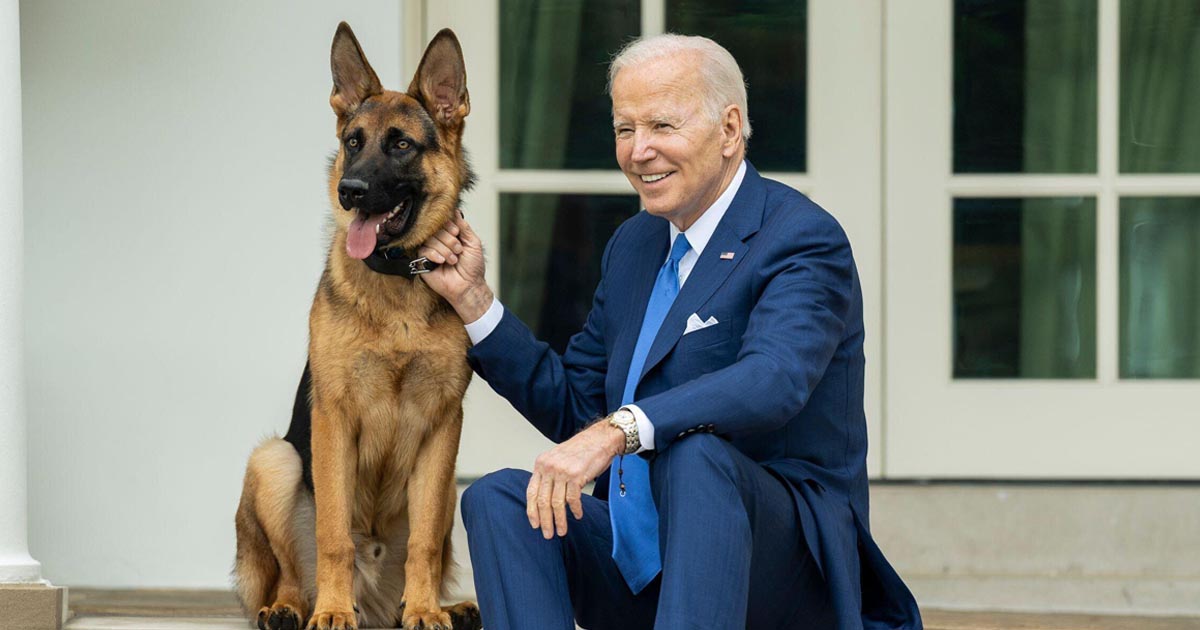 President Joe Biden's younger dog, Commander, bit another US Secret Service agent at the White House Monday evening, CNN has learned, the 11th known biting incident involving the 2-year-old German Shepherd.
"Yesterday around 8 p.m., a Secret Service Uniformed Division police officer came in contact with a First Family pet and was bitten. The officer was treated by medical personnel on complex," USSS chief of communications Anthony Guglielmi told CNN in a statement.
The injured officer spoke with Secret Service Uniformed Division Chief Alfonso M. Dyson Sr. on Tuesday and is doing OK, Guglielmi said.
Commander has been involved in at least 11 biting incidents at the White House and in Delaware, according to CNN reporting and US Secret Service email correspondence, including a November 2022 incident where an officer was hospitalized after the dog clamped down on their arms and thighs.
White House officials said in July that the Bidens were working through new training and leashing protocols for the family pet following the incidents.
Asked by CNN whether the new training had taken place or if any further action would be sought, Elizabeth Alexander, communications director for the first lady, said in a statement that "the First Family continues to work on ways to help Commander handle the often unpredictable nature of the White House grounds."
"The President and First Lady are incredibly grateful to the Secret Service and Executive Residence staff for all they do to keep them, their family, and the country safe," she continued.
Another of Biden's dogs, Major, was involved in biting incidents at the White House. The German Shepherd later moved out of the White House, and Commander arrived at the White House in 2021.
The July email correspondence, obtained through Freedom of Information Act requests by the conservative group Judicial Watch, reflected 10 incidents.
In one incident in October, first lady Dr. Jill Biden "couldn't regain control" of the dog as it charged a member of Secret Service staff.
"I believe it's only a matter of time before an agent/officer is attacked or bit," the staff member warned in an email.
While Secret Service agents are not responsible for the handling of the first family's pets, they can come into frequent contact with the animals.
"This isn't a Secret Service thing. This is a this is a workplace safety issue," CNN contributor and former USSS agent Jonathan Wackrow told CNN.
"There's uniqueness here where it's the residence of the president of the United States, but it's also the workplace for hundreds, thousands of people. And you can't bring a hazard into the workplace. And that's what is essentially happening with this dog. One time you can say it's an accident, but now multiple incidents, it's a serious issue," he added.
Wackrow called it a "significant hazard" for agents on duty at the White House residence.
"I'm sure that the Bidens love the dog. I'm sure that it's a member of the family like every dog is, but you're creating a significant hazard to those who support you – support the office of the president," he said.