Elon Musk's next-generation Starship exploded less than ten minutes into its second test flight after separating from its main booster rocket – seven months after the spacecraft's first flight ended in explosion.
The uncrewed test flight of the SpaceX craft – which is strapped to a Super Heavy booster twice as powerful as the rocket which flew men to the moon, and is designed to carry out lunar missions – took off shortly after 8 AM EST on Saturday.
Mission control lost contact with the spacecraft eight minutes into the 90 minute trial as it approached the edge of the Earth's atmosphere. Live footage streamed on X, formerly Twitter, appears to show an explosion as the rocket was 91 miles above the Earth.
Musk, however, sent his congratulations to the team at SpaceX, where he serves as CEO, chief technical officer and chairman, writing on X an hour after the rocket exploded: 'Congratulations team @SpaceX team!'
SpaceX engineer John Insprucker, speaking on a livestream on Musk's social network X, said: 'We have lost the data from the second stage…we might have lost the second stage.'
Insprucker added that the rocket may have blown itself up as a precaution: 'What we do believe right now is that the Automated Flight Termination System on the second stage appears to have triggered very late in the burn.'
However, the company is hailing the test flight as 'incredibly successful', as it saw the module complete the all-important 'hot staging' separation from its booster rocket that it failed to complete in April.
SpaceX's Kate Tice said on the livestream: 'Such an incredibly successful day, even though we did have a…rapid unscheduled disassembly of both the Super Heavy booster and the ship.
'We got so much data and that will all help us to improve for our next flight.'
The test came just seven months after the first voyage in April, which saw the ship blow up four minutes after liftoff. In his handling of SpaceX Musk, who is its largest shareholder, epitomises the Silicon Valley tech slogan: 'Move fast and break things'.
Nasa administrator Bill Nelson posted on X: 'Congrats to the teams who made progress on today's flight test. Spaceflight is a bold adventure demanding a can-do spirit and daring innovation. Today's test is an opportunity to learn—then fly again.'
Starship was loaded with 4,500 metric tons (10million lbs) of rocket propellant ahead of the flight, taking off from SpaceX's Starbase site on the Gulf of Mexico near Boca Chica, Texas.
It took off at 7am in Texas – to huge cheers from mission control. Half a minute later it was already travelling at speeds upwards of 310mph.
Within two minutes, the combined booster and spacecraft were travelling at over 2000mph and were more than 25 miles in the air. At three minutes after liftoff, the booster successfully separated from the main module, which would carry passengers in a real flight.
The second stage rocket was successfully able to separate from its Super Heavy rocket booster around three and a half minutes into the flight – making it more successful than its maiden voyage, which exploded four minutes after liftoff.
The booster exploded 30 seconds later in what was termed a 'rapid unscheduled disassembly', per SpaceX's normal description for an explosion – but the Starship continued into the sub-orbital atmosphere at speeds of almost 15,000mph.
Contact appeared to be lost around eight minutes into the livestream, when the live feeds of the module's altitude, speed and rocket outputs were suddenly lost. Around two minutes later ground control confirmed they had lost contact with the ship.
SpaceX says that the ship's onboard computer made a decision to self-destruct because of a problem with the flight. It had been around 87 miles up.
The US Federal Aviation Administration confirmed a mishap occurred that 'resulted in a loss of the vehicle,' adding no injuries or property damage have been reported.
The agency said it will oversee a SpaceX-led investigation into the testing failure and will need to approve SpaceX's plan to prevent it from happening again.
Elon Musk – the company's chair, CEO and chief technical officer – envisions Starship becoming the firm's flagship model for what he eventually hopes will lead a return to the Moon and, ultimately, flights to Mars.

⬇️ Top Picks for You ⬇️
Biden Got Recurring $1,380 Payment from Hunter's Firm Starting in 2018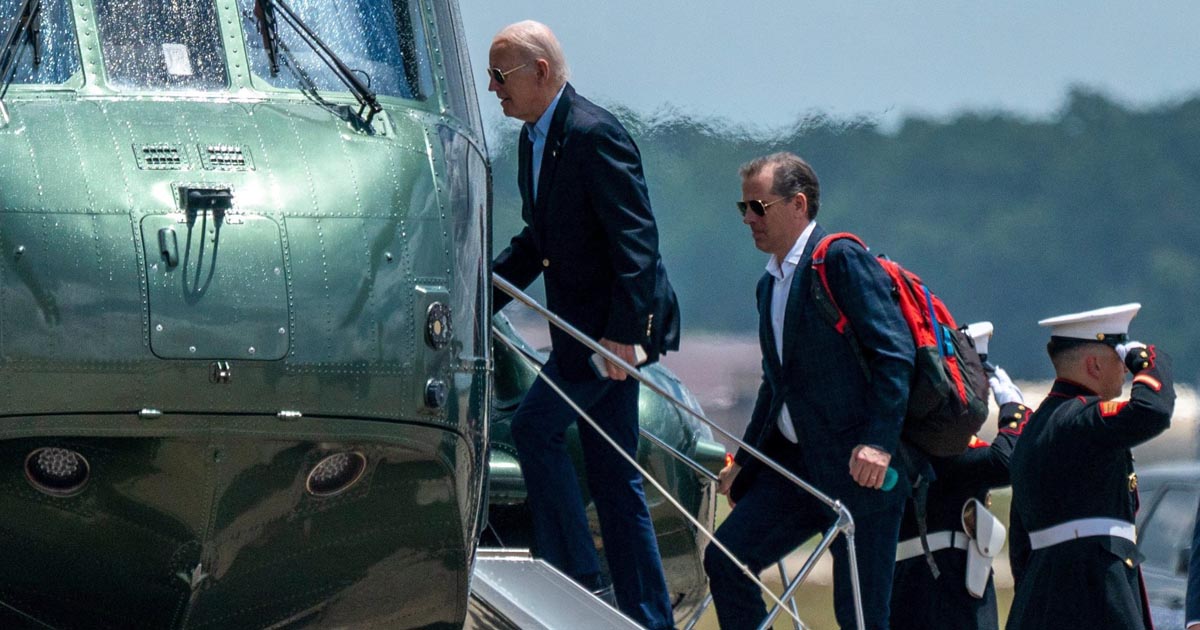 President Biden received a recurring payment of $1,380 from his son Hunter's law firm beginning in late 2018 shortly after a bank money laundering officer warned that the same account was receiving millions of dollars in Chinese government-linked funds without "any services rendered."
A bank order shows that Owasco PC set up a "monthly" transfer to then-former Vice President Joseph R. Biden Jr., with a voided check for the future president included in the documentation, which was released Monday by the House Oversight Committee.
A source told The Post that at least three recurring payments were made — on Sept. 17, Oct. 15 and Nov. 15, 2018 — totaling $4,140 to the elder Biden from Owasco PC, according to the bank records of the firm.
"President Biden and his family must be held accountable for this blatant corruption," Oversight Committee Chairman James Comer (R-Ky.) said in a video release.
"Today, the House Oversight Committee is releasing subpoenaed bank records that show Hunter Biden's business entity, Owasco PC, made direct monthly payments to Joe Biden. This wasn't a payment from Hunter Biden's personal account but an account for his corporation that received payments from China and other shady corners of the world," Comer said.
"At this moment, Hunter Biden is under an investigation by the Department of Justice for using Owasco PC for tax evasion and other serious crimes. And based on whistleblower testimony, we know the Justice Department made a concerted effort to prevent investigators from asking questions about Joe Biden. I wonder why?"
Earlier that year, a January 2019 email from assistant Katie Dodge to Hunter Biden annotated various expenses including "Ford Raptor — Reimbursement to JRB — $1380."
The provenance of the funds is unclear, however, and additional records show that Hunter Biden was knee-deep in two of his most controversial business relationships at the time, with Ukraine's Burisma Holdings and CEFC China Energy.
The evidence emerged as House Republicans prepare to question first brother James Biden on Wednesday and Hunter next week about the president's role in his family's dealings in countries such as China and Ukraine — with a possible floor vote to authorize the ongoing impeachment inquiry this month.
While a presidential candidate, Joe Biden denied that he ever discussed business with his relatives, but evidence has since shown that he met with his relatives' associates from both the Burisma and CEFC ventures.
Documents from the first son's abandoned laptop show that Burisma board adviser Vadym Pozharskyi sought "bank reference" information on Sept. 14, 2018 — one day before the initial transfer to Joe Biden was sought. However, the transaction was not executed for another two days, apparently due to a later-than-expected form submission.
Joe Biden met Pozharskyi at an April 17, 2015, dinner at DC's Café Milano. An unproven FBI informant tip said that Burisma owner Mykola Zlochevsky claimed in 2016 he was "coerced" into paying $10 million in bribes to the Bidens for their assistance in ousting prosecutor Viktor Shokin.
Hunter also was on the tail end of disbursing millions of dollars received from CEFC China Energy — one of two major Biden family dealings with Chinese government-linked firms.
On June 26, 2018 — less than three months before Joe Biden began to receive the monthly transfers — an internal Bank Secrecy Act expert warned colleagues that the institution should reconsider its relationship with Hunter as a result of Owasco PC seeming to receive Chinese funds without "any services rendered."
CEFC transferred $5 million to another Biden family-linked entity, Hudson West III, in August 2017 after Hunter warned a China-based associate of his father's wrath if a business deal was aborted. Much of the large transfer later went to Hunter's Owasco PC.
Prior bank records released by the Oversight Committee indicate that Joe Biden received payments of $40,000 and $200,000 from his brother James, who also was involved in the CEFC venture and other foreign-focused enterprises.
Comer alleged that the $40,000 transferred to Joe Biden's bank account on Sept 3, 2017, was from "laundered" Chinese funds.
James Biden paid Joe Biden $200,000 on March 1, 2018 — the same day that James received a $200,000 transfer from troubled rural hospital company Americore after pledging to use his political connections to secure a Middle Eastern investor, according to bankruptcy filings.
The White House says there's evidence that both transfers were loan repayments, but Republicans argue they have not seen loan agreement documents and note that the funds distributed to James came from a law firm, rather than Joe Biden himself, further clouding the picture.