Americans spent Super Bowl weekend anxiously watching the skies as the U.S. military shot down a series of unidentified flying objects over the U.S. and Canada.
The Pentagon oversaw the shooting down of three unidentified objects in as many days — the first on Friday over Alaska, the second on Saturday over Canada's Yukon territory, and the third on Sunday over Lake Huron. The chaotic series of events came just over a week after the U.S. downed a Chinese spy balloon over the Atlantic coast.
U.S. officials confirmed last week that the balloon, which traversed the continental U.S. before being shot down just off the coast of South Carolina, was designed as part of a wider surveillance program, something China disputes.
Two top Pentagon officials — Air Force Gen. Glen VanHerck, the commander of NORAD and U.S. Northern Command, and Melissa Dalton, the assistant defense secretary for homeland defense and hemispheric affairs — spoke to reporters on a call Sunday evening, but the briefing seemed to produce more questions than answers.
Here are the top takeaways from what was discussed:
Why more objects are being spotted now
Dalton explained that the uptick in unidentified flying object spottings was a result of the Chinese spy balloon. U.S. air defense officials, she said, adjusted radar settings to begin scanning for smaller and slower-moving items in North American airspace.
"In light of the People's Republic of China balloon that we took down last Saturday, we have been more closely scrutinizing our airspace at these altitudes, including enhancing our radar, which may at least partly explain the increase in objects that we've detected over the past week," Dalton said.
What we know about those objects
VanHerck and Dalton couldn't offer many details on the latest three downed objects, as all are still being collected. In the case of the craft downed over Alaska on Friday, crews have yet to even locate the object.
"We're actively searching for that object right now. I've got a Navy P-8, which is surveilling the area, with helicopters as well," VanHerck said. "Once we locate that object, we'll put an Arctic security package in there and begin the analysis and recovery, but we don't have it right now."
Dalton added that officials could not "definitively assess" what the three objects were, so they "acted out of an abundance of caution to protect [U.S.] security and interest" and shot all of them down.
"These most recent objects did not pose a kinetic military threat," she explained. "But their path and proximity to sensitive DoD sites, and the altitude that they were flying could be a hazard to civilian aviation and thus, raised concerns."
Asked about the physical characteristics of the three objects, VanHerck struggled to offer specifics.
"I'm not going to categorize them as balloons," he said. "We're calling them objects for a reason. I'm not able to categorize how they stay aloft. It could be a gaseous type of balloon inside a structure or it could be some type of a propulsion system. But clearly, they're able to stay aloft."
VanHerck also cautioned reporters against assuming that the three items, like the Chinese spy balloon, were a product of Beijing, saying, "I would be hesitant and urge you not to attribute it to any specific country. We don't know."
What about the object that was spotted in Montana?
VanHerck said officials believe the object shot down over Lake Huron on Sunday is likely the craft that was spotted in Montana on Saturday before disappearing from their radars.
That same craft then reappeared on radars late Sunday, first in Montana, then in Wisconsin and Michigan. It then drifted toward Lake Huron, at which point Pentagon officials ordered an F-16 jet to shoot it down.
"It's likely, but we have not confirmed, that the track that we saw in Wisconsin was likely the same track in Montana," VanHerck said. "We monitored the track of interest as it passed over Lake Michigan. We assessed that it was no threat, physical threat, military threat … to critical infrastructure. That's my assessment and continues to be today."

⬇️ Top Picks for You ⬇️
4th Republican Debate Highlights: GOP Rivals Clash on Stage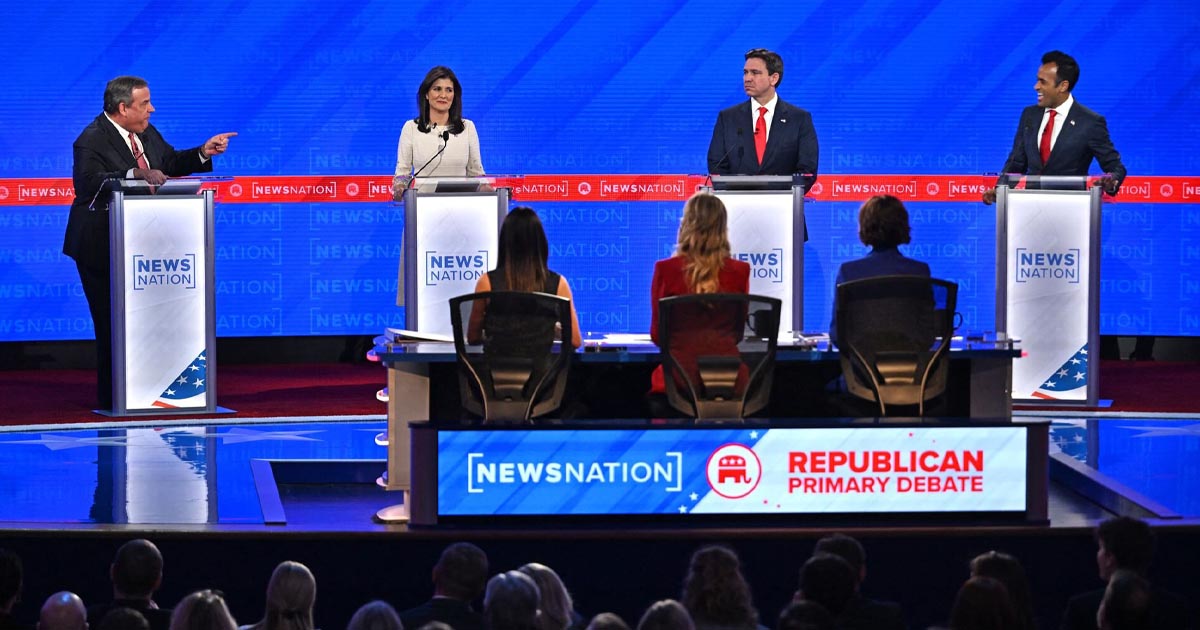 The smallest field yet of GOP candidates faced off Wednesday in the fourth Republican presidential debate of 2023 in Tuscaloosa, Alabama, with the first salvos of the night aimed at former Ambassador to the U.N. Nikki Haley, while former President Donald Trump, who leads the field by a wide margin in the polls, held a closed campaign fundraiser in Florida.
NewsNation hosted the fourth debate with three moderators: NewsNation's Elizabeth Vargas, former Fox News host Megyn Kelly and the Washington Free Beacon's Eliana Johnson.
Four candidates appeared on stage:
Former New Jersey Gov. Chris Christie
Florida Gov. Ron DeSantis
Former U.N. Ambassador Nikki Haley
Businessman Vivek Ramaswamy
The first three debates have not done much to change the dynamics of the race among Republican primary voters. The latest CBS News poll, from early November, showed Trump winning 61% of likely GOP primary voters nationwide, more than all the other candidates combined. DeSantis polled at 18%, Haley at 9%, Ramaswamy at 5%, Sen. Tim Scott at 4% and Christie at 2%.
Here are the highlights from the debate below.
DeSantis and Ramaswamy team up to attack Haley: "I love all the attention, fellas"
DeSantis and Ramaswamy were quick to take shots at Haley, who is rising in the polls as the race for second place heats up.
"She caves anytime the Left comes after her, anytime the media comes after her," DeSantis said.
Ramaswamy later joined in, questioning Haley's wealth since she left government service.
"Nikki, you were bankrupt when you left the U.N. After you left the U.N., you became a military contractor," he said, referring to Haley's stint on the board of Boeing, "whose back you scratched for a very long time and then get foreign multinational speeches like Hillary Clinton is, and now you're a multimillionaire. That math does not add up. It adds up to the fact that you are corrupt."
Ramaswamy also criticized wealthy donors to Haley's campaign, saying they're funding "left-wing causes."
"In terms of these donors that are supporting me, they're just jealous," Haley responded. "They wish that they were supporting them."
DeSantis said, "Nikki will cave to those big donors when it counts."
The pair also went after Haley for proposing that all social media users should be verified by their names online.
"I love all the attention, fellas," Haley said. "Thank you for that."
Christie hammers Ramaswamy in defense of Haley: "The most obnoxious blowhard in America"
Christie offered a forceful defense of Haley against Ramaswamy's insults of her intelligence.
After Ramaswamy claimed that Haley could not name three provinces in eastern Ukraine where she would send U.S. troops, Christie accused the entrepreneur of habitually backing away from comments he makes on the campaign trail when he's confronted by political opponents about his positions.
"This is the fourth debate that you would've been voted in the first 20 minutes as the most obnoxious blowhard in America, so shut the hell up," Christie told Ramaswamy.
The former New Jersey governor accused Ramaswamy of insulting Haley's intelligence, rather than her policy positions — claiming, for example, that she can't identify regions in Ukraine or find Israel on a map.
"If you want to disagree on issues, that's fine, and Nikki and I disagree on some issues," Christie said. "I've known her for 12 years, which is longer than he's even started to vote in the Republican primary, and while we disagree about some issues and disagree about who should be president of the United States, what we don't disagree on is this is a smart, accomplished woman and you should stop insulting her."
Christie went on to criticize Ramaswamy's lack of experience and claimed that while he was serving as the top federal prosecutor in New Jersey, Ramaswamy was "learning about the provinces in Ukraine sitting with his smarta** mouth at Harvard."
"All he knows how to do is insult good people who have committed their lives to public service and not say anything that moves the ball down the field for the United States," Christie said.
Divisions emerge among Republican candidates on parental rights
A question about parental rights and gender-affirming care for young people showed a split between Christie and DeSantis over an issue that has gained traction with Republican voters.
Christie said he favors limited involvement from the government and believes parents should be empowered to make decisions about their children.
"I trust parents," he said.
The former New Jersey governor, who opposes state restrictions on gender-affirming care for transgender youth, asserted it's parents who should be making the decisions about this for their children. He made the point that he and his wife care more for their four children than a government official in a dysfunctional Congress.
"You look at these jokers in Congress — it takes them three weeks to pick a speaker, and up until two days ago, they couldn't promote somebody in the military in the United States Senate who earned their new rank. And we're going to put my children's health and my decisions in their hands for them to make those decisions? For Joe Biden to make those decisions?" Christie said.
He warned parents that if they cede those rights on gender-affirming care for their children to states, it would just be the beginning.
"You start to turn over just a little bit of this authority, the authority they're going to take from you next, you're not going to like," Christie said.
But DeSantis defended restrictions on gender-affirming treatment for minors he signed into law as governor of Florida and warned surgical procedures are "mutilating minors."
"We cannot allow this to happen in this country," he said.
Ramaswamy, meanwhile, suggested the federal government should take action on the issue of gender-affirming surgery.