Former prime-time Fox News host Tucker Carlson released a cryptic ad on his website Monday, hinting about his next moves.
Fox News announced that it was splitting ways with Carlson, its most popular host, after his seven-year tenure hosting its 8 p.m. slot. Carlson has been silent on the matter, leaving much speculation about what his next move will be. He released his first hint as to a step forward hours after his departure. It came in the form of a cryptic ad on his website.
"SIGNUP HERE TO BECOME A TUCKERCARLSON.COM INSIDER TO FIND OUT WHAT TUCKER'S UP TO NEXT," the ad reads.
The ad immediately pops up for everyone who clicks on his website and has a section where viewers can put in their information to sign up for updates.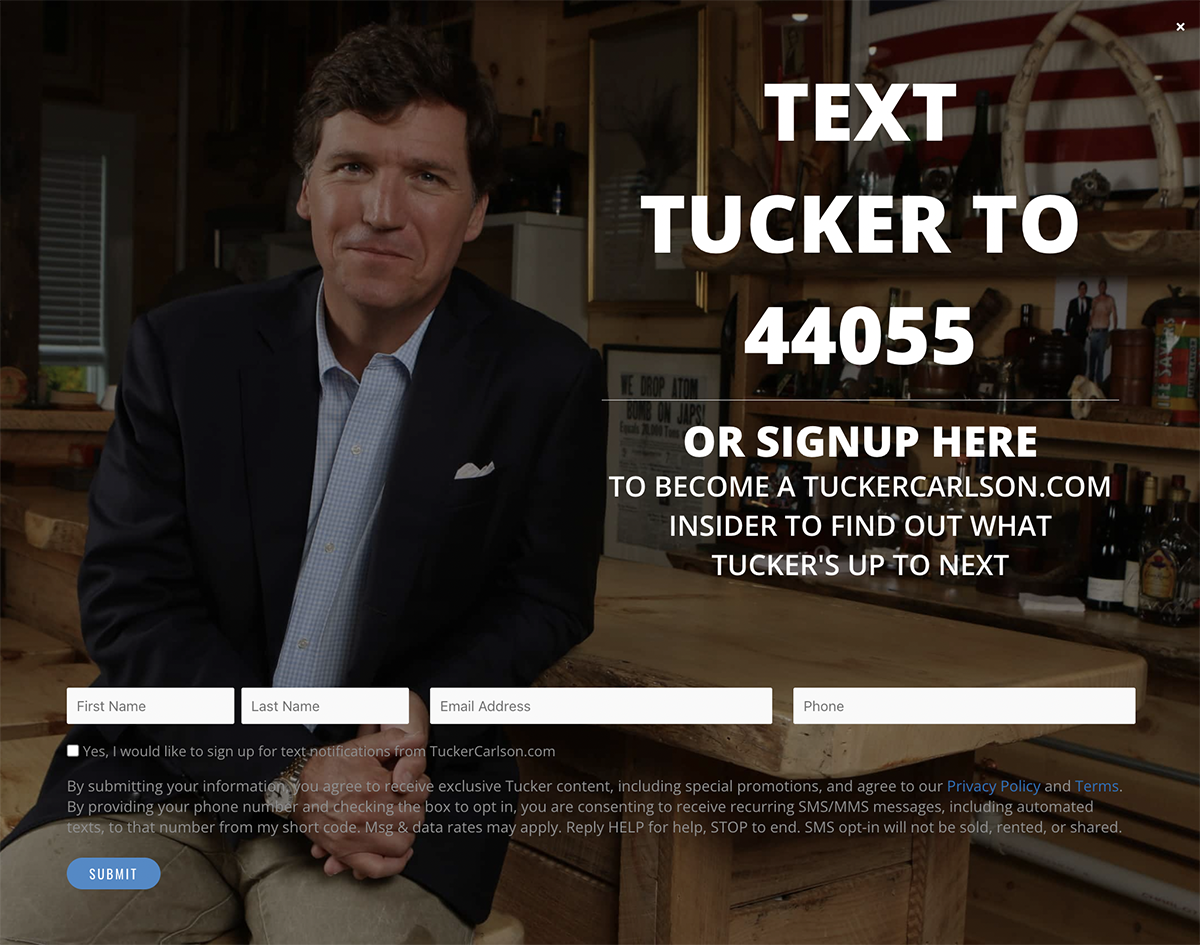 What will Tucker Carlson do next?
Carlson, whose contract was renewed in 2021, will be paid out for the rest of his contract, people familiar with the matter said. Mr. Carlson is paid about $20 million a year, one of the people said.
CABLE NEWS
A long line of cable news outlets and media organizations, including Newsmax, One America Network and NewsNation, are already eyeing up Carlson, hoping to recruit America's best-known political commentator.
Newsmax CEO, Christopher Ruddy, also hinted at a bid for Carlson.
Ruddy said: 'For a while, Fox News has been moving to become establishment media, and Tucker Carlson's removal is a big milestone in that effort. Millions of viewers who liked the old Fox News have made the switch to Newsmax, and this will only fuel that trend.'
One America Network, another news channel, has also offered Carlson a job.
Founder and CEO Robert Herring 'would like to extend an invitation to Carlson to meet for negotiation to become a part of the OAN team', according to a report about Carlson's departure on the OAN website.
NewsNation has form for hiring anchors who've left major stations under a cloud. The network signed up Chris Cuomo in October 2022 after he was fired by CNN.
NewsNation would not comment on the Carlson rumor when approached by DailyMail.com
DIGITAL MEDIA
Going on his own: After all, Carlson has experience launching a site, having done so 13 years ago with the Daily Caller. And he can also consider the option of going it alone through online shows and podcasts – which would undoubtedly attract the financial support from his 3 million fans.
Former Fox News anchor Megyn Kelly launched a podcast, The Megyn Kelly Show, in 2020, which now airs on Sirius XM. She was fired from NBC News in 2018 after facing backlash for comments about blackface.
Bill O'Reilly was once Fox News' biggest star before he left in 2017 following accusations of sexual misconduct. O'Reilly, 73, launched a podcast in 2017 and also embarked on several other projects, including a radio show.
Glenn Beck is another Fox host whose show drew millions of viewers before he left in 2011 and founded his own media company, Blaze Media.
Joining Rumble, The Daily Wire or The Blaze: Each platform has already expressed their interest in welcoming Tucker. Rumble has gained traction as a free speech YouTube alternative, with prominent figures such as Steven Crowder and Donald Trump Jr. signing exclusive deals. The Daily Wire has grown exponentially in recent years, becoming a popular destination for conservative voices like Candace Owens and Jordan Peterson.
Rumble CEO Chris Pavlovski said: "Cable television is now completely controlled speech. Rumble is the only bastion for authentic speech."
The Daily Wire Co-Founder Jeremy Boreing said: I suspect Tucker already has a plan, but we'd break out the big novelty check book for him if he doesn't. Jeremy has said in the path that he would offer Tucker Carlson eight figures in order to come to The Daily Wire.
The Blaze Founder Glenn Beck said that Fox News is "dead" and urged Tucker to join The Blaze. "We would love to have you here, you won't miss a beat and together two of us will tear it up."
POLITICAL CAREER
There's also an outside chance Carlson could embark on his own political career with a shot at the White House. He's regularly been touted as a potential Republican candidate in recent years.
Last July, Tucker Carlson raised eyebrows when he gave the keynote address at the Family Leadership Summit in Iowa.
The conservative conference is an important staging post for prospective presidential candidates, given Iowa's position as the first state in the nation to hold a Republican Party caucus.
The timing and unexpected nature of his Fox departure makes a 2024 bid unlikely, particularly given that Trump has announced he will run for office again.

⬇️ Top Picks for You ⬇️
Republicans Launch Contempt Process Against FBI Director After Viewing Biden 'Bribery' Document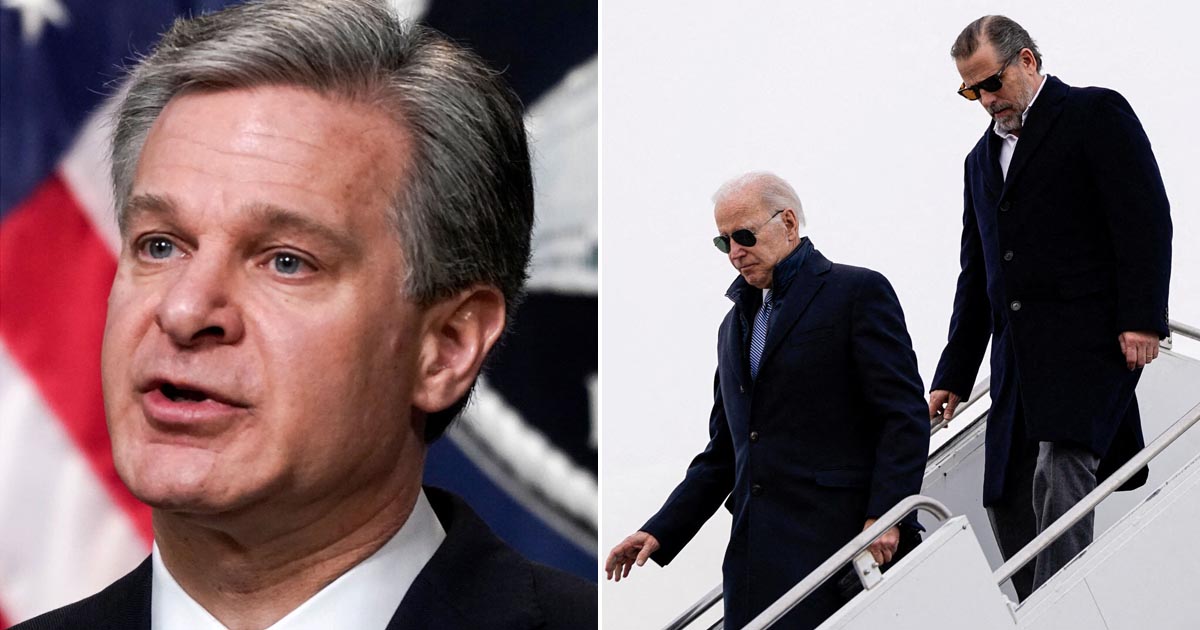 House Republicans are officially starting contempt of Congress charges against FBI Director Chris Wray for failing to turn over Biden 'bribery' document they claim shows then-Vice President Joe Biden was involved in a $5 million 'criminal' scheme with a foreign national.
The escalation comes after the Republican and Democratic leaders of the House Oversight Committee were granted access by the FBI Monday to view the FD-1023 form in a secure facility within the Capitol. The document apparently details an 'arrangement' for an exchange of money for policy decisions.
The Republicans issued a subpoena for the FD-1023 form last month and FBI Director Chris Wray was given a hard deadline of May 30 to hand over the unclassified document, which he did not comply with.
After reviewing the document Monday, Comer told reporters the accusations contained in the form 'suggests a pattern of bribery' consistent with findings the committee has put out publicly.
It's called 'money laundering,' he said, saying it fits within the pattern of over $1 million in Romanian-linked payments to the Biden family revealed last month.
In early May, Republicans released a report digging in on over $10 million received by Biden family members from foreign actors, including previously undisclosed $1 million in Romanian-linked payments, and a 'web' of 20 companies created while President Joe Biden was vice president and pushing anti-corruption efforts abroad.
He also said the FBI record was 'not disproven' and is currently being used in an ongoing investigation that is being conducted by the Department of Justice in Delaware into Hunter Biden's finances.
The 'confidential human source' is a 'trusted, highly credible informant' who has been used by the FBI for over 10 years and has been paid over six figures, continued Comer.
The chairman added that contempt proceedings will begin this Thursday.
'At the briefing, the FBI again refused to hand over the unclassified record to the custody of the House Oversight Committee, and we will now initiate contempt of Congress hearings this Thursday.'
Last week, Comer and Sen. Chuck Grassley, R-Iowa, spoke with Wray by phone and the FBI director offered to let them and Ranking Member Rep. Jamie Raskin, D-Md., view the documents at the FBI headquarters in an attempt to stave off the contempt threat.
'During today's call, Director Wray offered to provide the Committee's Chairman and Ranking Member an opportunity to review information responsive to the subpoena in a secure manner to accommodate the committee, while protecting the confidentiality and safety of sources and important investigative sensitivities,' said the FBI in a statement.
'The FBI has continually demonstrated its commitment to working with the Committee to accommodate its request, from scheduling briefings and calls to now allowing the Chair to review information in person. The FBI remains committed to cooperating with the Committee in good faith.'
Comer also informed Wray that he was also narrowing the breadth of the subpoena for the document by providing two additional terms that may be referenced in the record: 'June 30, 2020' and 'five million.'
Raskin blasted the Republicans' handling of the document in a reporter gaggle following Monday's briefing, calling it 'second-hand hearsay.'
He said former U.S. Attorney Scott Brady for the Western District of Pennsylvania and then-Attorney General Bill Barr did not find any reason to escalate the investigation into all 'allegations related to Ukraine' based on the FD-1023 form.
'I am just surprised that my colleagues want to try to litigate this in public, much less hold the Director of the Federal Bureau of Investigation in contempt for complying with the request when there was a whole process that was undertaken, and that process came to its natural end as I understand it,' Raskin said.
He would not directly confirm that the foreign national alleged in the memo being sought by Republicans is from Ukraine.
Raskin did agree with his Republican colleagues that the whistleblower is considered 'credible.'
The White House has also pushed back, calling the Republican-led investigation 'unfounded' and 'politically motivated.'