'Where's Doug?' — Biden Repeatedly Calls Dem Pol by Wrong Name in Echo of 'Where's Jackie?' Gaffe
President Biden called Rep. Don Beyer (D-Va.) by the name "Doug" four times Thursday during a gaffe-filled visit to the congressman's district.
"Where's Doug? Congressman?" the 80-year-old president asked while giving a speech on the economy.
"He's around here somewhere," Biden said as he searched the crowd. "Oh, there you are. Doug, thanks for the passport into town. Doug and I have something in common, we both married way above our station."
Biden is the oldest-ever president, and his mental acuity is frequently a matter of debate as he prepares to launch a 2024 re-election campaign.
The uncomfortable moment recalled the infamous September exchange when Biden asked "Where's Jackie?" as he searched for the late Rep. Jackie Walorski (R-Ind.) in a crowd, despite publicly mourning her death and even calling her family to offer his condolences in August.
About five minutes into his remarks Thursday, Biden appeared to recognize his error when he called Beyer "Doug" for a fourth time and seemed to grasp for his actual name.
"Doug knows, Do —," Biden said haltingly, before launching into an attack on House Republicans, claiming: "Look, here's the deal … They want to cut your Social Security and Medicare. Now, this is the God's truth. It's almost unbelievable."
Contrary to Biden's remark, House Speaker Kevin McCarthy (R-Calif.) said repeatedly this week he doesn't want to cut the social safety nets.
Beyer, a House member since 2015, is a wealthy car dealership owner who became a popular Democratic designate for proxy votes during the COVID-19 pandemic because his urban northern Virginia district abuts DC.
White House press secretary Karine Jean-Pierre said Wednesday that Biden would receive his annual physical before Feb. 1. It's unclear if the exam will feature a cognitive test.
Biden stumbled at other points in his remarks Thursday, including when he said that a train tunnel in Baltimore goes under the Potomac River although the body of water is about a one-hour drive from Maryland's largest city.
"Next week, I'm visiting Baltimore and New York. We're going to replace a 150-year-old tunnel, the Baltimore Potomac Tunnel, under the Potomac River, which will allow rail traffic to move up and down the East Coast," Biden said.
The president appeared to be confused about the physical location of the tunnel because of its name, a legacy of its construction in the 1870s by the Baltimore and Potomac Railroad.
"I'm probably the only non-rail guy who's walked that tunnel," Biden added. "No, I'm not joking … last time I walked it, they still had lights that were on a string hanging down, leaks in the roof — folks, 150 years old, nothing has been done to it. Everything has to slow down. And there's a great worry that part of it could collapse."
Biden also claimed in his remarks that COVID-19 vaccinations were mass-deployed by his administration and not by former President Donald Trump "because the other guy and the other team didn't think it mattered a whole lot" — despite the Trump administration overseeing the rapid development and initial month of deployment of vaccines.
The point of Biden's speech was to promote his economic agenda amid a standoff with House Republicans on increasing the national debt ceiling.
Biden said that "a distinct minority of 30 to 40%" of Republicans were "determined to be the party of chaos and catastrophe."
Although the White House has thus far refused to negotiate in the debt ceiling standoff, Biden appeared to hint he was open to talks.
"Look," he said. "I'm ready to work with Republicans, and I've demonstrated — to the chagrin sometimes of my Democratic friends who want to make progress for the American people — I'm ready to compromise if there's something good we want to deal with."

⬇️ Top Picks for You ⬇️
Trump Suggests Manhattan DA Bragg 'Dropped' Case Against Him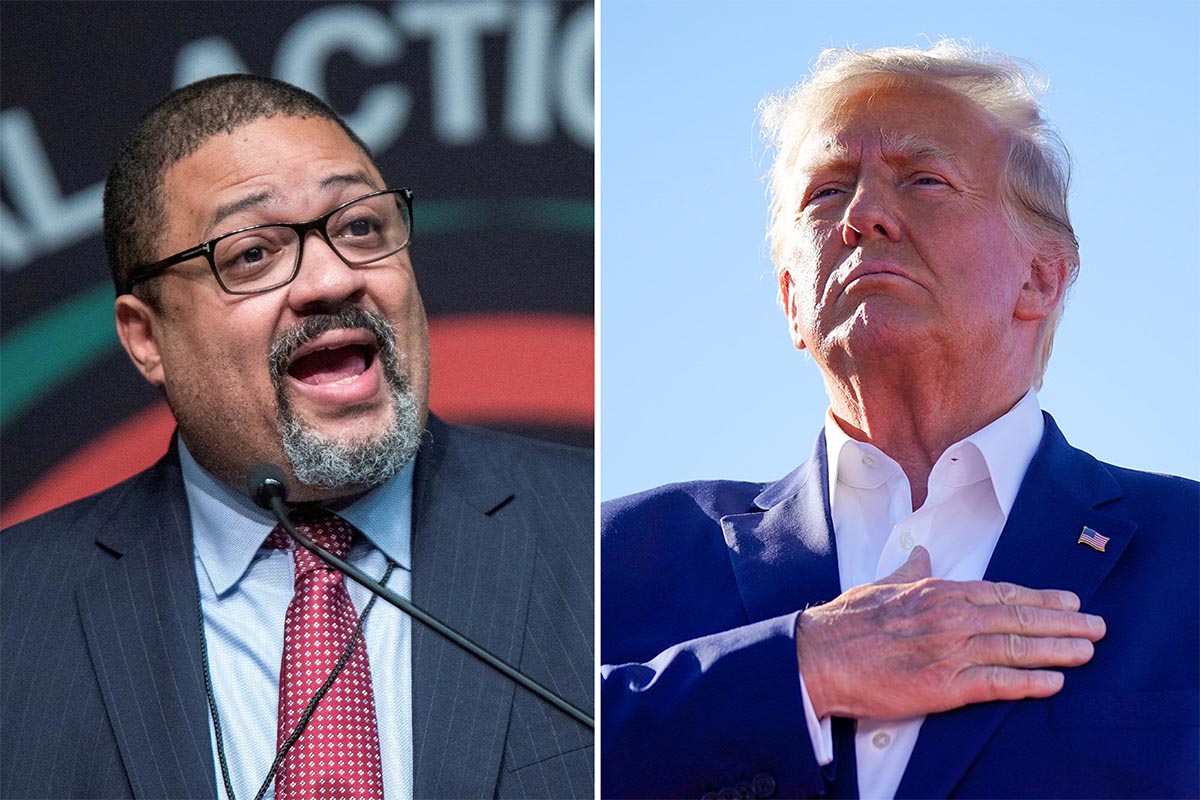 Former President Donald Trump is now suggesting Manhattan District Attorney Alvin Bragg may have dropped his case against him, about a week after he claimed he would be arrested.
After a rally in Waco, Texas, on Saturday, Trump told reporters on his plane, "I think they've already dropped the case … they have absolutely nothing." Trump did not provide evidence for his assertion Saturday.
"It's a fake case. Some fake cases, they have absolutely nothing," the former president said. Trump also reiterated his criticism of Michael Cohen, a former Trump lawyer who has testified against him in the Manhattan grand jury case and previously served time in federal prison on tax fraud and other charges.
Trump also denied mainstream media reports that suggested he was trying to incite violence with his Truth Social posts that criticized Bragg's investigation: "No, I don't like violence and I'm not for violence. But a lot of people are upset."
On Truth Social, the former president made a similar statement regarding his belief Bragg's case is "DEAD." He wrote that the "Witch Hunt against me is DEAD, no evidence at all, & it has been conclusively proven that I did nothing wrong." He dismissed Cohen as a "disbarred lawyer & convicted Felon."
Last week, an attorney in Trump's circle, Robert Costello, told media outlets that he testified before the grand jury and sought to denigrate Cohen's testimony against the 45th president in the investigation, which reportedly is connected to so-called hush money payments that were given to adult performer Stormy Daniels during the 2016 presidential campaign. A lawyer for Cohen, when reached for comment, declined to issue a statement, although Cohen told MSNBC last week that Costello never represented him and disputed his testimony.
Bragg's has not returned a request for comment, and The Epoch Times cannot verify the authenticity of Trump's claims. Previous Epoch Times requests for comment from the DA's office have gone unanswered.
Over the past week, Bragg's office has issued one public statement on the case, and that came in response to a House Republican letter seeking testimony and information about the DA's case or whether his office would arrest Trump. A letter sent by his general counsel said that it was Trump who created a "false expectation" he would be indicted last week, although he provided no other details.
Responding to the House GOP's letter, Bragg's counsel wrote that it "only came after Donald Trump created a false expectation that he would be arrested the next day, and his lawyers reportedly urged you to intervene. Neither fact is a legitimate basis for congressional inquiry."
During the Waco rally, Trump declared that his "enemies are desperate to stop us" and that "our opponents have done everything they can to crush our spirit and to break our will," and that the Manhattan district attorney was investigating him "for something that is not a crime, not a misdemeanor, not an affair."
He added: "But they failed. They've only made us stronger. And 2024 is the final battle, it's going to be the big one. You put me back in the White House, their reign will be over and America will be a free nation once again."
Trump did not make any direct references in his speech to Waco's history, telling the crowd of thousands that he told Lt. Gov Dan Patrick he wanted to hold his rally in a place with overwhelming support, not "one of those 50-50 areas," and said he told Texas officials, "Let's go right into the heart of it."
At several points, Trump criticized Florida Gov. Ron DeSantis, who, despite not announcing it, has long been expected to run for president in 2024 and is seen as Trump's strongest potential challenger for the GOP nomination. Trump called his onetime ally disloyal and said he was "dropping like a rock" in the polls.
In addition to the Manhattan case, Trump is also facing an investigation in Georgia as well as federal investigations into his handling of allegedly classified documents and possible obstruction, as well as statements he made on Jan. 6, 2021. The former president has denied wrongdoing in those instances.