'White Privilege' Slurs Shouted as Suspect Ran Over ER Doctor Riding His Bike — Then Stabbed Him to Death
A California accountant is in custody on a murder charge after he allegedly ran over a doctor in a crosswalk and then stabbed the man to death.
Around 3 p.m. on Wednesday, Michael Mammone, a 58-year-old emergency medicine physician, was riding his bike through the intersection of Pacific Coast Highway and Crown Valley Parkway in Dana Point along the southern coast of California between Laguna Beach and San Clemente. As Mammone headed north through the crosswalk on his bike, a driver in a white Lexus suddenly careened into him, sending him soaring into the air and then crashing into the middle of the intersection.
At that point, the suspect, identified later as 39-year-old Vanroy Evan Smith, exited his vehicle and then approached the victim, who was severely injured. According to a press release from the Orange County Sheriff's Department, Smith then "assaulted Mammone with a knife."
Surveillance footage captured by a camera at a nearby home shows the incident unfold. Though Mammone and his bike are difficult to see in the crosswalk, the collision itself and much of the aftermath is clear.
Warning: disturbing content
https://twitter.com/RssRyan/status/1621022252795068417?ref_src=twsrc%5Etfw%7Ctwcamp%5Etweetembed%7Ctwterm%5E1621022252795068417%7Ctwgr%5E48787df8282563f647b0f3026c050104a7a57660%7Ctwcon%5Es1_c10&ref_url=https%3A%2F%2Fwww.theblaze.com%2Fnews%2Fwhite-privilege-slurs-shouted-as-suspect-ran-over-er-doctor-riding-his-bike-then-stabbed-him-to-death-report
The homeowner whose camera captured that footage reported that the initial crash sounded like a "gunshot." When she went outside to investigate, she claimed she heard the suspect yell racial slurs about "white privilege" as he attacked the victim. Other witnesses claimed that Smith had also been wielding a BB gun, though those reports have not been confirmed. The knife used in the attack was recovered at the scene, police said.
While brave bystanders detained the suspect until police could arrest him, EMTs quickly rushed Mammone to the hospital where he later died from his injuries. Of his 30 years as an ER physician, Mammone spent nearly 12 of them at Providence Mission Hospital in Laguna Beach, often riding his bike to and from work.
"We are stunned by this devastating tragedy," said a hospital statement. "The entire Mission Hospital family is grieving over the loss of an incredible physician and friend. We will honor Dr. Mammone's dedication to our community and passion for medicine by continuing to provide exceptional care."
Mammone, a cyclist and a married father of two children, was beloved by his colleagues. He "had a warm personality" and "was the kind of person you wanted to be your doctor," said a hospital spokesman.
Smith reportedly owned a book-keeping and tax firm in Laguna Beach, though jail records list his occupation as "unemployed." His race has been listed as "black." He has been charged with murder and is scheduled to appear in court on Friday.
Police have not confirmed the accusations of racial slurs and have not determined a motive for the crime. According to the press release from the sheriff's office, investigators have not found any "connection between the suspect and the victim."

⬇️ Top Picks for You ⬇️
Biden Dog Bites Another Secret Service Agent; 11th Incident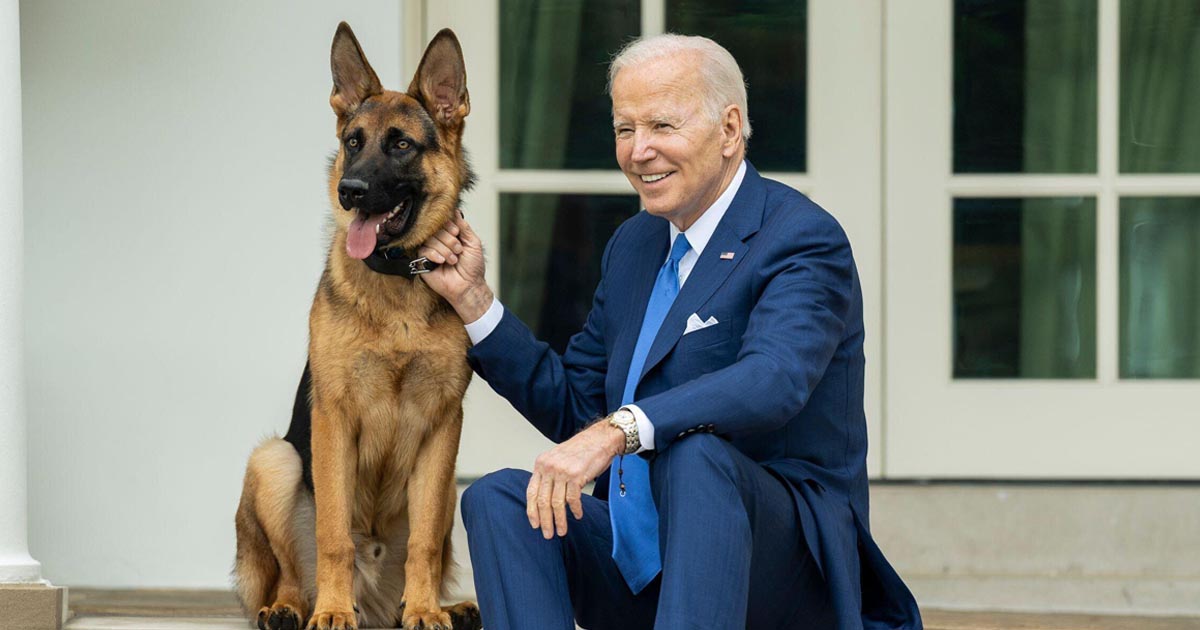 President Joe Biden's younger dog, Commander, bit another US Secret Service agent at the White House Monday evening, CNN has learned, the 11th known biting incident involving the 2-year-old German Shepherd.
"Yesterday around 8 p.m., a Secret Service Uniformed Division police officer came in contact with a First Family pet and was bitten. The officer was treated by medical personnel on complex," USSS chief of communications Anthony Guglielmi told CNN in a statement.
The injured officer spoke with Secret Service Uniformed Division Chief Alfonso M. Dyson Sr. on Tuesday and is doing OK, Guglielmi said.
Commander has been involved in at least 11 biting incidents at the White House and in Delaware, according to CNN reporting and US Secret Service email correspondence, including a November 2022 incident where an officer was hospitalized after the dog clamped down on their arms and thighs.
White House officials said in July that the Bidens were working through new training and leashing protocols for the family pet following the incidents.
Asked by CNN whether the new training had taken place or if any further action would be sought, Elizabeth Alexander, communications director for the first lady, said in a statement that "the First Family continues to work on ways to help Commander handle the often unpredictable nature of the White House grounds."
"The President and First Lady are incredibly grateful to the Secret Service and Executive Residence staff for all they do to keep them, their family, and the country safe," she continued.
Another of Biden's dogs, Major, was involved in biting incidents at the White House. The German Shepherd later moved out of the White House, and Commander arrived at the White House in 2021.
The July email correspondence, obtained through Freedom of Information Act requests by the conservative group Judicial Watch, reflected 10 incidents.
In one incident in October, first lady Dr. Jill Biden "couldn't regain control" of the dog as it charged a member of Secret Service staff.
"I believe it's only a matter of time before an agent/officer is attacked or bit," the staff member warned in an email.
While Secret Service agents are not responsible for the handling of the first family's pets, they can come into frequent contact with the animals.
"This isn't a Secret Service thing. This is a this is a workplace safety issue," CNN contributor and former USSS agent Jonathan Wackrow told CNN.
"There's uniqueness here where it's the residence of the president of the United States, but it's also the workplace for hundreds, thousands of people. And you can't bring a hazard into the workplace. And that's what is essentially happening with this dog. One time you can say it's an accident, but now multiple incidents, it's a serious issue," he added.
Wackrow called it a "significant hazard" for agents on duty at the White House residence.
"I'm sure that the Bidens love the dog. I'm sure that it's a member of the family like every dog is, but you're creating a significant hazard to those who support you – support the office of the president," he said.