Late last month, Chicago Police Officer Melvina Bogard was acquitted of felony battery charges in the shooting of an unarmed man at a Chicago train station in 2020. While a handful of local media outlets reported on the story at the time, the case received far less attention than most in which a cop shoots a civilian.
Perhaps this has something to do with Bogard's race — she is black and the shooting victim, Ariel Roman, is white. Whenever a white cop shoots and injures a black victim in the US, the media explodes with outrage, as journalists seek to prop up the narrative of systemic white supremacy and brutality within the police force. But there is far less appetite for the reverse scenario, even when that white victim isn't armed, doesn't appear to be a danger to police and is shot at close range.
The details around the Roman shooting are clear. On Feb. 8, 2020, officer Bogard and her partner, Bernard Butler, attempted to arrest Roman for illegally moving between train cars at the Grand Avenue stop on the Chicago's Red Line train system.
In video footage compiled by The Chicago Sun-Times, Roman can be seen persistently resisting arrest. One of the officers screams "stop resisting" more than 10 times. Eventually the officers deploy their Tasers, yet Roman manages to remain on his feet. Bogard then pulls her gun and yells, "Sir, put your f–king hands down!" Butler, meanwhile, yells, "Shoot him!"
In a matter of seconds, Bogard shoots Roman in the stomach at point-blank range. Somehow Roman flees before she fires at him a second time in the back. Eventually, Roman, wounded and bloodied, is apprehended and arrested.
Blame for the shooting can be placed on both sides. Roman was clearly noncompliant — he defied all of the officers' commands, forcing events to escalate. On the other hand, firing shots at Roman when he was just a few feet away feels excessive. Although Bogard claimed she shot Roman in self-defense, even her own police chief, David Brown, didn't buy that argument. He called for her to be fired for violating police protocol, saying deadly force was not necessary on a person who posed no serious threat to her or anyone nearby.
But what's most noticeable in this case is the media's response to the shooting — or, rather, its lack thereof. After the 2014 death of Eric Garner at the hands of NYPD cop Daniel Pantaleo, the media has scrutinized every instance of police overreach — but only when the cops are white and the victims are black.
The Bogard case, which refused to conform to that ideology, barely registered.
Although some video footage from bystanders circulated through social media channels and a number of mostly local media outlets covered Bogard's acquittal, the story failed to grab the attention of national outlets like The New York Times, CNN and MSNBC. The case was almost completely ignored.
Meanwhile, white-cop/black-victim shootings, like those of Jacob Blake and Ma'Khia Bryant have instantly gone viral — even though, in both cases, the cops were cleared of any wrongdoing. The notion that white police officers are brutal murderers of black victims (which most definitely was the case with Derek Chauvin's murder of George Floyd in May 2020) often fails to hold up in court.
In 2020, policy analyst Zach Goldberg researched racial bias in the media and showed that unarmed black victims of fatal police shootings generate nine times as many news search items as those about white victims. Mainstream media outlets have made coordinated "editorial decisions" to "normalize among their readership the belief that 'color' is the defining attribute of other human beings," Goldberg writes.
While it is true that a highly disproportionate number of black victims are shot by cops, unarmed white Americans comprise some 40% of police shooting victims. White victims have also been killed by cops in circumstances that mirror their black counterparts: grabbing their driver's license during a traffic stop (mistaken for a gun), not showing their hands upon request, and being pushed to the ground and suffocated to death while officers crack jokes.
But these aren't the stories that excite the media.
As the Ariel Roman shooting reveals, the importance of human suffering hinges on the race of the victim — and its ability to be exploited for maximum ideological impact.

⬇️ Top Picks for You ⬇️
Biden Dog Bites Another Secret Service Agent; 11th Incident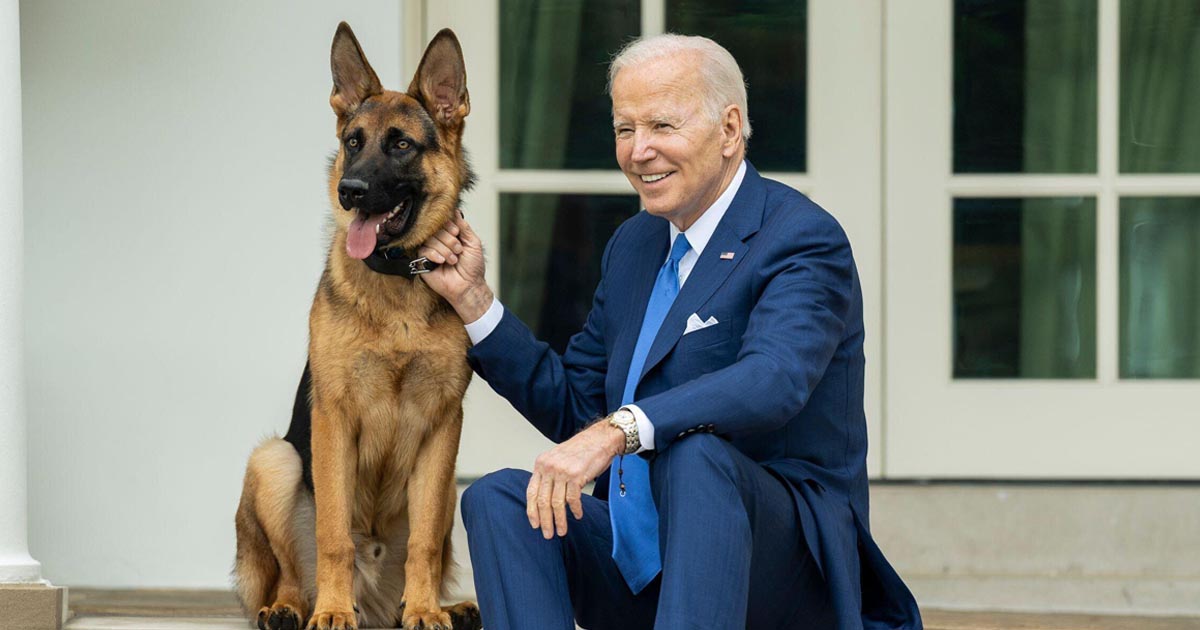 President Joe Biden's younger dog, Commander, bit another US Secret Service agent at the White House Monday evening, CNN has learned, the 11th known biting incident involving the 2-year-old German Shepherd.
"Yesterday around 8 p.m., a Secret Service Uniformed Division police officer came in contact with a First Family pet and was bitten. The officer was treated by medical personnel on complex," USSS chief of communications Anthony Guglielmi told CNN in a statement.
The injured officer spoke with Secret Service Uniformed Division Chief Alfonso M. Dyson Sr. on Tuesday and is doing OK, Guglielmi said.
Commander has been involved in at least 11 biting incidents at the White House and in Delaware, according to CNN reporting and US Secret Service email correspondence, including a November 2022 incident where an officer was hospitalized after the dog clamped down on their arms and thighs.
White House officials said in July that the Bidens were working through new training and leashing protocols for the family pet following the incidents.
Asked by CNN whether the new training had taken place or if any further action would be sought, Elizabeth Alexander, communications director for the first lady, said in a statement that "the First Family continues to work on ways to help Commander handle the often unpredictable nature of the White House grounds."
"The President and First Lady are incredibly grateful to the Secret Service and Executive Residence staff for all they do to keep them, their family, and the country safe," she continued.
Another of Biden's dogs, Major, was involved in biting incidents at the White House. The German Shepherd later moved out of the White House, and Commander arrived at the White House in 2021.
The July email correspondence, obtained through Freedom of Information Act requests by the conservative group Judicial Watch, reflected 10 incidents.
In one incident in October, first lady Dr. Jill Biden "couldn't regain control" of the dog as it charged a member of Secret Service staff.
"I believe it's only a matter of time before an agent/officer is attacked or bit," the staff member warned in an email.
While Secret Service agents are not responsible for the handling of the first family's pets, they can come into frequent contact with the animals.
"This isn't a Secret Service thing. This is a this is a workplace safety issue," CNN contributor and former USSS agent Jonathan Wackrow told CNN.
"There's uniqueness here where it's the residence of the president of the United States, but it's also the workplace for hundreds, thousands of people. And you can't bring a hazard into the workplace. And that's what is essentially happening with this dog. One time you can say it's an accident, but now multiple incidents, it's a serious issue," he added.
Wackrow called it a "significant hazard" for agents on duty at the White House residence.
"I'm sure that the Bidens love the dog. I'm sure that it's a member of the family like every dog is, but you're creating a significant hazard to those who support you – support the office of the president," he said.