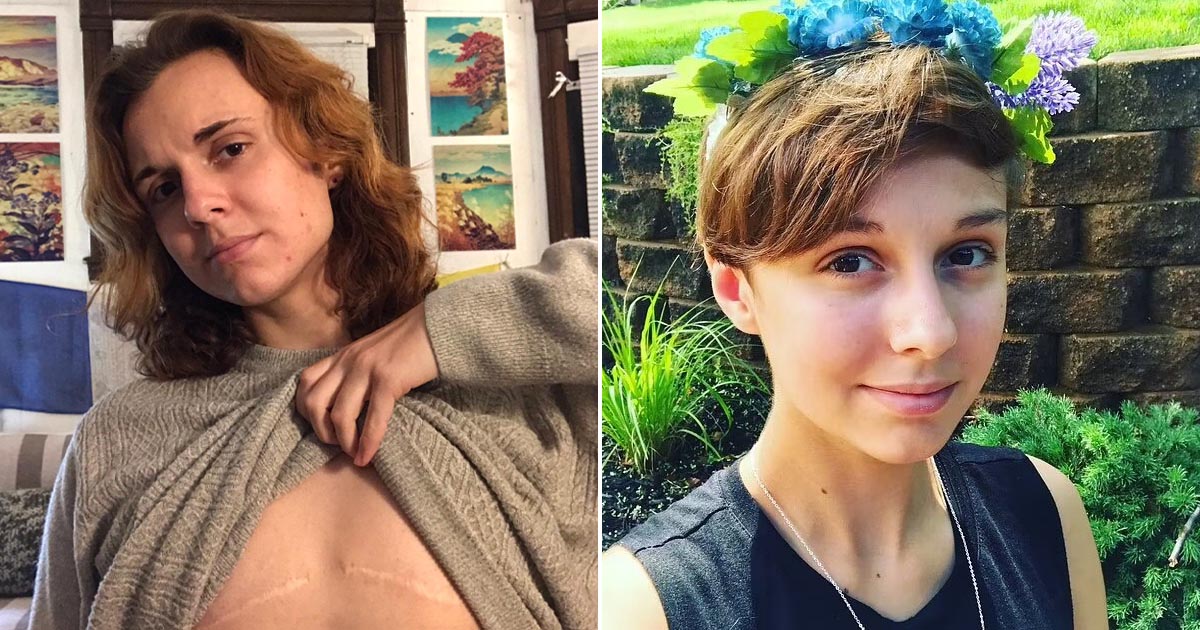 Woman Who Transitioned to Male at 16 During 'Chaotic Time' Sues Doctors Who Gave Her Double Mastectomy
A Minnesota woman who has decided to detransition from a transgender male is suing the doctors who performed a double mastectomy on her when she was just 16.
Luka Hein, now 21, claims she was going through a tough time emotionally as a teenager, when her parents were getting divorced and when she was being groomed online by a man from another state.
As she struggled with her mental health during this time, she said she found influencers online who extolled the virtues of breast surgery and hormones.
Hein then met with staff members at the University of Nebraska Medical Center, who she claims coerced her into undergoing "top" surgery and started her on hormone treatments.
She says the surgery and treatments left her in constant pain and may have robbed her of the chance of becoming a mother.
"I was going through the darkest and most chaotic time in my life, and instead of being given the help I needed, these doctors affirmed that chaos into reality," she told the Daily Mail.
She added that she should not have been able to consent to the surgery and treatments, as she was still a minor.
"I don't think kids can ever consent to having full bodily functions taken away at a young age before they even know what that means," Hein said.
"I was talked into medical intervention that I could not fully understand the long-term impacts and consequences of."
Hein is now seeking financial compensation from the medical center and "accountability for the fact that these [doctors] put me through this," she said.
The 28-page complaint, filed in the District Court of Douglas County, Nebraska on Wednesday, lists Dr. Nahia Amoura, an OB-GYN physician; Megan Smith-Sallons, an "affirming therapist" at the gender clinic, Dr. Perry Johnson, who performed the "top" surgery; and Dr. Stephan Barrientos, who assisted in the surgery, as defendants.
It claims they were each "negligent in failing to question Luka's self-diagnosis, instead 'affirming' her toward irreversible chemical and surgical solutions."
The University of Nebraska Medical Center declined to comment, citing pending litigation.
According to the suit, Hein began experiencing mental health problems in 2015 when the then 13-year-old's parents were getting a divorce and she was forced to split her time between two households.
She began to struggle in school and suffered from anxiety and panic attacks, the suit claims.
Hein soon lost her appetite, started self-harming and talked about committing suicide.
She was diagnosed with depression and generalized anxiety disorder, and was hospitalized several times for her mental health in the years that followed.
By 2017, Hein sought comfort online — where she was allegedly groomed by an unidentified older man who lived out of state.
He persuaded her to send him sexually explicit photos, the lawsuit says, and when she refused to send him any more, he threatened her.
Fearing for her safety, Hein contacted local law enforcement and was repeatedly questioned about the incident.
Meanwhile, as she started to go through puberty, Hein became extremely uncomfortable with her developing breasts and her period.
Traumatized by her online encounter, the lawsuit says, Hein started to wonder whether it would be better to have no breasts at all.
She then began exploring issues of gender identity online and followed trans influencers until she became convinced she was the wrong gender.
Hein started to identify as male, ordered a chest binder, transferred out of an all-girls' school and changed her name.
Because of what she read online, the suit claims, Hein thought that having her breasts removed might help her mental state and met with the doctors at the clinic — who, the suit says, made a "snap" diagnosis of gender identity disorder after just 55 minutes into her initial session in July 2017.
This "fails to meet the standard of care for the proper evaluation of gender identity disorder," the suit argues, saying the quickness of the diagnosis created a "feedback system that manipulates patients like Luka to [undergo] deeper and more damaging levels of transgender medical intervention."
By that October, Smith-Sallons referred Hein to the gender clinic for a double mastectomy.
The therapist recorded in her notes that Hein felt overwhelmed by the ongoing custody issues she faced, felt lonely at her new school, and had "anxiety around starting her period as well as chest dysphoria," the suit says.
"Rather than counsel Luka through these difficulties, Megan Smith-Sallons referred her to the gender clinic for 'top surgery,'" it reads.
Hein then met with Dr. Johnson and Dr. Amoura to discuss the option, but in the official medical record, the suit claims, Amoura wrote she was meeting with Hein for an "endocrine disorder."
"This was fake. Luka's endocrine system was functioning perfectly," the suit says.
"Defendant Amoura's plan to disrupt the healthy functioning of Luka's endocrine system in order to 'treat' a mental health disorder was not reasonable and fell below the standard of care for an OB-GYN physician," the suit claims.
It also argues that the doctors should have noticed there were several red flags about Hein's gender dysphoria claims, including her past mental health hospitalizations, her online encounter with an older man, and the family pressures she was facing.
"This litany of psycho-social factors should have caused a reasonably prudent plastic surgeon to not perform a double mastectomy on such a troubled teenage patient," the suit argues.
Instead, it says, Dr. Johnson told Hein's parents she would likely commit suicide if she did not have the procedure — even though she had not had suicidal ideation in nearly a year before the surgery.
"Doctors should not behave to vulnerable children or families in this manner, period," attorney Harmeet Dhillon, from the Center for American Liberty, told the Daily Mail.
"Doctors should not be mutilating and permanently disfiguring children, period, without some medical necessity, which did not present itself in this case."
Hein ultimately underwent the irreversible procedure on July 26, 2018, when she was just 16 years old and "incapable of consenting," the lawsuit says.
She then went on to take testosterone for four years, and Dr. Amoura even recommended she undergo a hysterectomy at one point — but her parents objected and she never had the procedure.
Still, the lawsuit says, Hein was left with pain in her joints, lumbar spine, hands, wrists, elbows and pelvic area, and is having "heart irregularities" as a result of the hormone therapy.
"By the time she stopped, Luka had deteriorated physically and mentally to the point that on many days she could not function or even get out of bed," the suit says.
Hein finally told Dr. Amoura in January that she was detransitioning, but Amoura allegedly told her she should just seek mental health counseling.
She reportedly told the now young adult, "I guess this is just part of your gender journey."

⬇️ Top Picks for You ⬇️
El Paso, Texas at Breaking Point as Migrants Flood Border, Mayor Says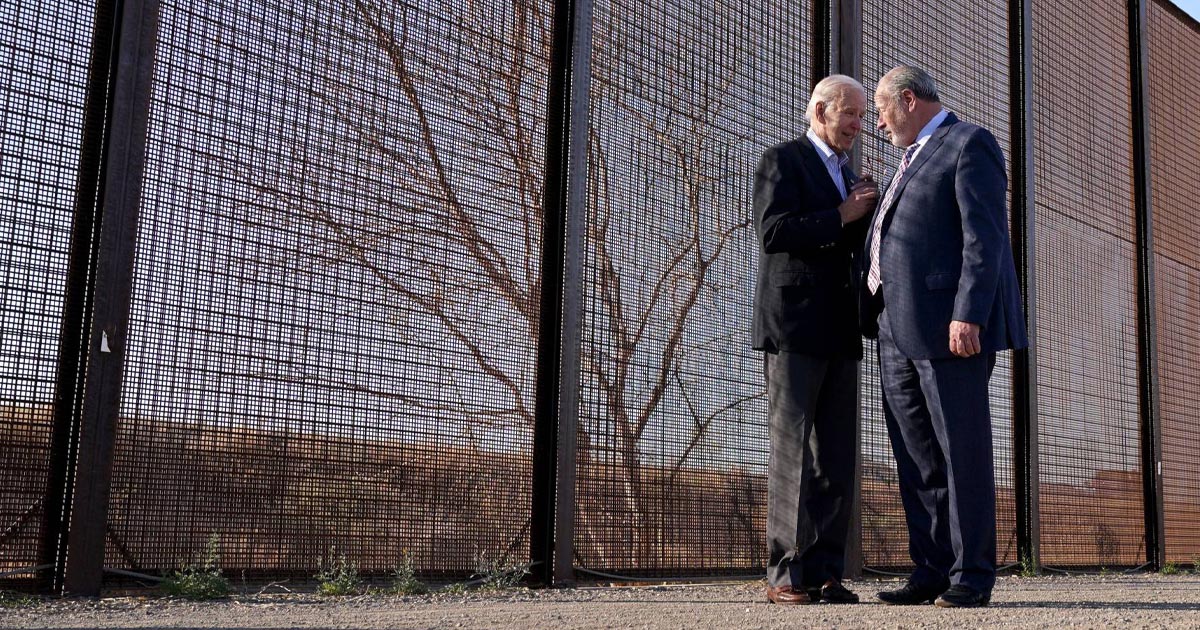 The dramatic increase in illegal migrants crossing the U.S. border from Mexico has pushed the city of El Paso, Texas, to "a breaking point," with more than 2,000 people per day seeking asylum, exceeding shelter capacity and straining resources, its mayor said on Saturday.
"The city of El Paso only has so many resources and we have come to … a breaking point right now," Mayor Oscar Leeser said at a news conference.
The arrival of largely Venezuelan asylum seekers is part of a larger swell of immigrants who traveled dangerous routes on buses and cargo trains to Mexican border towns near San Diego, California, and the Texas cities of El Paso and Eagle Pass.
Lesser said El Paso plans to open a new shelter, and on Saturday chartered five buses to take migrants to New York, Chicago and Denver.
Republican governors in Texas and Florida have been criticized for sending migrants to cities perceived as liberal such as New York and Sacramento. But Leeser, a Democrat, said all of the migrants on the El Paso buses were going voluntarily to the cities of their choice.
Many migrants from Venezuela, he said, lacked transportation to their desired destinations, while El Paso's current shelter houses only 400 people, and must also be available to help the homeless.
As recently as six weeks ago, about 350 to 400 people were crossing into El Paso per day, but the past few days have brought 2,000 or more.
Over the past 10 days, the city has worked with the U.S. Border Patrol to provide shelter for 6,500 people, Leeser said.
About two-thirds of those crossing into El Paso currently are single men, he said. About 32% are families and just 2% are unaccompanied children.
"I think it's really important to note that we have a broken immigration system," he said. "It's the same thing over and over again."
Reassigning agents
Customs and Border Protection announced it was reassigning agents this week in El Paso and Eagle Pass to attend to the latest surge at the cost of shutting down commercial traffic lanes and slowing trade between both countries.
El Paso County Judge Ricardo Samaniego said he's had several conversations in the past week with top officials of Homeland Security to prepare for the latest wave.
"We expected this increase in the fall, so we're not surprised," Samaniego said. "As long as you don't have immigration reform, we will see these spikes. We're doing everything we can to meet the needs with a humanitarian approach, not as a crisis, but as a challenge that El Paso, our border community, is prepared to meet."
Samaniego said Congress has unwittingly outsourced a broken immigration system to organized crime, resulting in a boom industry for smugglers who are increasingly more involved in the lucrative movement of migrants headed for the U.S.
In a statement, Landon Hutchens, a public affairs officer with the U.S. Customs and Border Protection, said: "CBP is aware of reports that criminal organizations in the [El Paso and Juárez] areas are spreading falsehoods and putting migrants' lives at risk for their own financial gain. These rumors are absolutely false and yet another dangerous example of bad actors sharing bad information. The border is not open to illegal migration."
One U.S. official based in Mexico estimated the human smuggling industry at "well over" $7.5 billion annually — so lucrative that the goal of criminal groups is to gain "total control" of the business. That is a dramatic increase from the $6.6 billion estimate from a 2008 study by the United Nations examining human smuggling from Latin America to the U.S.
Oscar Hagelsieb, a former assistant special agent in charge of the U.S. Homeland Security Investigations unit in El Paso and most recently in Ciudad Juárez, explained: "You need some sort of collateral, because when that shipment of meth or fentanyl gets confiscated, it's gone.
"With humans," he said, "you just try again, or you use them for other illicit purposes like extortions." That approach includes kidnapping migrants and calling relatives either in Latin America or the U.S. and demanding ransom.
New technology to detect fentanyl also plays a role in decisions by criminal groups, said Hagelsieb, president of Hagelsieb Strategic Investigations, a security consultant firm in El Paso.
For instance, as of Sept. 1, vehicles now drive through a scanning machine known as a "low-energy portal," which creates black-and-white resonance images. Inspectors once referred only a handful of vehicles for cargo screening — using powerful scanning equipment — to check for illegal drugs.
"Any action on our side is met with a response" on the part of Mexican criminal organizations, said Hagelsieb.
Shootouts in recent weeks
One Chihuahua state official pointed to incidents over the summer involving the Hotel San Miguel, popular with migrants. Shootouts have been reported in recent weeks as rival cartel groups fight over migrants. In one incident, a criminal group had just brought some migrants to the hotel. Shortly afterward, a rival group showed up and took the migrants away, leading to gun fights across the city.
"These are criminal groups who are fighting [over] the sale of illicit drugs and migrant routes," said César Omar Muñoz Morales, Juárez's police chief.
The Juárez Cartel has long been the dominant criminal group in this border city, using the major corridor for smuggling of illicit drugs and now humans. Their enforcement unit, known as La Linea, has often forged alliances with local gangs like Barrio Azteca, Mexicles and Artists Assassins. Their key rival is the Sinaloa Cartel.
In August, there were more than 110 homicides in Juárez, the kind of violence not seen since the late 2000s, when Juárez was dubbed one of the most dangerous cities in the world. In one day alone, Aug. 14, 15 people were killed. The day was dubbed "Black Monday."
"These numbers are high," said Molly Molloy, a retired librarian and Latin American specialist at New Mexico State University who has tracked the homicide rate in Juárez for years. "They are not the highest ever seen in Juárez by a long shot, but any day with 15 homicides is a pretty bad day."
The city is poised to surpass 1,000 homicides this year, meaning the rate would be "about 72 murders per 100,000. That is higher" than most U.S. cities, she said, citing statistics from the U.S. Census Bureau and Uniform Crime Reports provided by the FBI.
The Mexican National Guard said an estimated 3,000 troops have been deployed to this city.
Nightly, hundreds of migrants arrive on top of trains in Juarez and communities like Piedras Negras, across the border from Eagle Pass. Recently, outside Gomez Palacio, Durango, a train packed with migrants was seen plowing toward Ciudad Juárez.
This week, Mexican railroad train company Ferromex announced it was temporarily suspending 60 train routes headed for border states, citing the "rising risk" of injured migrants and deaths resulting from riding atop their trains and falling.