Youtube Insider Leaks 'Urgent Guidance' Document Distributed to Employees Handling Pfizer Exposé
Project Veritas claimed Monday that YouTube officials distributed a document to employees on how to handle the investigative journalism non-profit's bombshell video on Pfizer released last week.
The video from Project Veritas went viral, receiving over 20 million views despite being banned from YouTube. In that video, a man identified as Jordon Walker, Pfizer's director of research and development, strategic operations – mRNA scientific planner, divulges that the company has allegedly considered mutating COVID-19 through "directed evolution" in monkeys to develop new vaccines.
The group's Twitter account claimed that a YouTube insider leaked "Urgent Guidance" to handle the Pfizer video "Effective immediately as of 27 January 2023."
"A clip uploaded by Project Veritas featuring a Pfizer official is rapidly spreading on the platform," the document attached to the tweet reads. "The video, when uploaded in its entirety, contains a timestamp that violates the COVID-19 Vaccine Misinformation policy for making a categorical claim that COVID-19 vaccines are ineffective and should therefore be removed unless it contains sufficient EDSA/CRC."
BREAKING: @YouTube Insider leaks "Urgent Guidance" document sent to employees on how to handle the Project Veritas @pfizer #DirectedEvolution video "Effective immediately as of 27 January 2023"

"Violates the COVID-19 misinformation policy" pic.twitter.com/lC7OJajs8a

— Project Veritas (@Project_Veritas) January 30, 2023
Project Veritas founder James O'Keefe addressed critics of the video exposé on Monday.
"For those who don't like the video having 30 mil views," O'Keefe said in a tweet. "Ask yourself: Why does Project Veritas even have a mission," adding, "If YouTube weren't taking down our video, and large multinational corps weren't telling journalists not to cover stories, there wouldn't be a need for people like me."
The non-profit rented a truck and parked it outside Pfizer headquarters in Manhattan on Tuesday, which displayed the bombshell video on the side and a picture of Walker on the back underneath a #DIRECTEDEVOLUTION banner.
We rented an LED truck and parked it outside of @pfizer world headquarters in Manhattan today⁰⁰Stay tuned… pic.twitter.com/P9waV9vx86

— Project Veritas (@Project_Veritas) January 31, 2023
In the original video, Walker's claim that the company has at least considered mutating the virus to manufacture vaccines is just one of several disturbing assertions.
Walker also implies federal regulators don't enforce laws enough on Pfizer in hopes of landing jobs there and that the company expects COVID to be a "cash cow" for years to come.
In a subsequent video in which O'Keefe confronts Walker, the Pfizer employee claims that he lied on the video to impress who he believed to be his date. Then, in a disturbing meltdown, Walker seizes a tablet from O'Keefe and smashes it.
When Walker describes to the undercover Project Veritas reporter the process of mutating the virus by infecting monkeys, the reporter opines that it sounds like gain-of-function research, in which viruses are manipulated to become more dangerous for the supposed purpose of finding more effective treatments.
Gain-of-function research, possibly funded in part by a grant from the U.S. National Institute of Allergy and Infectious Diseases, is suspected by some experts in the alleged creation of COVID-19 inside a lab in Wuhan, China.
Walker, however, insisted the research he described is "directed evolution" research and not gain-of-function.
Pfizer denied it conducts gain-of-function research on COVID-19 in a long-awaited but indirect response.
"Allegations have recently been made related to gain of function and directed evolution research at Pfizer and the company would like to set the record straight," the company's statement began. "In the ongoing development of the Pfizer-BioNTech COVID-19 vaccine, Pfizer has not conducted gain of function or directed evolution research."
Pfizer's statement goes on to describe the research it acknowledges conducting, which usually involves only computer simulations, but added that "in a limited number of cases when a full virus does not contain any known gain of function mutations, such virus may be engineered to enable the assessment of antiviral activity in cells."

⬇️ Top Picks for You ⬇️
Biden Dog Bites Another Secret Service Agent; 11th Incident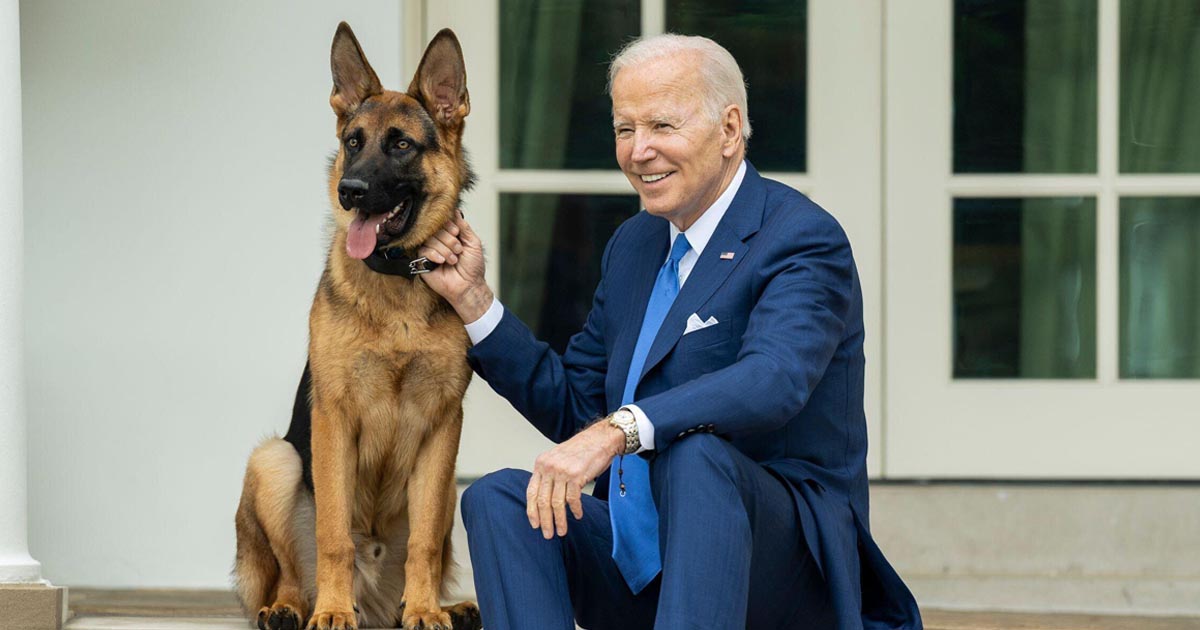 President Joe Biden's younger dog, Commander, bit another US Secret Service agent at the White House Monday evening, CNN has learned, the 11th known biting incident involving the 2-year-old German Shepherd.
"Yesterday around 8 p.m., a Secret Service Uniformed Division police officer came in contact with a First Family pet and was bitten. The officer was treated by medical personnel on complex," USSS chief of communications Anthony Guglielmi told CNN in a statement.
The injured officer spoke with Secret Service Uniformed Division Chief Alfonso M. Dyson Sr. on Tuesday and is doing OK, Guglielmi said.
Commander has been involved in at least 11 biting incidents at the White House and in Delaware, according to CNN reporting and US Secret Service email correspondence, including a November 2022 incident where an officer was hospitalized after the dog clamped down on their arms and thighs.
White House officials said in July that the Bidens were working through new training and leashing protocols for the family pet following the incidents.
Asked by CNN whether the new training had taken place or if any further action would be sought, Elizabeth Alexander, communications director for the first lady, said in a statement that "the First Family continues to work on ways to help Commander handle the often unpredictable nature of the White House grounds."
"The President and First Lady are incredibly grateful to the Secret Service and Executive Residence staff for all they do to keep them, their family, and the country safe," she continued.
Another of Biden's dogs, Major, was involved in biting incidents at the White House. The German Shepherd later moved out of the White House, and Commander arrived at the White House in 2021.
The July email correspondence, obtained through Freedom of Information Act requests by the conservative group Judicial Watch, reflected 10 incidents.
In one incident in October, first lady Dr. Jill Biden "couldn't regain control" of the dog as it charged a member of Secret Service staff.
"I believe it's only a matter of time before an agent/officer is attacked or bit," the staff member warned in an email.
While Secret Service agents are not responsible for the handling of the first family's pets, they can come into frequent contact with the animals.
"This isn't a Secret Service thing. This is a this is a workplace safety issue," CNN contributor and former USSS agent Jonathan Wackrow told CNN.
"There's uniqueness here where it's the residence of the president of the United States, but it's also the workplace for hundreds, thousands of people. And you can't bring a hazard into the workplace. And that's what is essentially happening with this dog. One time you can say it's an accident, but now multiple incidents, it's a serious issue," he added.
Wackrow called it a "significant hazard" for agents on duty at the White House residence.
"I'm sure that the Bidens love the dog. I'm sure that it's a member of the family like every dog is, but you're creating a significant hazard to those who support you – support the office of the president," he said.