Brazen thieves were caught on camera casually walking out with $9,000 worth of goods from separate California stores as lawlessness in the state governed by Gavin Newsom continues.
A group of masked thieves stormed into a Home Depot store in Signal Hill on August 27 and stole $5,000 worth of power tools in full view of shocked staff and customers.
The seven men loaded two shopping carts with expensive goods and carried as much as possible in their arms before walking out.
In a separate incident the next day, a man and a woman ransacked a Nordstrom shop in an Irvine mall.
Surveillance footage shows the pair strolling into the store before running out with armfuls of stolen items and fleeing the scene in a getaway car.
Gang of thieves ransack Home Depot store in Signal Hill, California. pic.twitter.com/8HL9wMlI6r

— Mike Sington (@MikeSington) September 2, 2023
The masked men were filmed raiding the Home Depot store on Spring Street in broad daylight.
One of the bold thieves, in a grey hoodie, was seen wrestling a shopping cart from an employee while the others loaded a second one.
He eventually got hold of it and pushed it towards the entrance with the help of one of his accomplices before turning back to walk outside with the second cart.
Four remaining thieves are seen picking up armfuls of power tools from a shelf before casually walking out.
The man in the grey hoodie is seen returning and carries three more boxes of items before jogging out of the store.
Employees in orange aprons could only watch in shock and did not engage with the masked thieves. Some workers decided to record the raid.
Signal Hill Police Department were called to the store at around 6pm following reports of a robbery.
A spokesman said it involved 'approximately seven unknown males, who stole approximately $5,000 worth of power tools'.
No one has been arrested over the incident yet and police are calling on anyone with any information to contact Detective Jerry Maldonado.
A Nordstrom store in Irvine Spectrum Center was robbed by a man and a woman the next day in a separate incident.
Surveillance footage shows the pair walking into the store and grabbing armfuls of clothes from the rack before they sprint out.
They were then seen getting into a white Kia Forte and fleeing the scene with the goods worth an estimated $4,000.
The pair have not been identified or arrested but police shared pictures of them and asked anyone who recognizes them to get in touch.
There have been a number of similar robberies in California recently including the theft of shoes from a Los Angeles Nike store earlier this month.
A group of people were seen filling up bags with items in a Macy's store in Sherman Oaks last week.
It has led to Los Angeles Mayor Karen Bass launching a multi-agency retail theft task force to address the crimes which has led to 11 arrests so far.
Long Beach and Signal Hill created their own task force to put an end to the commercial burglaries they say is part of organized theft rings.

⬇️ Top Picks for You ⬇️
McCarthy to Work with Dems to Pass 45-Day Funding, Avoiding Govt Shutdown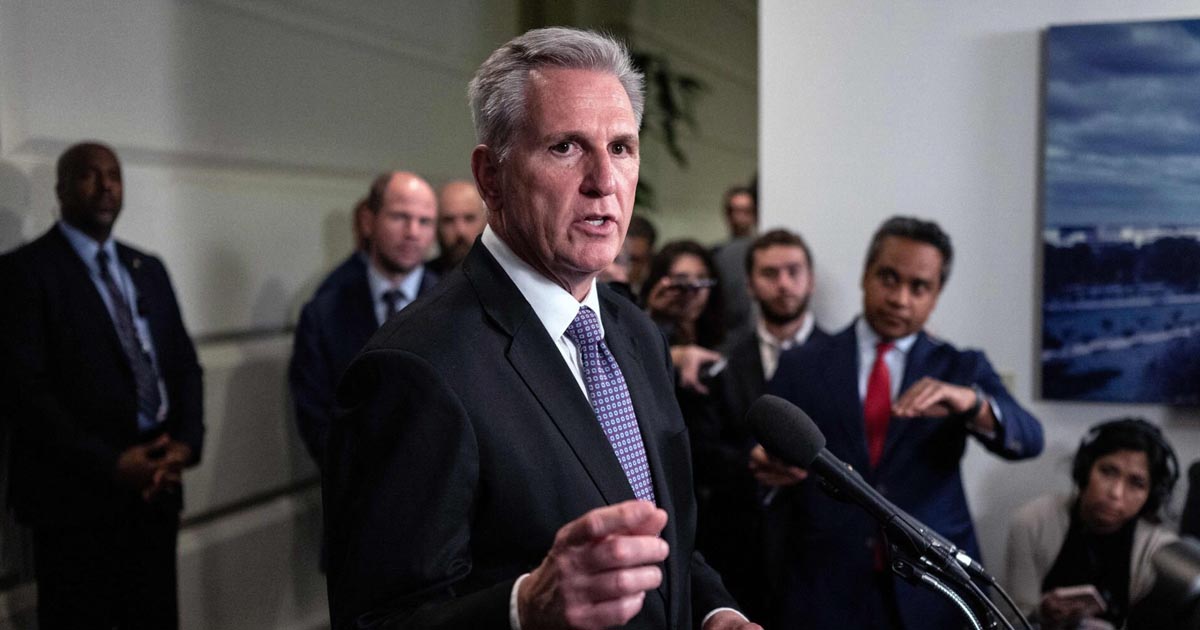 On the brink of a federal government shutdown, Speaker Kevin McCarthy announced a dramatic pivot Saturday, trying to push a 45-day funding bill through the House with Democratic help — a move that could keep government open but most certainly risks his job.
Republican lawmakers met behind closed doors early in the morning with hours to go before the midnight deadline needed to fund government operations or face a disruptive federal closure.
The new approach would leave behind aid to Ukraine, a White House priority opposed by a growing number of GOP lawmakers, but the plan would increase federal disaster assistance by $16 billion, meeting President Joe Biden's full request.
The House was preparing for a quick vote Saturday on the plan, but Democrats hit the brakes, seeking time so they could read the 71-page bill. Across the Capitol, the Senate was opening a rare weekend session and hoping to advance its own stopgap plan, but with money for Ukraine.
"We're going to do our job," McCarthy said after the morning meeting. "We're going to be adults in the room. And we're going to keep government open."
With no deal in place before Sunday, federal workers will face furloughs, more than 2 million active-duty and reserve military troops will work without pay and programs and services that Americans rely on from coast to coast will begin to face shutdown disruptions.
The sudden House action would fund government at current 2023 levels for 45 days, through Nov. 17. It would move closer to the bipartisan approach underway in the Senate, which also would fund the government through that period, while adding $6 billion for Ukraine to fight the war against Russia and $6 billion for U.S. disaster relief.
"A bipartisan, a bicameral solution is the only way forward," said Rep. Rosa DeLauro, the top Democrat on the House Appropriations Committee. She and other Democrats decried cutting Ukraine aid.
McCarthy, R-Calif., will be forced to rely on Democrats for passage because the speaker's hard-right flank has said it will oppose any short-term measure. McCarthy was setting up a process for voting that will require a two-thirds supermajority, about 290 votes in the 435-member House for passage. Republicans hold a 221-212 majority, with two vacancies.
Relying on Democratic votes and leaving his right-flank behind is something that the hard-right lawmakers have warned will risk McCarthy's job as speaker. They are almost certain to quickly file a motion to try to remove McCarthy from that office, though it is not at all certain there would be enough votes to topple the speaker.
"If somebody wants to remove me because I want to be the adult in the room, go ahead and try," McCarthy said of the threat to oust him. "But I think this country is too important."
The quick pivot comes after the collapse Friday of McCarthy's earlier plan to pass a Republican-only bill with steep spending cuts up to 30% to most government agencies that the White House and Democrats rejected as too extreme.
"Our options are slipping away every minute," said one senior Republican, Rep. Mario Diaz-Balart of Florida.
Meanwhile, the Senate was marching ahead on its package with support from both Democrats and Republicans.
"Congress has only one option to avoid a shutdown — bipartisanship," said Senate Majority Leader Chuck Schumer, D-N.Y.
Senate Republican leader Mitch McConnell of Kentucky echoed the sentiment, warning his own hard-right colleagues there is nothing to gain by shutting down the federal government.
"It heaps unnecessary hardships on the American people, as well as the brave men and women who keep us safe," McConnell said.
The federal government is heading straight into a shutdown that poses grave uncertainty for federal workers in states all across America and the people who depend on them — from troops to border control agents to office workers, scientists and others.
Families that rely on Head Start for children, food benefits and countless other programs large and small are confronting potential interruptions or outright closures. At the airports, Transportation Security Administration officers and air traffic controllers are expected to work without pay, but travelers could face delays in updating their U.S. passports or other travel documents.
An earlier McCarthy plan to keep the government open collapsed Friday due to opposition from a faction of 21 hard-right holdouts despite steep spending cuts of nearly 30% to many agencies and severe border security provisions.
The White House has brushed aside McCarthy's overtures to meet with Biden after the speaker walked away from the debt deal they brokered earlier this year that set budget levels.
Catering to his hard-right flank, McCarthy had returned to the spending limits the conservatives demanded back in January as part of the deal-making to help him become the House speaker.
After Friday's vote, McCarthy's chief Republican critic, Rep. Matt Gaetz of Florida, said the speaker's bill "went down in flames as I've told you all week it would."