Google will release a public competitor to artificial intelligence language processing tool ChatGPT in the coming weeks as the Microsoft-backed system garners millions of users, Google CEO Sundar Pichai announced on Monday.
ChatGPT has earned worldwide recognition as knowledge workers use the system to complete tasks such as writing emails and computer code in a matter of seconds. Pichai revealed in a blog post that Bard, an experimental conversational artificial intelligence service based on the company's Language Model for Dialogue Applications, will be opened to "trusted testers ahead of making it more widely available to the public in the coming weeks."
"Bard seeks to combine the breadth of the world's knowledge with the power, intelligence and creativity of our large language models. It draws on information from the web to provide fresh, high-quality responses," Pichai wrote. "We're releasing it initially with our lightweight model version of LaMDA. This much smaller model requires significantly less computing power, enabling us to scale to more users, allowing for more feedback. We'll combine external feedback with our own internal testing to make sure Bard's responses meet a high bar for quality, safety and groundedness in real-world information."
The present version of ChatGPT has "limited knowledge" of world events after 2021 and is "not connected to the internet," according to an article from OpenAI, the Microsoft-backed firm which created the system. ChatGPT has nevertheless reached 100 million active users within two months of becoming publicly available, surpassing growth trends for social media platforms such as TikTok to possibly become the fastest-growing internet product in history, according to a UBS investor note seen by Business Insider.
Some 27% of employees at prominent consulting, technology, and financial services companies have already used ChatGPT in various capacities, according to a survey from Fishbowl. Venture capital firms have been seeking to acquire shares at a rate that would ascribe a valuation of nearly $30 billion to OpenAI even though the company has generated little revenue, according to a report from the Wall Street Journal.
Pichai added that his company would implement artificial intelligence systems such as LaMDA, PaLM, Imagen, and MusicLM into Google Search. The systems could take complex and analytical questions submitted by users and summarize information from multiple sources.
"Soon, you'll see AI-powered features in Search that distill complex information and multiple perspectives into easy-to-digest formats," Pichai continued, "so you can quickly understand the big picture and learn more from the web: whether that's seeking out additional perspectives, like blogs from people who play both piano and guitar, or going deeper on a related topic, like steps to get started as a beginner. These new AI features will begin rolling out on Google Search soon."
Google previously vowed that the company would not pursue artificial intelligence solutions that cause harm, assist with weapons or other harm-inducing technologies, gather information for the purpose of surveillance, or otherwise contravene "widely accepted principles of international law and human rights." The company has also promised that its artificial intelligence products would be socially beneficial and avoid creating or reinforcing unfair bias.
Many conservatives have expressed concern that ChatGPT appears to possess political and social views that skew leftward. National Review writer Nate Hochman asked ChatGPT about several ideas considered to be misinformation by fact-checkers and found that the system often echoed the establishment-sanctioned narrative, while Reason contributor David Rozado found that ChatGPT scored toward the center-Left on four different political compass quizzes. Another recent analysis from The Daily Wire found that ChatGPT sometimes endorses principles espoused by supporters of radical gender theory.

⬇️ Top Picks for You ⬇️
Biden Dog Bites Another Secret Service Agent; 11th Incident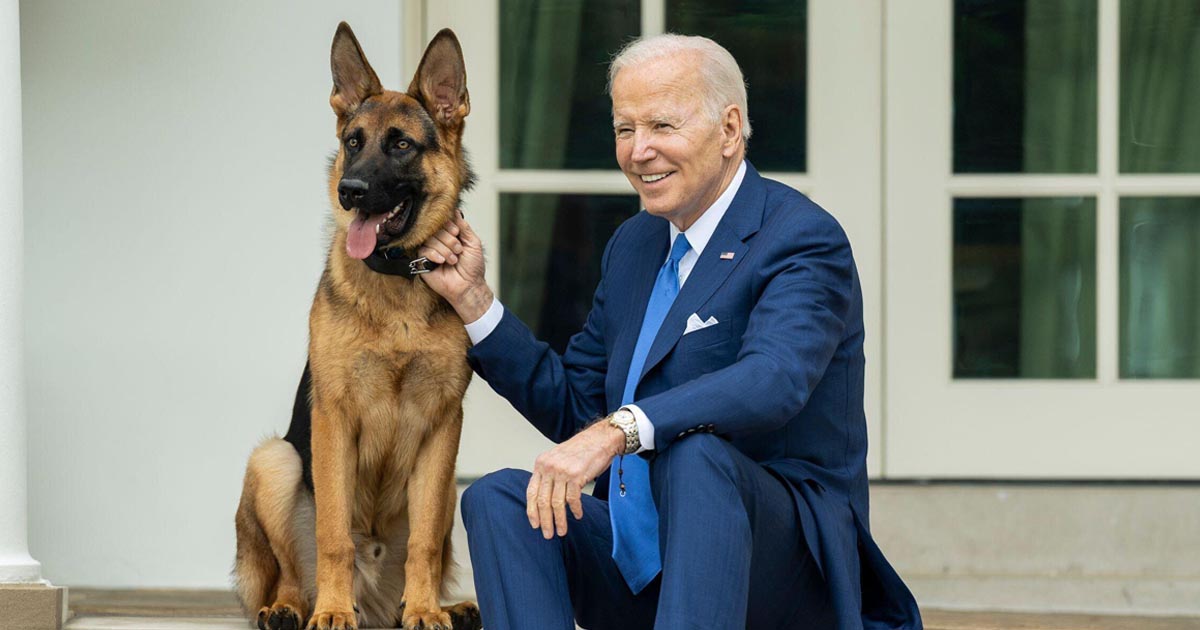 President Joe Biden's younger dog, Commander, bit another US Secret Service agent at the White House Monday evening, CNN has learned, the 11th known biting incident involving the 2-year-old German Shepherd.
"Yesterday around 8 p.m., a Secret Service Uniformed Division police officer came in contact with a First Family pet and was bitten. The officer was treated by medical personnel on complex," USSS chief of communications Anthony Guglielmi told CNN in a statement.
The injured officer spoke with Secret Service Uniformed Division Chief Alfonso M. Dyson Sr. on Tuesday and is doing OK, Guglielmi said.
Commander has been involved in at least 11 biting incidents at the White House and in Delaware, according to CNN reporting and US Secret Service email correspondence, including a November 2022 incident where an officer was hospitalized after the dog clamped down on their arms and thighs.
White House officials said in July that the Bidens were working through new training and leashing protocols for the family pet following the incidents.
Asked by CNN whether the new training had taken place or if any further action would be sought, Elizabeth Alexander, communications director for the first lady, said in a statement that "the First Family continues to work on ways to help Commander handle the often unpredictable nature of the White House grounds."
"The President and First Lady are incredibly grateful to the Secret Service and Executive Residence staff for all they do to keep them, their family, and the country safe," she continued.
Another of Biden's dogs, Major, was involved in biting incidents at the White House. The German Shepherd later moved out of the White House, and Commander arrived at the White House in 2021.
The July email correspondence, obtained through Freedom of Information Act requests by the conservative group Judicial Watch, reflected 10 incidents.
In one incident in October, first lady Dr. Jill Biden "couldn't regain control" of the dog as it charged a member of Secret Service staff.
"I believe it's only a matter of time before an agent/officer is attacked or bit," the staff member warned in an email.
While Secret Service agents are not responsible for the handling of the first family's pets, they can come into frequent contact with the animals.
"This isn't a Secret Service thing. This is a this is a workplace safety issue," CNN contributor and former USSS agent Jonathan Wackrow told CNN.
"There's uniqueness here where it's the residence of the president of the United States, but it's also the workplace for hundreds, thousands of people. And you can't bring a hazard into the workplace. And that's what is essentially happening with this dog. One time you can say it's an accident, but now multiple incidents, it's a serious issue," he added.
Wackrow called it a "significant hazard" for agents on duty at the White House residence.
"I'm sure that the Bidens love the dog. I'm sure that it's a member of the family like every dog is, but you're creating a significant hazard to those who support you – support the office of the president," he said.