On October 7, Hamas terrorists were not the only ones who documented the war crimes they had committed during their deadly rampage across southern Israel. Some of their atrocities were captured by Gaza-based photojournalists working for the Associated Press and Reuters news agencies whose early morning presence at the breached border area raises serious ethical questions, Honestreporting reported.
What were they doing there so early on what would ordinarily have been a quiet Saturday morning? Was it coordinated with Hamas? Did the respectable wire services, which published their photos, approve of their presence inside enemy territory, together with the terrorist infiltrators? Did the photojournalists who freelance for other media, like CNN and The New York Times, notify these outlets? Judging from the pictures of lynching, kidnapping and storming of an Israeli kibbutz, it seems like the border has been breached not only physically, but also journalistically.
AP: Photojournalists or Infiltrators?
Four names appear on AP's photo credits from the Israel-Gaza border area on October 7: Hassan Eslaiah, Yousef Masoud, Ali Mahmud, and Hatem Ali.
Eslaiah, a freelancer who also works for CNN, crossed into Israel, took photos of a burning Israeli tank, and then captured infiltrators entering Kibbutz Kfar Azza.
HonestReporting has obtained screenshots of Eslaiah's now-removed tweets on X in which he documented himself standing in front of the Israeli tank. He did not wear a press vest or a helmet, and the Arabic caption of his tweet read: "Live from inside the Gaza Strip settlements."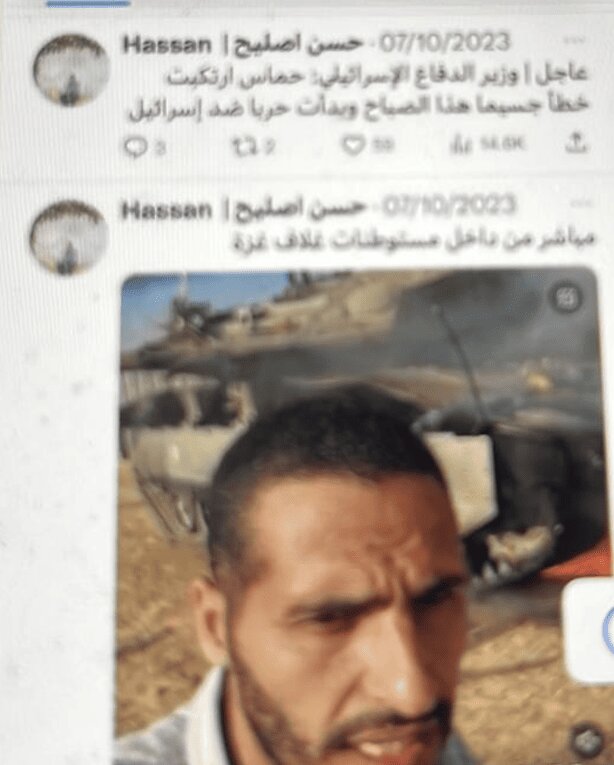 Masoud, who also works for The New York Times, was there as well — just in time to set foot in Israeli territory and take more tank pictures.
Ali Mahmud and Hatem Ali were positioned to get pictures of the horrific abductions of Israelis into Gaza.
Interestingly, the names of the photographers, which appear on other sources, have been removed from some of the photos on AP's database. Perhaps someone at the agency realized it posed serious questions regarding their journalistic ethics.
Reuters: Lynching as "Image of the Day"
Reuters has published pictures from two photojournalists who also happened to be at the border just in time for Hamas' infiltration: Mohammed Fayq Abu Mostafa and Yasser Qudih.
They both took pictures of a burning Israeli tank on the Israeli side of the border, but Abu Mustafa went further: He took photos of a lynch mob brutalizing the body of an Israeli soldier who was dragged out of the tank.
Reuters was kind enough to add a graphic warning to the photo caption, but it didn't prevent editors from shamelessly labeling it as one of the "Images of the Day" on their editorial database.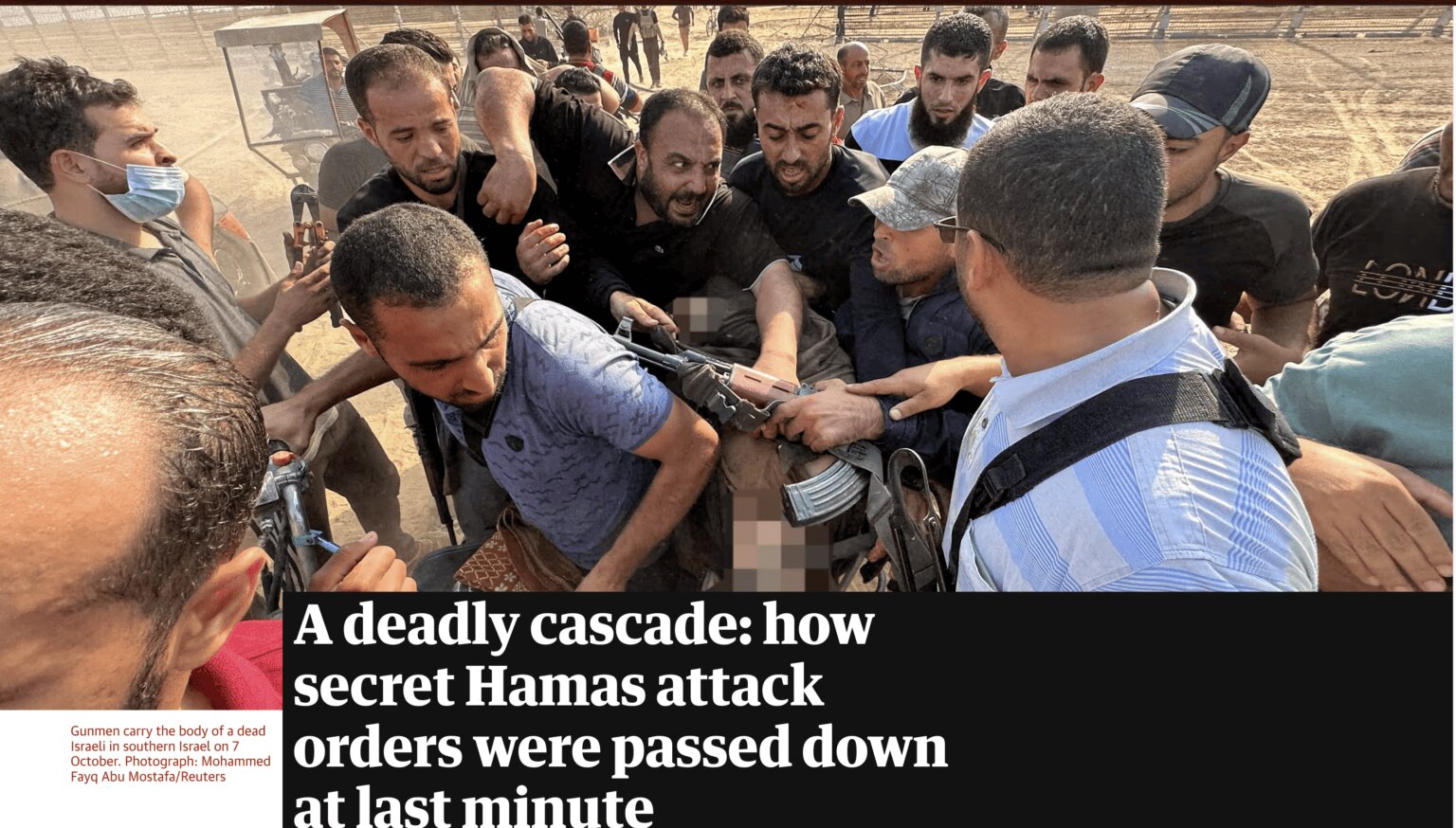 Let's be clear: News agencies may claim that these people were just doing their job. Documenting war crimes, unfortunately, may be part of it. But it's not that simple.
It is now obvious that Hamas had planned its October 7 attack on Israel for a very long time: its scale, its brutal aims and its massive documentation have been prepared for months, if not years. Everything was taken into account — the deployments, the timing, as well as the use of bodycams and mobile phone videos for sharing the atrocities.
Is it conceivable to assume that "journalists" just happened to appear early in the morning at the border without prior coordination with the terrorists? Or were they part of the plan?
Even if they didn't know the exact details of what was going to happen, once it unfolded did they not realize they were breaching a border? And if so, did they notify the news agencies? Some sort of communication was undoubtedly necessary — before, after or during the attack — in order to get the photos published.
Either way, when international news agencies decide to pay for material that has been captured under such problematic circumstances, their standards may be questioned and their audience deserves to know about it. And if their people on the ground actively or passively collaborated with Hamas to get the shots, they should be called out to redefine the border between journalism and barbarism.

⬇️ Top Picks for You ⬇️
Biden Got Recurring $1,380 Payment from Hunter's Firm Starting in 2018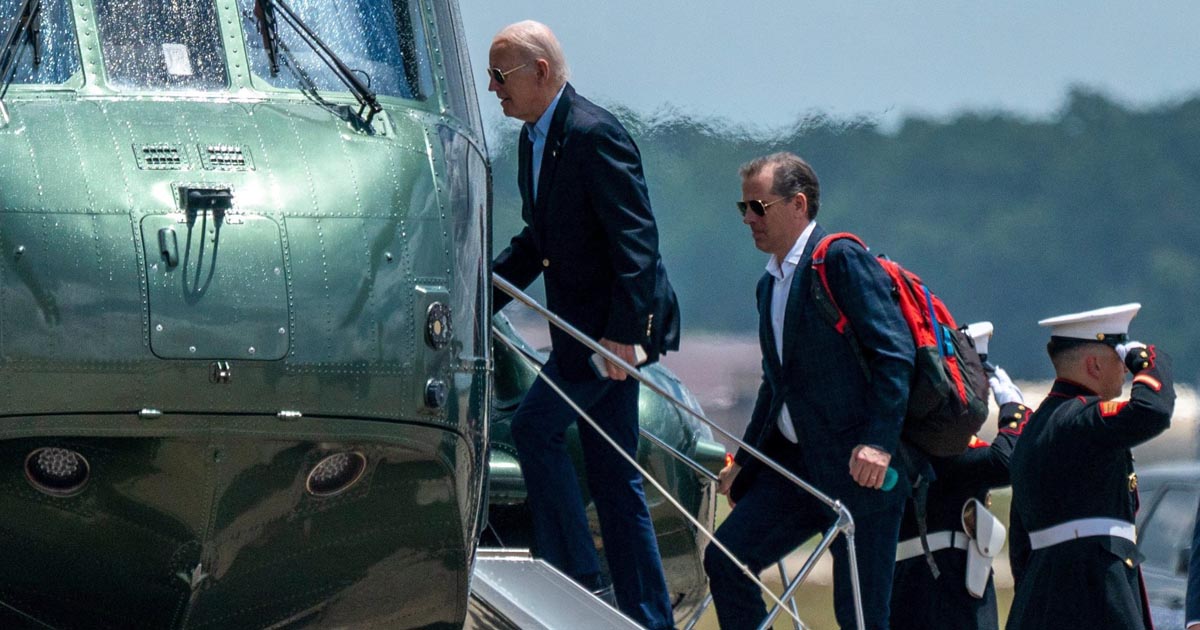 President Biden received a recurring payment of $1,380 from his son Hunter's law firm beginning in late 2018 shortly after a bank money laundering officer warned that the same account was receiving millions of dollars in Chinese government-linked funds without "any services rendered."
A bank order shows that Owasco PC set up a "monthly" transfer to then-former Vice President Joseph R. Biden Jr., with a voided check for the future president included in the documentation, which was released Monday by the House Oversight Committee.
A source told The Post that at least three recurring payments were made — on Sept. 17, Oct. 15 and Nov. 15, 2018 — totaling $4,140 to the elder Biden from Owasco PC, according to the bank records of the firm.
"President Biden and his family must be held accountable for this blatant corruption," Oversight Committee Chairman James Comer (R-Ky.) said in a video release.
"Today, the House Oversight Committee is releasing subpoenaed bank records that show Hunter Biden's business entity, Owasco PC, made direct monthly payments to Joe Biden. This wasn't a payment from Hunter Biden's personal account but an account for his corporation that received payments from China and other shady corners of the world," Comer said.
"At this moment, Hunter Biden is under an investigation by the Department of Justice for using Owasco PC for tax evasion and other serious crimes. And based on whistleblower testimony, we know the Justice Department made a concerted effort to prevent investigators from asking questions about Joe Biden. I wonder why?"
Earlier that year, a January 2019 email from assistant Katie Dodge to Hunter Biden annotated various expenses including "Ford Raptor — Reimbursement to JRB — $1380."
The provenance of the funds is unclear, however, and additional records show that Hunter Biden was knee-deep in two of his most controversial business relationships at the time, with Ukraine's Burisma Holdings and CEFC China Energy.
The evidence emerged as House Republicans prepare to question first brother James Biden on Wednesday and Hunter next week about the president's role in his family's dealings in countries such as China and Ukraine — with a possible floor vote to authorize the ongoing impeachment inquiry this month.
While a presidential candidate, Joe Biden denied that he ever discussed business with his relatives, but evidence has since shown that he met with his relatives' associates from both the Burisma and CEFC ventures.
Documents from the first son's abandoned laptop show that Burisma board adviser Vadym Pozharskyi sought "bank reference" information on Sept. 14, 2018 — one day before the initial transfer to Joe Biden was sought. However, the transaction was not executed for another two days, apparently due to a later-than-expected form submission.
Joe Biden met Pozharskyi at an April 17, 2015, dinner at DC's Café Milano. An unproven FBI informant tip said that Burisma owner Mykola Zlochevsky claimed in 2016 he was "coerced" into paying $10 million in bribes to the Bidens for their assistance in ousting prosecutor Viktor Shokin.
Hunter also was on the tail end of disbursing millions of dollars received from CEFC China Energy — one of two major Biden family dealings with Chinese government-linked firms.
On June 26, 2018 — less than three months before Joe Biden began to receive the monthly transfers — an internal Bank Secrecy Act expert warned colleagues that the institution should reconsider its relationship with Hunter as a result of Owasco PC seeming to receive Chinese funds without "any services rendered."
CEFC transferred $5 million to another Biden family-linked entity, Hudson West III, in August 2017 after Hunter warned a China-based associate of his father's wrath if a business deal was aborted. Much of the large transfer later went to Hunter's Owasco PC.
Prior bank records released by the Oversight Committee indicate that Joe Biden received payments of $40,000 and $200,000 from his brother James, who also was involved in the CEFC venture and other foreign-focused enterprises.
Comer alleged that the $40,000 transferred to Joe Biden's bank account on Sept 3, 2017, was from "laundered" Chinese funds.
James Biden paid Joe Biden $200,000 on March 1, 2018 — the same day that James received a $200,000 transfer from troubled rural hospital company Americore after pledging to use his political connections to secure a Middle Eastern investor, according to bankruptcy filings.
The White House says there's evidence that both transfers were loan repayments, but Republicans argue they have not seen loan agreement documents and note that the funds distributed to James came from a law firm, rather than Joe Biden himself, further clouding the picture.