This cold is out of this world.
New Hampshire's Mount Washington felt more like Mars than planet Earth on Friday as wind chills dipped below an unfathomable minus 110 degrees, a new record for the coldest wind chill ever recorded in the US.
Known for having some of the world's worst weather, Mount Washington saw air temperatures plummet to minus 46 degrees with wind speeds averaging over 100 miles per hour with gusts over 125 miles per hour as the artic air mass wreaked havoc Friday, according to the Mount Washington observatory.
Visibility atop the mountain was less than one-sixteenth of a mile — or just over 100 yards.
Meanwhile on Mars, temperatures on the surface this week reached a balmy high of 16 degrees with a low of minus 105, according to NASA. The space agency said temperatures of the red planet can fluctuate between minus 225 and 70 degrees.
❄️💨❄️This is EXTREME WEATHER! Right now Mount Washington is living up to the reputation of having the worse weather in the world.
INSANE conditions Temp -42° F, Wind Chill -101° F, Wind Gusts 127 mph! https://t.co/vr4pGu9p7G
From the summit cam 230-240pm. #OHwx #PAwx pic.twitter.com/6N30euV9oL

— NWS Cleveland (@NWSCLE) February 3, 2023
Video taken from the observatory on Mount Washington's summit Friday afternoon shows raging gusts of wind whipping up snow in a scene that looks more like planet Hoth from Star Wars.
The coldest air temperature ever recorded at the observatory was -47 degrees in 1934, according to the National Weather Service.
The observatory is staffed year-round, but staffers have warned others about the deadly conditions.
"I want to emphasize the danger of this cold," wrote Mount Washington weather observer Alexis George. "In these brutally cold conditions, the risk of hypothermia and frostbite will be exponential.
"These frigid cold conditions will quickly rob you of body heat, with the possibility that frostbite could develop on exposed skin in under a minute," she continued. "Even small mistakes can prove deadly, with a simple slip or fogged goggles leading to a potentially life-threatening situation. In this type of weather, rescue services will have a difficult time responding to any emergency effectively."
The wind gusts caused dangerous conditions for the weather observers even while they were hunkered down inside.
"The metal latch that was holding the door on broke, so the door swung open when we had that 127 mph gust earlier today," Francis Tarasiewicz told WGME. "So it took about three people to prop themselves up against it and someone from the state park helped to secure the door again."
"There is half of me that loves what is going on right now, and the other half of me is pretty terrified, especially when the door fails," Tarasiewcz told NECN.
Nimbus the cat, who lives in the observatory with staffers, was reportedly cozied up and unbothered by the deadly storm, despite being a bit grumpy from taking his flea medication.
"He is actually sleeping through most of this event," Tarasiewciz said.
Mount Washington sits 6,288 feet above sea level and is notorious for its capricious weather, blustering winds and heavy snow. The average wind speed there in February is 45 miles per hour, according to the observatory.

⬇️ Top Picks for You ⬇️
Trump Suggests Manhattan DA Bragg 'Dropped' Case Against Him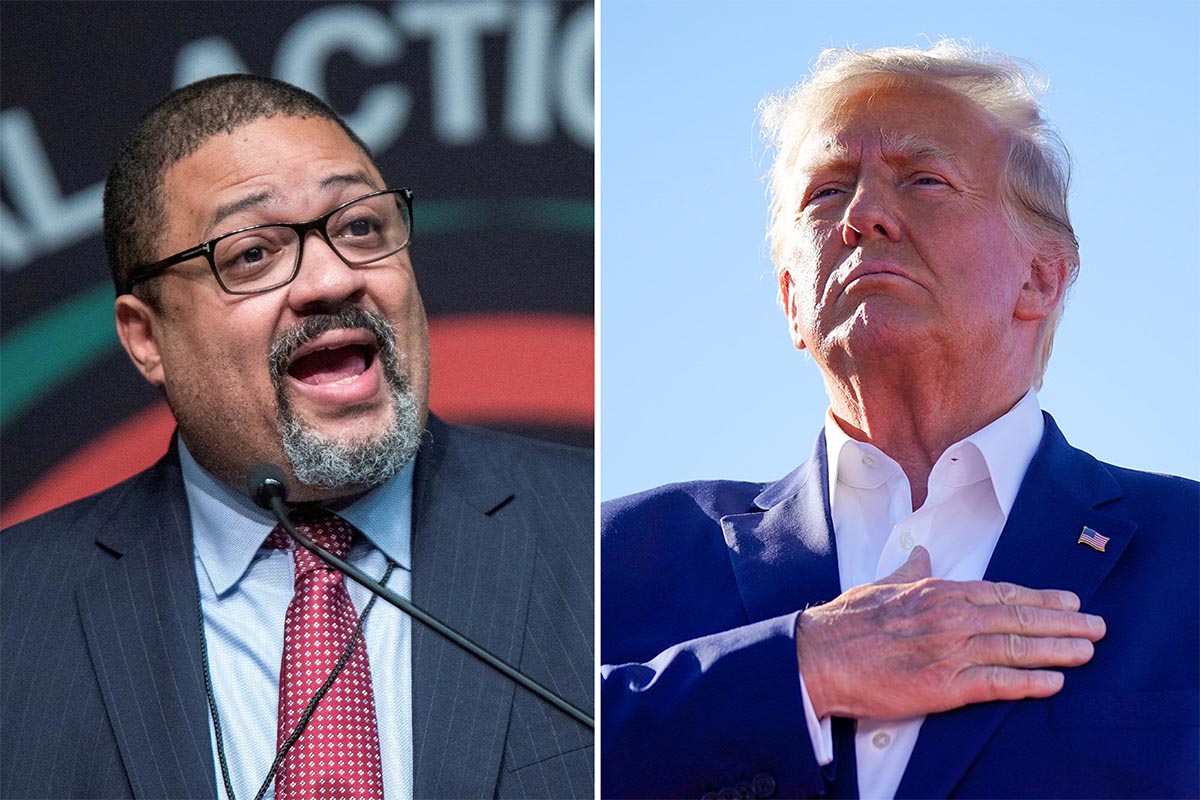 Former President Donald Trump is now suggesting Manhattan District Attorney Alvin Bragg may have dropped his case against him, about a week after he claimed he would be arrested.
After a rally in Waco, Texas, on Saturday, Trump told reporters on his plane, "I think they've already dropped the case … they have absolutely nothing." Trump did not provide evidence for his assertion Saturday.
"It's a fake case. Some fake cases, they have absolutely nothing," the former president said. Trump also reiterated his criticism of Michael Cohen, a former Trump lawyer who has testified against him in the Manhattan grand jury case and previously served time in federal prison on tax fraud and other charges.
Trump also denied mainstream media reports that suggested he was trying to incite violence with his Truth Social posts that criticized Bragg's investigation: "No, I don't like violence and I'm not for violence. But a lot of people are upset."
On Truth Social, the former president made a similar statement regarding his belief Bragg's case is "DEAD." He wrote that the "Witch Hunt against me is DEAD, no evidence at all, & it has been conclusively proven that I did nothing wrong." He dismissed Cohen as a "disbarred lawyer & convicted Felon."
Last week, an attorney in Trump's circle, Robert Costello, told media outlets that he testified before the grand jury and sought to denigrate Cohen's testimony against the 45th president in the investigation, which reportedly is connected to so-called hush money payments that were given to adult performer Stormy Daniels during the 2016 presidential campaign. A lawyer for Cohen, when reached for comment, declined to issue a statement, although Cohen told MSNBC last week that Costello never represented him and disputed his testimony.
Bragg's has not returned a request for comment, and The Epoch Times cannot verify the authenticity of Trump's claims. Previous Epoch Times requests for comment from the DA's office have gone unanswered.
Over the past week, Bragg's office has issued one public statement on the case, and that came in response to a House Republican letter seeking testimony and information about the DA's case or whether his office would arrest Trump. A letter sent by his general counsel said that it was Trump who created a "false expectation" he would be indicted last week, although he provided no other details.
Responding to the House GOP's letter, Bragg's counsel wrote that it "only came after Donald Trump created a false expectation that he would be arrested the next day, and his lawyers reportedly urged you to intervene. Neither fact is a legitimate basis for congressional inquiry."
During the Waco rally, Trump declared that his "enemies are desperate to stop us" and that "our opponents have done everything they can to crush our spirit and to break our will," and that the Manhattan district attorney was investigating him "for something that is not a crime, not a misdemeanor, not an affair."
He added: "But they failed. They've only made us stronger. And 2024 is the final battle, it's going to be the big one. You put me back in the White House, their reign will be over and America will be a free nation once again."
Trump did not make any direct references in his speech to Waco's history, telling the crowd of thousands that he told Lt. Gov Dan Patrick he wanted to hold his rally in a place with overwhelming support, not "one of those 50-50 areas," and said he told Texas officials, "Let's go right into the heart of it."
At several points, Trump criticized Florida Gov. Ron DeSantis, who, despite not announcing it, has long been expected to run for president in 2024 and is seen as Trump's strongest potential challenger for the GOP nomination. Trump called his onetime ally disloyal and said he was "dropping like a rock" in the polls.
In addition to the Manhattan case, Trump is also facing an investigation in Georgia as well as federal investigations into his handling of allegedly classified documents and possible obstruction, as well as statements he made on Jan. 6, 2021. The former president has denied wrongdoing in those instances.