A judge recently ruled that a former Virginia Tech women's soccer player can continue a lawsuit against her former coach after she was allegedly benched and pressured to leave the team for declining to kneel during a pregame social justice demonstration.
Kiersten Hening, who was a midfielder/defender for the Hokies from 2018 to 2020, sued coach Charles "Chugger" Aidair in 2021 on First Amendment grounds, which federal Judge Thomas Cullen announced on Dec. 2 can proceed to trial.
Hening alleged that Adair was not a fan of her political views and that she often differed from her teammates on social justice issues during the height of the Black Lives Matter movement in 2020.
Hening further explained in the lawsuit that while she "supports social justice and believes that black lives matter," she "does not support BLM the organization," citing its "tactics and core tenets of its mission statement, including defunding the police."
After Hening declined to kneel during a reading of a "unity statement" before a game against UVA on Sept. 12, 2020, she said Adair "verbally attacked her" at halftime, claiming she was "b–tching and moaning" while jabbing a finger in her face.
The coach continued to berate Hening until he benched her and ultimately made things so intolerable that she felt compelled to quit the team, according to the suit.
"Hening, who had been a major on-field contributor for two years prior to the 2020 season, also asserts that Adair removed her from the starting lineup for the next two games and drastically reduced her playing time in those games because she had engaged in this protected First Amendment activity. As a result, Hening resigned from the team after the third game of the season," Cullen noted in his recent ruling.
Hening's time on the field dropped off following the incident, the judge noted.
"As a freshman, Hening averaged 76 minutes of playing time; as a sophomore, nearly 88," Cullen wrote. "But during the Clemson game [the next game after the kneeling incident], Hening only played 29 minutes, and, at the UNC game, just 5."
Adair, who argued that two other players who declined to kneel did not face reduced playing time, moved to dismiss the lawsuit, which was denied.
"Ultimately, Adair may convince a jury that this coaching decision was based solely on Hening's poor play during the UVA game, but the court, viewing the evidence in the light most favorable to Hening, cannot reach that conclusion as a matter of law," ruled Cullen, who said the issues in the case are fundamental.
"While the U.S. Supreme Court and the Fourth Circuit may not have addressed the novel factual circumstances presented here—i.e., a college coach allegedly retaliating against a player for refusing to kneel with her coaches and teammates in support of perceived unity and social justice—the core constitutional principle is both clearly established and fundamental to a free society, and especially to an institution of higher education," Cullen wrote.

⬇️ Top Picks for You ⬇️
Biden Dog Bites Another Secret Service Agent; 11th Incident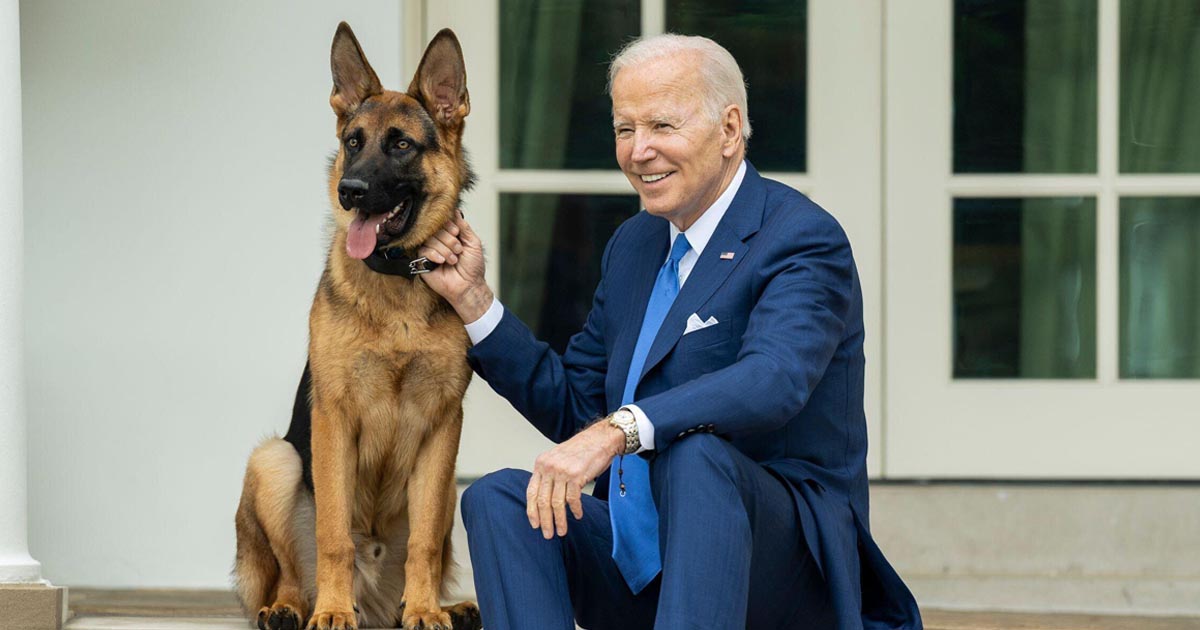 President Joe Biden's younger dog, Commander, bit another US Secret Service agent at the White House Monday evening, CNN has learned, the 11th known biting incident involving the 2-year-old German Shepherd.
"Yesterday around 8 p.m., a Secret Service Uniformed Division police officer came in contact with a First Family pet and was bitten. The officer was treated by medical personnel on complex," USSS chief of communications Anthony Guglielmi told CNN in a statement.
The injured officer spoke with Secret Service Uniformed Division Chief Alfonso M. Dyson Sr. on Tuesday and is doing OK, Guglielmi said.
Commander has been involved in at least 11 biting incidents at the White House and in Delaware, according to CNN reporting and US Secret Service email correspondence, including a November 2022 incident where an officer was hospitalized after the dog clamped down on their arms and thighs.
White House officials said in July that the Bidens were working through new training and leashing protocols for the family pet following the incidents.
Asked by CNN whether the new training had taken place or if any further action would be sought, Elizabeth Alexander, communications director for the first lady, said in a statement that "the First Family continues to work on ways to help Commander handle the often unpredictable nature of the White House grounds."
"The President and First Lady are incredibly grateful to the Secret Service and Executive Residence staff for all they do to keep them, their family, and the country safe," she continued.
Another of Biden's dogs, Major, was involved in biting incidents at the White House. The German Shepherd later moved out of the White House, and Commander arrived at the White House in 2021.
The July email correspondence, obtained through Freedom of Information Act requests by the conservative group Judicial Watch, reflected 10 incidents.
In one incident in October, first lady Dr. Jill Biden "couldn't regain control" of the dog as it charged a member of Secret Service staff.
"I believe it's only a matter of time before an agent/officer is attacked or bit," the staff member warned in an email.
While Secret Service agents are not responsible for the handling of the first family's pets, they can come into frequent contact with the animals.
"This isn't a Secret Service thing. This is a this is a workplace safety issue," CNN contributor and former USSS agent Jonathan Wackrow told CNN.
"There's uniqueness here where it's the residence of the president of the United States, but it's also the workplace for hundreds, thousands of people. And you can't bring a hazard into the workplace. And that's what is essentially happening with this dog. One time you can say it's an accident, but now multiple incidents, it's a serious issue," he added.
Wackrow called it a "significant hazard" for agents on duty at the White House residence.
"I'm sure that the Bidens love the dog. I'm sure that it's a member of the family like every dog is, but you're creating a significant hazard to those who support you – support the office of the president," he said.