Survivalist Bear Grylls admitted he is now "embarrassed" by his previous vegan diet, admitting he was wrong to think that it was good for his health or the environment.
Grylls, who previously practiced both a vegetarian and vegan lifestyle, recently revealed that he has begun switching to a diet consisting entirely of red meat, eggs and organ meat. Prior to this, he went so far as to publish a cookbook "Fuel for Life" that attacked society's "unnatural ways of breeding, keeping and killing animals." But Wednesday, however, the adventurist told The UK Telegraph that he was "wrong" to attack meat.
"I was vegan quite a few years ago – in fact, I wrote a vegan cookbook – and I feel a bit embarrassed because I really promoted that," Grylls said. "I thought that was good for the environment and I thought it was good for my health. And through time and experience and knowledge and study, I realized I was wrong on both counts."
Grylls first revealed that he had moved on from his vegan lifestyle back in November, remarking that many of the foods he ate at the time appeared to have a negative effect on his health. Since switching to all red meat and animal organs, he now claims his body has "never been better."
"For a long time, I'd been eating so many vegetables thinking it was doing me good, but just never felt like it had given me any good nutrients compared to the nutrient density I get from basically blood or bone marrow – red meat," he said. "I've tried to listen to my body more, tried to listen to nature, and I don't miss vegetables at all. I don't go near them and I've never felt stronger, my skin's never been better, and my gut's never been better."
"I've found a counterculture way of living, of embracing red meat and organs – natural food just like our millennia of ancestors would have eaten for hundreds of thousands of years. And out of all the different things I do for my health, I think that's probably been the biggest game-changer, in the sense of improving my vitality, wellbeing, strength, skin and gut. It's just been getting away from the processed stuff and making the predominant thing in my diet red meat and liver and the natural stuff – fruit, honey, that sort of thing. It's just about finding a more ancestral way of living," Grylls said.
In addition to feeling healthier, Grylls insisted that he has also felt fuller since switching away from a vegan lifestyle.
"And I find now I'm always full when I'm eating so much meat and eggs and butter and fruit and honey – I'm never hungry. I go out and I'll order three burgers and get rid of all the buns and the fries and just have the burgers. I don't crave junk food," he argued.
Former vegan influencer Alyse Parker similarly remarked on the benefits of switching from an all-vegan diet to the Carnivore Diet back in 2019.
"I swallowed my pride and decided I'd give it a shot," she said. "Full-on carnivore. I woke up the next morning feeling more mentally clear, focused, wholesome, and healthy than I had felt in years."

⬇️ Top Picks for You ⬇️
Republicans Launch Contempt Process Against FBI Director After Viewing Biden 'Bribery' Document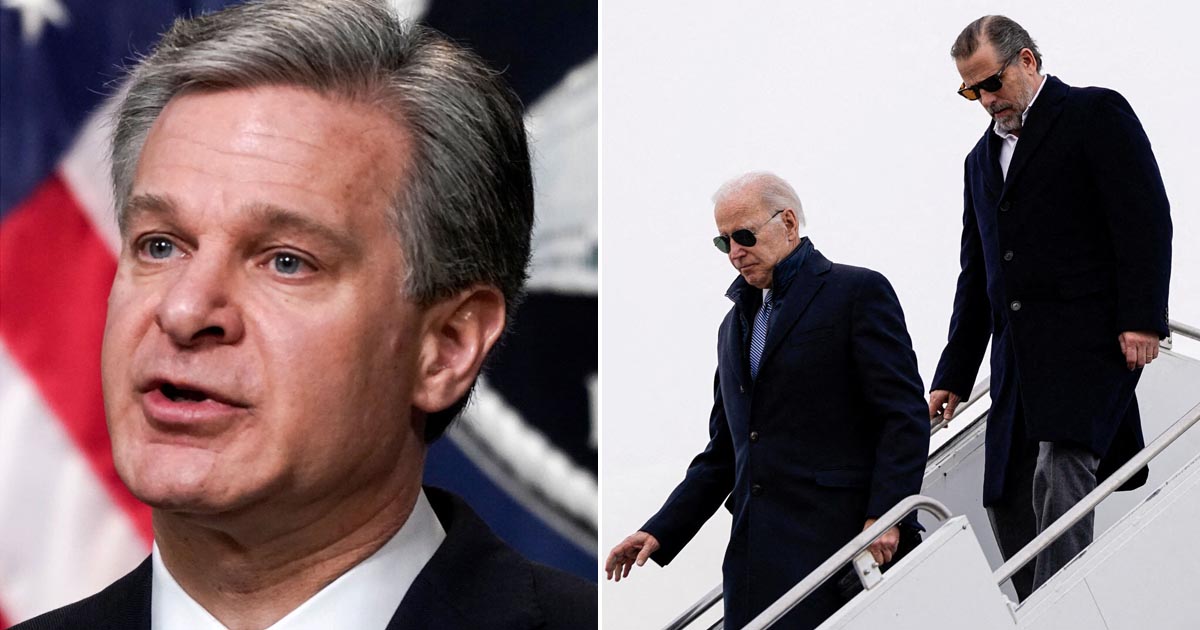 House Republicans are officially starting contempt of Congress charges against FBI Director Chris Wray for failing to turn over Biden 'bribery' document they claim shows then-Vice President Joe Biden was involved in a $5 million 'criminal' scheme with a foreign national.
The escalation comes after the Republican and Democratic leaders of the House Oversight Committee were granted access by the FBI Monday to view the FD-1023 form in a secure facility within the Capitol. The document apparently details an 'arrangement' for an exchange of money for policy decisions.
The Republicans issued a subpoena for the FD-1023 form last month and FBI Director Chris Wray was given a hard deadline of May 30 to hand over the unclassified document, which he did not comply with.
After reviewing the document Monday, Comer told reporters the accusations contained in the form 'suggests a pattern of bribery' consistent with findings the committee has put out publicly.
It's called 'money laundering,' he said, saying it fits within the pattern of over $1 million in Romanian-linked payments to the Biden family revealed last month.
In early May, Republicans released a report digging in on over $10 million received by Biden family members from foreign actors, including previously undisclosed $1 million in Romanian-linked payments, and a 'web' of 20 companies created while President Joe Biden was vice president and pushing anti-corruption efforts abroad.
He also said the FBI record was 'not disproven' and is currently being used in an ongoing investigation that is being conducted by the Department of Justice in Delaware into Hunter Biden's finances.
The 'confidential human source' is a 'trusted, highly credible informant' who has been used by the FBI for over 10 years and has been paid over six figures, continued Comer.
The chairman added that contempt proceedings will begin this Thursday.
'At the briefing, the FBI again refused to hand over the unclassified record to the custody of the House Oversight Committee, and we will now initiate contempt of Congress hearings this Thursday.'
Last week, Comer and Sen. Chuck Grassley, R-Iowa, spoke with Wray by phone and the FBI director offered to let them and Ranking Member Rep. Jamie Raskin, D-Md., view the documents at the FBI headquarters in an attempt to stave off the contempt threat.
'During today's call, Director Wray offered to provide the Committee's Chairman and Ranking Member an opportunity to review information responsive to the subpoena in a secure manner to accommodate the committee, while protecting the confidentiality and safety of sources and important investigative sensitivities,' said the FBI in a statement.
'The FBI has continually demonstrated its commitment to working with the Committee to accommodate its request, from scheduling briefings and calls to now allowing the Chair to review information in person. The FBI remains committed to cooperating with the Committee in good faith.'
Comer also informed Wray that he was also narrowing the breadth of the subpoena for the document by providing two additional terms that may be referenced in the record: 'June 30, 2020' and 'five million.'
Raskin blasted the Republicans' handling of the document in a reporter gaggle following Monday's briefing, calling it 'second-hand hearsay.'
He said former U.S. Attorney Scott Brady for the Western District of Pennsylvania and then-Attorney General Bill Barr did not find any reason to escalate the investigation into all 'allegations related to Ukraine' based on the FD-1023 form.
'I am just surprised that my colleagues want to try to litigate this in public, much less hold the Director of the Federal Bureau of Investigation in contempt for complying with the request when there was a whole process that was undertaken, and that process came to its natural end as I understand it,' Raskin said.
He would not directly confirm that the foreign national alleged in the memo being sought by Republicans is from Ukraine.
Raskin did agree with his Republican colleagues that the whistleblower is considered 'credible.'
The White House has also pushed back, calling the Republican-led investigation 'unfounded' and 'politically motivated.'