The U.S. will support a joint international effort to train Ukrainian pilots on modern fighter aircraft, including F-16s, President Joe Biden informed G-7 leaders on Friday in Japan.
The training will take place outside Ukraine at a site in Europe and will require months to complete. Officials hope to begin the training in the coming weeks, according to a senior administration official, who like others was granted anonymity to discuss the matter before it was announced.
The move could pave the way to eventually send advanced Western fighter jets to Ukraine, and discussions are ongoing about how and when that would happen, the official said.
The coalition of countries participating in the training effort will decide when to actually provide the jets, how many to send and who will transfer them as the training takes place over the coming months.
Biden's decision came overnight East Coast time amid a day of deliberations among the leaders of the G-7 nations, but discussions have been in the works for weeks, a second U.S. official said.
The move will "further strengthen and improve the capabilities of the Ukrainian Air Force," the first official said.
The Defense Department is working to iron out the details, according to a Pentagon official.
The U.S. brought two Ukrainian pilots to Arizona in March to assess their flying skills on fighter jets. During the program, which took place at an Air National Guard base in Tuscon, U.S. military personnel evaluated the pilots' flying and mission-planning capabilities on aircraft simulators.
But a larger, coordinated effort to train more pilots represents a significant turnaround for the Biden administration, which has resisted calls to conduct a dedicated training program for Ukrainian pilots. DoD officials have argued that the F-16s weren't necessary for the immediate fight, and have noted that it could take up to a year or more to complete the necessary training. Officials also worried that sending the jets could escalate the conflict because they could be used to hit targets inside Russia.
On Twitter, Ukrainian President Volodymyr Zelenskyy celebrated the news.
"I welcome the historic decision of the United States and @POTUS to support an international fighter jet coalition," Zelenskyy tweeted. "This will greatly enhance our army in the sky. I count on discussing the practical implementation of this decision at the #G7 summit in Hiroshima."
There is still no plan at present to supply Ukraine with American jets, and there have been no formal requests from allies to transfer their own F-16s to Ukraine, which is a complicated process that will likely take months if and when it happens.
Norway, Denmark and the Netherlands all have surplus aircraft that could be donated to Ukraine as all three countries upgrade to the F-35, according to a person familiar with the discussions. If the countries agreed to send the planes, it would take some time to do the required rework and maintenance to get them into flying shape.
After this story was published, Dutch Defense Minister Kajsa Ollengren indicated that her country was on board with the move.
"We welcome the upcoming approval by the United States of the training of Ukrainian pilots on F-16 fighterjets. Together with our close allies Denmark, Belgium and the UK we are working on the modalities. We stand ready to support Ukraine on this," she tweeted.
The Ukrainian government has said that F-16s could perform a variety of roles, including assisting in shooting down Russian missiles and drones headed for Kyiv, and protecting grain shipments through the Black Sea.
The Soviet-era fighter planes flown by Ukraine play a relatively small role in the conflict, over concerns that Russian air defenses would shoot them down if they approached the front lines. American officials have questioned what role the F-16s could play in the war, given the Russian ground-to-air threat.
Any F-16s donated by the U.S. or its allies are unlikely to arrive in Ukraine in time for the anticipated counteroffensive. The U.S., partners and allies have already provided Ukraine with "the vast majority" of what it needs to conduct its counteroffensive this spring and summer, the official said. Efforts to improve the Ukrainian Air Force "reflect our long-term commitment to Ukraine's self-defense," the official said.
Still, the move sends "a powerful signal of how the United States and our allies and partners are fully united in ensuring Ukraine remains sovereign, independent, and secure with the ability to defend against and deter future attacks."

⬇️ Top Picks for You ⬇️
Tucker Carlson Returns With New Show: 'Tucker on Twitter'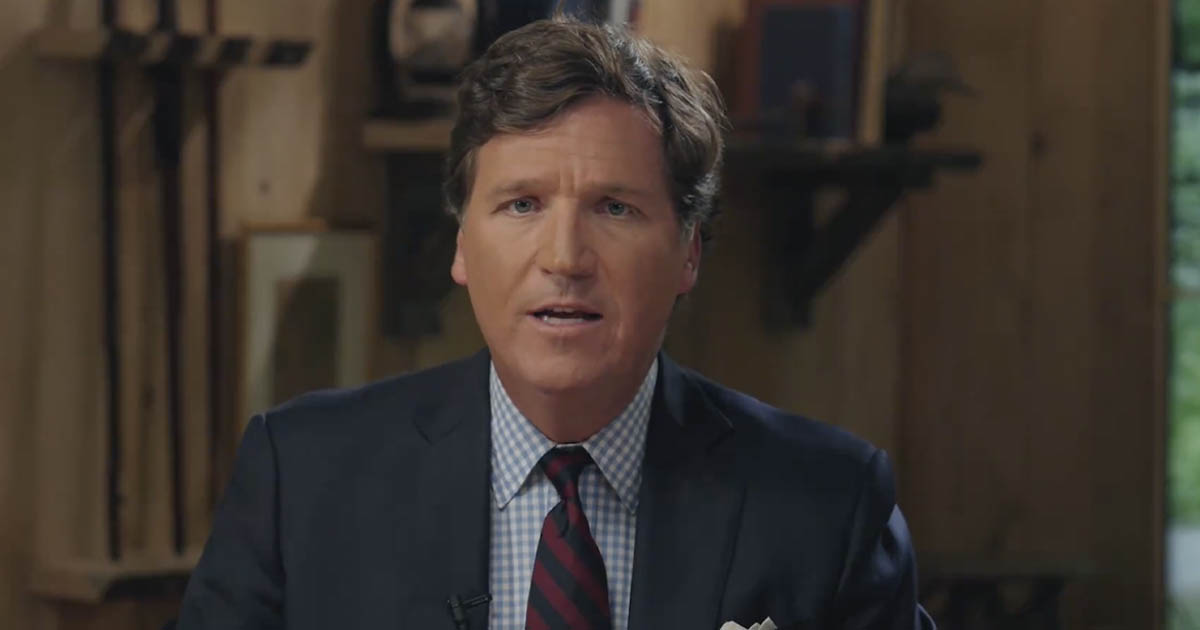 Former Fox News host and Daily Caller co-founder Tucker Carlson brought his show to Twitter for the first time Tuesday by posting a monologue about the Ukraine war and how the media is covering it.
Carlson spoke about the latest developments in the Russian war against Ukraine, beginning with a major dam explosion inside Russian-occupied territory Tuesday morning.
"This morning, it looks like somebody blew up the Kakhovka Dam in southern Ukraine. The rushing wall of water wiped out entire villages, destroyed a critical hydropower plant, and as of tonight, puts the largest nuclear reactor in Europe in danger of melting down. So, if this was intentional, it was not a military tactic — it was an act of terrorism," Carlson began.
The Ukrainian and Russian governments accused each other of intentionally destroying the dam as an act of sabotage, according to The Washington Post.
"Blowing up the dam may be bad for Ukraine, but it hurts Russia more. And for precisely that reason, the Ukrainian government has considered destroying it. In December, The Washington Post quoted a Ukrainian general saying his men had fired American-made rockets at the dam's floodgate, as a test strike," Carlson stated.
Carlson transitioned to discussing The Washington Post's story showing the U.S. knew about Ukrainian plans to attack the Nord Stream 2 gas pipeline months before it was destroyed. The Post's story was based on an intelligence leak on social media platform Discord.
"So, really, once the facts start coming in, it becomes much less of a mystery what might have happened to the dam. Any fair person would conclude that the Ukrainians probably blew it up — just as you would assume they blew up Nord Stream, the Russian natural gas pipeline, last fall. And in fact, the Ukrainians did do that, as we now know. It's not like Vladimir Putin is anxious to wage war on himself," he said.
Carlson proceeded to mock the corporate media's coverage of the Nordstream 2 explosion for immediately blaming Russia for the attack without considering whether Ukraine blew up the pipeline.
"Oh, but that's where you're wrong, Mr. and Mrs. Cable News Consumer. Vladimir Putin is exactly that sort of man — the sort of man who'd shoot himself to death in order to annoy you. We know this from the American media, which wasted no time this morning in accusing the Russians of sabotaging their own infrastructure," Carlson remarked.
"No one who's paid to cover these things seemed to entertain even the possibility it could have been the Ukrainians who did it. No chance of that. Ukraine, as you may have heard, is led by a man called Zelensky, and we can say for a dead certain fact that he was not involved. He couldn't have been. Zelensky is too decent for terrorism," Carlson added.
He followed up by ridiculing Republican South Carolina Sen. Lindsey Graham and Republican Presidential candidate Nikki Haley because of their unwavering support for Ukrainian President Volodymyr Zelenskyy and his country. Afterwards, he broadened his media criticism beyond the scope of the Ukraine war to other issues where narratives must never be questioned.
"But mostly they just ignore the stories that matter. What's happened to the hundreds of billions of US dollars we've sent to Ukraine? No clue. Who organized those BLM riots three years ago? No one's gotten to the bottom of that. What exactly happened on 9/11? Well, it's still classified. How did Jeffrey Epstein make all that money? How did he die? How about JFK? And so endlessly on. Not only are the media not interested in any of this, they're actively hostile to anybody who is. In journalism, curiosity is the gravest crime," Carlson said.
Carlson pointed to the intelligence officer who blew the whistle Monday on alleged UFOs possessed by the U.S. government as a recent example of the pressing stories the media ignores.
"So if you're wondering why our country seems so dysfunctional, this is a big part of the reason. Nobody knows what's happening. A small group of people control accesses to all relevant information. And the rest of us don't know. We're allowed to yap all we want about racism, but go ahead and talk about something that really matters and see what happens. If you keep it up, they'll make you be quiet. Trust us. That's how they maintain control," he continued.
Carlson concluded his monologue with a teaser about future Twitter broadcasts if the platform maintains its commitment to free speech under owner Elon Musk.
"That's how most of us now live here in the United States — manipulated by lies, silenced by taboos. It is unhealthy and is dehumanizing, and we're tired of it. As of today, we've come to Twitter, which we hope will be the shortwave radio under the blankets. We're told there are no gatekeepers here. If that turns out to be false, we'll leave. But in the meantime, we are grateful to be here. We'll be back with much more very soon."
Watch:
Ep. 1 pic.twitter.com/O7CdPjF830

— Tucker Carlson (@TuckerCarlson) June 6, 2023