Energy Secretary Jennifer Granholm announced new efficiency regulations for dishwashers, beverage vending machines, and electric motors on Friday, the latest of several actions from the Biden administration to decrease power usage and combat climate change.
An announcement contended that the restrictions would decrease expenses for American consumers due to lowered energy consumption. Granholm said the administration is "using all of the tools at our disposal to save Americans money while promoting innovations that will reduce carbon pollution and combat the climate crisis."
New dishwashers imported into the United States beginning in 2027 would have to consume 27% less power and use 34% less water, while more compact models would need to implement a 22% power reduction and an 11% water use reduction, according to an analysis of the proposal released by Bloomberg Law. Energy Department officials estimate that consumers would have to spend $15 more for a new dishwasher but would witness three times as much in energy savings over the appliance's lifetime.
The new dishwasher standards would save households $168 million each year on utility bills, according to an estimate from the Energy Department. The regulations for electric motors, which convert electrical energy into mechanical energy in manufacturing and process equipment, will save businesses $464 million annually, while the vending machine rules will save $20 million annually.
The Energy Department has now introduced efficiency crackdowns for 16 product categories in 2023, actions which agency officials contend are "preserving reliability and performance across household appliances and commercial and industrial equipment." The Biden administration, which has established a "whole-of-government effort" to reduce carbon emissions, drafted several similar regulations over the past two years.
Officials provoked controversy upon introducing new emissions rules for natural gas stoves, even as increased adoption of the fuel serves as a significant driver of lower emissions in the United States. Controversy over the move emerged earlier this year when Consumer Product Safety Commission Commissioner Richard Trumka Jr. said in an interview that gas stoves are a "hidden hazard" and declared that "any option is on the table" for a nationwide ban. Consumer Product Safety Commission Chairman Alex Hoehn-Saric later posted a statement asserting that neither he nor the agency planned to outlaw gas stoves.
The state of New York has since approved legislation that will effectively ban the installation of gas stoves in new homes and buildings as early as 2026. Some 38% of households nationwide use gas stoves for cooking, with the figure approaching 70% for states such as California and New Jersey, according to data from the Energy Information Administration.
The Energy Department also unveiled new efficiency standards for air conditioners and the first federal standards for portable air cleaners. Officials similarly introduced a final rule that requires single-section and multi-section mobile homes to meet new climate-dependent energy conservation measures, which are estimated to raise the cost of large mobile homes between $4,100 and $4,500, marking a significant increase from the $81,400 average costs for newly manufactured mobile homes, according to data from the Census Bureau.

⬇️ Top Picks for You ⬇️
Republicans Launch Contempt Process Against FBI Director After Viewing Biden 'Bribery' Document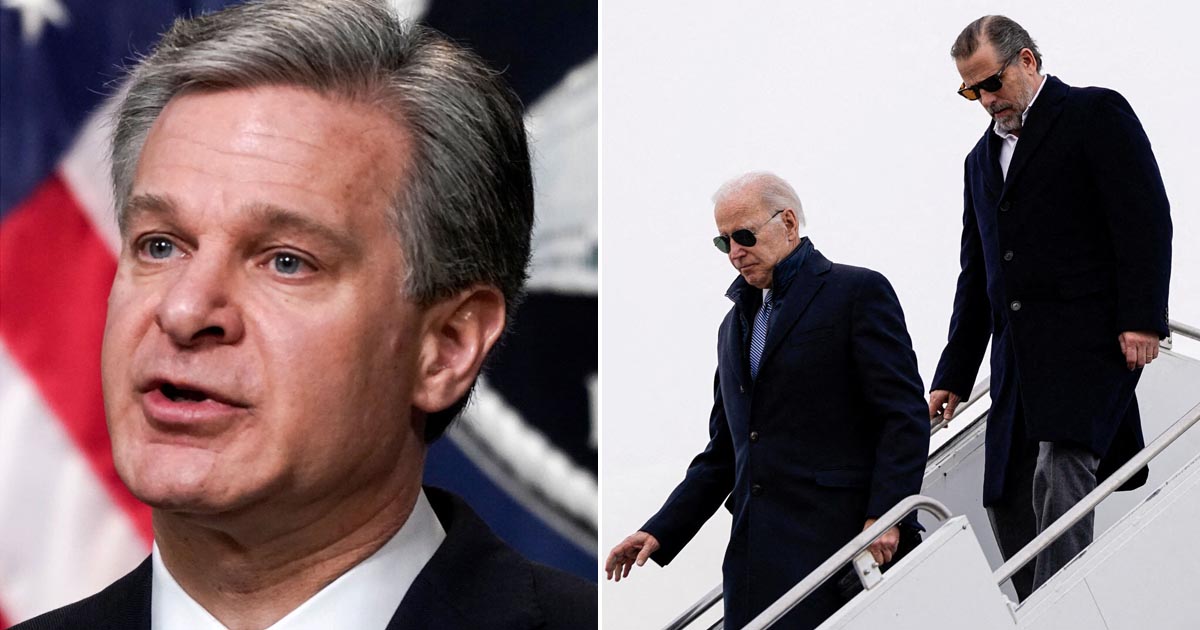 House Republicans are officially starting contempt of Congress charges against FBI Director Chris Wray for failing to turn over Biden 'bribery' document they claim shows then-Vice President Joe Biden was involved in a $5 million 'criminal' scheme with a foreign national.
The escalation comes after the Republican and Democratic leaders of the House Oversight Committee were granted access by the FBI Monday to view the FD-1023 form in a secure facility within the Capitol. The document apparently details an 'arrangement' for an exchange of money for policy decisions.
The Republicans issued a subpoena for the FD-1023 form last month and FBI Director Chris Wray was given a hard deadline of May 30 to hand over the unclassified document, which he did not comply with.
After reviewing the document Monday, Comer told reporters the accusations contained in the form 'suggests a pattern of bribery' consistent with findings the committee has put out publicly.
It's called 'money laundering,' he said, saying it fits within the pattern of over $1 million in Romanian-linked payments to the Biden family revealed last month.
In early May, Republicans released a report digging in on over $10 million received by Biden family members from foreign actors, including previously undisclosed $1 million in Romanian-linked payments, and a 'web' of 20 companies created while President Joe Biden was vice president and pushing anti-corruption efforts abroad.
He also said the FBI record was 'not disproven' and is currently being used in an ongoing investigation that is being conducted by the Department of Justice in Delaware into Hunter Biden's finances.
The 'confidential human source' is a 'trusted, highly credible informant' who has been used by the FBI for over 10 years and has been paid over six figures, continued Comer.
The chairman added that contempt proceedings will begin this Thursday.
'At the briefing, the FBI again refused to hand over the unclassified record to the custody of the House Oversight Committee, and we will now initiate contempt of Congress hearings this Thursday.'
Last week, Comer and Sen. Chuck Grassley, R-Iowa, spoke with Wray by phone and the FBI director offered to let them and Ranking Member Rep. Jamie Raskin, D-Md., view the documents at the FBI headquarters in an attempt to stave off the contempt threat.
'During today's call, Director Wray offered to provide the Committee's Chairman and Ranking Member an opportunity to review information responsive to the subpoena in a secure manner to accommodate the committee, while protecting the confidentiality and safety of sources and important investigative sensitivities,' said the FBI in a statement.
'The FBI has continually demonstrated its commitment to working with the Committee to accommodate its request, from scheduling briefings and calls to now allowing the Chair to review information in person. The FBI remains committed to cooperating with the Committee in good faith.'
Comer also informed Wray that he was also narrowing the breadth of the subpoena for the document by providing two additional terms that may be referenced in the record: 'June 30, 2020' and 'five million.'
Raskin blasted the Republicans' handling of the document in a reporter gaggle following Monday's briefing, calling it 'second-hand hearsay.'
He said former U.S. Attorney Scott Brady for the Western District of Pennsylvania and then-Attorney General Bill Barr did not find any reason to escalate the investigation into all 'allegations related to Ukraine' based on the FD-1023 form.
'I am just surprised that my colleagues want to try to litigate this in public, much less hold the Director of the Federal Bureau of Investigation in contempt for complying with the request when there was a whole process that was undertaken, and that process came to its natural end as I understand it,' Raskin said.
He would not directly confirm that the foreign national alleged in the memo being sought by Republicans is from Ukraine.
Raskin did agree with his Republican colleagues that the whistleblower is considered 'credible.'
The White House has also pushed back, calling the Republican-led investigation 'unfounded' and 'politically motivated.'