President Biden issued a highly anticipated, sweeping executive order on artificial intelligence (AI) on Monday, focused on seizing on the emerging technology and managing its risks.
The order includes several new actions, which focus on areas like safety, privacy, protecting workers, and protecting innovation.
"President Biden believes that we have an obligation to harness the power of AI for good, while protecting people from its potentially profound risks," a senior administration official told reporters.
The executive order includes new standards for safety, including requiring companies developing models that pose a serious risk to national security, economic security or public health to notify the federal government when training the model, and they must share the results of all safety tests. The Commerce Department will also develop guidance for content authentication and watermarking to label AI-generated content.
The order directs federal agencies to accelerate the development of techniques so AI systems can be trained while preserving the privacy of the training data. The order will also evaluate how agencies collect and use commercially available information containing personal data.
To support workers, the order develops principles and best practices to mitigate the harms and maximize the benefits AI creates for workers by addressing issues including job displacement, labor standards, and data collection.
The order also aims to promote innovation and competition through a pilot of a tool, the National AI Research Resource, that will expand grants for AI research in areas such as health care and climate change. It will also use existing authorities to expand the ability of highly skilled immigrants and nonimmigrants with expertise in these critical areas to study, stay, and work in the U.S. by streamlining visa criteria and interviews.
The order applies to companies with the most powerful AI systems, regardless of whether the companies work with the federal government, according to an official. It marks the most significant effort to impose national order on the AI industry after ChatGPT, which launched less than a year ago, shocked users with its human-like capabilities and knowledge.
The executive order aims to have the U.S. lead the way on AI and advance American leadership globally on the emerging technology. Vice President Harris is traveling to the United Kingdom on Tuesday to give a speech on the U.S. vision for AI.
Officials argue though that the U.S. is not behind Europe in regulating AI.
"I don't think we're in a race, I don't think we're playing catch up," the official said. "I would pushback on any notion that we are behind anyone. But … at the end, I think this is an opportunity to work together on AI governance. I don't particularly see an amount of tension between … the United States and Europe on this."
The order focuses on advancing equity and civil rights by providing guidance to landlords, federal benefits programs and federal contractors to keep AI algorithms from exacerbating discrimination. And it aims to develop a set of best practices for AI use on the criminal justice system, including sentencing; parole and probation; surveillance; crime forecasting; and forensic analysis.
The order also directs the Department of Health and Human Services to establish a safety program so it can receive reports of unsafe healthcare practices involving AI, and it will create resources to support educators deploying AI tools for learning.
"President Biden is rolling out the strongest set of actions any government in the world has ever taken on AI safety, security, and trust. It's the next step in an aggressive strategy to do everything on all fronts to harness the benefits of AI and mitigate the risks," deputy chief of staff Bruce Reed said in a statement.
The White House will appoint an AI council for principal level meetings, spearheaded by Reed, to deliver on the goals of the order, the official said. The timing of implementing the executive order, which comes nearly a year out from Election Day, is within 90 days for some of the safety actions, and 270 days or a year for other deliverables.
Additionally, the White House is launching AI.gov, a website for job applicants who want to work on AI issues in the federal government. The official said they want to bring AI experts into the federal workforce because "you can never have too much AI talent."

⬇️ Top Picks for You ⬇️
Senate Democrats Authorize Supreme Court Ethics Subpoenas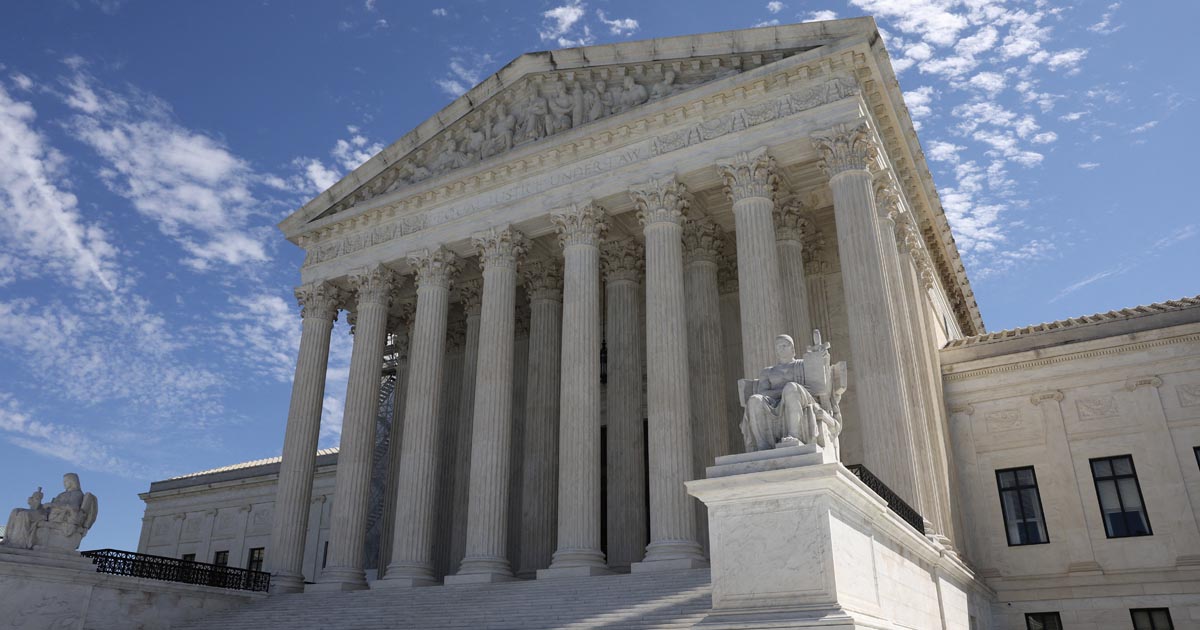 A Democratic-led U.S. Senate panel on Thursday authorized subpoenas to two influential conservatives – Harlan Crow and Leonard Leo – as part of an ethics inquiry spurred by reports of undisclosed largesse directed to some conservative Supreme Court justices.
The Judiciary Committee voted to authorize the subpoenas for Crow, a billionaire Republican donor and benefactor of conservative Justice Clarence Thomas, and Leo, a legal activist who was instrumental in compiling Republican former President Donald Trump's list of potential Supreme Court nominees.
Republican senators walked out of the contentious committee meeting in protest while Democrats cast votes. Some Republicans later questioned the vote's legitimacy, accusing Democrats of violating procedural rules.
"The subpoena clearly wasn't legal," Republican Senator John Kennedy, a committee member, said after the vote.
Senator Dick Durbin, the panel's chairman, said subpoenas were necessary due to the refusal by Crow and Leo for months to voluntarily comply with its previous requests for information. This included itemized lists of all gifts, transportation and lodging provided to any Supreme Court justice.
Durbin also renewed his criticism of a new code of conduct announced by the court on Nov. 13 and promised to continue to pursue the committee's ethics investigation.
"Without an enforcement mechanism, this code of conduct, while a step in a positive direction, cannot restore the public's faith in the court," Durbin said.
Senator Lindsey Graham, the committee's top Republican, told the meeting that Democrats were engaged in a "jihad" against the Supreme Court, whose 6-3 conservative majority has handed major defeats to liberals in recent years on matters including abortion, gun rights and student debt relief.
"When you say you don't want to destroy the Roberts Court, I don't believe you," Graham said, referring to the court under the leadership of conservative Chief Justice John Roberts. "I don't believe a word you're saying."
The committee vote authorized Durbin to issue the subpoenas, which he could do unilaterally, according to a Democratic committee staffer.
If the subpoena recipients fail to comply, Democrats would need 60 votes in the 100-seat Senate to initiate a civil enforcement action, meaning they would need the support of some Republicans. The Democrats also would have the option to make a referral to the U.S. Justice Department, which could choose to pursue criminal contempt proceedings against the subpoena recipients.
Lawyers for Leo and Crow in letters to the committee have criticized the committee's information requests as lacking a proper legal justification. Crow's lawyer had proposed turning over a narrower range of information but Democrats rebuffed that offer, according to the panel's Democratic members.
The news outlet ProPublica reported this year on Thomas's failure to disclose luxury trips and real estate transactions involving Crow, a Texas businessman.
The outlet also reported that Leo helped organize a luxury fishing trip in Alaska attended by conservative Justice Samuel Alito, who failed to disclose taking a private jet provided by billionaire hedge fund manager Paul Singer. Trump chose all three of his appointees to the court from lists of candidates that Leo played a key role in drawing up.
Thomas has said he believed the Crow-funded trips were "personal hospitality" and thus exempt from disclosure requirements, and that his omission of the real estate transaction was inadvertent.
Alito, regarding the flight, said that Singer had "allowed me to occupy what would have otherwise been an unoccupied seat."