After more than 11,000 migrants were caught crossing the southern border on Tuesday, the Biden administration is now preparing a memo that will direct Customs and Border Protection to begin releasing migrants into the U.S. without court dates or the ability to track them, according to three sources familiar with the plans.
The Biden administration began releasing migrants without court dates to alleviate overcrowding in March 2021, but had previously enrolled those migrants in a program known as Alternatives to Detention, which required them to check in on a mobile app until they were eventually given a court date.
The new policy would release them on "parole" with a notice to report to an Immigration and Customs Enforcement office but without enrolling them in the program.
The more than 11,000 border apprehensions in a single day is a record and surpasses expectations of 10,000 per day predicted by Department of Homeland Security officials on what could come when Covid restrictions lift late Thursday.
"We're already breaking and we haven't hit the starting line," one DHS official told NBC News, speaking on the condition of anonymity because the person isn't authorized to talk to the media.
Speaking at a news conference just before noon, Homeland Security Secretary Alejandro Mayorkas said the migrants who will be affected by the policy represent "a fraction of the people that we encounter."
"In fact, the vast majority will be addressed in our border patrol facilities and our ICE detention facilities," Mayorkas added.
Border Patrol Chief Raul Ortiz said he estimates that 60,000 to 65,000 migrants are in northern Mexico waiting to enter the U.S.
"We are not in a position where we can ATD everyone," he said, using an acronym for the program that allows the authorities to track migrants released into the country. "I would like to."
A DHS spokesperson said the new policy will apply only to migrants who have been carefully vetted.
"As Republican and Democratic administrations alike have done in the past to protect the safety and security of Border Patrol agents and migrants in the event of severe overcrowding conditions, U.S. Border Patrol sectors may consider releasing certain migrants who have undergone strict national security and public safety vetting to continue their immigration processes," the DHS spokesperson said.
"This may include processing migrants for parole to reduce the amount of time they spend in custody. Each parole will be considered on an individualized case-by-case basis, and individuals who are released will be required to check in with Immigration and Customs Enforcement and undergo removal proceedings in immigration court. Individuals may be placed into an Alternatives to Detention program to ensure compliance, if deemed appropriate. The targeted use of parole will allow Border Patrol to focus its resources most effectively to quickly process and remove individuals who do not have a legal basis to remain in the country."
The restrictions, known as Title 42, have turned back migrants choosing to seek asylum more than 2.5 million times since the policy was enacted in March 2020. The Biden administration is set to lift Title 42 at 11:59 p.m. ET Thursday, allowing more migrants to enter the country and be screened for a potential asylum claim. The policy shift is expected to draw more migrants and slow down processing times for migrants in Border Patrol custody.
Already, Customs and Border Protection processing centers are holding more than 27,000 migrants, according to the two sources familiar with the numbers, far higher than the roughly 18,500 the facilities are equipped to hold.
The decision to begin quickly releasing migrants in centers that are over capacity is designed to alleviate overcrowding in them ahead of what is expected to be a greater surge when Title 42 lifts.
"It's a public health danger. We will start having people die," the DHS official said about the overcrowding problem.

⬇️ Top Picks for You ⬇️
Republicans Launch Contempt Process Against FBI Director After Viewing Biden 'Bribery' Document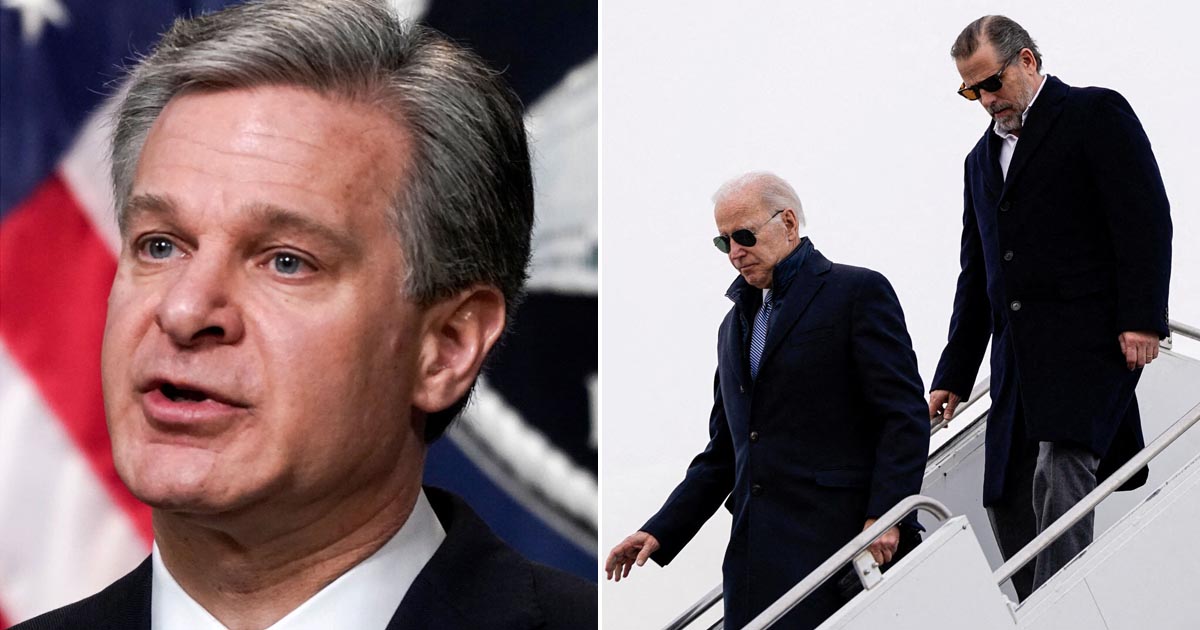 House Republicans are officially starting contempt of Congress charges against FBI Director Chris Wray for failing to turn over Biden 'bribery' document they claim shows then-Vice President Joe Biden was involved in a $5 million 'criminal' scheme with a foreign national.
The escalation comes after the Republican and Democratic leaders of the House Oversight Committee were granted access by the FBI Monday to view the FD-1023 form in a secure facility within the Capitol. The document apparently details an 'arrangement' for an exchange of money for policy decisions.
The Republicans issued a subpoena for the FD-1023 form last month and FBI Director Chris Wray was given a hard deadline of May 30 to hand over the unclassified document, which he did not comply with.
After reviewing the document Monday, Comer told reporters the accusations contained in the form 'suggests a pattern of bribery' consistent with findings the committee has put out publicly.
It's called 'money laundering,' he said, saying it fits within the pattern of over $1 million in Romanian-linked payments to the Biden family revealed last month.
In early May, Republicans released a report digging in on over $10 million received by Biden family members from foreign actors, including previously undisclosed $1 million in Romanian-linked payments, and a 'web' of 20 companies created while President Joe Biden was vice president and pushing anti-corruption efforts abroad.
He also said the FBI record was 'not disproven' and is currently being used in an ongoing investigation that is being conducted by the Department of Justice in Delaware into Hunter Biden's finances.
The 'confidential human source' is a 'trusted, highly credible informant' who has been used by the FBI for over 10 years and has been paid over six figures, continued Comer.
The chairman added that contempt proceedings will begin this Thursday.
'At the briefing, the FBI again refused to hand over the unclassified record to the custody of the House Oversight Committee, and we will now initiate contempt of Congress hearings this Thursday.'
Last week, Comer and Sen. Chuck Grassley, R-Iowa, spoke with Wray by phone and the FBI director offered to let them and Ranking Member Rep. Jamie Raskin, D-Md., view the documents at the FBI headquarters in an attempt to stave off the contempt threat.
'During today's call, Director Wray offered to provide the Committee's Chairman and Ranking Member an opportunity to review information responsive to the subpoena in a secure manner to accommodate the committee, while protecting the confidentiality and safety of sources and important investigative sensitivities,' said the FBI in a statement.
'The FBI has continually demonstrated its commitment to working with the Committee to accommodate its request, from scheduling briefings and calls to now allowing the Chair to review information in person. The FBI remains committed to cooperating with the Committee in good faith.'
Comer also informed Wray that he was also narrowing the breadth of the subpoena for the document by providing two additional terms that may be referenced in the record: 'June 30, 2020' and 'five million.'
Raskin blasted the Republicans' handling of the document in a reporter gaggle following Monday's briefing, calling it 'second-hand hearsay.'
He said former U.S. Attorney Scott Brady for the Western District of Pennsylvania and then-Attorney General Bill Barr did not find any reason to escalate the investigation into all 'allegations related to Ukraine' based on the FD-1023 form.
'I am just surprised that my colleagues want to try to litigate this in public, much less hold the Director of the Federal Bureau of Investigation in contempt for complying with the request when there was a whole process that was undertaken, and that process came to its natural end as I understand it,' Raskin said.
He would not directly confirm that the foreign national alleged in the memo being sought by Republicans is from Ukraine.
Raskin did agree with his Republican colleagues that the whistleblower is considered 'credible.'
The White House has also pushed back, calling the Republican-led investigation 'unfounded' and 'politically motivated.'