A Canadian father who was thrown in jail after "misgendering" his gender-confused teenage daughter has scored a legal win in the British Columbia Court of Appeal.
A judgment issued earlier this month said Robert Hoogland did not have to spend any more time behind bars, and the court dropped an order for him to pay a $30,000 fine.
"I expected that I would finish — if not all of that six months, a big chunk of it [in prison]," Hoogland told The Daily Wire in a phone interview. "This is a huge win, because what it does is it was setting a precedent – and what they wanted was a real deterrent for parents, especially when they are standing up against the trans agenda, with what's being pushed through the schools, by the school counselors and all of these different things."
Hoogland — who was featured anonymously in the Daily Wire documentary "What is a Woman?" — took legal action after a Canadian children's hospital in 2018 told him that his daughter, who was then just 13 years old, was going to be injected with testosterone, despite Hoogland refusing to give his consent. In Canada, the Infants Act permits minors to consent to their own trans treatments if doctors think it's in their best interests; parents' consent is irrelevant.
Disagreeing with the hospital, Hoogland said his daughter needed time and mental health support, not transgender medical interventions that can be irreversible. Testosterone and other trans interventions have been linked to fertility issues, lower bone density, and a host of other problems.
The court said that the girl could move forward with the testosterone and said Hoogland was barred from publicly "misgendering" his daughter, meaning he couldn't refer to his own daughter as his daughter. Moreover, Canadian media was banned from publishing Hoogland's name in any coverage via a publication ban. Hoogland told The Daily Wire such bans allow people to hide what they're doing to children, despite these same people claiming trans treatments are helpful, good, and even lifesaving.
Despite the court conditions, Hoogland continued to speak out and was thrown in jail after he talked about the case and referred to his daughter as his daughter during an interview with The Federalist. For this, Hoogland was found in contempt of court, effectively committing what the Canadian court deemed "family violence."
"The hardest part is knowing that one day you have a healthy child, and no matter how much you're fighting to protect that child of yours – who you love, and as a parent, it's your responsibility to protect your child from these things – that all you can simply do is watch the tragedy unfold, and your hands are tied," Hoogland said.
"One day your child is healthy and the next day your child is on testosterone," he continued. "I think that's the hardest part of it all, is being — I don't know what the word is, just it's helpless, I guess. Just that sense of being helpless."
The father also notably spoke to Daily Wire host Matt Walsh for the hit documentary "What is a Woman?" — and his appearance was one of the reasons X, then called Twitter, initially canceled a deal with The Daily Wire to host the blockbuster film. X cited concerns over Hoogland — who remained anonymous in the film due to the constraints of his case at the time — "misgendering" his own daughter, by referring to her as his daughter. X CEO Elon Musk stepped in, chastised those who blocked the documentary, and promoted the film.
All told, Hoogland served more than two months behind bars, and most of that time served was in solitary confinement, he said. Though Hoogland says all other inmates used Zoom for their appearances in court, he was shuttled back and forth to the court and therefore had to routinely restart quarantining, per COVID rules. This meant Hoogland was in a cell alone for most all of his time behind bars.
Moreover, a judge was trying to incarcerate Hoogland for four additional months. The family court issue was pushed to a criminal action and Hoogland's initial legal counsel, he argues, was not equipped and botched that initial plea deal, which included Hoogland serving only 45 days. The judge then went above and beyond and said six months was more suitable for Hoogland to serve. The appeals court, though, agreed with Hoogland, and the three judges decided that the father does not have to spend any more time in jail. They also dropped an order for him to shell out a $30,000 fine, and dropped other court conditions.
"To have a punishment that's six months in prison and a $30,000 fine — I mean, not many parents are gonna say, 'Hey, I'm willing to take that risk,'" Hoogland told The Daily Wire, reiterating that this appeal judgment is encouraging for other parents.
"There's momentum in Canada now, too," he said. "The tide is turning, and to finally get a big win after just all these horrific losses and the way things were going — I think that's just critical for morale, at the very least."
As for Hoogland's daughter, the father told The Daily Wire that he hasn't had contact with her since 2019. He said his child is "lost" and his family has been destroyed by this ideology and Canada's legal system.
"It destroys families and it destroyed mine," he said. "I'm hoping one day, when my child realizes, when [she] possibly detransitions — I'm waiting. I'm waiting with open arms for that day."
"When these kids come back and say, 'Hey, mom, dad, where were you? I was like, 13, 14. Why didn't you try and stop me from making this big, incredible mistake?' At least I can always say, 'Hey, I tried, and you can look it up online; even I tried really hard and even I wasn't able to do it with everything I gave it,'" he said. "But I tried … so my conscience is clean on that."
For now, Hoogland says he's going to take a break after years of being in and out of court and jail. There is, however, a sixty day period where this can get appealed to the Canadian Supreme Court, so this legal battle could possibly continue.

⬇️ Top Picks for You ⬇️
Biden Got Recurring $1,380 Payment from Hunter's Firm Starting in 2018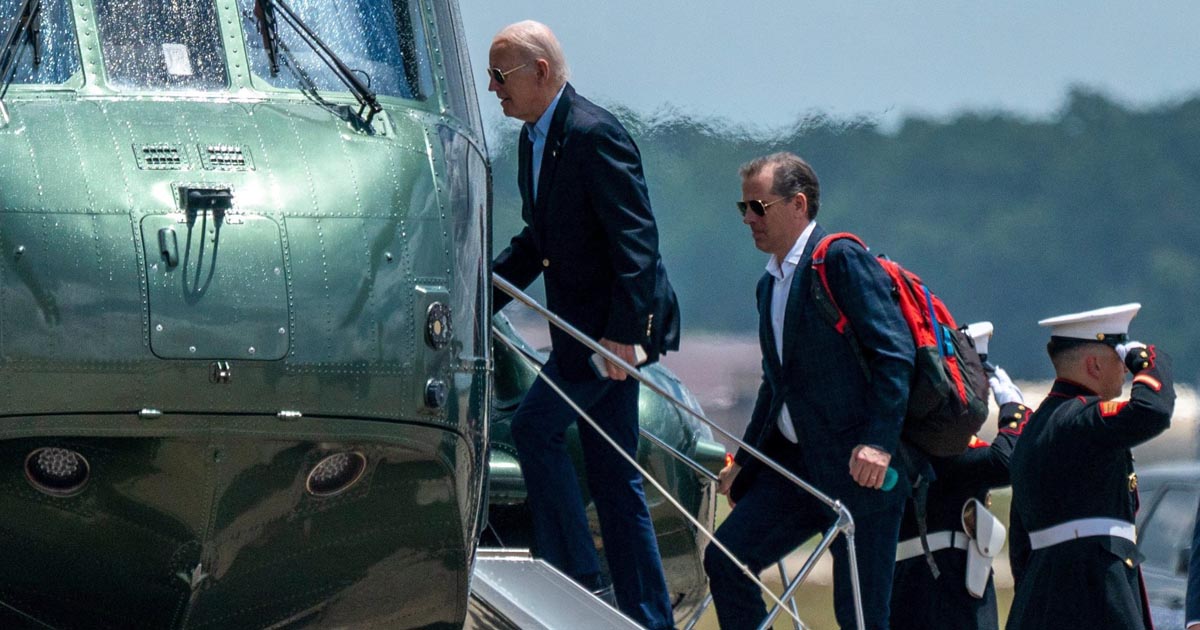 President Biden received a recurring payment of $1,380 from his son Hunter's law firm beginning in late 2018 shortly after a bank money laundering officer warned that the same account was receiving millions of dollars in Chinese government-linked funds without "any services rendered."
A bank order shows that Owasco PC set up a "monthly" transfer to then-former Vice President Joseph R. Biden Jr., with a voided check for the future president included in the documentation, which was released Monday by the House Oversight Committee.
A source told The Post that at least three recurring payments were made — on Sept. 17, Oct. 15 and Nov. 15, 2018 — totaling $4,140 to the elder Biden from Owasco PC, according to the bank records of the firm.
"President Biden and his family must be held accountable for this blatant corruption," Oversight Committee Chairman James Comer (R-Ky.) said in a video release.
"Today, the House Oversight Committee is releasing subpoenaed bank records that show Hunter Biden's business entity, Owasco PC, made direct monthly payments to Joe Biden. This wasn't a payment from Hunter Biden's personal account but an account for his corporation that received payments from China and other shady corners of the world," Comer said.
"At this moment, Hunter Biden is under an investigation by the Department of Justice for using Owasco PC for tax evasion and other serious crimes. And based on whistleblower testimony, we know the Justice Department made a concerted effort to prevent investigators from asking questions about Joe Biden. I wonder why?"
Earlier that year, a January 2019 email from assistant Katie Dodge to Hunter Biden annotated various expenses including "Ford Raptor — Reimbursement to JRB — $1380."
The provenance of the funds is unclear, however, and additional records show that Hunter Biden was knee-deep in two of his most controversial business relationships at the time, with Ukraine's Burisma Holdings and CEFC China Energy.
The evidence emerged as House Republicans prepare to question first brother James Biden on Wednesday and Hunter next week about the president's role in his family's dealings in countries such as China and Ukraine — with a possible floor vote to authorize the ongoing impeachment inquiry this month.
While a presidential candidate, Joe Biden denied that he ever discussed business with his relatives, but evidence has since shown that he met with his relatives' associates from both the Burisma and CEFC ventures.
Documents from the first son's abandoned laptop show that Burisma board adviser Vadym Pozharskyi sought "bank reference" information on Sept. 14, 2018 — one day before the initial transfer to Joe Biden was sought. However, the transaction was not executed for another two days, apparently due to a later-than-expected form submission.
Joe Biden met Pozharskyi at an April 17, 2015, dinner at DC's Café Milano. An unproven FBI informant tip said that Burisma owner Mykola Zlochevsky claimed in 2016 he was "coerced" into paying $10 million in bribes to the Bidens for their assistance in ousting prosecutor Viktor Shokin.
Hunter also was on the tail end of disbursing millions of dollars received from CEFC China Energy — one of two major Biden family dealings with Chinese government-linked firms.
On June 26, 2018 — less than three months before Joe Biden began to receive the monthly transfers — an internal Bank Secrecy Act expert warned colleagues that the institution should reconsider its relationship with Hunter as a result of Owasco PC seeming to receive Chinese funds without "any services rendered."
CEFC transferred $5 million to another Biden family-linked entity, Hudson West III, in August 2017 after Hunter warned a China-based associate of his father's wrath if a business deal was aborted. Much of the large transfer later went to Hunter's Owasco PC.
Prior bank records released by the Oversight Committee indicate that Joe Biden received payments of $40,000 and $200,000 from his brother James, who also was involved in the CEFC venture and other foreign-focused enterprises.
Comer alleged that the $40,000 transferred to Joe Biden's bank account on Sept 3, 2017, was from "laundered" Chinese funds.
James Biden paid Joe Biden $200,000 on March 1, 2018 — the same day that James received a $200,000 transfer from troubled rural hospital company Americore after pledging to use his political connections to secure a Middle Eastern investor, according to bankruptcy filings.
The White House says there's evidence that both transfers were loan repayments, but Republicans argue they have not seen loan agreement documents and note that the funds distributed to James came from a law firm, rather than Joe Biden himself, further clouding the picture.