Fast food restaurant chain Chick-fil-A received backlash on social media as conservatives learned that the firm's corporate office advances a number of diversity initiatives, a revelation which came as brands such as Bud Light and Target face criticism for embracing woke ideology.
Social media users noted that Chick-fil-A, which has a longstanding reputation as a firm run on the basis of conservative and Christian principles, hired Erick Reynolds as vice president of diversity, equity, and inclusion two years ago. Chick-fil-A prominently features a number of diversity programs meant only for females and members of racial minorities on a DEI segment of its website, which surfaced in the days after Target and Bud Light witnessed sales and market capitalization hits.
Three years ago, Chick-fil-A Chairman Dan Cathy called for Americans to shine the shoes of their friends and neighbors in response to purported racism. Video of Cathy, who is white, shining the shoes of black Christian rapper Lecrae and exhorting listeners to have "a sense of shame, a sense of embarrassment" also went viral on social media in recent days.
Beyond collaborations with "various national diverse professional development organizations" such as the Women's Foodservice Forum, the National Black MBA Association, and Association of Latino Professionals of America, the restaurant chain offers community groups such as Women in Business, the Black Employee Resource Group, and the Chick-fil-A Green Team. The company also seeks to develop "mentorship, development, and partnership opportunities for minority-owned businesses to strategically engage" with their supply chain.
Chick-fil-A additionally includes sexual orientation, gender identity, and "gender expression" in its employment nondiscrimination statement alongside race, sex, religion, and veteran status.
The firm created an evaluation of "top ESG issues that internal and external stakeholders expect to grow in importance in the next five years" for a recent sustainability report, which included "climate and energy stewardship" and diversity, equity, and inclusion. "While Chick-fil-A has long been committed to supporting our communities and being a responsible steward of all that is entrusted to us, companies like ours are increasingly expected to help address complex social and environmental challenges, especially those that most affect our industry," the company said in the document.
Another sustainability report published last week likewise cited the firm's commitment to diversity, noting that Chick-fil-A established a steering committee to provide insights for DEI initiatives and seeks to make diversity "an integral part of our culture of care."
Skeptics of the ESG and DEI movements contend that the philosophies center on political and social causes, such as decreasing carbon emissions or diversifying company leadership, in a manner that distracts from profitability and uses corporate power to advance leftist agendas.
Target, which is experiencing a boycott after the retail behemoth marketed a female swimsuit as "tuck-friendly" and hired an artist who creates Satanic items to make various designs for the company, had published a similar sustainability report which called for supplier diversity among firms creating "Pride Month" apparel, as well as diversity initiatives for women and racial minorities.
Anheuser-Busch, the company which owns Bud Light and suffered after the brand partnered with social media influencer Dylan Mulvaney, has similar ESG commitments centered on various diversity and climate efforts.
Anheuser-Busch and Target, each of which are publicly traded, have seen their share prices plummet on the stock market as investors react to the boycott movements.
Chick-fil-A, which is privately owned, garnered criticism four years ago after its charitable foundation halted donations to a number of Christian organizations characterized as "anti-LGBTQ groups," such as the Fellowship of Christian Athletes and the Salvation Army.

⬇️ Top Picks for You ⬇️
Venezuela Is Preparing to Invade Oil-Rich Neighbor Guyana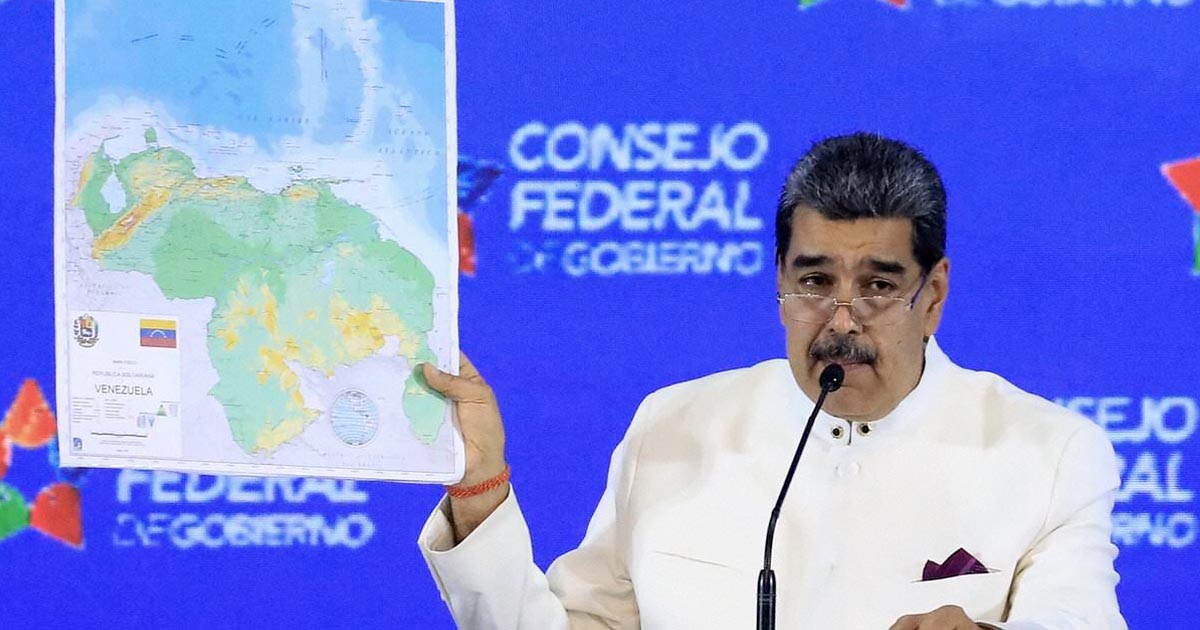 Venezuela's president on Tuesday published a new map of the region showing two thirds of neighboring Guyana 'reclaimed' by Caracas and ordered the state-owned energy companies to 'immediately' begin exploration in the area, as fears rose that Nicolas Maduro could start a war.
Venezuela has claimed Guyana's Esequiba region for over 100 years – ever since the border of the present-day country was drawn up, in 1899. But on Sunday, with his own popularity falling in the face of a newly-unified opposition, Maduro organized a 'referendum' on whether to pursue Venezuela's claim to the territory.
Voters were asked if they agreed with creating a Venezuelan state in the Esequiba region, providing its population with Venezuelan citizenship, and 'incorporating that state into the map of Venezuelan territory.'
The Maduro-controlled Venezuelan National Electoral Council said voters chose 'yes' more than 95 percent of the time on each of five questions on the ballot, and on Tuesday Maduro published his new map.
He has appointed a general, Alexis Rodríguez Cabello, as head of the region and on Tuesday dispatched him to the town of Tumeremo, a remote mining town in the jungle, 120 miles from the border.
Esequiba, about the size of Florida, is rich in minerals and accounts for two thirds of the territory of Guyana – an English speaking nation, which gained its independence from Britain in 1966. Guyana is the only English-speaking country in South America.
Venezuela protested an oil tender announced by Guyana in September, arguing that the offshore areas are subject to dispute and the companies awarded the fields will not have the rights to explore them.
Guyana has denounced Sunday's referendum as pretext to annex the land: in the days running up to it, the Venezuelan defense minister Vladimir Padrino Lopez, known for his ties to his counterparts in Russia and Iran, posted a video of Venezuela troops on parade, waving flags saying 'Guyana Esequiba', colored in the Venezuelan flag.
President Irfaan Ali called the move by Maduro 'reckless' and said his country plans to alert both regional and world leaders of Maduro's attempt to disrupt the peace in the hemisphere.
'It is unfortunate that President Maduro would choose the road of defying an international court order. This speaks volumes about the way in which President Maduro prefers to operate and also points to the fact that he's unconcerned about the peace and security of this region,' he told The Miami Herald.
'The order of the [U.N. court] made it very clear that Venezuela cannot act or take any action that would disrupt the status quo and the status quo is that Guyana exercises governance and control of Essequibo,' he said.
He added that he is seeking the support of the United Nations Security Council, the United States, the Caribbean Community, the Organization of American States and other countries to ensure Guyana's territory is 'not violated.'
'We once again call on Venezuela to retract from this reckless, adventurous move and to allow international law and the ruling of the [U.N. court] to guide our action,' Ali added.
El pueblo y su #FANB están movilizados, decididos e imperturbables a recuperar nuestra Guayana Esequiba, nos mueve el amor infinito a la patria y a cada milímetro del sagrado territorio venezolano, el cual defenderemos por todas las vías y por todos los medios que estén a nuestro… pic.twitter.com/B60slT8xSs

— Vladimir Padrino L. (@vladimirpadrino) November 29, 2023
Guyana has appealed to the International Court of Justice, the United Nations' top court, which on Friday ordered Venezuela not to take any action to change the status quo until the panel can rule on the two countries' competing claims. Any decision could take years.
Meanwhile, Guyana is nervously eyeing its giant neighbor to the north.
Venezuela's military, backed by Russia, Iran and Cuba, massively outnumbers tiny Guyana's: the Venezuelan military counts 123,000 active personnel versus only 3,400 for Guyana, according to an analysis in Brazil's Folha de Sao Paulo newspaper.
Guyana is also dwarfed by Venezuela in weaponry, with Venezuela having 514 armored vehicles compared to only six owned by Guyana.
Such an attack would draw a strong international response, with the lead likely played by Brazil, which borders both Venezuela and Guyana and whose military is significantly larger and more professional than either country's.
At the end of November, Brazil's defense ministry said it 'has intensified defensive actions' along its northern border.
'The Ministry of Defense has been monitoring the situation. Defensive actions have been intensified in the northern border region of the country, promoting a greater military presence,' it said in a statement.