A cyberattack earlier this month forced produce giant Dole to temporarily shut down production plants in North America and halt food shipments to grocery stores, according to a company memo about the incident obtained by CNN.
The previously unreported hack — which a source familiar with the incident said was ransomware — led some grocery shoppers to complain on Facebook in recent days that store shelves were missing Dole-made salad kits.
"Dole Food Company is in the midst of a Cyber Attack and have subsequently shut down our systems throughout North America," Emanuel Lazopoulos, senior vice president at Dole's Fresh Vegetables division, said in a February 10 memo to retailers.
Dole has four processing plants in the US and employs more than 3,000 people, according to a recent company press release.
After CNN published this story on Wednesday afternoon, Dole spokesperson William Goldfield sent CNN a statement confirming that ransomware was the cause of the incident.
"The company has notified law enforcement about the incident and are cooperating with their investigation," Dole's statement said in part. "While continuing to investigate the scope of the incident, the impact to Dole operations has been limited."
However, two grocery stores in Texas and New Mexico contacted by CNN on Wednesday said they couldn't stock Dole salad kits on their shelves for days.
Clayton Ranch Market, in the small town of Clayton, New Mexico, near the border with Oklahoma and Texas, has been short of salad kits since the beginning of last week, Jeff Russell, assistant manager of the store's produce section, told CNN by phone on Wednesday.
A cyberattack on Dole was the cause of the salad shortage, Adam Wolfe, the store's manager, told CNN, citing the Dole memo, which he said his store received from its wholesale grocery provider, Affiliated Foods Inc., in Texas.
Russell, the produce manager, rattled off the salad kits his store was out of on Tuesday, the most recent full day of inventory, from Dole Chopped Sesame to Dole Butter Bliss.
"They [customers] are upset, but it happens," Russell told CNN. "We can't do nothing about it except [put in the orders]."
Mary Underwood, an employee at Stewart's Food Store, in Olney, Texas, more than 100 miles west of Dallas, told CNN on Wednesday that the store had struggled to get Dole salads for several days. Customers started asking questions about the bare shelves, Underwood said, prompting the store to post the Dole memo about the cyberattack on its Facebook page.
In its statement, Dole said it "moved quickly to contain the threat" after learning of the incident, and "engaged leading third-party cybersecurity experts, who have been working in partnership with Dole's internal teams to remediate the issue and secure systems."
It was not immediately clear how long the company had to keep production offline. Goldfield, the Dole spokesperson, declined to answer questions on the incident, including whether a ransom was demanded by the hackers. The Department of Homeland Security's cybersecurity agency and the Department of Agriculture did not respond to CNN's requests for comment.
Other high-profile hacks against the food and agriculture sector in the last two years have threatened supply chains and caused distributors to strengthen their cybersecurity.
A May 2021 ransomware attack by alleged Russian-speaking hackers forced JBS, the world's largest meat supplier, to temporarily close factories in the US, Canada and Australia. JBS said it paid the hackers $11 million to unlock their systems.
Less lucrative, but still prevalent
Dole shut down its computer systems soon after the hack began to contain the spread of the ransomware, the source familiar with the incident said. Ransomware encrypts computers, typically so that hackers can demand a payoff.
The multibillion-dollar company — officially known as Dole Plc after a 2021 merger between Dole Food Company and Ireland's Total Produce — sources produce from dozens of countries around the world.
Dole Plc uses email security software made by Fortinet, a popular California-based firm that contracts with US government agencies and corporations alike.
"For Dole plc, any downtime will put a spoil on revenue for the food industry leader," Fortinet says in writing that predates the hack on its website, which showcases Dole as a client.
It's unclear what role, if any, Fortinet's software had in detecting the cyberattack at Dole. CNN has requested comment from Fortinet but has yet to hear back.
In response to the 2021 ransomware attack on JBS and others, President Joe Biden made a major push to get Russian President Vladimir Putin to crack down on Russian cybercrime groups from launching attacks on US companies and government agencies. But hopes of substantive cooperation between Washington and Moscow on cybercrime dimmed with Russia's full-scale invasion of Ukraine a year ago.
Ransomware revenue fell to about $457 million in 2022, down from $766 million in 2021, according to data from cryptocurrency-tracking firm Chainalysis. Less Fewer victims are paying off their attackers and some targets have improved their defenses, according to security analysts.
Ransomware is not the only digital scam that has hit the food sector. Cybercriminals have stolen hundreds of thousands of dollars' worth of shipments from US food suppliers by placing fraudulent orders for milk products, the FBI and other federal agencies warned in December.

⬇️ Top Picks for You ⬇️
Biden Got Recurring $1,380 Payment from Hunter's Firm Starting in 2018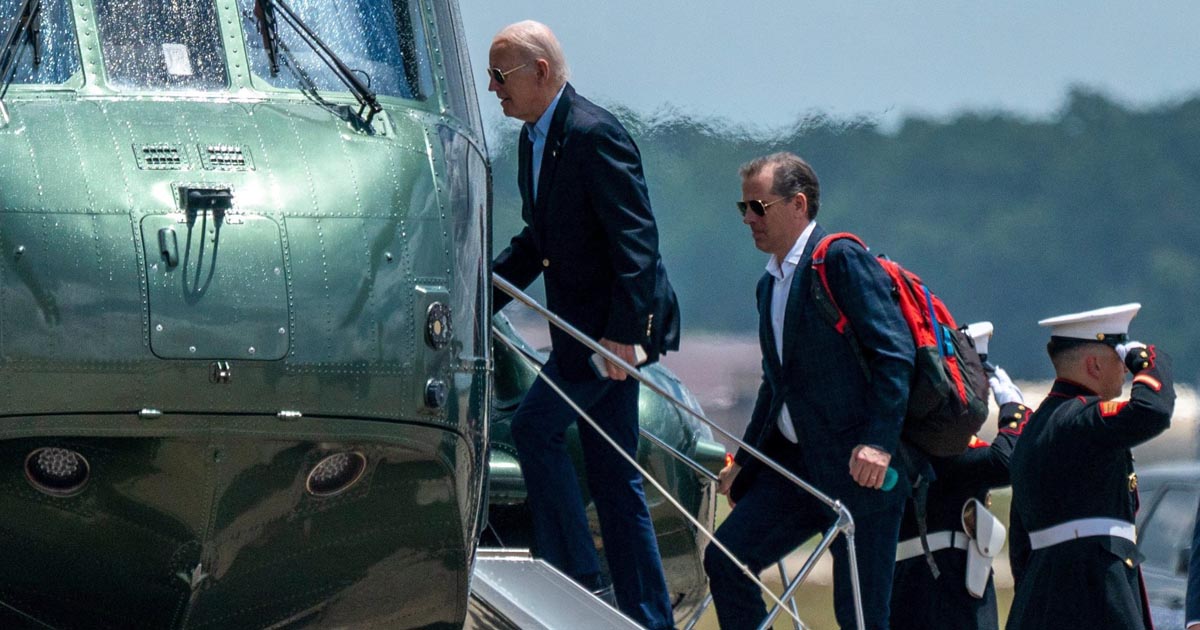 President Biden received a recurring payment of $1,380 from his son Hunter's law firm beginning in late 2018 shortly after a bank money laundering officer warned that the same account was receiving millions of dollars in Chinese government-linked funds without "any services rendered."
A bank order shows that Owasco PC set up a "monthly" transfer to then-former Vice President Joseph R. Biden Jr., with a voided check for the future president included in the documentation, which was released Monday by the House Oversight Committee.
A source told The Post that at least three recurring payments were made — on Sept. 17, Oct. 15 and Nov. 15, 2018 — totaling $4,140 to the elder Biden from Owasco PC, according to the bank records of the firm.
"President Biden and his family must be held accountable for this blatant corruption," Oversight Committee Chairman James Comer (R-Ky.) said in a video release.
"Today, the House Oversight Committee is releasing subpoenaed bank records that show Hunter Biden's business entity, Owasco PC, made direct monthly payments to Joe Biden. This wasn't a payment from Hunter Biden's personal account but an account for his corporation that received payments from China and other shady corners of the world," Comer said.
"At this moment, Hunter Biden is under an investigation by the Department of Justice for using Owasco PC for tax evasion and other serious crimes. And based on whistleblower testimony, we know the Justice Department made a concerted effort to prevent investigators from asking questions about Joe Biden. I wonder why?"
Earlier that year, a January 2019 email from assistant Katie Dodge to Hunter Biden annotated various expenses including "Ford Raptor — Reimbursement to JRB — $1380."
The provenance of the funds is unclear, however, and additional records show that Hunter Biden was knee-deep in two of his most controversial business relationships at the time, with Ukraine's Burisma Holdings and CEFC China Energy.
The evidence emerged as House Republicans prepare to question first brother James Biden on Wednesday and Hunter next week about the president's role in his family's dealings in countries such as China and Ukraine — with a possible floor vote to authorize the ongoing impeachment inquiry this month.
While a presidential candidate, Joe Biden denied that he ever discussed business with his relatives, but evidence has since shown that he met with his relatives' associates from both the Burisma and CEFC ventures.
Documents from the first son's abandoned laptop show that Burisma board adviser Vadym Pozharskyi sought "bank reference" information on Sept. 14, 2018 — one day before the initial transfer to Joe Biden was sought. However, the transaction was not executed for another two days, apparently due to a later-than-expected form submission.
Joe Biden met Pozharskyi at an April 17, 2015, dinner at DC's Café Milano. An unproven FBI informant tip said that Burisma owner Mykola Zlochevsky claimed in 2016 he was "coerced" into paying $10 million in bribes to the Bidens for their assistance in ousting prosecutor Viktor Shokin.
Hunter also was on the tail end of disbursing millions of dollars received from CEFC China Energy — one of two major Biden family dealings with Chinese government-linked firms.
On June 26, 2018 — less than three months before Joe Biden began to receive the monthly transfers — an internal Bank Secrecy Act expert warned colleagues that the institution should reconsider its relationship with Hunter as a result of Owasco PC seeming to receive Chinese funds without "any services rendered."
CEFC transferred $5 million to another Biden family-linked entity, Hudson West III, in August 2017 after Hunter warned a China-based associate of his father's wrath if a business deal was aborted. Much of the large transfer later went to Hunter's Owasco PC.
Prior bank records released by the Oversight Committee indicate that Joe Biden received payments of $40,000 and $200,000 from his brother James, who also was involved in the CEFC venture and other foreign-focused enterprises.
Comer alleged that the $40,000 transferred to Joe Biden's bank account on Sept 3, 2017, was from "laundered" Chinese funds.
James Biden paid Joe Biden $200,000 on March 1, 2018 — the same day that James received a $200,000 transfer from troubled rural hospital company Americore after pledging to use his political connections to secure a Middle Eastern investor, according to bankruptcy filings.
The White House says there's evidence that both transfers were loan repayments, but Republicans argue they have not seen loan agreement documents and note that the funds distributed to James came from a law firm, rather than Joe Biden himself, further clouding the picture.