The dad of a bullied 14-year-old New Jersey high school student who committed suicide after a video was shared online of a group of girls beating her has denied that the attack was racially motivated — insisting that the theory about the vicious assault was "garbage."
The tragic teen's father, Michael Kuch, blasted the speculation surrounding the death of his daughter, Adriana Kuch, who was found dead at home on Feb. 3, two days after the sickening caught-on-video assault in a hallway at Central Regional High School in Berkeley Township.
"Adriana was beautiful and she loved everyone, she did not care about race, the world would be a better place if everyone was as colorblind as she was," Kuch wrote on Facebook Thursday, responding to speculation that race played a role in the beatdown.
Kuch posted a screengrab from an Instagram Story of what appears to be a rally held to protest the incident.
Over the image, an Instagram user wrote, "They are protesting about that white girl."
"Nah, cuz wtf why does black people do that to the white girl," the user continued, claiming that "black people know that white [people] hate them still."
Kuch's daughter was white, but the race of the assailants in the disturbing footage was unclear.
He responded to the Instagram Story, saying, "People are sending me garbage like this, I am not here to make it about race."
Kuch has repeatedly insisted that bullying played a role in his daughter's death.
More than 6,500 community members have signed on to a petition on Change.org titled "Stop the Violence at Central Regional High School."
The petition was launched by Racheal O'Dea, who wrote that her daughter also was "jumped and physically assaulted by MULTIPLE girls" at the school in January 2022.
"She had reported threats and their previous stalking to the school weeks before it happened and NOTHING was done! The attack was recorded and sent across social media," O'Dea wrote.
She said the family has filed a lawsuit against the district "due to their negligence and involvement."
"Now here we are almost a year later, and we have now lost a beautiful 14-year-old soul who was brutally attacked at Central Regional HS just days before taking her own life. A life stolen way too soon. Parents our kids are not safe!" O'Dea wrote in the petition.
"This school is too busy trying to save their own asses than do their job! The bottom line is the violence at Central Regional needs to STOP! There needs to be a change in administration, there needs to be more security, the school should not be able to solely label these incidents," she continued.
O'Dea claimed the district describes incidents of violence as "hallway disturbances" to avoid calling police.
"Students do better … stop hurting each other and if you see someone being hurt call 911! It is not a fight, it is not an altercation, its not a hallway disturbance ….. ITS CALLED ASSAULT," she wrote.
In the footage shared online, Adriana was seen being attacked with a water bottle as she walked in the hallway with her boyfriend. A person was reportedly heard yelling: "That's what you get, you stupid a– b—!"
"They think it's fun to attack people and take videos and post them," her dad told WABC.
"Getting hit with a water bottle didn't hurt Adriana, what hurt her was the embarrassment and humiliation, they just kept coming at her," Kuch said.
"My daughter actually blacks out and they don't call an ambulance, they take her to the nurse's office," he said, adding that Adriana had "never been in a fight before, she's 98 pounds, 5-2 and she loves everybody."
Three girls have been charged with third-degree felony assault and a fourth was charged with disorderly conduct.

⬇️ Top Picks for You ⬇️
Biden Dog Bites Another Secret Service Agent; 11th Incident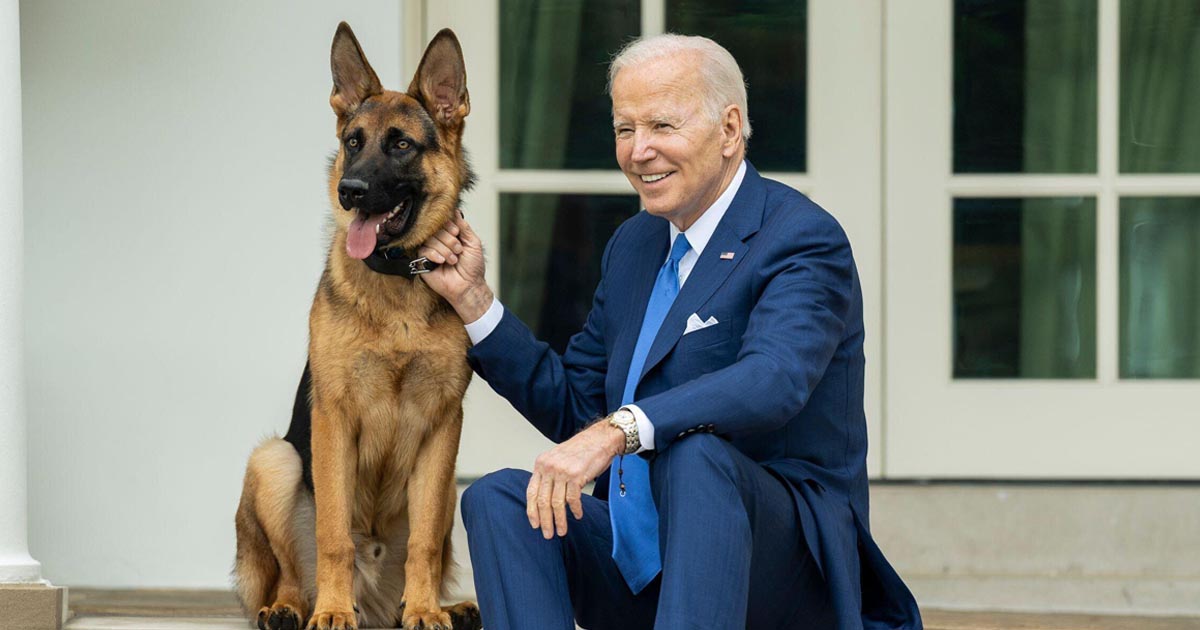 President Joe Biden's younger dog, Commander, bit another US Secret Service agent at the White House Monday evening, CNN has learned, the 11th known biting incident involving the 2-year-old German Shepherd.
"Yesterday around 8 p.m., a Secret Service Uniformed Division police officer came in contact with a First Family pet and was bitten. The officer was treated by medical personnel on complex," USSS chief of communications Anthony Guglielmi told CNN in a statement.
The injured officer spoke with Secret Service Uniformed Division Chief Alfonso M. Dyson Sr. on Tuesday and is doing OK, Guglielmi said.
Commander has been involved in at least 11 biting incidents at the White House and in Delaware, according to CNN reporting and US Secret Service email correspondence, including a November 2022 incident where an officer was hospitalized after the dog clamped down on their arms and thighs.
White House officials said in July that the Bidens were working through new training and leashing protocols for the family pet following the incidents.
Asked by CNN whether the new training had taken place or if any further action would be sought, Elizabeth Alexander, communications director for the first lady, said in a statement that "the First Family continues to work on ways to help Commander handle the often unpredictable nature of the White House grounds."
"The President and First Lady are incredibly grateful to the Secret Service and Executive Residence staff for all they do to keep them, their family, and the country safe," she continued.
Another of Biden's dogs, Major, was involved in biting incidents at the White House. The German Shepherd later moved out of the White House, and Commander arrived at the White House in 2021.
The July email correspondence, obtained through Freedom of Information Act requests by the conservative group Judicial Watch, reflected 10 incidents.
In one incident in October, first lady Dr. Jill Biden "couldn't regain control" of the dog as it charged a member of Secret Service staff.
"I believe it's only a matter of time before an agent/officer is attacked or bit," the staff member warned in an email.
While Secret Service agents are not responsible for the handling of the first family's pets, they can come into frequent contact with the animals.
"This isn't a Secret Service thing. This is a this is a workplace safety issue," CNN contributor and former USSS agent Jonathan Wackrow told CNN.
"There's uniqueness here where it's the residence of the president of the United States, but it's also the workplace for hundreds, thousands of people. And you can't bring a hazard into the workplace. And that's what is essentially happening with this dog. One time you can say it's an accident, but now multiple incidents, it's a serious issue," he added.
Wackrow called it a "significant hazard" for agents on duty at the White House residence.
"I'm sure that the Bidens love the dog. I'm sure that it's a member of the family like every dog is, but you're creating a significant hazard to those who support you – support the office of the president," he said.