Marine veteran Daniel Penny turned himself in to New York City police on Friday morning after learning that he would face a second-degree manslaughter charge over the death of Jordan Neely.
Neely, a homeless man with over 40 arrests and a history of mental health issues, was placed in a chokehold by Penny on a New York City subway after witnesses say Neely embarked on an aggressive rant and began screaming that he did not care if he went to jail.
"This morning, Daniel Penny surrendered at the 5th Precinct at the request of the New York County District Attorney's office. He did so voluntarily and with the sort of dignity and integrity that is characteristic of his history of service to this grateful nation," said Thomas Kenniff, a lawyer for Penny.
The decision to charge Penny was made by the Manhattan District Attorney's office and came after protests over Neely's death.
Video shows Penny, 24, arriving at the 5th Precinct in lower Manhattan to surrender to police.
HAPPENING NOW: Daniel Penny surrendered to authorities at the NYPD's 5th precinct. He's facing a 2nd degree manslaughter charge in the subway chokehold death of Jordan Neely #nbc4ny #JordanNeely #NYC pic.twitter.com/1ZRsW4LXL2

— Tracie Strahan (@tstrahan4NY) May 12, 2023
He is expected to be arraigned on Friday afternoon. If convicted, Penny could face 15 years in prison.
The NYC medical examiner said last week that Neely died from a "chokehold" and ruled the incident a "homicide," although criminal proceedings would be necessary to determine intent or culpability.
A statement from Penny's lawyers said that he, alongside others, acted in self-defense to protect other passengers on the subway.
"When Mr. Neely began aggressively threatening Daniel Penny and the other passengers, Daniel, with the help of others, acted to protect themselves, until help arrived. Daniel never intended to harm Mr. Neely and could not have foreseen his untimely death," the statement said.
Neely had an extensive criminal history, including several guilty pleas for violence-related charges. Two years ago, he was arrested for punching a 67-year-old female in the face and knocking her to the ground as she exited a subway station, as well as for attempting to kidnap a 7-year-old girl he was seen dragging down a street, according to The New York Daily News.
He pleaded guilty to felony assault over the first incident but never completed his alternative-to-incarceration program, for which he missed a compliance court date in February, and pleaded guilty to endangering the welfare of a child over the second incident and was sentenced to four months in jail.
A straphanger who was on the subway said Thursday she's "praying" for Penny after it was revealed the 24-year-old would face charges tied to the high-profile case.
"I hope he has a great lawyer, and I'm praying for him," the 66-year-old woman, who did not want to be identified, told The Post Thursday night. "And I pray that he gets treated fairly, I really do. Because after all of this ensued, I went back and made sure that I said 'Thank you' to him."

⬇️ Top Picks for You ⬇️
Republicans Launch Contempt Process Against FBI Director After Viewing Biden 'Bribery' Document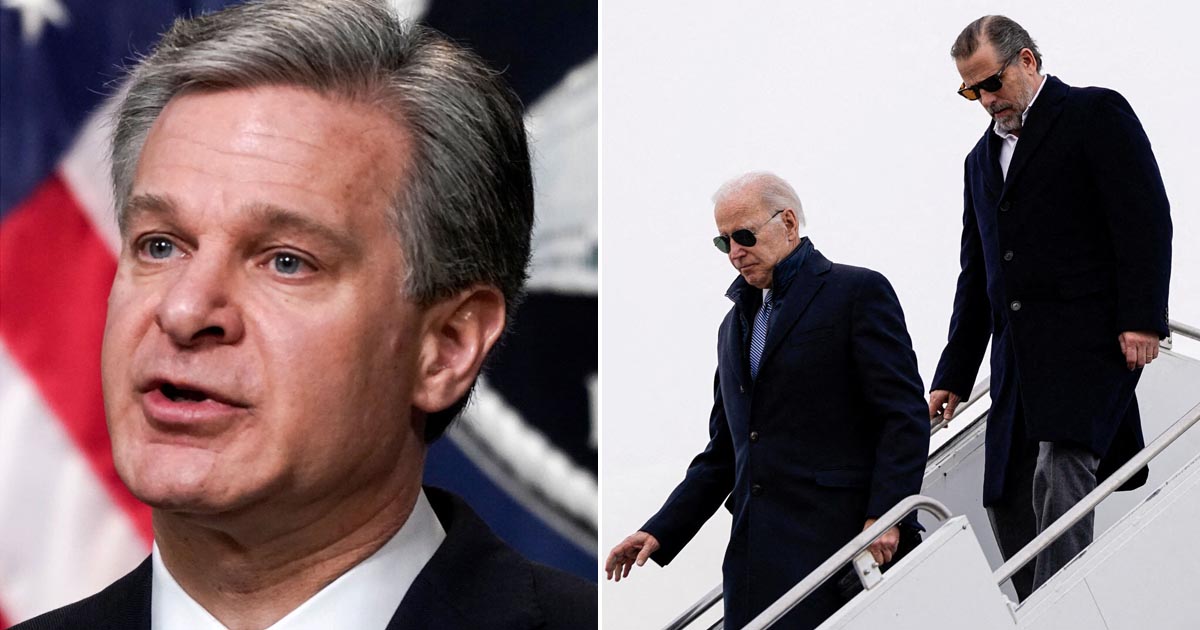 House Republicans are officially starting contempt of Congress charges against FBI Director Chris Wray for failing to turn over Biden 'bribery' document they claim shows then-Vice President Joe Biden was involved in a $5 million 'criminal' scheme with a foreign national.
The escalation comes after the Republican and Democratic leaders of the House Oversight Committee were granted access by the FBI Monday to view the FD-1023 form in a secure facility within the Capitol. The document apparently details an 'arrangement' for an exchange of money for policy decisions.
The Republicans issued a subpoena for the FD-1023 form last month and FBI Director Chris Wray was given a hard deadline of May 30 to hand over the unclassified document, which he did not comply with.
After reviewing the document Monday, Comer told reporters the accusations contained in the form 'suggests a pattern of bribery' consistent with findings the committee has put out publicly.
It's called 'money laundering,' he said, saying it fits within the pattern of over $1 million in Romanian-linked payments to the Biden family revealed last month.
In early May, Republicans released a report digging in on over $10 million received by Biden family members from foreign actors, including previously undisclosed $1 million in Romanian-linked payments, and a 'web' of 20 companies created while President Joe Biden was vice president and pushing anti-corruption efforts abroad.
He also said the FBI record was 'not disproven' and is currently being used in an ongoing investigation that is being conducted by the Department of Justice in Delaware into Hunter Biden's finances.
The 'confidential human source' is a 'trusted, highly credible informant' who has been used by the FBI for over 10 years and has been paid over six figures, continued Comer.
The chairman added that contempt proceedings will begin this Thursday.
'At the briefing, the FBI again refused to hand over the unclassified record to the custody of the House Oversight Committee, and we will now initiate contempt of Congress hearings this Thursday.'
Last week, Comer and Sen. Chuck Grassley, R-Iowa, spoke with Wray by phone and the FBI director offered to let them and Ranking Member Rep. Jamie Raskin, D-Md., view the documents at the FBI headquarters in an attempt to stave off the contempt threat.
'During today's call, Director Wray offered to provide the Committee's Chairman and Ranking Member an opportunity to review information responsive to the subpoena in a secure manner to accommodate the committee, while protecting the confidentiality and safety of sources and important investigative sensitivities,' said the FBI in a statement.
'The FBI has continually demonstrated its commitment to working with the Committee to accommodate its request, from scheduling briefings and calls to now allowing the Chair to review information in person. The FBI remains committed to cooperating with the Committee in good faith.'
Comer also informed Wray that he was also narrowing the breadth of the subpoena for the document by providing two additional terms that may be referenced in the record: 'June 30, 2020' and 'five million.'
Raskin blasted the Republicans' handling of the document in a reporter gaggle following Monday's briefing, calling it 'second-hand hearsay.'
He said former U.S. Attorney Scott Brady for the Western District of Pennsylvania and then-Attorney General Bill Barr did not find any reason to escalate the investigation into all 'allegations related to Ukraine' based on the FD-1023 form.
'I am just surprised that my colleagues want to try to litigate this in public, much less hold the Director of the Federal Bureau of Investigation in contempt for complying with the request when there was a whole process that was undertaken, and that process came to its natural end as I understand it,' Raskin said.
He would not directly confirm that the foreign national alleged in the memo being sought by Republicans is from Ukraine.
Raskin did agree with his Republican colleagues that the whistleblower is considered 'credible.'
The White House has also pushed back, calling the Republican-led investigation 'unfounded' and 'politically motivated.'