U.S. Sen. Dianne Feinstein of California has died at age 90, her office confirmed Friday.
Feinstein, a Democrat, was the oldest member of the Senate, where she served since 1992. She held her seat in the chamber longer than any other woman, and any senator from California.
She passed away Thursday night at her home in Washington, D.C.
"There are few women who can be called senator, chairman, mayor, wife, mom and grandmother. Senator Feinstein was a force of nature who made an incredible impact on our country and her home state," her chief of staff James Sauls said in a statement.
Feinstein's death ends a boundary-pushing political career that spanned more than half a century, and was studded with major legislative achievements on issues including gun control and the environment.
But In Feinstein's final years, she had increasingly visible health and memory issues, and as a result of those a conflict with fellow Democrats over her refusal to step down.
She planned to retire at the end of her current term in January 2025.
Feinstein's death leaves it to Gov. Gavin Newsom to appoint a temporary successor. Three leading Democrats are seeking the seat, Reps. Barbara Lee, Katie Porter and Adam Schiff.
Newsom in a statement called Feinstein "a political giant, whose tenacity was matched by her grace."
"She broke down barriers and glass ceilings, but never lost her belief in the spirit of political cooperation," he said. "There is simply nobody who possessed the poise, gravitas, and fierceness of Dianne Feinstein."
"Jennifer and I are deeply saddened by her passing, and we will mourn with her family in this difficult time."
Senate Majority Leader Chuck Schumer, D-N.Y., said on the chamber floor, "We lost a giant in the Senate."
"Today, there are 25 women serving in this chamber, and every one of them will admit, they stand on Dianne's shoulders," he said.
Rep. Nancy Pelosi of California, the former speaker of the House, grew emotional as she told reporters, "It's a very sad day for all of us."
"May she rest in peace," Pelosi said.
President Joe Biden, who served with Feinstein for decades in the Senate, said in a statement, "She had an immense impact on younger female leaders for whom she generously opened doors."
"Dianne was tough, sharp, always prepared, and never pulled a punch, but she was also a kind and loyal friend, and that's what Jill and I will miss the most," Biden said.
From the office of Senator Dianne Feinstein: pic.twitter.com/rvcAmVk8O0

— Senator Dianne Feinstein (@SenFeinstein) September 29, 2023
A San Francisco native, Feinstein cleared a path for women in politics as she rose through the ranks of leadership.
After two failed bids for mayor, she was elected president of San Francisco's Board of Supervisors in 1978, becoming the first woman to hold the title.
Feinstein was made acting mayor later that year, when then-Mayor George Moscone and Harvey Milk, a colleague on the supervisors' board, were assassinated by former board member Dan White.
In later interviews, Feinstein recalled finding Milk's body and searching for a pulse by putting her finger in a bullet hole.
Feinstein was the first to announce the murders to the press. Her appointment a week later made her San Francisco's first female mayor.
The trauma of the murders remained with her for decades.
"I never really talk about this," Feinstein said with a sigh when asked about the killings during a 2017 CNN interview.
Her streak of firsts continued at the national level.
Feinstein lost a gubernatorial bid in 1990. But in 1992, she won a special election to the U.S. Senate, becoming the first California woman to hold a seat there.
Weeks later, Barbara Boxer, was sworn in as a senator, making California the first state to be represented in the Senate by two women at once.
Their elections came in the "Year of the Woman," when four Democratic women were elected to the Senate — more than doubling the chamber's female representation.
During Feinstein's tenure in the Senate, she wrote and championed the 1994 assault weapons ban, a landmark bill that was a continuation of a career-long effort to enact stricter gun controls.
The legislation passed Congress and was signed by then-President Bill Clinton, albeit with major compromises including a 10-year sunset provision.
The ban expired in 2004 during the administration of President George W. Bush.
She also sponsored bills that protect millions of acres of California's desert, worked to create a nationwide AMBER alert network, helped reauthorize the Violence Against Women Act and fought for the release of a lengthy report detailing the CIA's torture practices, among other accomplishments.
Over her three decades in the Senate, Feinstein has generally been seen as a political moderate in her party.
In the 1990s and 2000s, that reputation made Feinstein highly popular — but much of that popularity eroded in the proceeding years as California's political tint shifted toward deeper shades of blue.
As her centrism increasingly fell out of fashion, Feinstein's standing in her final stretch in office was further diminished by a crescendo of skepticism about her mental fitness for the Senate.
A damning report from the San Francisco Chronicle in April 2022 featured unnamed Democratic colleagues of Feinstein fretting over her apparent decline in mental acuity.
Feinstein defended her ability to legislate while acknowledging that she had been going through an "extremely painful and distracting" period as her late husband, financier Richard Blum, had battled cancer.
By the time Feinstein announced that she would not seek reelection at the end of her term, multiple Democrats already had launched campaigns to succeed her.

⬇️ Top Picks for You ⬇️
Venezuela Is Preparing to Invade Oil-Rich Neighbor Guyana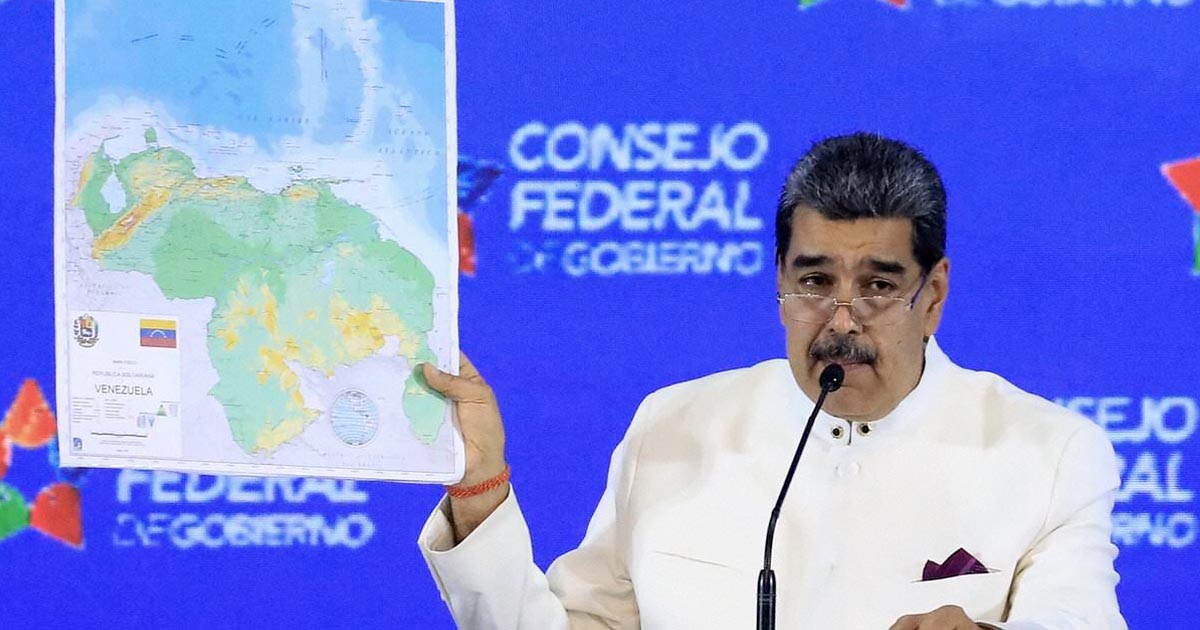 Venezuela's president on Tuesday published a new map of the region showing two thirds of neighboring Guyana 'reclaimed' by Caracas and ordered the state-owned energy companies to 'immediately' begin exploration in the area, as fears rose that Nicolas Maduro could start a war.
Venezuela has claimed Guyana's Esequiba region for over 100 years – ever since the border of the present-day country was drawn up, in 1899. But on Sunday, with his own popularity falling in the face of a newly-unified opposition, Maduro organized a 'referendum' on whether to pursue Venezuela's claim to the territory.
Voters were asked if they agreed with creating a Venezuelan state in the Esequiba region, providing its population with Venezuelan citizenship, and 'incorporating that state into the map of Venezuelan territory.'
The Maduro-controlled Venezuelan National Electoral Council said voters chose 'yes' more than 95 percent of the time on each of five questions on the ballot, and on Tuesday Maduro published his new map.
He has appointed a general, Alexis Rodríguez Cabello, as head of the region and on Tuesday dispatched him to the town of Tumeremo, a remote mining town in the jungle, 120 miles from the border.
Esequiba, about the size of Florida, is rich in minerals and accounts for two thirds of the territory of Guyana – an English speaking nation, which gained its independence from Britain in 1966. Guyana is the only English-speaking country in South America.
Venezuela protested an oil tender announced by Guyana in September, arguing that the offshore areas are subject to dispute and the companies awarded the fields will not have the rights to explore them.
Guyana has denounced Sunday's referendum as pretext to annex the land: in the days running up to it, the Venezuelan defense minister Vladimir Padrino Lopez, known for his ties to his counterparts in Russia and Iran, posted a video of Venezuela troops on parade, waving flags saying 'Guyana Esequiba', colored in the Venezuelan flag.
President Irfaan Ali called the move by Maduro 'reckless' and said his country plans to alert both regional and world leaders of Maduro's attempt to disrupt the peace in the hemisphere.
'It is unfortunate that President Maduro would choose the road of defying an international court order. This speaks volumes about the way in which President Maduro prefers to operate and also points to the fact that he's unconcerned about the peace and security of this region,' he told The Miami Herald.
'The order of the [U.N. court] made it very clear that Venezuela cannot act or take any action that would disrupt the status quo and the status quo is that Guyana exercises governance and control of Essequibo,' he said.
He added that he is seeking the support of the United Nations Security Council, the United States, the Caribbean Community, the Organization of American States and other countries to ensure Guyana's territory is 'not violated.'
'We once again call on Venezuela to retract from this reckless, adventurous move and to allow international law and the ruling of the [U.N. court] to guide our action,' Ali added.
El pueblo y su #FANB están movilizados, decididos e imperturbables a recuperar nuestra Guayana Esequiba, nos mueve el amor infinito a la patria y a cada milímetro del sagrado territorio venezolano, el cual defenderemos por todas las vías y por todos los medios que estén a nuestro… pic.twitter.com/B60slT8xSs

— Vladimir Padrino L. (@vladimirpadrino) November 29, 2023
Guyana has appealed to the International Court of Justice, the United Nations' top court, which on Friday ordered Venezuela not to take any action to change the status quo until the panel can rule on the two countries' competing claims. Any decision could take years.
Meanwhile, Guyana is nervously eyeing its giant neighbor to the north.
Venezuela's military, backed by Russia, Iran and Cuba, massively outnumbers tiny Guyana's: the Venezuelan military counts 123,000 active personnel versus only 3,400 for Guyana, according to an analysis in Brazil's Folha de Sao Paulo newspaper.
Guyana is also dwarfed by Venezuela in weaponry, with Venezuela having 514 armored vehicles compared to only six owned by Guyana.
Such an attack would draw a strong international response, with the lead likely played by Brazil, which borders both Venezuela and Guyana and whose military is significantly larger and more professional than either country's.
At the end of November, Brazil's defense ministry said it 'has intensified defensive actions' along its northern border.
'The Ministry of Defense has been monitoring the situation. Defensive actions have been intensified in the northern border region of the country, promoting a greater military presence,' it said in a statement.