At age 22, during a routine trip to the doctor's office, my entire reality changed in the blink of an eye. I learned I was born wholly male — an XY chromosome — and doctors made the decision at my birth to remove my split penis and testes and directed my parents to raise me as a female.
Under the guise of psychological protection, the doctors told my parents I must never be told of my birth sex. Now, at 37, I want to share the learnings from my search for answers and the journey I undertook to make peace with myself and my body.
Childhood
Born in the North of England in 1986, I spent my childhood as a young girl trying to navigate complex urological problems caused by, what I was told was, a rare birth condition.
Despite the condition, my childhood years were fantastic. I have fond memories of wonderful friendships and spending the bulk of my spare time rollerblading in the local streets, playing football and hide and seek. I didn't have a care in the world.
At age 11, I was told I would not have periods and I'd have to take a daily synthetic estrogen pill. My doctors and parents told me the mistruth that I'd been born with ovaries, but due to my condition, they'd been damaged and removed at birth. They said I'd need the estrogen to provide my body with the hormone it lacked.
As I progressed into my teens, I became more aware of the limitations of my birth condition and my differences to the rest of the children. I fought hard to manage my bladder incontinence and to hide my use of pads from school friends. Though I had been told I had a rare birth condition, I was confused as to why so many issues seemed to plague me.
I started to understand how my lack of vagina would impact my future relationships. At the same time, I knew I had very little interest in the boys around me and struggled to come to terms with the idea that I was most likely gay. I spiraled into a dark period of depression and in my college years began to find an outlet for my pain in drink, drugs, and heavy metal music.
A Routine Visit To The Doctor
When I was 22-years-old, however, during a routine trip to the doctor's office, I accidentally stumbled upon the answers to the questions that had consumed my entire existence. As I sat side-by-side with my mum and the locum clinician — a temporary physician —, we faced a computer screen which displayed a letter from my medical notes. In bold type towards the top of the letter were the following words:
46 XY birth. Previous ectopia vesicae, bifid phallus imperforate anus and prolapsed bowels through abdominal defect — bladder reconstruction, testes and phallus removed, vaginal construction.
While I had limited medical knowledge, I knew enough to understand that XY chromosomes are male and that a phallus and testes are male sex organs. In those few moments, the world around me came to a standstill. As I processed the words I had just read, I felt a wave of pain and anger overcome my entire body. "Holy s**t. I was born a boy?"
I looked over to my mum who had clearly realized what I had seen. I then focused my attention on the clinician who seemed oblivious to the situation — assuming I already knew.
In complete silence, I held my emotions inside as we left the doctor's office. As I got inside my mum's car for the drive home, I hit the roof.
My dad returned early from work and my parents tried to hold a conversation with me. I did not wish to hear any of it. I knew if I tried to process that information, I'd very quickly be in suicide territory.
I was not offered any psychological support or explanation by the medical system to process the trauma I'd inherited. For self preservation, I buried my newly acquired knowledge into a locked corner of my mind, never to be opened again. This sparked the start of 13 years of complete denial.
My Quest For Answers
After I was discharged from the hospital, I approached my doctor for a full copy of my medical records. I received records from age 12, which detailed just enough to have an idea of what they did to me.
I logged a formal complaint with the Manchester University NHS Foundation Trust demanding answers as to why they conducted gender reassignment surgery on me. The response to the complaint was pitiful. Nobody within the Trust was willing to have a conversation and they claimed to have a policy that destroyed medical records after 20 years.
As official channels granted me no answers, I took matters into my own hands. First, I exchanged a series of heated emails with the retired surgeon from my birth. This eventually led to an in-person meeting where he maintained he was just following the medical pathways for my condition defined at the time.
Next, a work colleague suggested I research a deceased psychologist named Dr. John Money, specifically his John/Joan case. I quickly learned how Money had developed theories around gender identity. Money speculated gender to be completely independent of birth sex, and he hypothesized that gender was defined not by "nature" — a child's chromosome or genitalia, but by "nurture" — the environment in which the child is raised.
I learned how Money had tested his nature versus nurture theory on young twin boys, Brian and Bruce Reimer. Because of a botched circumcision, Bruce's penis was severely damaged. His parents were desperate to help their son and Money confidently speculated they could remove Bruce's penis and testes, create a pseudo vagina, and raise him as a girl.
Following the surgery, Bruce became "Brenda" and was asked to regularly attend consultations with his twin brother and Dr. Money. During these sessions, Money forced the twins to enact "sexual play," which haunted the twins for many years afterwards.
After experiencing severe depression in his teens, Brenda's parents eventually told him the truth of his birth gender and Brenda became "David," signifying his transition back to male presentation.
In 2002, after years of depression, David's twin brother Brian sadly passed away due to an overdose of antidepressants.
Several years after going public with his story, David held a final interview, which he ended with the following quotation about Money's theories:
I'm living proof and if you're not gonna take my word as gospel — because I have lived through it — who else are you gonna listen to? Who else is there? I've lived through it. Is it gonna take somebody to wind up killing themselves, shooting themselves in the head for people to listen?
In 2004, two days after his wife requested a divorce, David tragically shot himself.
While the Reimer case was clearly a failed experiment, Money nevertheless continued to promote the case as a success to the worldwide medical profession. I began to speculate that my surgeries were a direct result of the pathways informed by Money's failed ideologies.
As I continued my search for answers, I found another individual born with the same condition who had also experienced my journey. Together, we unanimously concluded that we were products of a medical experiment.
I began to contemplate a possible detransition back to the male presentation. Such a task, however, would mean further interactions with the medical system that created the problem in the first place — a system I now call our "National Homicide Service." Even if I were to receive care privately, I concluded the reality of the process would be further genital mutilation to create a non-functioning penis and ingesting stacks of potentially dangerous synthetic testosterone hormones. However, I fully respect anyone in my situation who has made an informed decision to take that path.
Would any of these surgeries change the inside of my mind? However much I change the outer shell, any problems in my heart and my mind will follow me everywhere.
For me, the answer was to look inside myself and fix the underlying mental trauma.
Read the full article. Visit Sophie's Story to learn more.

⬇️ Top Picks for You ⬇️
"Allahu Akbar": Paris Attack Near Eiffel Tower Leaves One Dead and Two Injured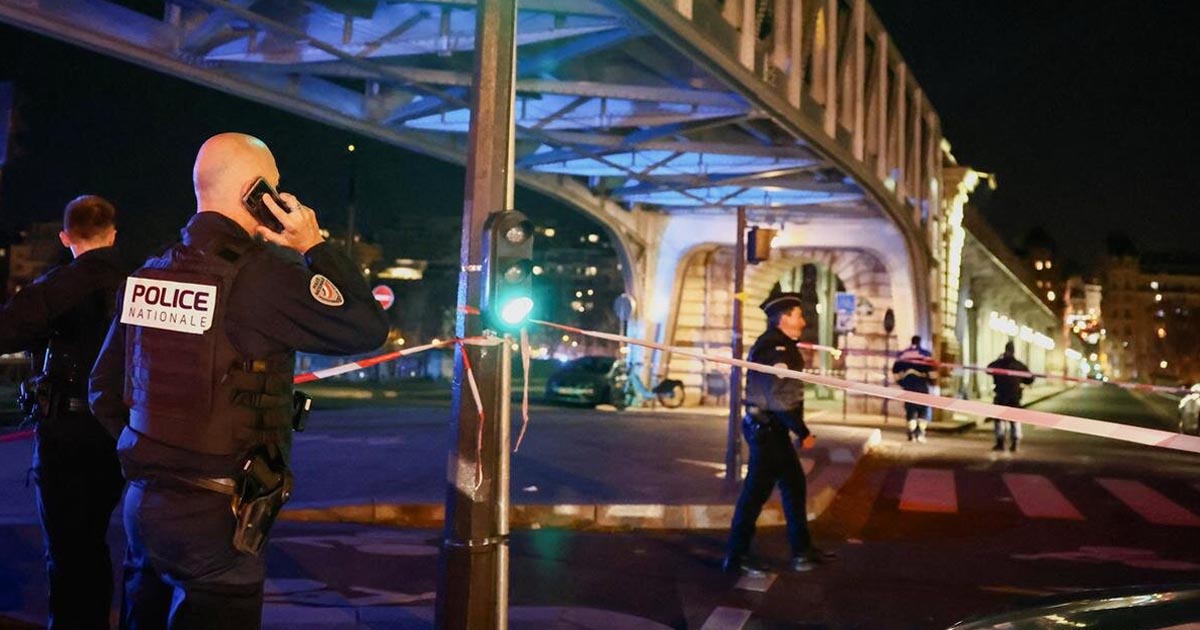 A tourist has been stabbed to death while a British man is reportedly among two others badly injured after a knifeman screaming 'Allahu Akbar' launched a frenzied attack in central Paris last night.
Witnesses reported hearing people screaming for 'help' as they ran away from the hammer and knife-wielding man.
One victim, a tourist with dual German and Filipino nationality, was slashed in the back and shoulder by the attacker last night. The man, who had not been named, was found in cardiorespiratory arrest before he passed away.
The second victim of the attack was British, and was out walking with his wife when Armand R. attacked him from behind.
'The family were on the Avenue President Kennedy when they were set upon,' said an investigating source, who added: 'A hammer was used to hit the man over the head.'
The Englishman was rushed to hospital, where his condition was later described as 'stable'. A third victim was also badly hurt in a hammer attack, said the source.
Sources said the arrested man was 'immobilised with an electric stun gun' as he ran up the Avenue du Parc de Passy – as French prime minister Elisabeth Borne vowed: 'We will not give in to terrorism. Never.'
The bloodbath happened on the Grenelle quay, close to the Eiffel Tower in the 15th arrondissement of the French capital.
Joseph S., 37 years old, a supermarket manager who asked not to give his last name, was sat in a bar when he heard screams and people shouting 'help, help' as they ran.
A man wielding an object attacked a man who had fallen down, and within 10 minutes the police arrived, he told AFP.
The Paris prosecutor's office said the attacker is French and was born in 1997, and has been arrested in an investigation into murder and attempted murder. The anti-terrorism prosecutor's office has been put in charge of an investigation.
The suspect had already been sentenced to four years in prison in 2016 for planning another attack, French Interior Minister Gerald Darmanin revealed.
'A man attacked a couple who were foreign tourists. A German tourist who was born in the Philippines died from the stabbing,' he said.
A taxi driver who witnessed the scene intervened, Darmanin said. The attacker then crossed the Seine attacking others and injuring one with a hammer, while police chased in pursuit.
'He had threatened them very violently… he will now have to answer for his actions before justice,' Darmanin said.
The attacker was reportedly known to police for 'radical Islamism'. He was on an 'S-File' which means he should have been under surveillance, after telling people that he wanted to die as a martyr.
A police source said that the attacker was known for psychiatric disorders and had said he could not stand Muslims being killed in the world. It's understood he was upset about the situation in Gaza between Israel and Hamas.
In 2016, he was arrested by the French national security agency before carrying out an attack.
Interior Minister Gerald Darmanin confirmed last night that one person died and another was injured. The minister wrote on X: 'The police have just courageously arrested an assailant attacking passersby in Paris, around the Quai de Grenelle.
'One deceased person and one injured person treated by the Paris fire brigade. Please avoid the area.'
French President Emmanuel Macron on Saturday said he was sending his condolences to the family of a German killed in a 'terror attack' in Paris.
The suspected attacker was 'quickly' arrested and justice should now be done 'in the name of the French people', he wrote on X.
Transport Minister Clement Beaune said that Paris was 'in mourning'. He wrote on X: 'Thoughts and solidarity with the families and loved ones of the victims. Thank you to our security and emergency forces for their rapid and decisive intervention.'
The attacker was arrested soon afterwards, and is currently in custody and facing a possible murder charge.
Officers said there was no early indication as to the motive of the stabbing, but it follows a series of bomb, gun and knife attacks carried out by Islamic State and al-Qaeda operatives in France, dating back to early 2015 – many of whom have shouted 'Allahu Akbar' while carrying out their crimes.
The deadliest single terrorist attack ever in the country came in November 2015 when 130 people were killed in Paris.
Suicide bombers pledging allegiance to ISIS targeted the Stade de France, cafes, restaurants and the Bataclan music venue, where 90 died.
Earlier in the year, two Paris-born gunmen linked to Al-Qaeda broke into the offices of the Charlie Hebdo satirical magazine, leaving 17 people dead inside and three outside.
In July 2016, 86 people were called and more than 400 injured when a 19 tonne truck was deliberately driven into crowds on the seafront promenade at Nice, which is just 20 miles from Cannes.
The terrorist turned out to be a Tunisian immigrant who was shot dead by police.
During the same month, two Isis terrorists murdered an 86-year-old Catholic priest during a church service in Normandy.
And in October 2020, three people were stabbed to death by a Tunisian immigrant in the Notre Dame basilica in Nice.
There have also been frequent knife attacks on the forces of law and order, leading to the deaths of serving police.
Saturday night's incident in central Paris occurred less than eight months before the French capital hosts the Olympic Games and could raise questions about security at the global sporting event.
Paris plans an unprecedented opening ceremony on the Seine river that may draw as many as 600,000 spectators.