Meme-maker Douglass Mackey was sentenced in New York criminal court on Wednesday after a March conviction for conspiracy against rights, ie election interference, over memes he created during the 2016 presidential election that disparaged Hillary Clinton.
Mackey was sentenced to 7 months in prison for the crime of making memes the DOJ didn't think were funny. A fundraiser has been launched for his ongoing legal defense.
Douglass Mackey, the man "on trial for memes," was sentenced to seven months in prison Wednesday for his efforts to trick Hillary Clinton voters into staying home on Election Day in 2016. @NikaSchoonover https://t.co/0u8YsjmGdG

— Courthouse News (@CourthouseNews) October 18, 2023
The case was heard in the US Court of the Eastern District of New York. Mackey, who was known as Ricky Vaughn on Twitter, was found guilty of the federal charge after making memes that jokingly encouraged Hillary Clinton supporters to cast their votes via text mesage. This is not actually a viable form of voting, which Mackey, and everyone else, knew. There was no evidence to suggest that any voter attempted to cast their ballot via text in response to Mackey's meme.
"Tomorrow at 1130am," said one supporter, "Doug Mackey will be sentenced in an NYC courtroom on a sham "conspiracy" conviction for sharing an anti-Hillary meme, all thanks to a bunch of lies and half-truths spewed by a morbidly obese fed informant who goes by the name Microchip."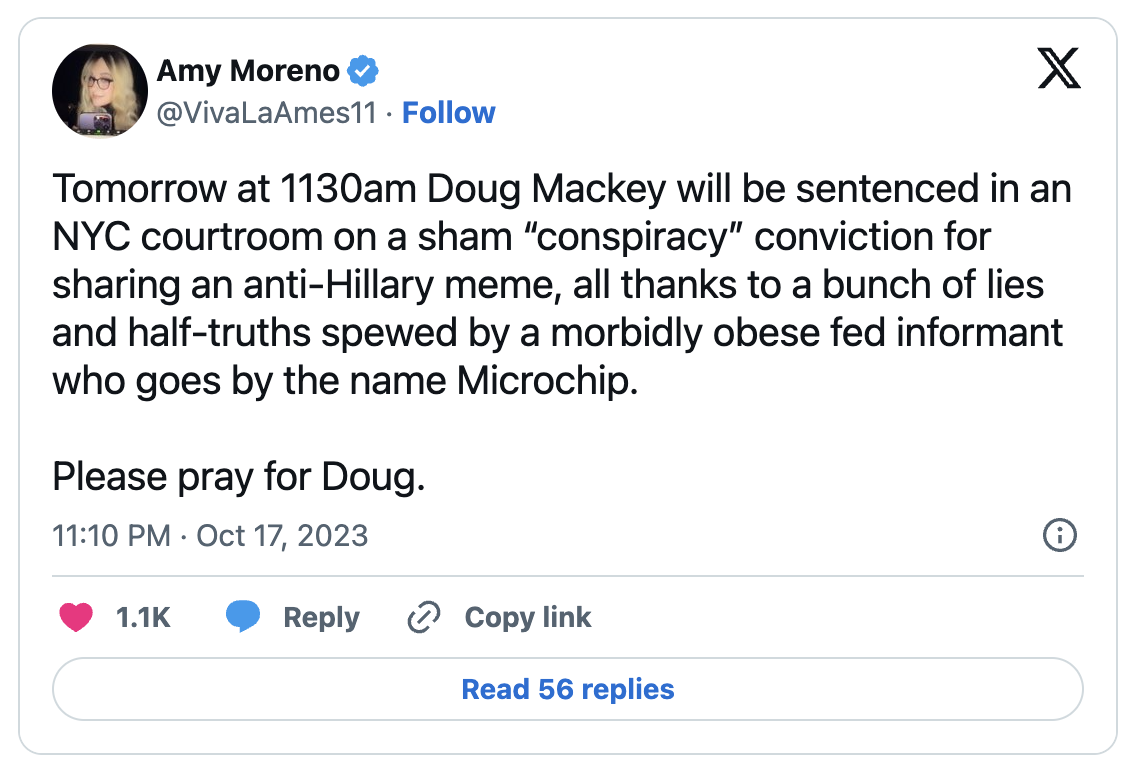 The meme that Mackey was convicted of disseminating was directed at Hillary Clinton voters, but other memes, also instructing people to vote for president via text, were distributed by social media users telling people to cast their vote for Trump via text. Mackey was convicted while no one else was even charged.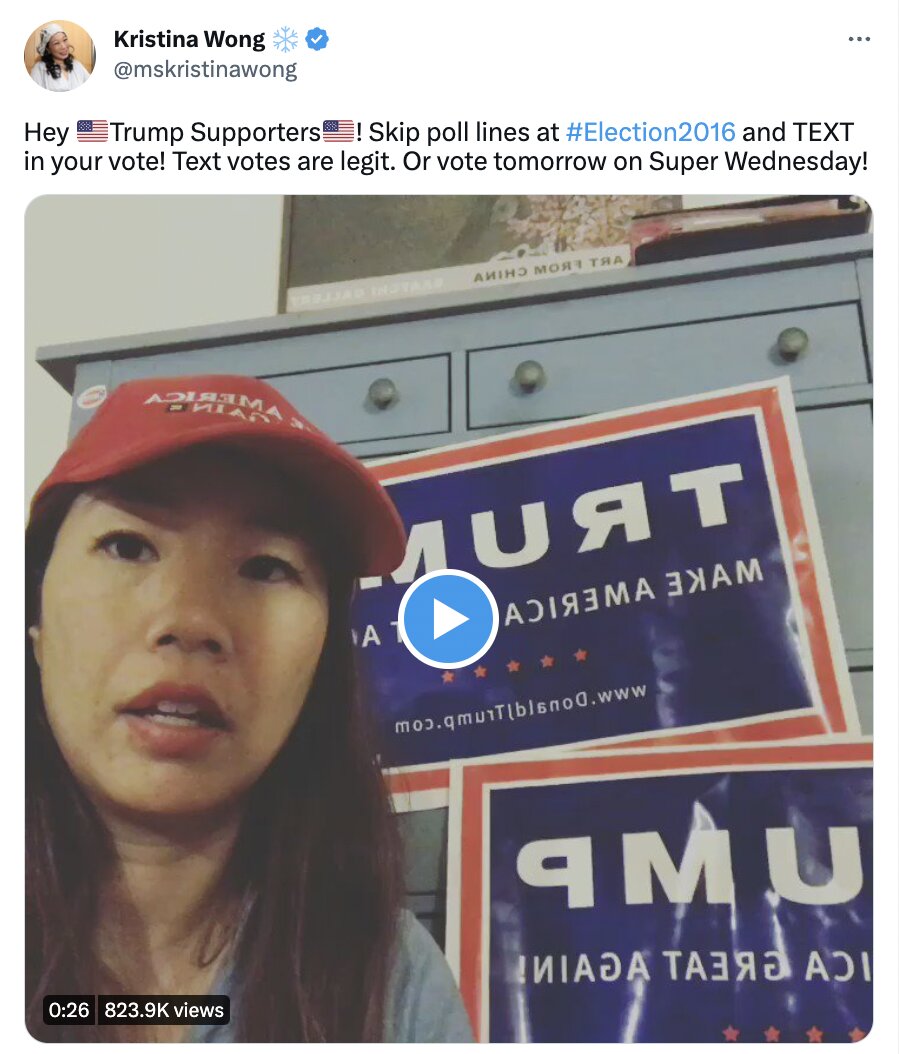 The case is, as the New York Times reported at the time, was "the first criminal case in the country involving voter suppression through the spread of disinformation on Twitter."
The DOJ claimed that the meme from Mackey constituted election interference, and the court agreed, despite their being no evidence to support the notion that anyone who saw the meme was deceived by it. Mackey argued that he was simply trying to create a viral meme, and that other Clinton supporters had posted similar memes encouraging Trump supporters to vote by text without consequence.
"The complaint," the DOJ said in 2021, "alleges that in 2016, Mackey established an audience on Twitter with approximately 58,000 followers."
The DOJ alleged that "Mackey was sending tweets suggesting the importance of limiting 'black turnout,' the defendant tweeted an image depicting an African American woman standing in front of an 'African Americans for Hillary' sign. The ad stated: 'Avoid the Line. Vote from Home,' 'Text 'Hillary' to 59925,' and 'Vote for Hillary and be a part of history.'"
The DOJ, apparently having no sense of humor, took further issue with Mackey's jokes, saying "The fine print at the bottom of the deceptive image stated: 'Must be 18 or older to vote. One vote per person. Must be a legal citizen of the United States. Voting by text not available in Guam, Puerto Rico, Alaska or Hawaii. Paid for by Hillary For President 2016.' The tweet included the typed hashtag '#ImWithHer,' a slogan frequently used by Hillary Clinton. On or about and before Election Day 2016, at least 4,900 unique telephone numbers texted 'Hillary' or some derivative to the 59925 text number, which had been used in multiple deceptive campaign images tweeted by Mackey and his co-conspirators."
"Mackey has been found guilty by a jury of his peers of attempting to deprive individuals from exercising their sacred right to vote for the candidate of their choice in the 2016 Presidential Election," stated United States Attorney Peace at the time. "Today's verdict proves that the defendant's fraudulent actions crossed a line into criminality and flatly rejects his cynical attempt to use the constitutional right of free speech as a shield for his scheme to subvert the ballot box and suppress the vote."
"As alleged in the complaint, between September 2016 and November 2016, in the lead up to Nov. 8, 2016, U.S. Presidential Election, Mackey conspired with others to use social media platforms, including Twitter, to disseminate fraudulent messages designed to encourage supporters of one of the presidential candidates (the 'Candidate') to 'vote' via text message or social media, a legally invalid method of voting," the DOJ stated, describing the meme.
"According to the allegations in the complaint, the defendant exploited a social media platform to infringe one the of most basic and sacred rights guaranteed by the Constitution: the right to vote," said Nicholas L. McQuaid, Acting Assistant Attorney General of the Justice Department's Criminal Division. "This complaint underscores the department's commitment to investigating and prosecuting those who would undermine citizens' voting rights."
Mackey posted the memes on November 1, 2016, one week before the election. The prosecution could not provide any evidence of harm. Donald Trump has also been charged with conspiracy against rights in the Biden DOJ's case agaisnt him over the Capitol riot of January 6.

⬇️ Top Picks for You ⬇️
Venezuela Is Preparing to Invade Oil-Rich Neighbor Guyana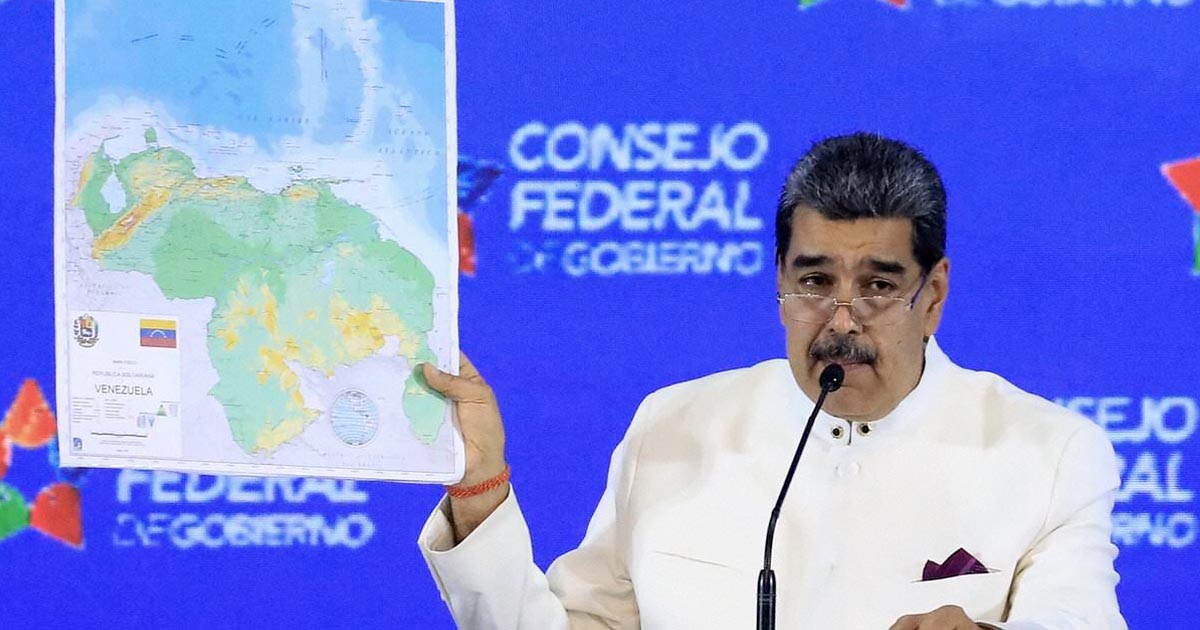 Venezuela's president on Tuesday published a new map of the region showing two thirds of neighboring Guyana 'reclaimed' by Caracas and ordered the state-owned energy companies to 'immediately' begin exploration in the area, as fears rose that Nicolas Maduro could start a war.
Venezuela has claimed Guyana's Esequiba region for over 100 years – ever since the border of the present-day country was drawn up, in 1899. But on Sunday, with his own popularity falling in the face of a newly-unified opposition, Maduro organized a 'referendum' on whether to pursue Venezuela's claim to the territory.
Voters were asked if they agreed with creating a Venezuelan state in the Esequiba region, providing its population with Venezuelan citizenship, and 'incorporating that state into the map of Venezuelan territory.'
The Maduro-controlled Venezuelan National Electoral Council said voters chose 'yes' more than 95 percent of the time on each of five questions on the ballot, and on Tuesday Maduro published his new map.
He has appointed a general, Alexis Rodríguez Cabello, as head of the region and on Tuesday dispatched him to the town of Tumeremo, a remote mining town in the jungle, 120 miles from the border.
Esequiba, about the size of Florida, is rich in minerals and accounts for two thirds of the territory of Guyana – an English speaking nation, which gained its independence from Britain in 1966. Guyana is the only English-speaking country in South America.
Venezuela protested an oil tender announced by Guyana in September, arguing that the offshore areas are subject to dispute and the companies awarded the fields will not have the rights to explore them.
Guyana has denounced Sunday's referendum as pretext to annex the land: in the days running up to it, the Venezuelan defense minister Vladimir Padrino Lopez, known for his ties to his counterparts in Russia and Iran, posted a video of Venezuela troops on parade, waving flags saying 'Guyana Esequiba', colored in the Venezuelan flag.
President Irfaan Ali called the move by Maduro 'reckless' and said his country plans to alert both regional and world leaders of Maduro's attempt to disrupt the peace in the hemisphere.
'It is unfortunate that President Maduro would choose the road of defying an international court order. This speaks volumes about the way in which President Maduro prefers to operate and also points to the fact that he's unconcerned about the peace and security of this region,' he told The Miami Herald.
'The order of the [U.N. court] made it very clear that Venezuela cannot act or take any action that would disrupt the status quo and the status quo is that Guyana exercises governance and control of Essequibo,' he said.
He added that he is seeking the support of the United Nations Security Council, the United States, the Caribbean Community, the Organization of American States and other countries to ensure Guyana's territory is 'not violated.'
'We once again call on Venezuela to retract from this reckless, adventurous move and to allow international law and the ruling of the [U.N. court] to guide our action,' Ali added.
El pueblo y su #FANB están movilizados, decididos e imperturbables a recuperar nuestra Guayana Esequiba, nos mueve el amor infinito a la patria y a cada milímetro del sagrado territorio venezolano, el cual defenderemos por todas las vías y por todos los medios que estén a nuestro… pic.twitter.com/B60slT8xSs

— Vladimir Padrino L. (@vladimirpadrino) November 29, 2023
Guyana has appealed to the International Court of Justice, the United Nations' top court, which on Friday ordered Venezuela not to take any action to change the status quo until the panel can rule on the two countries' competing claims. Any decision could take years.
Meanwhile, Guyana is nervously eyeing its giant neighbor to the north.
Venezuela's military, backed by Russia, Iran and Cuba, massively outnumbers tiny Guyana's: the Venezuelan military counts 123,000 active personnel versus only 3,400 for Guyana, according to an analysis in Brazil's Folha de Sao Paulo newspaper.
Guyana is also dwarfed by Venezuela in weaponry, with Venezuela having 514 armored vehicles compared to only six owned by Guyana.
Such an attack would draw a strong international response, with the lead likely played by Brazil, which borders both Venezuela and Guyana and whose military is significantly larger and more professional than either country's.
At the end of November, Brazil's defense ministry said it 'has intensified defensive actions' along its northern border.
'The Ministry of Defense has been monitoring the situation. Defensive actions have been intensified in the northern border region of the country, promoting a greater military presence,' it said in a statement.