Dr Anthony Fauci was tonight accused of lying under oath over his knowledge of dangerous virus research in China — which is feared to have caused the pandemic.
DailyMail reported that Senator Rand Paul, a Republican from Kentucky, wrote to Attorney General Merrick Garland last week calling for an investigation into whether Dr Fauci, 82, committed perjury when he testified in front of a Senate committee in 2021.
In a showdown with Republicans, including Sen Paul, in July that year, Dr Fauci testified that his former 'has not ever and does not now fund gain-of-function research in the Wuhan Institute of Virology.'
Dr Fauci was the former Director of the National Institute of Allergy and Infectious Diseases (NIAID) until the end of 2022 and was responsible for signing off on research grants.
Yet newly released emails dated February 1, 2020 show Fauci acknowledged that 'scientists in Wuhan University are known to have been working on gain-of-function experiments to determine that molecular mechanisms associated with bat viruses adapting to human infection, and the outbreak originated in Wuhan.'
Perjury is a federal offense that carries up to five years in prison. While the emails show that Fauci was aware of gain-of-function going on in the lab, he never admitted that the NIH funded it.
But the Government Accountability Office (GAO) determined last month that the Wuhan Institute of Virology and Wuhan University did receive NIH funding, Sen Paul said in his letter to AG Garland.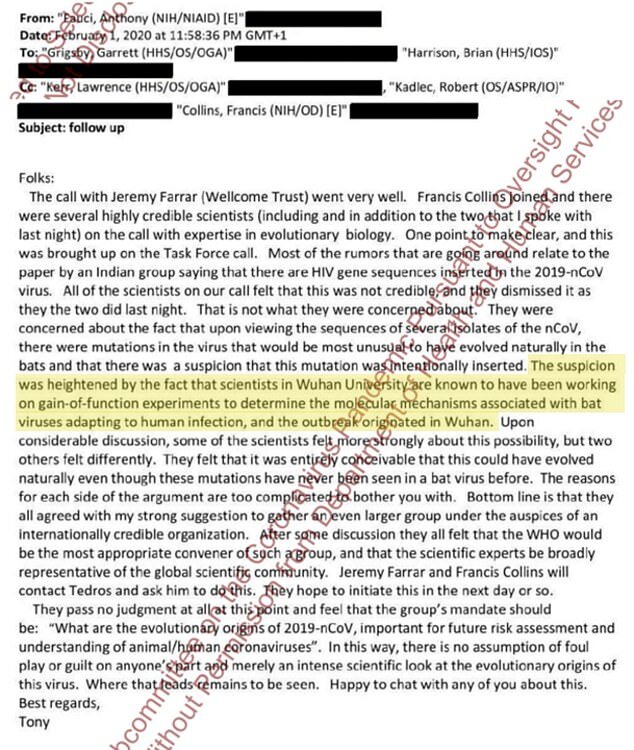 On July 13, 2023 the House Select Subcommittee on the Coronavirus Pandemic released the emails sent by Dr Fauci about a conference call regarding the origins of Covid attended by Dr Fauci, Dr Francis Collins, former director of the National Human Genome Research Institute, and other researchers.
In one email, Dr Fauci admits the scientists had concerns that Covid might have been genetically engineered and that these were worsened by the fact that gain-of-function research was taking place in Wuhan before the pandemic.
Gain-of-function research is medical research that genetically alters a virus to make it more deadly or infectious to try and get ahead of natural mutations that might occur.
At the hearing in July, Fauci 'stated that the NIH has never and does not now fund gain-of-function research in the Wuhan Institute of Virology,' Paul said in the committee chamber.
'And yet, gain-of-function research was done entirely in the Wuhan Institute by Doctor Shi [Zhengli] and was funded by the NIH,' he said.
Paul then cited the paper by WIV scientists titled 'Discovery of a rich gene pool of bat SARS-related coronaviruses provides new insights into the origin of SARS coronavirus'.
The paper specifically talks about ongoing efforts to produce a 'chimeric' coronavirus, which means it has been altered by man – otherwise known as 'gain of function.'
It also details, Paul noted, that the NIH was a source of funding for that research.
Paul asserted that the research recorded in the paper 'explicitly matches the definition of gain-of-function research.'
'This paper was judged by qualified staff up and down the chain as not being gain-of-function,' Fauci insisted.
But the newly released emails show Fauci referring to the research by scientists at Wuhan University as 'gain-of-function experiments'.
Dr Shi Zhengli, also known as 'bat lady', a leading virologist based at the Wuhan Institute of Virology, spent years researching bat coronaviruses with the aim of identifying those with the potential to infect people.
Both she and Beijing itself have vehemently and publicly denied the possibility that Covid could have emerged from experiments carried out at the lab.
Dr Zhengli graduated from Wuhan University in 1987 with a bachelor's degree in genetics and received her master's degree from the Wuhan Institute of Virology in 1990.
Last month, the Government Accountability Office (GAO) determined that the Wuhan Institute of Virology and Wuhan University received NIH funding, Sen Paul said in his letter to AG Garland.
It said: 'The report noted that NIH funded the WIV's project "Understanding the Risk of Bat Coronavirus Emergence" and included "genetic experiments to combine naturally occurring bat coronaviruses with SARS and MERS viruses, resulting in hybridized coronavirus strains."
'GAO also found that NIH funded the Wuhan University's collaboration with WIV on viral detection in the Yunnan province.'

⬇️ Top Picks for You ⬇️
Over 5K Federal-Only Ballots Cast in Arizona 2020 Election Without US Citizenship Proof
More than 5,600 federal-only ballots were cast in the 2020 presidential election in Arizona, without proof of U.S. citizenship required by the voters who cast them, according to data from the state's counties.
Arizona is a state with the unusual situation of bifurcated elections, in which residents who provide proof of U.S. citizenship can vote in all elections while the others may vote only in federal elections, resulting in ballots cast by voters who haven't proven their U.S. citizenship.
Arizona law requires residents registering to vote in the state to provide proof of U.S. citizenship.
However, after the Supreme Court ruled in 2013 that Arizona must accept U.S. voter registration forms because of federal requirements under the 1993 National Voter Registration Act, the state allows residents registering to vote who don't provide proof of citizenship to receive ballots for federal races only.
Federal voter registration forms require those filling them out only to sign a sworn declaration that they are U.S. citizens.
When residents of Arizona register to vote or update their registration, an election system accesses their driver's license records to verify whether they have proof of citizenship.
Those without documentation are ineligible to vote in state elections and registered as "federal-only" voters, according to the Associated Press.
Last year, Arizona enacted a law that requires counties to check federal-only voters for citizenship against multiple databases. The counties must reject any federal applications if they find the individual is not a U.S. citizen, and any official knowingly ignoring the requirement could receive a felony charge.
The Justice Department sued Arizona over the law in July 2022, claiming it is "a textbook violation of the National Voter Registration Act," according to Assistant Attorney General Kristen Clarke of the agency's Civil Rights Division. The agency also claims the law violates the Civil Rights Act of 1964.
Former Arizona Assistant Attorney General Jennifer Wright told Just the News on Thursday that she believes Arizona is "one of the only states to have bifurcated elections" because the U.S. Election Assistance Commission didn't allow the state to require driver's licenses for voter registration, despite other states having the requirement.
Wright said that when a person registers to vote, their name is supposed to be compared to the U.S. Citizenship and Immigration Services' SAVE database by county recorders to determine if they're non-citizens.
While there is not a system in place to ensure that the recorders are checking for non-citizens when registering voters, state law requires them to only register residents and certify that the voter roster is correct, she added, citing A.R.S. 16-183 and A.R.S. 16-169A.
If non-citizens register to vote before becoming naturalized citizens, then it could hinder their naturalization.
In fact, according to a report by the Public Interest Legal Foundation earlier this year, the most likely reason for a foreign national to admit that they have been registered to vote is that "they want to remain in the United States as future naturalized citizens."
In the naturalization application process, foreign nationals are asked whether they have prematurely registered to vote. If there are voter registration records, then "they are often ordered by immigration officials to get said records cancelled," according to the report.
PILF's report also found that in Maricopa County, voter registrations for 222 foreign nationals have been canceled since 2015, with nine of them casting 12 ballots over four federal elections.
Below is a list of 13 of the 15 Arizona counties that provided information to Just the News regarding the number of federal-only ballots cast in the 2020 and 2022 general elections and the number of federal-only voters registered in both elections.
Cochise County required a public records request to obtain the information and informed Just the News on Wednesday that the request for the federal-only ballots and voter information was no. 125 in the queue.
However, according to state law, "the county recorder shall report to the secretary of state and shall prominently post on the recorder's website the number of persons who are registered to vote using the federal or state voter registration form and who have not provided proof of citizenship to the county recorder and, after each general election, shall post on the recorder's website the number of ballots cast by those persons who were eligible to vote a ballot containing federal offices only."
At least 5,697 federal-only ballots were cast in the 2020 presidential election in Arizona, most of which came from Maricopa County. Only some of the counties specified as to whether all the federal-only ballots cast were also accepted.
The 2020 presidential election results showed former President Donald Trump with 10,457 votes less than President Joe Biden in the state.
Information for some counties regarding federal-only registered voters came from the numbers reported to the Arizona Secretary of State's Office about a month before the elections, which includes both active and inactive voters (specified below as "all federal-only voters"). Other counties provided federal-only registered voters that were active. Voters are eventually moved to 'inactive' status if voting materials sent to their address are returned undeliverable.
Apache County:
All federal-only voters registered in 2020: 162
All federal-only voters registered in 2022: 97
Cochise County:
All federal-only voters registered in 2020: 288
All federal-only voters registered in 2022: 297
Coconino County:
Federal-only ballots accepted and counted in 2020: 335
Federal-only ballots accepted and counted in 2022: 116
All federal-only voters registered in 2020: 2,381
All federal-only voters registered in 2022: 2,841
Gila County:
Federal-only ballots cast and accepted in 2020: 23
Federal-only ballots cast and accepted in 2022: 5
All federal-only voters registered in 2020: 88
All federal-only voters registered in 2022: 67
Graham County:
Federal-only ballots cast and counted in 2020: 8
Federal-only ballots cast and counted in 2022: 5
All federal-only voters registered in 2020: 40
All federal-only voters registered in 2022: 45
Greenlee County:
Federal-only ballots cast in 2020 and accepted: 4
Federal-only ballots cast in 2022 and accepted: 1
All federal-only voters registered in 2020: 9
All federal-only voters registered in 2022: 6
La Paz County:
Federal-only ballots cast in 2020: 11
Federal-only ballots cast in 2022: 0
All federal-only voters registered in 2020: 27
All federal-only voters registered in 2022: 16
Maricopa County:
Federal-only ballots cast in 2020: 8,114, with 4,484 of those accepted and counted
Federal-only ballots cast in 2022: 2,749
Federal-only voters registered in 2020: 14,298
All federal-only voters registered in 2022: 27,441
Mohave County:
Federal-only ballots cast in 2020: 257
Federal-only ballots cast in 2022: 80
All federal-only voters registered in 2020: 707
All federal-only voters registered in 2022: 484
Navajo County:
Federal-only ballots cast and counted in 2020: 14
Federal-only ballots cast and counted in 2022: 2
Federal-only voters registered in 2020: 46
Federal-only voters registered in 2022: 82
Pima County:
Federal-only voters in 2020: 1,942
Federal-only ballots cast in 2022: 27 provisional and conditional provisional ballots counted
All federal-only voters registered in 2020: 7,211
All federal-only voters registered in 2022: 9,095
Pinal County:
Federal-only ballots accepted and counted in 2020: 96
Federal-only ballots accepted and counted in 2022: 49
All federal-only voters registered in 2020: 1,369
All federal-only voters registered in 2022: 1,233
Santa Cruz County:
Federal-only ballots cast in 2020: 7
Federal-only ballots cast in 2022: 5
Federal-only voters registered in 2020: 30
Federal-only voters registered in 2022: 30
Yavapai County:
Federal-only ballots cast and accepted in 2020: 279
Federal-only ballots cast and accepted in 2022: 63
Federal-only voters registered in 2020: 509
Federal-only voters registered in 2022: 226
Yuma County:
Federal-only ballots cast in 2020: 179
Federal-only ballots cast in 2022: 53
Federal-only voters registered in 2020: 333
Federal-only voters registered in 2022: 403