US taxpayer money was used to experiment with coronaviruses from the Chinese lab thought to be the source of the Covid pandemic more than a year before the global outbreak, an investigation has found.
The National Institutes of Health (NIH), under Dr Anthony Fauci's leadership, infected 12 Egyptian fruit bats with a 'SARS-like' virus called WIV1 at a lab in Montana in 2018.
The WIV1-coronavirus was shipped from the Wuhan lab the FBI believes caused the Covid pandemic and was tested on bats acquired from a 'roadside' Maryland zoo.
The research – revealed this week by a campaign group – determined the novel virus could not cause a 'robust infection'.
But the research is more evidence of ties between the US government and the Wuhan lab, as well as the funding of dangerous virus research across the globe.
The paper – SARS-Like Coronavirus WIV1-CoV Does Not Replicate in Egyptian Fruit Bats – was published in the journal Viruses in 2018. The study was first flagged by DRASTIC, a group of internet activists who investigate the origins of Covid-19 and the lab leak theory.
The group White Coat Waste Project is now using the Freedom of Information Act to request more details about the experiment.
The White Coat Waste Project is a watchdog that has been fighting to stop sending American tax dollars overseas to fund dangerous virus research.
The 2018 experiment was carried out at the NIH's Rocky Mountain Laboratories in Montana, which was overseen by Fauci, the former director of National Institutes of Allergy and Infectious Diseases.
The research was a joint venture between the NIH's Rocky Mountain Laboratories and Wuhan Institute of Virology collaborator Ralph Baric of the University of North Carolina.
Scientists obtained 12 Egyptian fruit bats from a Maryland zoo and inoculated them with the WIV1-coronavirus, which was first detected in Chinese rufous horseshoe bats.
They performed exams on the animals daily and measured things like body weight and temperature. Scientists also took samples from the bats' noses and throats.
On days three, seven and 28, four of the bats were euthanized and their heart, liver, kidney, spleen, bladder, reproductive organs, eyes and brain were collected for analysis. Scientists also analyzed white blood cell count and antibodies.
Researchers determined the WIV1-coronavirus did not cause 'a robust infection' and 'observed very limited evidence of virus replication.'
The bats had been sent from a 'roadside' Maryland zoo to the Montana facility allegedly by the zoo's curator and director of animal health, who had previously worked at the in-house animal testing labs at the NIH from 2003 to 2012, the WCW said.
Located in Thurmont, Maryland, less than 15 minutes from Camp David, the Catoctin Wildlife Preserve (CWP) has a history of animal welfare violations and was fined $12,000 in 2012 for poor and dangerous animal housing and inadequate animal care.
Records show the preserve confined 523 federally-regulated animals as of April 2023, including 241 bats, of which 41 were Egyptian fruit bats.
A visitor left a review last month: 'How is this place even legal?
'I left heart broken and sad. The enclosures are so small and not well kept. This place is so unkept. It's awful. It needs to be shut down. You can see the pain in these animals eyes. Something has to be done about this place.
'This is not a preserve. It's a place where animals are sent to suffer and be on display for humans. Disgusting.'
Despite the lack of transmission in the bats in 2018, similar dangerous research on viruses that could spark another pandemic have been ongoing across the globe for years.
And while there is debate over whether the pandemic began because a virus jumped from animals to humans or it was leaked from a lab in China, the lab-leak theory is what the FBI and other government agencies now subscribe to.
Most recently, DailyMail.com revealed last week Chinese virus hunters have been tinkering with novel pathogens that have a 'high probability' of infecting humans, despite concerns similar experiments led to the Covid outbreak.
DailyMail.com also reported in August that millions of US taxpayer dollars are being sent to shady laboratories in China to fund cruel and dangerous experiments on animals.
Despite the shipment of funds across the world, America actually performs the most gain-of-function virus research.
Gain-of-function experiments involve making pathogens more infectious or deadly.
Advocates say the tests help science get ahead of future outbreaks, but critics say the risks of a leak outweigh any potential benefits.
These fears prompted US officials to quietly shut down a taxpayer-funded $125million project last month that hunted for new viruses.
The program, DEEP VZN – pronounced deep vision – was launched in October 2021 with the aim of finding and studying novel pathogens in wildlife in Asia, Africa and Latin America.
While the research was meant to prevent human outbreaks and pandemics, critics, including Biden administration officials, were afraid it would do the opposite and voiced their fears about the potentially 'catastrophic risks' of virus hunting.
In a statement from the president and founder of WCW, Anthony Bellotti said: 'Our investigation has uncovered the real-life horror story of how a shady roadside zoo whose curator was an NIH animal experimenter shipped off bats to a deadly government virus lab overseen by Dr. Fauci to be infected with a coronavirus obtained directly from the Wuhan lab that experts believe caused COVID.'

⬇️ Top Picks for You ⬇️
4th Republican Debate Highlights: GOP Rivals Clash on Stage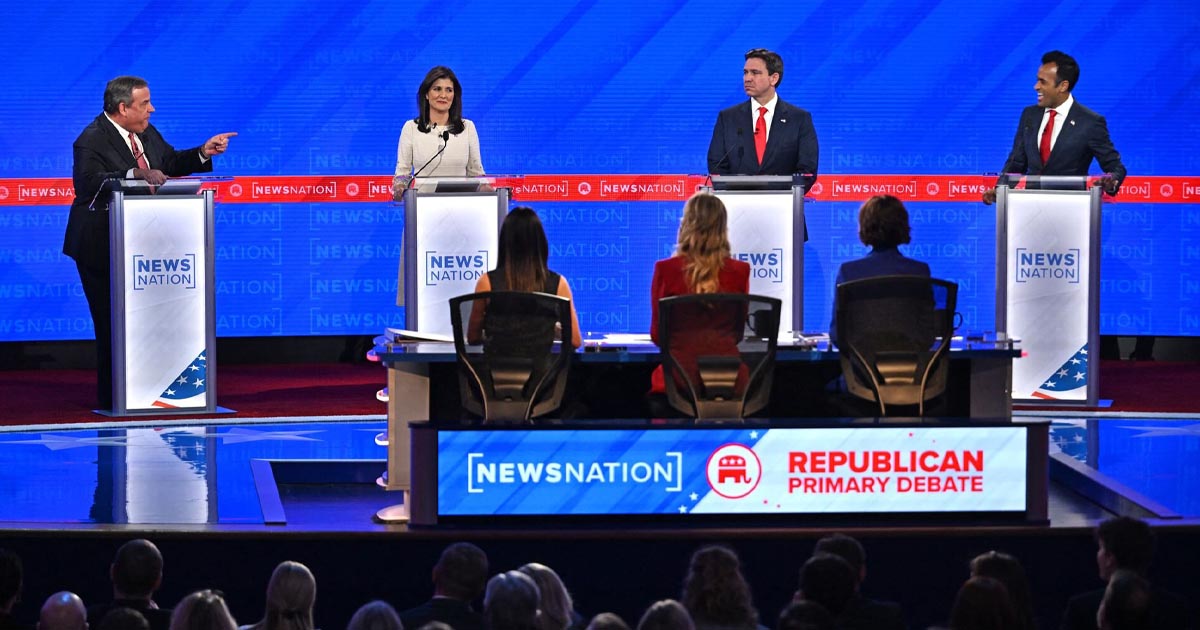 The smallest field yet of GOP candidates faced off Wednesday in the fourth Republican presidential debate of 2023 in Tuscaloosa, Alabama, with the first salvos of the night aimed at former Ambassador to the U.N. Nikki Haley, while former President Donald Trump, who leads the field by a wide margin in the polls, held a closed campaign fundraiser in Florida.
NewsNation hosted the fourth debate with three moderators: NewsNation's Elizabeth Vargas, former Fox News host Megyn Kelly and the Washington Free Beacon's Eliana Johnson.
Four candidates appeared on stage:
Former New Jersey Gov. Chris Christie
Florida Gov. Ron DeSantis
Former U.N. Ambassador Nikki Haley
Businessman Vivek Ramaswamy
The first three debates have not done much to change the dynamics of the race among Republican primary voters. The latest CBS News poll, from early November, showed Trump winning 61% of likely GOP primary voters nationwide, more than all the other candidates combined. DeSantis polled at 18%, Haley at 9%, Ramaswamy at 5%, Sen. Tim Scott at 4% and Christie at 2%.
Here are the highlights from the debate below.
DeSantis and Ramaswamy team up to attack Haley: "I love all the attention, fellas"
DeSantis and Ramaswamy were quick to take shots at Haley, who is rising in the polls as the race for second place heats up.
"She caves anytime the Left comes after her, anytime the media comes after her," DeSantis said.
Ramaswamy later joined in, questioning Haley's wealth since she left government service.
"Nikki, you were bankrupt when you left the U.N. After you left the U.N., you became a military contractor," he said, referring to Haley's stint on the board of Boeing, "whose back you scratched for a very long time and then get foreign multinational speeches like Hillary Clinton is, and now you're a multimillionaire. That math does not add up. It adds up to the fact that you are corrupt."
Ramaswamy also criticized wealthy donors to Haley's campaign, saying they're funding "left-wing causes."
"In terms of these donors that are supporting me, they're just jealous," Haley responded. "They wish that they were supporting them."
DeSantis said, "Nikki will cave to those big donors when it counts."
The pair also went after Haley for proposing that all social media users should be verified by their names online.
"I love all the attention, fellas," Haley said. "Thank you for that."
Christie hammers Ramaswamy in defense of Haley: "The most obnoxious blowhard in America"
Christie offered a forceful defense of Haley against Ramaswamy's insults of her intelligence.
After Ramaswamy claimed that Haley could not name three provinces in eastern Ukraine where she would send U.S. troops, Christie accused the entrepreneur of habitually backing away from comments he makes on the campaign trail when he's confronted by political opponents about his positions.
"This is the fourth debate that you would've been voted in the first 20 minutes as the most obnoxious blowhard in America, so shut the hell up," Christie told Ramaswamy.
The former New Jersey governor accused Ramaswamy of insulting Haley's intelligence, rather than her policy positions — claiming, for example, that she can't identify regions in Ukraine or find Israel on a map.
"If you want to disagree on issues, that's fine, and Nikki and I disagree on some issues," Christie said. "I've known her for 12 years, which is longer than he's even started to vote in the Republican primary, and while we disagree about some issues and disagree about who should be president of the United States, what we don't disagree on is this is a smart, accomplished woman and you should stop insulting her."
Christie went on to criticize Ramaswamy's lack of experience and claimed that while he was serving as the top federal prosecutor in New Jersey, Ramaswamy was "learning about the provinces in Ukraine sitting with his smarta** mouth at Harvard."
"All he knows how to do is insult good people who have committed their lives to public service and not say anything that moves the ball down the field for the United States," Christie said.
Divisions emerge among Republican candidates on parental rights
A question about parental rights and gender-affirming care for young people showed a split between Christie and DeSantis over an issue that has gained traction with Republican voters.
Christie said he favors limited involvement from the government and believes parents should be empowered to make decisions about their children.
"I trust parents," he said.
The former New Jersey governor, who opposes state restrictions on gender-affirming care for transgender youth, asserted it's parents who should be making the decisions about this for their children. He made the point that he and his wife care more for their four children than a government official in a dysfunctional Congress.
"You look at these jokers in Congress — it takes them three weeks to pick a speaker, and up until two days ago, they couldn't promote somebody in the military in the United States Senate who earned their new rank. And we're going to put my children's health and my decisions in their hands for them to make those decisions? For Joe Biden to make those decisions?" Christie said.
He warned parents that if they cede those rights on gender-affirming care for their children to states, it would just be the beginning.
"You start to turn over just a little bit of this authority, the authority they're going to take from you next, you're not going to like," Christie said.
But DeSantis defended restrictions on gender-affirming treatment for minors he signed into law as governor of Florida and warned surgical procedures are "mutilating minors."
"We cannot allow this to happen in this country," he said.
Ramaswamy, meanwhile, suggested the federal government should take action on the issue of gender-affirming surgery.