Friends star Matthew Perry has died aged 54 'after drowning in his jacuzzi at home.'
Law enforcement sources said the actor was found on Saturday at a home in Los Angeles after first responders were called to the scene for a cardiac arrest.
Sources claim he was found in a jacuzzi at the home but no drugs were found at the scene and there was no indication of foul play.
Perry rose to fame for his role as 'Chandler Bing' on the hit 90s sitcom Friends, which ran for 10 seasons.
The Los Angeles Times reported that authorities responded to his home around 4pm where he was discovered unresponsive.
A source told the outlet that there was so sign of foul play, and that robbery-homicide detectives are investigating his death.
In his last post to his Instagram, shared earlier this week, the star shared images of him in his pool, saying: 'Oh, so warm water swirling around makes you feel good? I'm Mattman.'
Perry has been candid publicly about his problems with drugs and alcohol, having first went to rehab in 1997 for what was said to a pain medication addiction after a jet skiing accident.
Following this initial stint, he then went to rehab again in 2001 and 2011. He told an interviewer in 2016 that he doesn't remember filming three seasons of Friends.
A longtime friend of Perry's – who was in recovery with him – told DailyMail.com: 'Everyone is in a total state of shock. People are crying on the phone and struggling to accept this news.
'It's no secret that he struggled with drugs and alcohol for years but the last time I spoke to him, which was within the last few weeks, he seemed to be in a good place.
'He was upbeat and sounded sober and positive.
'He'd been to rehab 17 times and nearly died from opioid abuse but he was someone who was sincere about taking his life, and his sobriety, one day at a time.
'It's such tragic news. Everyone is praying he didn't relapse. Matt was a genuinely lovely guy. He was always the first to welcome newcomers to the group and would always volunteer to help and be of service.
'We are all struggling to come to terms with this terrible news.'
The Friends star laid bare the height of his terrible drug and alcohol addiction battle which nearly cost him his life in a memoir titled 'Friends, Lovers, and the Big Terrible Thing: A Memoir'.
Perry also revealed that his colon ruptured as a result of his opioid addiction when he was 49.
Doctors gave him only a two percent chance of survival and he was in a coma for two weeks followed by months more in the hospital.
Perry required 14 surgeries to help repair all of the abdominal damage, and he admitted to having gone to rehab 15 times over the years in hopes of kicking his drug addiction.
At one point during his Friends career, he admits he was taking 55 Vicodin a day and was down to 128 pounds but yet he 'didn't know how to stop.'
He told an interviewer in 2016 that he doesn't remember filming three seasons of Friends.
'I had this odd rule that I would never drink on a set,' Perry said. 'But I went to work in extreme cases of hangover. It's so horrible to feel that way and have to work and be funny on top of that.'
He even revealed he would go to real estate open houses – not because he was interested in buying property but to see if he could steal drugs from medicine cabinets.
Born on August 19, 1969 in Massachusetts, Perry grew up in Ottawa and was raised by his mother, Suzanne Morrison, a Canadian writer and former press aide for Prime Minister Pierre Trudeau.
Morrison and Perry's father were married from 1968 to 1970 and she later married Canadian broadcast journalist Keith Morrison, who has been on Dateline for decades, in 1981.
In Canada, Perry was a top-rated tennis player but at 15 moved to Los Angeles to be closer to his father, John Bennett Perry, an actor known for several shows, including Falcon Crest, and later on Old Spice commercials.
In the 1980s and '90s, Perry landed spots on the decades' most popular TV shows like Charles in Charge, Who's The Boss?, Growing Pains and Beverly Hills, 90210.
He also had a role in A Night in the Life of Jimmy Reardon, a movie released in 1988 that starred River Phoenix.
The film was 'one of the greatest experiences I've ever had, because I was 16 years old and in Chicago all by myself, no parents around,' Perry told BuzzFeed. 'I knew that I wanted to act.'
He told The New York Times in 2002 that he sought fame. 'There was steam coming out of my ears, I wanted to be famous so badly.
'You want the attention, you want the bucks, and you want the best seat in the restaurant. I didn't think what the repercussions would be.'
Perry's dream of widespread recognition came true with the NBC sitcom Friends, which followed the lives of six people trying to make their way in their twenties in New York City.
Audiences adored the show during its ten-season run and continue to do so today despite the show ending over 15 years ago.
During Friends, Perry also starred in movies like Fools Rush In and The Whole Nine Yards.
After the series, he was in several television shows but did not achieve the longevity and success of Friends. He continued to land roles in movies like 2009's 17 Again.
Perry never married and ended his engagement to Molly Hurwitz, a talent manager, in 2021.
He dated several well-known actresses including Julia Roberts and Lizzy Caplan.

⬇️ Top Picks for You ⬇️
Biden Got Recurring $1,380 Payment from Hunter's Firm Starting in 2018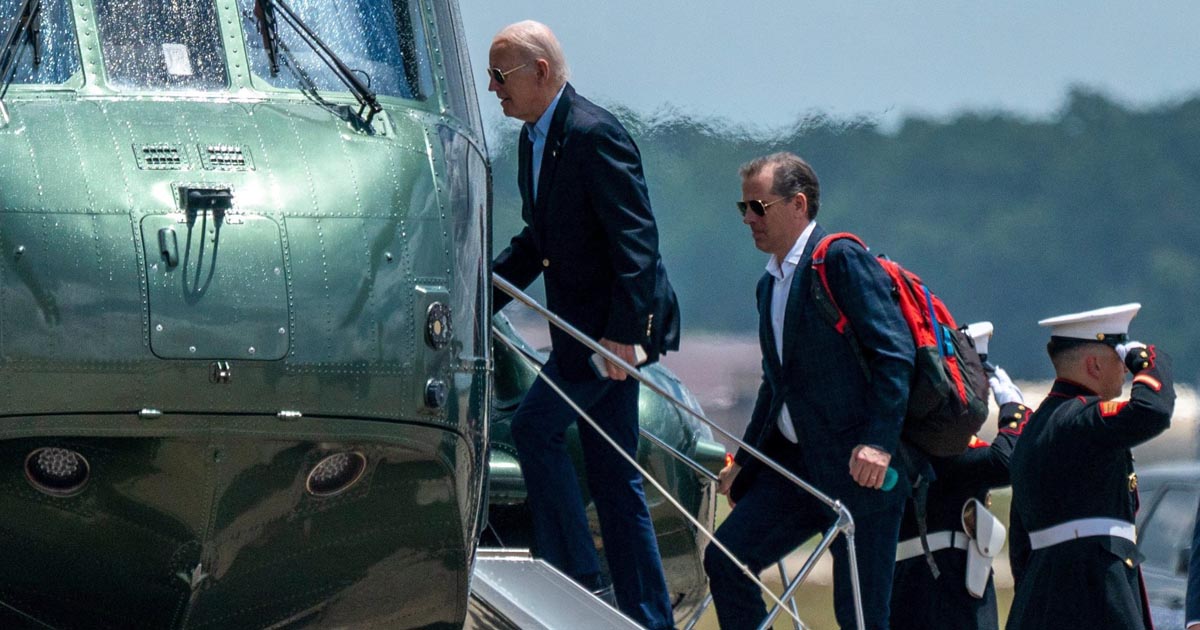 President Biden received a recurring payment of $1,380 from his son Hunter's law firm beginning in late 2018 shortly after a bank money laundering officer warned that the same account was receiving millions of dollars in Chinese government-linked funds without "any services rendered."
A bank order shows that Owasco PC set up a "monthly" transfer to then-former Vice President Joseph R. Biden Jr., with a voided check for the future president included in the documentation, which was released Monday by the House Oversight Committee.
A source told The Post that at least three recurring payments were made — on Sept. 17, Oct. 15 and Nov. 15, 2018 — totaling $4,140 to the elder Biden from Owasco PC, according to the bank records of the firm.
"President Biden and his family must be held accountable for this blatant corruption," Oversight Committee Chairman James Comer (R-Ky.) said in a video release.
"Today, the House Oversight Committee is releasing subpoenaed bank records that show Hunter Biden's business entity, Owasco PC, made direct monthly payments to Joe Biden. This wasn't a payment from Hunter Biden's personal account but an account for his corporation that received payments from China and other shady corners of the world," Comer said.
"At this moment, Hunter Biden is under an investigation by the Department of Justice for using Owasco PC for tax evasion and other serious crimes. And based on whistleblower testimony, we know the Justice Department made a concerted effort to prevent investigators from asking questions about Joe Biden. I wonder why?"
Earlier that year, a January 2019 email from assistant Katie Dodge to Hunter Biden annotated various expenses including "Ford Raptor — Reimbursement to JRB — $1380."
The provenance of the funds is unclear, however, and additional records show that Hunter Biden was knee-deep in two of his most controversial business relationships at the time, with Ukraine's Burisma Holdings and CEFC China Energy.
The evidence emerged as House Republicans prepare to question first brother James Biden on Wednesday and Hunter next week about the president's role in his family's dealings in countries such as China and Ukraine — with a possible floor vote to authorize the ongoing impeachment inquiry this month.
While a presidential candidate, Joe Biden denied that he ever discussed business with his relatives, but evidence has since shown that he met with his relatives' associates from both the Burisma and CEFC ventures.
Documents from the first son's abandoned laptop show that Burisma board adviser Vadym Pozharskyi sought "bank reference" information on Sept. 14, 2018 — one day before the initial transfer to Joe Biden was sought. However, the transaction was not executed for another two days, apparently due to a later-than-expected form submission.
Joe Biden met Pozharskyi at an April 17, 2015, dinner at DC's Café Milano. An unproven FBI informant tip said that Burisma owner Mykola Zlochevsky claimed in 2016 he was "coerced" into paying $10 million in bribes to the Bidens for their assistance in ousting prosecutor Viktor Shokin.
Hunter also was on the tail end of disbursing millions of dollars received from CEFC China Energy — one of two major Biden family dealings with Chinese government-linked firms.
On June 26, 2018 — less than three months before Joe Biden began to receive the monthly transfers — an internal Bank Secrecy Act expert warned colleagues that the institution should reconsider its relationship with Hunter as a result of Owasco PC seeming to receive Chinese funds without "any services rendered."
CEFC transferred $5 million to another Biden family-linked entity, Hudson West III, in August 2017 after Hunter warned a China-based associate of his father's wrath if a business deal was aborted. Much of the large transfer later went to Hunter's Owasco PC.
Prior bank records released by the Oversight Committee indicate that Joe Biden received payments of $40,000 and $200,000 from his brother James, who also was involved in the CEFC venture and other foreign-focused enterprises.
Comer alleged that the $40,000 transferred to Joe Biden's bank account on Sept 3, 2017, was from "laundered" Chinese funds.
James Biden paid Joe Biden $200,000 on March 1, 2018 — the same day that James received a $200,000 transfer from troubled rural hospital company Americore after pledging to use his political connections to secure a Middle Eastern investor, according to bankruptcy filings.
The White House says there's evidence that both transfers were loan repayments, but Republicans argue they have not seen loan agreement documents and note that the funds distributed to James came from a law firm, rather than Joe Biden himself, further clouding the picture.