'Gay Clubs' Run in Seminaries — Pope Benedict Book is Published Blasting Progressive Pope Francis
In a book by the late Pope Benedict XVI, published posthumously, the pontiff wrote that homosexual clubs openly operate in Catholic seminaries, which prepare candidates to become priests. Much of this activity is specifically in the United States, he wrote.
Benedict's posthumous writings also heavily criticize current Pope Francis, who Benedict says is pushing a progressive agenda. Benedict, who died on December 31 at 95, wrote that the church was on the verge of "collapse" and said that priests and bishops were being permitted to watch porn at the seminaries.
As translated from Italian, Benedict's writings state that he no longer wished to publish anything so long as he lived, because of the fierce opposition he would face if he made such revelations. Much of Benedict's criticism of Francis, and the progressive direction in which the Argentine Pope is leading the church, has emerged since his death.
"For my part, in life, I no longer want to publish anything. The fury of the circles against me in Germany is so strong that the appearance of every my word immediately causes a murderous shouting from them. I want to spare myself and Christendom this," he wrote."
"There were individual bishops," Benedict wrote, "and not only in the United States, who rejected the Catholic tradition as a whole, aiming in their dioceses to develop a kind of new, modern catholicity. Perhaps it is worth mentioning the fact that, in not a few seminaries, students caught reading my books were considered unfit for the priesthood. My books were concealed as harmful literature and were read only in secret, so to speak," Benedict wrote, according to translations posted by Twitter user @Pope_Head.
Yesterday an absolute bombshell was released, something completely unprecedented in the history of the Catholic Church. No English speaking news outlets have discussed it, and I believe we are witnessing mass media censorship. Benedict XVI published a posthumous book pic.twitter.com/XjDTC0rITP

— V 𓁼 (@pope_head) January 23, 2023
"In the context of the meeting of the presidents of the episcopal conferences of the whole work with Pope Francis," he wrote, "it is at heart above all the question of priestly life and also that of seminaries. As regards the problem of preparation for priestly ministry in seminaries, we note in fact a vast collapse of the current form of this preparation."
The writings also go into detail about the homosexual nature of the seminaries, which he equates to gay clubs. Much of this, he said, is in the United States.
"In various seminaries homosexual 'clubs' were formed which acted more or less openly and which clearly transformed the atmosphere in the seminaries. In a seminary in southern Germany, candidates for the priesthood and candidates for the lay office of pastoral referent lived together."
"During common meals," he continued, "the seminarians were together with married pastoral representatives, partly accompanied by their wives and children and in some cases by their girlfriends. The climate in the seminary could not help priestly formation," he wrote, noting that a "bishop who had previously been rector had allowed seminarians to be shown pornographic films, presumably with the intention of thereby enabling them to resist against behavior contrary to the faith."
— V 𓁼 (@pope_head) January 23, 2023
Benedict's writings are the latest in a recent string of books released by those in the Vatican who have scolded Francis, who they say is undermining the church with his liberal agenda. According to leading Vatican analyst John Allen, the books contribute to "impressions of a mounting civil war in the Church following the death of Benedict XVI," reports The Telegraph.
Also for those unaware, this is the third of the highly critical books of Pope Francis to be released in the wake of Benedict's death. We are witnessing a monumental even in the history of the Church, the beginning of an outright civil war in the church

— V 𓁼 (@pope_head) January 23, 2023
Pope Francis has previously denounced pornography and called it the influence of "the devil." In October he said that nuns and priests regularly watch porn and that it was a danger to the soul.

⬇️ Top Picks for You ⬇️
Pro-Life Father Arrested by FBI Acquitted on Federal Charges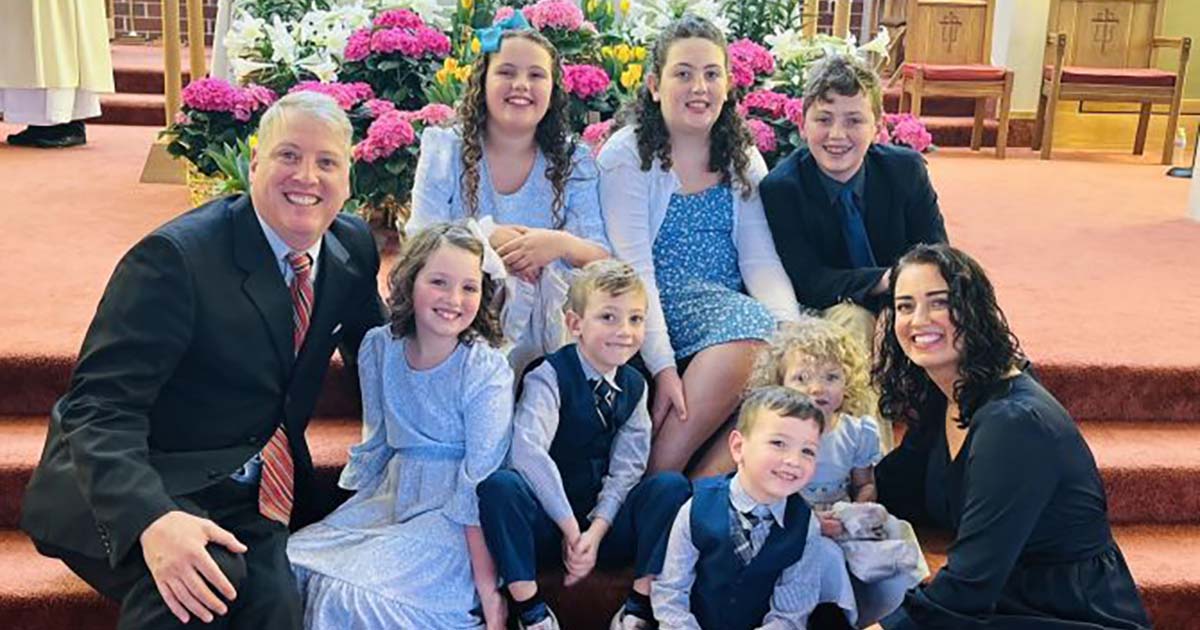 A Catholic pro-life activist facing 11 years in prison for allegedly violating a federal law prohibiting people from blocking others from entering an abortion clinic was acquitted on Monday following a week-long trial.
Mark Houck leads a nonprofit group that counsels women outside of abortion clinics in Philadelphia, Pennsylvania. He was providing sidewalk counseling when, the Department of Justice says, he assaulted an abortion escort twice "because he was a volunteer reproductive health care clinic escort."
"Assault is always a serious offense, and under the [Freedom of Access to Clinic Entrances] FACE Act, if the victim is targeted because of their association with a reproductive healthcare clinic, it is a federal crime," U.S. Attorney Jacqueline Romero said in a DOJ press release. "Our Office and the Department of Justice are committed to prosecuting crimes which threaten the safety and rights of all individuals."
The FACE Act makes it a federal crime to injure, intimidate, or interfere with anyone due to their status as a provider of reproductive health care.
Houck and his attorneys at the Thomas More Society argued, however, that this was "a political prosecution" meant to "send a message" to pro-life Americans.
"And what's clear from the Department of Justice at its highest levels, which is directing this case, [is] that they are trying to send a message to pro-life and people of faith: 'Don't mess with us,'" Thomas More Society vice president Peter Breen told Fox News. "They want to intimidate — they want to cause good people like Mark to stop praying and counseling at the abortion clinics of our country. And that's not going to happen."
Breen told the outlet that the case was thrown out of state court but revived by the Biden administration nearly a year after the incident. Further, Breen said, some 20 FBI agents raided Houck's home when they arrested him, treating him "as if he was a drug lord or a mafia boss."
"If he was truly a danger to the community, they wouldn't have waited a year to prosecute," Breen said. "Serious questions need to be asked of the attorney general. What was he thinking? Why did they do this obscene show of force against a peaceful pillar of the community?"
Houck's lawyers also argued that the DOJ's claim that the FACE Act protects anyone associated with an abortion clinic is inaccurate.
"The FACE Act was never intended to cover disputes between advocates on the public sidewalks outside of our nation's abortion clinics," Breen said in a statement earlier this month. "This new evidence shows clearly that Congress intended to limit the FACE Act to patients and staff working in the clinic, and not to take sides between pro-life and pro-choice counselors and escorts on the sidewalk. The Biden Department of Justice's prosecution of Mark Houck is pure harassment, meant solely to intimidate our nation's pro-life sidewalk counselors who provide vital resources to help pregnant women at risk for abortion."
Houck pleaded not guilty to the charges against him and testified at trial that he and the clinic escort, Bruce Love, had two altercations on the day in question. The first occurred while Houck was counseling two women crossing the street who left Planned Parenthood, Catholic News Agency reported. Love allegedly chased Houck about 100 feet in an attempt to stop him from counseling the women, Life News reported. Houck claimed that Love surprised and made contact with him, causing him to ask, "What are you doing?" and reflexively elbow the escort in the hip to move him out of the way. The prosecution argued that Houck elbowed Love unprovoked because of his status as a clinic escort.
After this, Houck said Love left the clinic and stood near Houck's 12-year-old son while taunting Houck Sr., saying, "You're hurting women. You don't care about women."
Houck said Love also repeatedly disparaged him to his son, who testified on Friday that Love stood about an arm's length away from him near the clinic.
"I moved away… because I was scared," the younger Houck testified, adding that Love told him, "Your dad's a bad person. Your dad's harassing women."
It was after Houck repeatedly told Love to stop harassing his son that Houck said he pushed Love away.
The jury deadlocked on Friday after two-and-a-half hours of deliberation, telling U.S. District Judge Gerald Pappert that they didn't think they could come to a conclusion given more time. Pappert sent the jury home but instructed them to return Monday morning and continue deliberations anyway.
On Monday, the jury acquitted Houck. Following the verdict, Breen released a statement condemning the Biden administration for pursuing his client.
"We are, of course, thrilled with the outcome," Breen said. "Mark and his family are now free of the cloud that the Biden administration threw upon them. We took on Goliath – the full might of the United States government – and won. The jury saw through and rejected the prosecution's discriminatory case, which was harassment from day one. This is a win for Mark and the entire pro-life movement. The Biden Department of Justice's intimidation against pro-life people and people of faith has been put in its place."