A hardworking great-grandmother has lost her life savings after falling victim to a cruel scam.
Marie Marshall is described by her friends and family as an "Aussie battler" who has always put everyone else's needs ahead of her own.
She often has gone without to ensure others are cared for, but at 66-years-old she has been looking forward to a relaxing retirement.
But after receiving a simple phone call earlier this year, her life savings and dreams of the future have been tragically been stolen from her in the cruellest way.
"I received a call one afternoon from someone who claimed to be from the Commonwealth Bank fraud department," she told news.com.au.
"He had an Indian accent, but spoke clearly in English and appeared highly educated and very patient. He was able to quote my account numbers and balances.
"He advised me that there were a number of suspicious transactions on my account, and Commonwealth believed my account had been compromised.
"In order to secure my accounts and funds, he said I'd need to open a new CBA account and transfer all my money there."
In order to appear more legitimate, the scammer told Marie she would need to confirm her identity using an application.
Ironically, he warned that this was more secure than providing details over the phone, as this is "what scammers do".
After downloading this app, the scammer had complete access to Marie's phone and was able to steal all her savings – approximately $13,392 in total.
While some was able to be recovered after it was put into a Westpac bank account, the majority is still missing.
The great-grandmother was left with a mere $2.60 in her purse.
Sadly, Marie continues to lose savings, as the scammer used her credit card and the Commonwealth bank continues to charge fees to this account.
"I had no idea I'd been scammed until two days later," she explained.
"I read a post on Facebook about someone experiencing the exact same scam. I immediately burst into tears and attempted to access my bank account, but was unable to login.
"I then drove to a nearby ATM, but my pin code didn't work.
"I was heartbroken and highly distraught."
Marie called her daughter Christina to explain what had happened, and the pair headed to their closest Commonwealth Bank branch to file a complaint and start an investigation.
In the meantime, Marie's family were able to give her some cash to help with her living expenses, as she had just $2.60 in her purse and all her accounts had been locked.
"Since the scam, I've gone through such a hard time," she said.
"I've saved for so many years and worked so hard, and now all that is gone and probably not recoverable.
"I was so embarrassed, and I felt so stupid that I fell for the scam. I'd always been so careful with money.
"I had planned to buy another car when I retired to help replace my old one.
"After this happened, I have received so many calls from unknown numbers, often 10+ a day. My Facebook account has also been hacked, and I've lost all my photos and contacts."
Marie's family have since set up a Go Fund Me page to help their mother through this difficult time, which has raised over $4,500
The great-grandmother has been a customer with Commonwealth since 2010.
After raising a complaint about what had happened, the bank informed Marie that after completing their investigation, her funds were not recoverable.
She claims that the bank is now forcing her to pay back all the money the scammer had spent, along with the fees, on her credit card, despite the fact that it has been stolen.
CBA has offered Marie approximately $2,863.37 as compensation, but stated that $1,616.61 of the $2,863.37 had to be paid back to CBA on the credit card.
"My future is going to be a week to week living situation," she said.
"I plan to retire on the pension, and a small amount of superannuation. I don't own a home.
"The savings the scammer stole would have been used to buy a car, as well as paying off some bills."
The ordeal has affected Marie's mental health and overall wellbeing, with the great-grandmother suffering from a mild depression and sadness about what occurred.
"I withdrew from my friends and was embarrassed that I had fallen to the scam," she explained.
"I was quite teary and quiet since it occurred, and I fell into a state of mild depression, which my family monitored closely.
"I can't believe they got me, I am so careful with the little money I have.
"I don't feel that CBA's response has been acceptable."

⬇️ Top Picks for You ⬇️
Biden Got Recurring $1,380 Payment from Hunter's Firm Starting in 2018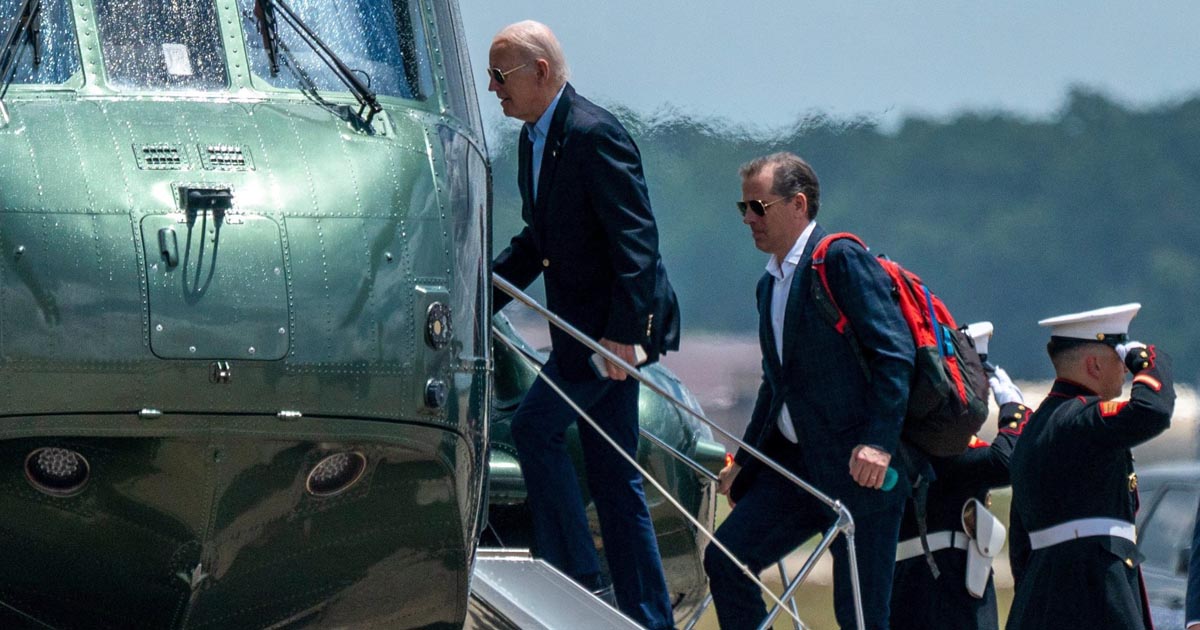 President Biden received a recurring payment of $1,380 from his son Hunter's law firm beginning in late 2018 shortly after a bank money laundering officer warned that the same account was receiving millions of dollars in Chinese government-linked funds without "any services rendered."
A bank order shows that Owasco PC set up a "monthly" transfer to then-former Vice President Joseph R. Biden Jr., with a voided check for the future president included in the documentation, which was released Monday by the House Oversight Committee.
A source told The Post that at least three recurring payments were made — on Sept. 17, Oct. 15 and Nov. 15, 2018 — totaling $4,140 to the elder Biden from Owasco PC, according to the bank records of the firm.
"President Biden and his family must be held accountable for this blatant corruption," Oversight Committee Chairman James Comer (R-Ky.) said in a video release.
"Today, the House Oversight Committee is releasing subpoenaed bank records that show Hunter Biden's business entity, Owasco PC, made direct monthly payments to Joe Biden. This wasn't a payment from Hunter Biden's personal account but an account for his corporation that received payments from China and other shady corners of the world," Comer said.
"At this moment, Hunter Biden is under an investigation by the Department of Justice for using Owasco PC for tax evasion and other serious crimes. And based on whistleblower testimony, we know the Justice Department made a concerted effort to prevent investigators from asking questions about Joe Biden. I wonder why?"
Earlier that year, a January 2019 email from assistant Katie Dodge to Hunter Biden annotated various expenses including "Ford Raptor — Reimbursement to JRB — $1380."
The provenance of the funds is unclear, however, and additional records show that Hunter Biden was knee-deep in two of his most controversial business relationships at the time, with Ukraine's Burisma Holdings and CEFC China Energy.
The evidence emerged as House Republicans prepare to question first brother James Biden on Wednesday and Hunter next week about the president's role in his family's dealings in countries such as China and Ukraine — with a possible floor vote to authorize the ongoing impeachment inquiry this month.
While a presidential candidate, Joe Biden denied that he ever discussed business with his relatives, but evidence has since shown that he met with his relatives' associates from both the Burisma and CEFC ventures.
Documents from the first son's abandoned laptop show that Burisma board adviser Vadym Pozharskyi sought "bank reference" information on Sept. 14, 2018 — one day before the initial transfer to Joe Biden was sought. However, the transaction was not executed for another two days, apparently due to a later-than-expected form submission.
Joe Biden met Pozharskyi at an April 17, 2015, dinner at DC's Café Milano. An unproven FBI informant tip said that Burisma owner Mykola Zlochevsky claimed in 2016 he was "coerced" into paying $10 million in bribes to the Bidens for their assistance in ousting prosecutor Viktor Shokin.
Hunter also was on the tail end of disbursing millions of dollars received from CEFC China Energy — one of two major Biden family dealings with Chinese government-linked firms.
On June 26, 2018 — less than three months before Joe Biden began to receive the monthly transfers — an internal Bank Secrecy Act expert warned colleagues that the institution should reconsider its relationship with Hunter as a result of Owasco PC seeming to receive Chinese funds without "any services rendered."
CEFC transferred $5 million to another Biden family-linked entity, Hudson West III, in August 2017 after Hunter warned a China-based associate of his father's wrath if a business deal was aborted. Much of the large transfer later went to Hunter's Owasco PC.
Prior bank records released by the Oversight Committee indicate that Joe Biden received payments of $40,000 and $200,000 from his brother James, who also was involved in the CEFC venture and other foreign-focused enterprises.
Comer alleged that the $40,000 transferred to Joe Biden's bank account on Sept 3, 2017, was from "laundered" Chinese funds.
James Biden paid Joe Biden $200,000 on March 1, 2018 — the same day that James received a $200,000 transfer from troubled rural hospital company Americore after pledging to use his political connections to secure a Middle Eastern investor, according to bankruptcy filings.
The White House says there's evidence that both transfers were loan repayments, but Republicans argue they have not seen loan agreement documents and note that the funds distributed to James came from a law firm, rather than Joe Biden himself, further clouding the picture.