The Justice Department (DOJ) has announced a new rule targeting pistol attachments known as "stabilizing braces," the latest step in implementing President Joe Biden's desire to see tighter gun control.
DOJ said in a press release on Jan. 13 that it has submitted the final rule to the Federal Register, formalizing the regulation that Biden pushed for in April 2020 after it was found that a shooter who killed 10 people at a grocery store in Boulder, Colorado, used a stabilizing brace.
Under the new rule (pdf), anyone manufacturing, selling, or using stabilizing braces—defined in the rule as devices that can be used to shoulder-fire pistols like rifles—must now comply with laws regulating short-barreled rifles, including background checks for transfers and additional taxation.
Stabilizing braces, which the National Rifle Association says were originally designed to help disabled veterans fire large format pistols, make it easier to hit targets by reducing movement of the firearm and helping absorb recoil, making follow-up shots faster and more accurate.
In some cases, these devices can also serve as a kind of shoulder stock to a short-stocked firearm and allow a shooter to shoulder a pistol and operate it like a short-barreled rifle.
The Bureau of Alcohol, Tobacco, Firearms, and Explosives (ATF) said that the rule does not affect stabilizing braces that are "objectively designed and intended as a 'stabilizing brace' for use by individuals with disabilities, and not for shouldering the weapon as a rifle."
"Such stabilizing braces are designed to conform to the arm and not as a buttstock," the agency said of devices that would be excluded from the new rule.
For decades, short-barreled rifles—ones that have barrels shorter than 16 inches—have been subject to strict regulations, including a law known as the National Rifle Act, which imposes additional requirements like background checks for all transfers, including private ones.
ATF director Steven Dettelbach said in a statement that back in the days of Al Capone, Congress said that short-barreled rifles and sawed-off shotguns should be subjected to greater legal requirements than most other firearms because they have the greater capability like long guns, but are easier to conceal, like pistols.
"This rule enhances public safety and prevents people from circumventing the laws Congress passed almost a century ago," Dettelbach said, adding that some stabilizing braces have been designed to work like buttstocks rather than to strap onto the arm.
"Certain so-called stabilizing braces are designed to just attach to pistols, essentially converting them into short-barreled rifles to be fired from the shoulder. Therefore, they must be treated in the same way under the statute," he said.
The rule goes into effect immediately upon publication in the Federal Register, with a 120-day period for manufacturers, dealers, and individuals to register any existing short-barreled rifles covered by the new rule tax-free.
Any weapons with stabilizing braces or similar attachments that qualify them under the new rule as short-barreled rifles under the NFA must be registered no later than within 120 days, or modified by removing the brace and restored into a regular pistol, or turned into a local ATF office, or destroyed.
Restrictions on stabilizing braces have been the subject of intense debate after the ATF proposed them in 2020.
The rule has faced pushback from Republicans and gun-rights groups like the National Rifle Association, which pointed out they were originally designed for disabled veterans.
West Virginia Attorney General Patrick Morrisey said in a statement that the "egregious" rule makes it "harder for senior citizens and people with disabilities to defend themselves." He added that his office was "evaluating our legal options."
The Second Amendment Foundation said it would challenge the rule in a lawsuit.
Gun control group Everytown for Gun Safety applauded the new rule move, saying gunmakers had exploited loopholes to make firearms more deadly.
Tim Harmsen, an Indiana-based firearms dealer, told The Epoch Times in an earlier interview that, in his view, the ATF has an ulterior motive with the new rule than reducing crime.
Harmsen said it's a strategy of gun control "by a thousand cuts."
"The anti-gunners are playing the long game. They know they have time on their side," said Harmsen.
Sen. Roger Marshall (R-Kansas) has introduced a bill to remove these firearms from under ATF jurisdiction. Marshall's bill, S.4986, is titled the "Stop Harassing Owners of Rifles Today Act." (SHORT Act)
The bill would remove short-barreled rifles, short-barreled shotguns, and certain other weapons from the definition of firearms for purposes of the National Firearms Act.
"We now await the publishing of the Biden administration's rule attempting to turn millions of law-abiding citizens into felons unless they comply with the ATF's vague reinterpretation of what constitutes a short-barreled rifle, despite Congress taking no action to amend Federal law on this matter.
"My bill is the only way to ensure the Constitutional rights of gun owners are protected against the ATF's reckless abuse of the NFA to justify its pistol brace rule," said Marshall.
The number of Americans impacted is difficult to determine. The ATF estimates that 3 million pistol braces have been sold. Second Amendment advocates say the number is closer to 40 million.

⬇️ Top Picks for You ⬇️
Trump Indicted in Classified Docs Probe — Here's Everything We Know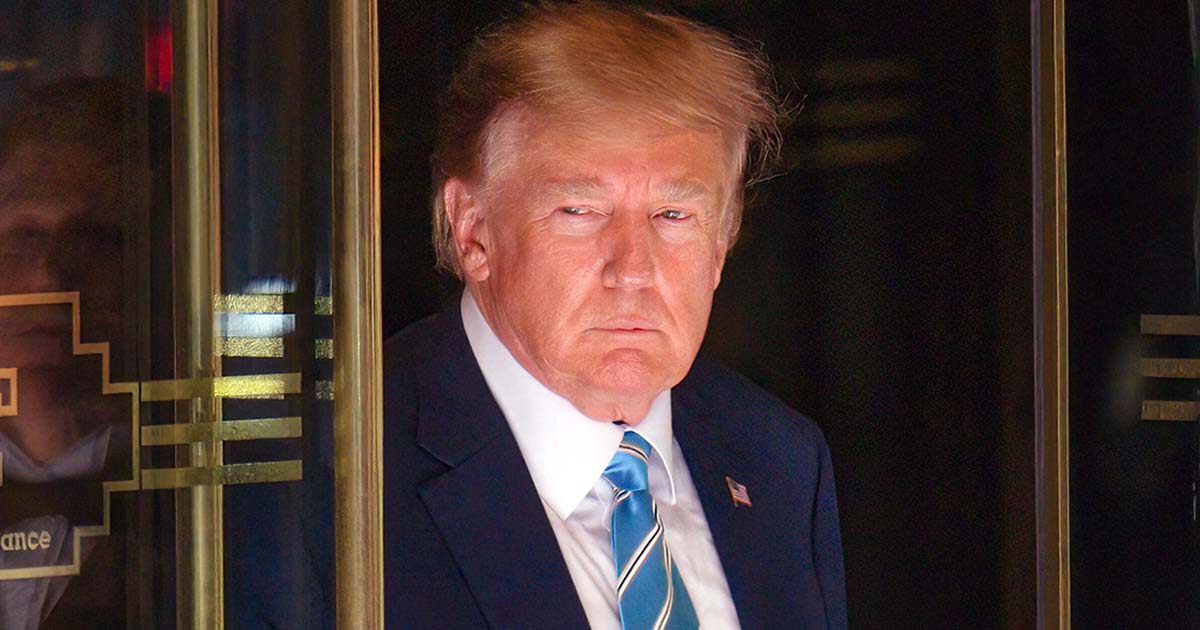 Former President Donald Trump said Thursday that his legal team has been told he's been indicted in an investigation into his handling of classified documents. Trump has been summoned to appear in federal court in Miami on Tuesday afternoon.
TRUMP STATEMENT:
The corrupt Biden Administration has informed my attorneys that I have been Indicted, seemingly over the Boxes Hoax, even though Joe Biden has 1850 Boxes at the University of Delaware, additional Boxes in Chinatown, D.C., with even more Boxes at the University of Pennsylvania, and documents strewn all over his garage floor where he parks his Corvette, and which is "secured" by only a garage door that is paper thin, and open much of the time.
I have been summoned to appear at the Federal Courthouse in Miami on Tuesday, at 3 PM. I never thought it possible that such a thing could happen to a former President of the United States, who received far more votes than any sitting President in the History of our Country, and is currently leading, by far, all Candidates, both Democrat and Republican, in Polls of the 2024 Presidential Election. I AM AN INNOCENT MAN!
This is indeed a DARK DAY for the United States of America. We are a Country in serious and rapid Decline, but together we will Make America Great Again!
7 CHARGES:
Trump has been charged with seven counts in the indictment, according to another source familiar with the matter.
"We're learning from our sources that there appears to be at least seven counts here. This ranges from everything from the willful retention of national defense information to conspiracy to a scheme to conceal to false statements and representations," ABC News' Katherine Faulders reported during a special report on the network.
MEDIA SWARMS MIAMI COURTHOUSE
Earlier today, dozens of out-of-town reporters, photographers and TV camera crews gathered in front of the downtown federal courthouse in hopes of getting a morsel of news from a secret grand jury which has been reviewing evidence in the Justice Department's probe into Trump's handling of classified materials at his Mar-a-Lago estate in Palm Beach.
THE BACKSTORY:
Special counsel Jack Smith has been overseeing the investigation into Trump's handling of classified documents since he was appointed to the role in November.
Trump's attorneys met earlier this week with Justice Department officials, including Smith. Experts widely viewed the meeting as a sign that Smith's investigation was winding down.
On May 6, 2021, the National Archives first alerted Trump that it was seeking approximately two dozen boxes of records be returned to it as required by the Presidential Records Act. The National Archives warned Trump in late 2021 that they could escalate the issue to prosecutors or Congress if he continued to refuse to hand over the documents. He was also warned by former Trump White House lawyer Eric Herschmann that he could face serious legal jeopardy if he did not comply.
In January 2022, about 15 of the boxes were returned, at which time officials discovered there were hundreds of pages of classified material in the boxes. Federal law enforcement was notified of the discovery and later came to believe that there were more materials that had not been turned over, and a criminal investigation was subsequently launched.
In May 2022, a federal grand jury issued a subpoena seeking additional classified documents and, a few weeks later, the DOJ visited Mar-a-Lago and Trump's legal team signed a written statement claiming that all the classified material had been returned. Over the course of the summer, investigators interviewed members of Trump's staff and subpoenaed surveillance footage from the property.
On August 8, the FBI raided Mar-a-Lago recovered 27 boxes, 11 of which contained classified documents. Four sets were marked "Top Secret," the highest level of classification the government can give information; three were marked "Secret," the second-highest level, while another three were marked "Confidential," the lowest classification level.  The remaining set was marked "Various classified/TS/SCI documents," which is the abbreviation for "top secret/sensitive compartmented information," a special category meant to protect the nation's most important secrets — which if revealed publicly would harm US interests.