The Duke and Duchess of Sussex revealed their side of why they left the royal family in a six-part documentary series released through Netflix.
Now with their grievances aired, Meghan Markle and Prince Harry are reportedly seeking a "royal summit" with family members to address concerns voiced in the docuseries. In addition, Meghan and Harry want an "apology" from his family.
During the six-hour, episodic documentary, Harry and Meghan both detailed instances where Markle, who is bi-racial, felt unsupported by the Palace while being racially targeted by the British press.
The Netflix series followed the beginning of their relationship in 2016, their marriage in St. George's Chapel at Windsor Castle in 2018, and their ultimate decision to step back as senior members of the royal family in 2020 following what they claimed was scrutiny from inside and outside the Palace.
Amid the end of the shocking Netflix doc, The Sunday Times reported the Duke and Duchess of Sussex want to "sit down with the royal family" and address a few of the "issues" raised against the monarchy.
Neither the Archewell Foundation nor Kensington Palace immediately responded to Fox News Digital's request for comment.
Meghan and Harry allegedly believe there are "double standards" within the family as Lady Susan Hussey, a former lady-in-waiting to Queen Elizabeth II, received a reconciliation meeting with Ngozi Fulani after Hussey made "unacceptable and deeply regrettable" comments about Fulani's heritage.
Fulani alleged she was repeatedly asked by a palace household member identified only as "Lady SH" where she "really" came from. The individual allegedly didn't accept Fulani's response that she was born in the U.K. and is a British citizen.
Fulani claimed that, after sharing she was from east London, she was then interrogated and asked, "What nationality are you?" "Where do you really come from?" "Where do your people come from?" and "No, what part of Africa are YOU from?"
Hussey, 83, is Prince William's godmother. The BBC also reported that Hussey apologized and resigned.
"Nothing like that was ever done when Harry and Meghan raised various concerns — no meeting, formal apology or taking responsibility or accountability," a source told The Times. "That is hard to swallow — 100 percent yes they'd like to have a meeting."
Harry claimed in new episodes of their series that his older brother and heir to the throne, Prince William, screamed and shouted at him over his decision to step back from the royal family.
Friends of the Prince of Wales reportedly said, "Things have been very strained for a while" between Harry and William. "There is sadness at where things currently are with his brother … and there's a memoir coming."
Another close friend of Prince William said: "The whole thing is mad."
Prince Harry is set to release "Spare" on Jan. 10, an autobiography about his time growing up in the monarchy.
"Now, having created an independent life away from the confines of the royal institution, Harry finally has the chance to set often-inaccurately reported records straight," bestselling author and royals editor Omid Scobie wrote. "The freedom of speech. And no matter how you may feel about the man, it's hard not to agree he should have the right to that."
The couple sued Associated Newspapers in 2020 after a private letter Meghan wrote to her father Thomas Markle was published. The note had been suggested by the royal family, and Meghan felt she had been chastised for sending the correspondence.
"I believe my wife suffered a miscarriage because of what the Mail did," Harry said during the episode. "I watched the whole thing."
He added, "Now do we absolutely know that the miscarriage was created or caused by that? Of course, we don't. "[But] bearing in mind the stress that caused the lack of sleep and the timing of the pregnancy, how many weeks in she was, I can say from what I saw, that miscarriage was created by what they were trying to do to her. I thought she was brave and courageous, but that doesn't surprise me because she is brave and courageous."

⬇️ Top Picks for You ⬇️
Pro-Life Father Arrested by FBI Acquitted on Federal Charges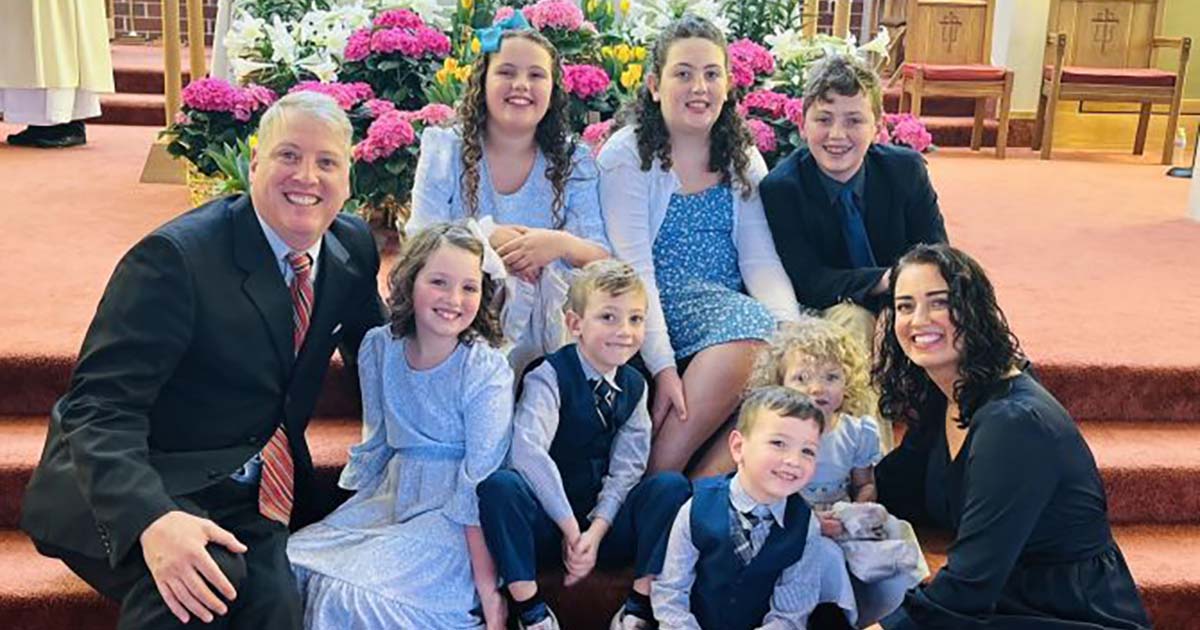 A Catholic pro-life activist facing 11 years in prison for allegedly violating a federal law prohibiting people from blocking others from entering an abortion clinic was acquitted on Monday following a week-long trial.
Mark Houck leads a nonprofit group that counsels women outside of abortion clinics in Philadelphia, Pennsylvania. He was providing sidewalk counseling when, the Department of Justice says, he assaulted an abortion escort twice "because he was a volunteer reproductive health care clinic escort."
"Assault is always a serious offense, and under the [Freedom of Access to Clinic Entrances] FACE Act, if the victim is targeted because of their association with a reproductive healthcare clinic, it is a federal crime," U.S. Attorney Jacqueline Romero said in a DOJ press release. "Our Office and the Department of Justice are committed to prosecuting crimes which threaten the safety and rights of all individuals."
The FACE Act makes it a federal crime to injure, intimidate, or interfere with anyone due to their status as a provider of reproductive health care.
Houck and his attorneys at the Thomas More Society argued, however, that this was "a political prosecution" meant to "send a message" to pro-life Americans.
"And what's clear from the Department of Justice at its highest levels, which is directing this case, [is] that they are trying to send a message to pro-life and people of faith: 'Don't mess with us,'" Thomas More Society vice president Peter Breen told Fox News. "They want to intimidate — they want to cause good people like Mark to stop praying and counseling at the abortion clinics of our country. And that's not going to happen."
Breen told the outlet that the case was thrown out of state court but revived by the Biden administration nearly a year after the incident. Further, Breen said, some 20 FBI agents raided Houck's home when they arrested him, treating him "as if he was a drug lord or a mafia boss."
"If he was truly a danger to the community, they wouldn't have waited a year to prosecute," Breen said. "Serious questions need to be asked of the attorney general. What was he thinking? Why did they do this obscene show of force against a peaceful pillar of the community?"
Houck's lawyers also argued that the DOJ's claim that the FACE Act protects anyone associated with an abortion clinic is inaccurate.
"The FACE Act was never intended to cover disputes between advocates on the public sidewalks outside of our nation's abortion clinics," Breen said in a statement earlier this month. "This new evidence shows clearly that Congress intended to limit the FACE Act to patients and staff working in the clinic, and not to take sides between pro-life and pro-choice counselors and escorts on the sidewalk. The Biden Department of Justice's prosecution of Mark Houck is pure harassment, meant solely to intimidate our nation's pro-life sidewalk counselors who provide vital resources to help pregnant women at risk for abortion."
Houck pleaded not guilty to the charges against him and testified at trial that he and the clinic escort, Bruce Love, had two altercations on the day in question. The first occurred while Houck was counseling two women crossing the street who left Planned Parenthood, Catholic News Agency reported. Love allegedly chased Houck about 100 feet in an attempt to stop him from counseling the women, Life News reported. Houck claimed that Love surprised and made contact with him, causing him to ask, "What are you doing?" and reflexively elbow the escort in the hip to move him out of the way. The prosecution argued that Houck elbowed Love unprovoked because of his status as a clinic escort.
After this, Houck said Love left the clinic and stood near Houck's 12-year-old son while taunting Houck Sr., saying, "You're hurting women. You don't care about women."
Houck said Love also repeatedly disparaged him to his son, who testified on Friday that Love stood about an arm's length away from him near the clinic.
"I moved away… because I was scared," the younger Houck testified, adding that Love told him, "Your dad's a bad person. Your dad's harassing women."
It was after Houck repeatedly told Love to stop harassing his son that Houck said he pushed Love away.
The jury deadlocked on Friday after two-and-a-half hours of deliberation, telling U.S. District Judge Gerald Pappert that they didn't think they could come to a conclusion given more time. Pappert sent the jury home but instructed them to return Monday morning and continue deliberations anyway.
On Monday, the jury acquitted Houck. Following the verdict, Breen released a statement condemning the Biden administration for pursuing his client.
"We are, of course, thrilled with the outcome," Breen said. "Mark and his family are now free of the cloud that the Biden administration threw upon them. We took on Goliath – the full might of the United States government – and won. The jury saw through and rejected the prosecution's discriminatory case, which was harassment from day one. This is a win for Mark and the entire pro-life movement. The Biden Department of Justice's intimidation against pro-life people and people of faith has been put in its place."