As House Minority Leader Kevin McCarthy's (R-Calif.) bid for Speaker hangs in the balance, several members of his own party have indicated that they plan to oppose him in Tuesday's vote.
These five Republicans have pledged to vote as a bloc on Tuesday, and they all appear likely to remain firmly anti-McCarthy:
Reps. Andy Biggs (Ariz.)
Matt Gaetz (Fla.)
Ralph Norman (S.C.)
Matt Rosendale (Mont.)
Bob Good (Va.)
The group has the potential to derail McCarthy's Speaker vote, as the House minority leader can afford to lose only four GOP votes after Republicans secured a slim 222-213 majority in November's midterm elections.
If McCarthy fails to secure a majority on Tuesday, the Speaker election will go to a second ballot for the first time in a century.
Andy Biggs
Despite losing the GOP nomination for Speaker in mid-November, Biggs announced earlier this month that he would challenge McCarthy for the position before the full House.
"I'm running for Speaker to break the establishment," Biggs said in a tweet on Dec. 6. "Kevin McCarthy was created by, elevated by, and maintained by the establishment."
Biggs has remained steadfast in his opposition to the current House minority leader, saying in an interview with Fox News on Thursday that he does not see any scenario in which he would vote for McCarthy.
While he has put himself forward as an alternative, Biggs does not appear tied to his own Speakership and has suggested that several other Republican members could be "very capable" of being Speaker.
"We feel support. There are those who will not support me, but there are others who are quietly indicating that they'll either support me or someone else," Biggs said in a Fox Business interview on Wednesday.
Matt Gaetz
Gaetz has also remained a staunch opponent to a McCarthy Speakership, recently suggesting that Rep. Jim Jordan (R-Ohio) should take up the mantle instead.
"I'm not voting for Kevin McCarthy for Speaker because he's just a shill of The Establishment," Gaetz told the Daily Caller in a recent interview.
"We need someone like Jim Jordan as the speaker of the House, who can cast a vision and who has the trust and confidence of the people across the spectrum in the House," he added.
The Florida congressman has repeatedly pushed for Jordan to jump in the race as Tuesday's vote grows closer.
"All I want for Christmas is @Jim_Jordan to realize he should be Speaker of the House!" Gaetz said in a Christmas Eve tweet, adding on Christmas Day, "Merry Christmas to all! Make sure to join me in encouraging @Jim_Jordan to seek the Speakership."
However, Jordan himself has shown no indication that he plans to run for Speaker, instead choosing to endorse McCarthy and expressing concern that a McCarthy loss could push moderate Republicans to work with Democrats to find an alternative candidate.
"So let's hope that there's never any kind of bargain where you bring the Democrats into play because they'll be … trying to stop investigations that are our constitutional duty to conduct," Jordan told Breitbart earlier this month.
Ralph Norman
Unlike his fellow members, Norman appears to have left more room to shift his position on McCarthy. However, he has yet to indicate any change of heart on the upcoming vote.
Norman initially told Politico in late November that he was a "hard" no vote on McCarthy's Speakership over his approach to the national debt.
"Economic security is national security. I was not happy with the answer Kevin gave me about balancing the budget," he said at the time. "I don't care who the speaker is. It could be Mickey Mouse, but if we have our way, we're gonna have some firm economic mandates."
However, the South Carolina Republican appeared to soften his stance slightly, with Politico reporting that he was a "no right now" in mid-December.
"We'll negotiate," Norman added, when Axios first reported the group of five's decision to vote as a bloc. "By 11:59 [a.m.] on Jan. 3, we'll know."
While Norman said McCarthy could sway his vote by agreeing to a plan to balance the budget within seven years, he added that it might not persuade the others, who he promised would "all operate as five."
"We come as five, so we're going to agree on all [of the concessions we need]," Norman said, according to Axios.
Matt Rosendale
Rosendale has pointed to McCarthy's pushback on several proposed rules changes for his participation in the "Never Kevin" group.
"[McCarthy] made it clear that he is unwilling to meaningfully change the rules and challenge the status quo in Washington," Rosendale said in an op-ed for the Billings Gazette in early December.
"Current Republican leadership falls in with the majority of politicians who campaign on change but support the current system that provides them with undeserved power and privilege," he continued.
Rosendale suggested that he was still on board with the group of five and their opposition to McCarthy in a tweet on Friday.
"We must change the rules and leadership if we are going to restore functionality to congress. There are many more than 5 who recognize this," Rosendale wrote in response to a post from Gaetz about the Speakership election.
However, the Montana Republican previously said he would vote for McCarthy under "extreme circumstances."
Bob Good
Good, the final member of the five, insisted in an interview with Politico Playbook last week that McCarthy still does not have his vote.
"He doesn't have anything that I want," Good told Playbook.
Good also suggested that between 10 and 20 Republicans would vote against McCarthy on Tuesday. While the Virginia congressman said the anti-McCarthy group plans to vote for Biggs in the first vote, it intends to coalesce around another candidate on the second.
"I believe you have enough courageous conservatives who are recognizing based on past history that there's nothing to indicate that [McCarthy] will bring the fight to the battle," Good said in an interview with a local Virginia radio station.

⬇️ Top Picks for You ⬇️
Biden Dog Bites Another Secret Service Agent; 11th Incident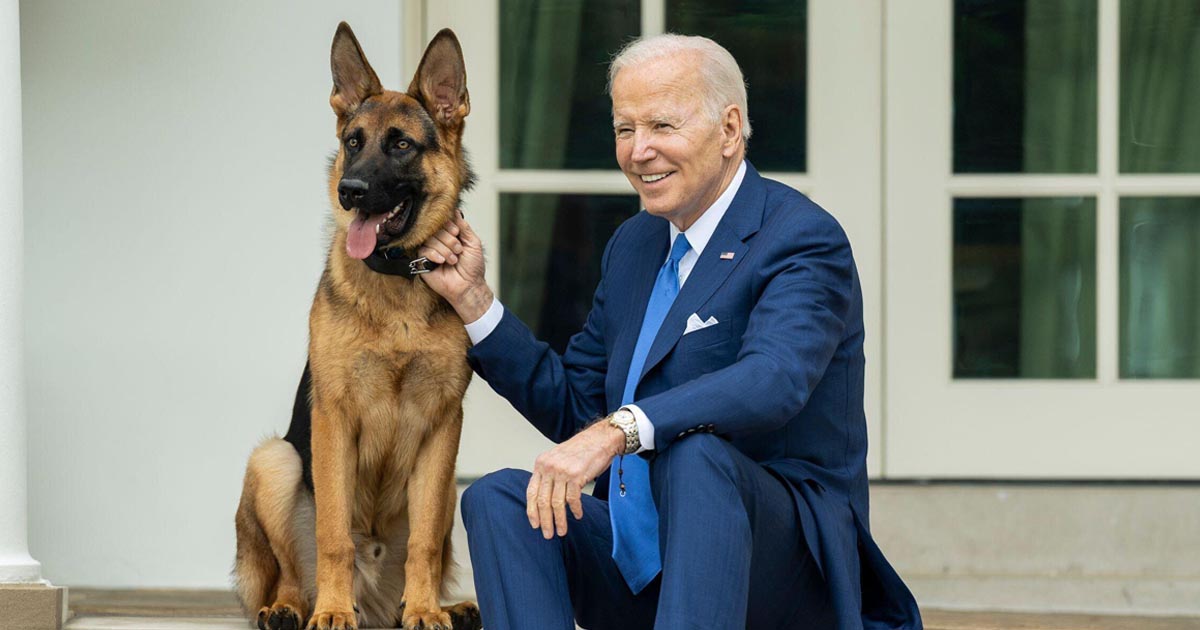 President Joe Biden's younger dog, Commander, bit another US Secret Service agent at the White House Monday evening, CNN has learned, the 11th known biting incident involving the 2-year-old German Shepherd.
"Yesterday around 8 p.m., a Secret Service Uniformed Division police officer came in contact with a First Family pet and was bitten. The officer was treated by medical personnel on complex," USSS chief of communications Anthony Guglielmi told CNN in a statement.
The injured officer spoke with Secret Service Uniformed Division Chief Alfonso M. Dyson Sr. on Tuesday and is doing OK, Guglielmi said.
Commander has been involved in at least 11 biting incidents at the White House and in Delaware, according to CNN reporting and US Secret Service email correspondence, including a November 2022 incident where an officer was hospitalized after the dog clamped down on their arms and thighs.
White House officials said in July that the Bidens were working through new training and leashing protocols for the family pet following the incidents.
Asked by CNN whether the new training had taken place or if any further action would be sought, Elizabeth Alexander, communications director for the first lady, said in a statement that "the First Family continues to work on ways to help Commander handle the often unpredictable nature of the White House grounds."
"The President and First Lady are incredibly grateful to the Secret Service and Executive Residence staff for all they do to keep them, their family, and the country safe," she continued.
Another of Biden's dogs, Major, was involved in biting incidents at the White House. The German Shepherd later moved out of the White House, and Commander arrived at the White House in 2021.
The July email correspondence, obtained through Freedom of Information Act requests by the conservative group Judicial Watch, reflected 10 incidents.
In one incident in October, first lady Dr. Jill Biden "couldn't regain control" of the dog as it charged a member of Secret Service staff.
"I believe it's only a matter of time before an agent/officer is attacked or bit," the staff member warned in an email.
While Secret Service agents are not responsible for the handling of the first family's pets, they can come into frequent contact with the animals.
"This isn't a Secret Service thing. This is a this is a workplace safety issue," CNN contributor and former USSS agent Jonathan Wackrow told CNN.
"There's uniqueness here where it's the residence of the president of the United States, but it's also the workplace for hundreds, thousands of people. And you can't bring a hazard into the workplace. And that's what is essentially happening with this dog. One time you can say it's an accident, but now multiple incidents, it's a serious issue," he added.
Wackrow called it a "significant hazard" for agents on duty at the White House residence.
"I'm sure that the Bidens love the dog. I'm sure that it's a member of the family like every dog is, but you're creating a significant hazard to those who support you – support the office of the president," he said.