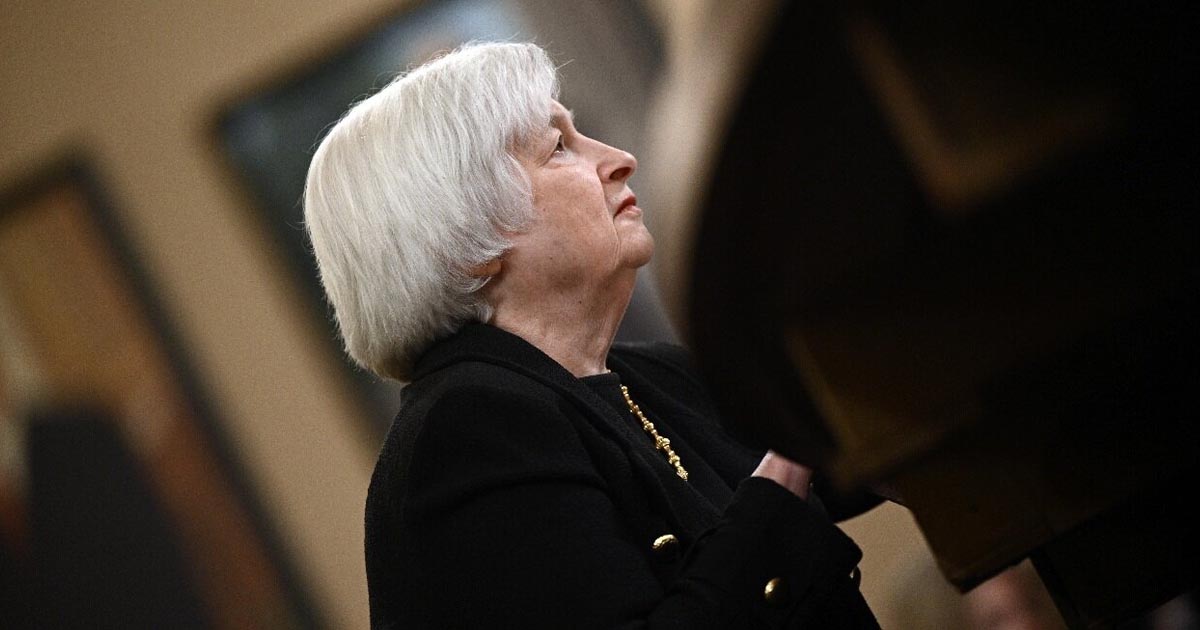 Here Are the Tech Companies, Liberal Media Outlets, and Prominent Democrats Saved by Biden's Bank Bailout
Prominent tech companies, liberal news outlets, and a Democratic politician's vineyards are among the thousands of businesses that breathed a sigh of relief on Sunday when the Biden administration moved to bail out Silicon Valley Bank.
Silicon Valley Bank maintained $209 billion in assets and $175.4 billion in total deposits, making it the 16th-largest bank in the country. It was the second-largest bank to fail in American history when the Federal Deposit Insurance Corporation took control of the institution on Friday.
President Joe Biden has insisted that the FDIC's move was not a bailout, and claimed his administration is working to protect "American workers and small businesses." But average Americans won't benefit the most from the bailout. Ninety-three percent of the bank's depositors kept more than $250,000 in the bank.
While the California bank was famous for its rolodex of tech clients, it happily accepted deposits from all manner of people, including some of the individuals and institutions involved in pushing the Biden administration's bailout.
Here are just a few.
Gavin Newson
California Gov. Gavin Newsom's (D.) trio of wineries are clients of the failed financial institution, as is the governor himself. He has maintained personal accounts at the failed bank for years, the Intercept reported, citing a former Newsom aide. Newsom's efforts to rescue Silicon Valley Bank's clients could also put him on the wrong side of the law. California law prohibits elected officials from influencing official matters in which "the official has a financial interest," Insider reported.
Newsom was instrumental in convincing Biden over the weekend that a bailout of the failing bank was necessary. He was also one of the first politicians nationwide to hail the president's swift move on Sunday to make all of Silicon Valley Bank's clients whole. Newsom was one of many high-profile Democrats who received money from Silicon Valley Bank, whose employees have also given tens of thousands of dollars to Democratic candidates and causes.
The emotional toll Newsom may have faced had his wineries failed amid Silicon Valley Bank's implosion would have likely been equally as devastating as the impact on his bottom line. He refused to sell his businesses when he first ran for governor in 2018, saying: "These are my babies, my life, my family. I can't do that. I can't sell them."
BuzzFeed
Liberal online media company BuzzFeed revealed to investors Monday that it held $56 million in cash and cash equivalents as of the end of 2022, the majority of which was held at Silicon Valley Bank. The news capped off a not-so-banner 2022 fiscal year for BuzzFeed, in which the company weathered a net loss of $201.3 million, laid off 40 percent of its newsroom, and saw its stock price plummet by 90 percent.
BuzzFeed has placed little focus on the bank's collapse, having mentioned the story in its morning newsletter, a quiz published Wednesday, as well as a passing reference in a Tuesday story about a "viral alpha male finance podcast parody sketch." None of the stories mentioned BuzzFeed's financial connection to the bank.
As part of its efforts to right its ship, BuzzFeed announced it would leverage artificial intelligence to spin up viral listicles and quizzes. BuzzFeed News editor in chief Karolina Waclawiak also told the company's remaining editorial staffers at a recent meeting to shift away from long-form news reporting and prioritize click-bait celebrity news, the Wall Street Journal reported.
Vox Media
Vox Media, the parent company of dozens of liberal news companies including Vox, New York magazine, the Verge, and Polygon, disclosed in news stories that it banked with Silicon Valley Bank before its collapse.
Unlike BuzzFeed, Vox has disclosed its financial connection to the failed bank in news stories this week. That hasn't stopped the outlet, however, from carrying water for the Biden administration. On Tuesday, for example, it published a story mocking concerns that Silicon Valley Bank's fixation on woke initiatives may have contributed to its demise.
Vox spokeswoman Lauren Starke told the Washington Post that the company doesn't anticipate "any significant impact" due to the bank's failure but added that it has suffered "logistical issues such as the temporary suspension of accounts and company credit cards."
In a Monday piece on Silicon Valley Bank's collapse, Vox competitor the Dispatch parenthetically disclosed it had been a Silicon Valley Bank customer.
Black Lives Matter
While Black Lives Matter isn't a known client of Silicon Valley Bank, the bank's untimely failure marks the end of a significant gravy train for the movement.
Silicon Valley Bank and its employees contributed more than $73 million to the Black Lives Matter movement and related causes since 2020, according to a database maintained by the Claremont Institute.
The Green Energy Racket
Silicon Valley Bank's failure could have delivered a seismic blow to the climate change industry and the more than 1,550 technology companies that specialize in solar, hydrogen, and battery storage solutions that held funds at the bank, had Biden not bailed the institution out.
Still, the bank's failure will have lingering effects for the industry, with insiders warning that Silicon Valley Bank was often the only institution willing to lend funds for their projects.
"Silicon Valley Bank was in many ways a climate bank," Kiran Bhatraju, the chief executive of the nation's largest community solar manager, Arcadia, told the New York Times. "When you have the majority of the market banking through one institution, there's going to be a lot of collateral damage."
Wedbush Securities technology sector analyst David Ives added that the bank's failure is a "major blow to early-stage and even late-stage tech startups."
Silicon Valley Bank "was the bank that would always pick up the phone when other large money center banks wouldn't," Ives told Politico.

⬇️ Top Picks for You ⬇️
Here Are the 5 Republicans Who Voted Against the GOP's Parents Bill of Rights
House Republicans passed an education bill on Friday that emphasizes parental rights in the classroom, leaning into a hot-button, culture war issue that has gained popularity in GOP politics across the country.
The legislation, titled the Parents Bill of Rights, passed in a 213-208 vote, and it now heads to the Senate for consideration. It is highly unlikely, however, that the Democratic-controlled chamber will take up the measure, with House Democrats dubbing the bill the "Politics over Parents Act."
Republican Reps. Andy Biggs (Ariz.), Ken Buck (Colo.), Matt Gaetz (Fla.), Mike Lawler (N.Y.) and Matt Rosendale (Mont.) sided with all voting Democrats in opposing the measure.
The measure would require schools to publish their curricula publicly, mandate that parents be allowed to meet with their children's teachers and make schools give information to parents when violence occurs on school grounds.
It would also demand that parents receive a list of books and reading materials accessible at the school library and give parents a say when schools are crafting or updating their policies and procedures for student privacy, among other tenets.
At a time when Republicans have accused Democrats of painting parents as a threat and in the wake of contentious school board meetings around the country, the legislation also says school and government officials "should never seek to use law enforcement to criminalize the lawfully expressed concerns of parents about their children's education," and that the "First Amendment guarantees parents and other stakeholders the right to assemble and express their opinions on decisions affecting their children and communities."
"This bill is not complex or complicated," the bill's sponsor Rep. Julia Letlow (R-La.) said during debate on the House floor Thursday. "Nor should it be partisan or polarizing, and contrary to what you may hear from my colleagues on the other side of the aisle, it is not an attack on our hard-working teachers, who will always be the heroes in my eyes."
"It is not an attempt to have Congress dictate their curriculum or determine the books in the library," she continued. "Instead, this bill aims to bring more transparency and accountability to education, allowing parents to be informed and when they have questions and concerns to lawfully bring them to their local school boards."
The chamber also approved a number of amendments to the bill, including one sponsored by Rep. Lauren Boebert (R-Colo.) that says parents have a right to know if the school their child attends operates, sponsors or facilitates athletic programs or activities that allow transgender girls or women to participate in a sport that does not correspond with their sex assigned at birth.
Another approved amendment, also sponsored by Boebert, says parents have a right to know if their child's school allows a transgender girl or woman to use a bathroom or changing room that does not correspond with the sex assigned at birth.
Letlow first introduced the legislation in 2021, when education emerged as a controversial issue amid protests at school board meetings that railed against COVID-19 restrictions, curricula and books pertaining to gender and sexuality, and diversity and inclusion initiatives. She proposed the measure after Virginia Gov. Glenn Youngkin (R) won his race on a platform that emphasized education and parental rights, making him the first Republican to win a statewide election in the Old Dominion in more than a decade.
The measure, however, did not receive a vote in the Democratic-controlled House during the last Congress, leading Letlow to reintroduce it at the beginning of March. House Republicans during the 2022 campaign cycle vowed to advance the legislation if they were to win the majority that November.
Although the bill is unlikely to get attention in the Democratic-controlled Senate, the House vote on the measure will almost certainly be used by Republicans to fuel attacks against Democrats on education, which has become an issue of heightened importance heading into the 2024 election cycle. Republicans have sought to paint Democrats as working to cut parents out of their children's education.
House Democrats this week argued the GOP's bill does not give parents any new rights in education and that it could make it easier for books to be banned in schools.
More than 1,600 books were banned in schools and libraries during the 2021-2022 school year, according to a report from PEN America, with the majority of the prohibitions occurring in Texas and Florida. A number of the books banned included LGBTQ themes and addressed issues of race and racism.
"This legislation has nothing to do with parental involvement, parental engagement," House Minority Leader Hakeem Jeffries (D-N.Y.) said on the House floor Thursday. "Parental empowerment has everything to do with jamming the extreme MAGA Republican ideology down the throats of the children and the parents of the United States of America."
"I think what we're seeing here today is the Republicans' attempt, Republican Party's attempt, to take some of the most heinous legislation that we are seeing passed on the state level to attack our trans and LGBT as well as people from marginalized communities right to exist in schools," Rep. Alexandria Ocasio-Cortez (D-N.Y.) said during Thursday's debate.
Republicans, however, pushed back on the idea that this bill will ban books. Rep. Virginia Foxx (R-N.C.), the chairwoman for the House Committee on Education, noted on a number of occasions that the legislation mentions nothing about banning books.
"The context here matters that we're talking about legislation in this body to just ensure that parents know what's in the libraries and what's in the curriculum," Rep. Chip Roy (R-Texas) said. "It does nothing more."
"Yet, that's the great offense, but in trying to perpetuate this myth about federal perpetuation of so-called book banning — and let me be clear, yes, some local jurisdictions removing certain books, absolutely, and God bless them for it," he added. "Books about explicit sex acts. Let that hang over the chamber."
Democrats also highlighted their support for student-parent engagement, but said they don't believe the legislation does anything to promote it.
"First, let me be clear, the House Democrats believe parental engagement is central to student success," said Rep. Bobby Scott (D-Va.), the ranking member of the Committee on Education and Workforce. "Parental engagement is, in schools is closely linked to better student behavior, higher academic achievement and enhanced social skills, but, unfortunately, the Politics over Parents act does not take meaningful steps to increase or support parental engagement."
"Congress has a constitutional authority to write laws. What a mockery and betrayal of that duty it would be to pass this stunt of a bill that doesn't address a single priority of parents, bans books, undermines teachers and hurts our kids, Democrats are the party of parents and families," Rep. Pramila Jayapal (D-Wash.) said.