House Oversight Committee Chairman James Comer (R-Ky.) requested a range of documents and other materials from the White House after it was revealed that classified documents were found at President Joe Biden's office and Delaware home, triggering a special counsel investigation.
In a new letter issued to White House counsel Stuart Delery on Friday, Comer noted that his committee recently initiated an investigation into Biden's possession of classified materials and said that more documents are needed by Jan. 27. That includes "all classified documents" that were recently obtained by Biden's lawyers "at any location," according to the letter.
Comer's letter also sought a complete list of Biden's aides and lawyers who are tasked to look through Biden's documents, a list of locations where the documents were found, and communications and documents that were sent between the Department of Justice and White House or the National Archives. The latest House Oversight letter was triggered after a second batch of documents were found by Biden's aides and lawyers inside rooms of his Delaware residence; classified materials were also found at his Washington office.
"We have [documents] revealing this address appeared on Hunter's driver's license as recently as 2018," House Oversight Republicans wrote, referring to Biden's son Hunter Biden, "the same time he was cutting deals with foreign adversaries."
The nexus between the tranche of documents and Hunter Biden is notable, as the GOP has long sought to investigate connections between the president and his son's controversial business ventures in China and Ukraine. Before Republicans took control of the House, Comer and other Republicans announced they want to make investigating the Bidens' business dealings a priority.
That also includes how Twitter officials in the lead-up to the 2020 presidential election worked to suppress a story that shed light on the younger Biden's laptop and messages between Hunter and others that made reference to his father as "the big guy" amid dealings with a Chinese conglomerate. Recent files released at the behest of new Twitter owner Elon Musk revealed that a former FBI official who used to work at Twitter, James Baker, suggested in an email to other Twitter managers that a New York Post report about Hunter's business ties should remain blocked while inaccurately suggesting it was disinformation.
"Now that Democrats no longer have one-party rule in Washington, oversight and accountability are coming," Comer said in a letter to Treasury Secretary Janet Yellen, asking her to provide his panel with suspicious activity reports for Hunter Biden, James Biden, and other Biden family members. "The Committee on Oversight and Accountability is investigating President Biden's involvement in his family's foreign business practices and international influence peddling schemes," Comer wrote to Yellen.
Another Letter and Response
Later Friday, House Judiciary Republicans led by Chairman Jim Jordan (R-Ohio) wrote to Attorney General Garland and the DOJ requesting documents and communications relating to the appointment of new special counsel Robert Hur following Garland's Thursday announcement. They also are seeking records and communications between the DOJ, FBI, and Biden's office relating to materials that were found at Biden's office and home.
In response, Biden's White House legal counsel said Republicans are engaging in a politically motivated attempt to discredit the president. They said that, in part, some Republicans are trying to garner media attention to bolster their national profiles.
"In their first week as a governing majority, House Republicans have not taken any meaningful action to address inflation and lower Americans' costs, yet they're jumping out of the gate with political stunts driven by the most extreme MAGA members of their caucus in an effort to get attention on Fox News," Ian Sams, a spokesman for the White House Counsel's office, said in a statement to news outlets earlier this week.
Instead, Biden "is going to continue focusing on the important issues the American people want their leaders to work together on, and we hope House Republicans will join him," according to the spokesperson. The Epoch Times has contacted the White House Counsel's office for comment.
Special Counsel
On Thursday, Attorney General Merrick Garland said he appointed a special counsel to investigate whether Biden mishandled classified documents when he was vice president. Robert Hur, who was appointed by Trump as U.S. attorney for Maryland, was named as the special counsel.
Based on a recent investigation, Garland said he "concluded that, under the special counsel regulations, it was in the public interest to appoint a special counsel." Like Biden's case, Garland last year appointed a special counsel, Jack Smith, to investigate various allegations against former President Donald Trump, including whether the former commander-in-chief himself mishandled documents at his Mar-a-Lago residence.
"I strongly believe that the normal processes of this department can handle all investigations with integrity. But under the regulations, the extraordinary circumstances here require the appointment of a special counsel for this matter," Garland announced. "This appointment underscores for the public the department's commitment to both independence and accountability in particularly sensitive matters, and to making decisions indisputably guided only by the facts and the law."
Following Garland's announcement, White House lawyer Richard Sauber said the administration is "confident" that those documents were " inadvertently misplaced" and would show there was no malfeasance.

⬇️ Top Picks for You ⬇️
FBI Has 2 More Informant Files on Alleged Biden Corruption; 2 More Banks Subpoenaed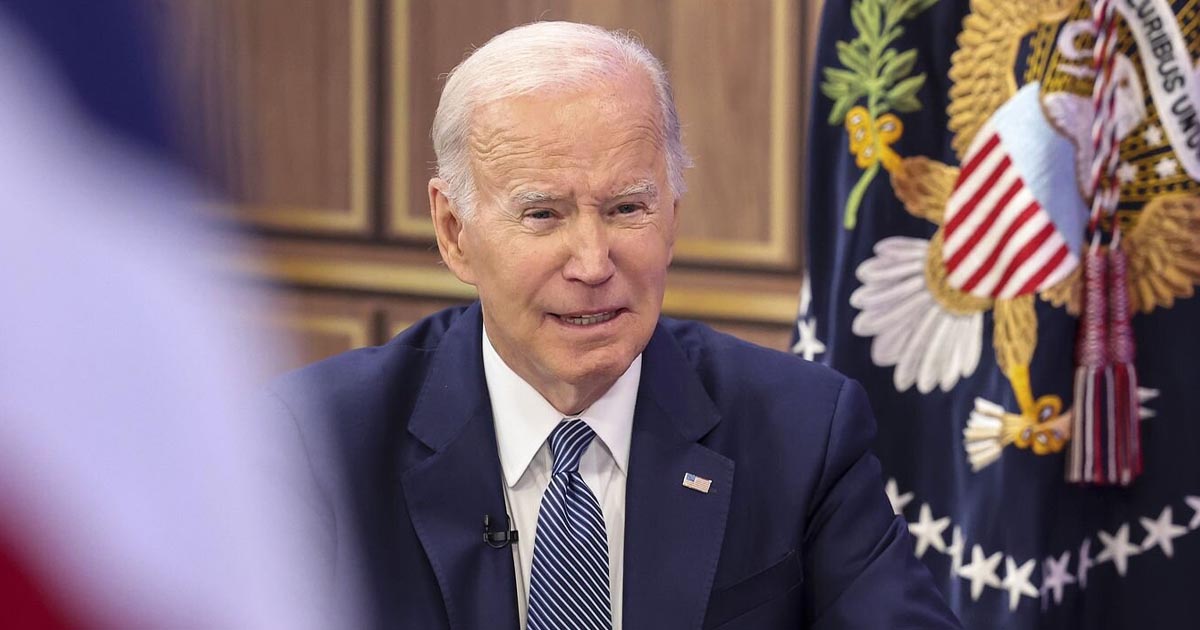 The FBI holds two more informant files on the Biden family's business ventures, triggering the House Oversight Committee on Friday to subpoena two more banks, Rep. Marjorie Taylor Greene (R-GA) exclusively told Breitbart News.
Greene, a member of the House Oversight Committee, said the FBI holds at least two more FD-1023 forms referenced in the FBI informant document reviewed by the Committee Thursday. Greene expects the Committee will work to review those forms next week.
On Thursday the committee viewed an FBI informant file that revealed the alleged existence of two pieces of evidence showing President Joe Biden received $5 million from Ukrainian energy company Burisma, Committee Republicans told reporters.
"He requested it, he and Hunter Biden requested $5 million each," Greene said. "'Pay me $5 million, pay my father $5 million, and we will take care of your problems for you,'" Greene described the alleged request the Bidens made of Burisma.
In 2015, Burisma was under suspicion of money laundering and public corruption. Prosecutor Victor Shokin investigated the case before his termination due to pressure applied by then-Vice President Joe Biden, who threatened to withhold $1 billion in U.S. aid from Ukraine if the Ukrainian government did not fire the prosecutor investigating Burisma.
In exchange for that, the informant file alleges, Joe Biden and Hunter Biden received $5 million each in small sums through separate bank accounts.
Joe Biden bragged about the firing during a 2018 appearance at the Council of Foreign Relations. "I said, 'I'm telling you, you're not getting the billion dollars.' I said, 'You're not getting the billion. I'm going to be leaving here in,' I think it was about six hours," Biden told the audience. "I looked at them and said, 'I'm leaving in six hours. If the prosecutor is not fired, you're not getting the money.' Well, son of a bitch. He got fired."
In connection with Biden's Burisma business deal, Greene told Breitbart News the House Oversight Committee issued two subpoenas Friday to compel information about the Bidens' Ukrainian transactions. Before Friday, the Committee subpoenaed at least four banks — Bank of America, Cathay Bank, JPMorgan Chase, and HSBC USA N.A –and one individual.
"We're giving out subpoenas for two more banks. And this has to do with bank accounts related to Ukraine. So, we're digging deeper into this," she said. "We were hoping to find, you know, actual transactions that relate to this 1023 form."
Greene described Thursday's inspection of the 1023 form. She told Breitbart News she took notes inside the secured area but had to leave the notes inside the secured room per FBI policy. Once she finished reviewing the documents and taking notes, she made a second batch of notes outside the secure area.
"But as soon as I filed my notes, it was really fresh in my mind, because I read it a couple times," she said. "So I made my own notes separately — in a separate room, not in the SCIF, but in a separate room."
"The form references two separate 1023 [forms]," she said, referring to two additional FD-1023 forms mentioned in the FBI informant document.
"It's on white paper, printed paper, eight by 11 normal paper. It looks like just a report," she said.
"The form is written in chronological time," Green continued. "The date of the 1023 that I read yesterday is June 30, 2020. But it tells chronological order, starting in 2015, 2016."
Greene believes the form is credible because the FBI believes the informant is credible. The informant is reportedly a "highly credible" FBI source with a history dating back to the Barack Obama administration.
"The FBI told us [that] they just think he's their best one," she said. "Everything he hands over is true. Everything he hands over is valuable. Everything he hands over is accurate."
In addition, Greene revealed the form indicated Hunter Biden's position on Burisma's board, in which he received about $80,000 per month, were monthly installments of a $5 million total cut owed Hunter Biden in the deal with his father.
"The reason why he was on the board, taking a ridiculous salary, and getting paid these side bribes was literally because his father is the Vice President of the United States. And Hunter and [Joe] Biden have a business partnership, where Hunter goes out —and he does the groundwork — in order for his father to make the decisions and the policy changes for — to get payment."
"He's [Joe Biden] on a telephone call talking about it, he's on video and an interview talking about it, where he literally withheld the U.S. aid from Ukraine and demanded that they fire Victor Shokin," Green said. "And it happened. It happened."
When a reporter questioned Joe Biden Thursday about the alleged $5 million payment, he jokingly responded, "Where's the money?"