A majority of the House Republicans vying for the speakership signed a pledge Saturday aimed at saving the GOP's next pick from the vote-counting trap that sank Reps. Steve Scalise and Jim Jordan's bids.
Seven lawmakers have launched campaigns for the gavel ahead of a Sunday deadline, as House Republicans scramble — yet again — to select their new speaker, nearly three weeks after Rep. Kevin McCarthy was ousted from the top post. And five of the announced candidates have committed in writing to a plot to ensure the next speaker-designate can rally 217 votes on the floor.
The device: A simple two-paragraph pledge, spearheaded by Rep. Mike Flood (R-Neb.), to vote "yea" on the floor for whoever wins the House Republican conference's backing in the initial secret-ballot election scheduled for Tuesday. To pick up more commitments, Flood is organizing a bloc of Republicans to withhold support from candidates unless they press their backers to sign the pledge.
Support for the strategy built rapidly Saturday, with signatures from speakership candidates Reps. Austin Scott (Ga.), Mike Johnson (La.), Pete Sessions (Texas), Jack Bergman (Mich.) and Kevin Hern (Okla.), chair of the Republican Study Committee.
Reps. Byron Donalds (Fla.) and Majority Whip Tom Emmer (Minn.) are the only announced candidates who have not yet indicated support for the pledge. And allies of the conservative House Freedom Caucus are urging opposition.
Russ Vought, who was White House budget director under former president Donald Trump, called it "a ridiculous letter" and "cartel government away from the floor."
Lawmakers have until Sunday at noon to make their candidacy official before a Monday night candidate forum and a GOP Conference vote Tuesday morning.
In a Saturday morning post, Emmer vowed to "always be honest and direct" with every Republican lawmaker and to "never make a promise I cannot fulfill."
"Our conference remains at a crossroads and the deck is stacked against us," Emmer warned.
Johnson also issued a lengthy dear colleague letter Saturday, listing his priorities if elected, including rebuilding trust and engaging more individual lawmakers in the policymaking process.
"It is incumbent upon us now to decide upon a consensus candidate who can serve as a trusted caretaker and a good steward of the gavel," Johnson wrote. "We must govern well and expand our majority next year."
House Republicans' razor-thin majority has magnified and empowered the small group of lawmakers who ousted McCarthy.
Speaker Pro Tempore Patrick McHenry said he isn't worried about a big candidate pool making it harder to settle on one pick. "We have a process, we have conference rules," he said.
"Monday we are going to come back and start over," Majority Leader Steve Scalise said Friday.
The new crop of contenders are spending the weekend working the phones and recruiting allies to do the same as they build their platform for the speakership. It's the same way Jordan spent last weekend.
With McCarthy, Scalise and Jordan all felled by divisions within the conference, many House Republicans have voiced concern that none of the new candidates can get the 217 votes needed to secure the gavel without a major repositioning within the House GOP.
"The space and time for a reset is, I think, an important thing for House Republicans," McHenry said Friday, explaining why he thought the weekend break in the process was necessary.
McHenry promised that the House will hold a floor vote once the Republican conference settles on its next speaker candidate, the third in as many weeks. He did not, however, ask for the conference to advance a resolution to empower him to push forward legislation if the House falls short once again to elect a speaker.

⬇️ Top Picks for You ⬇️
Biden Got Recurring $1,380 Payment from Hunter's Firm Starting in 2018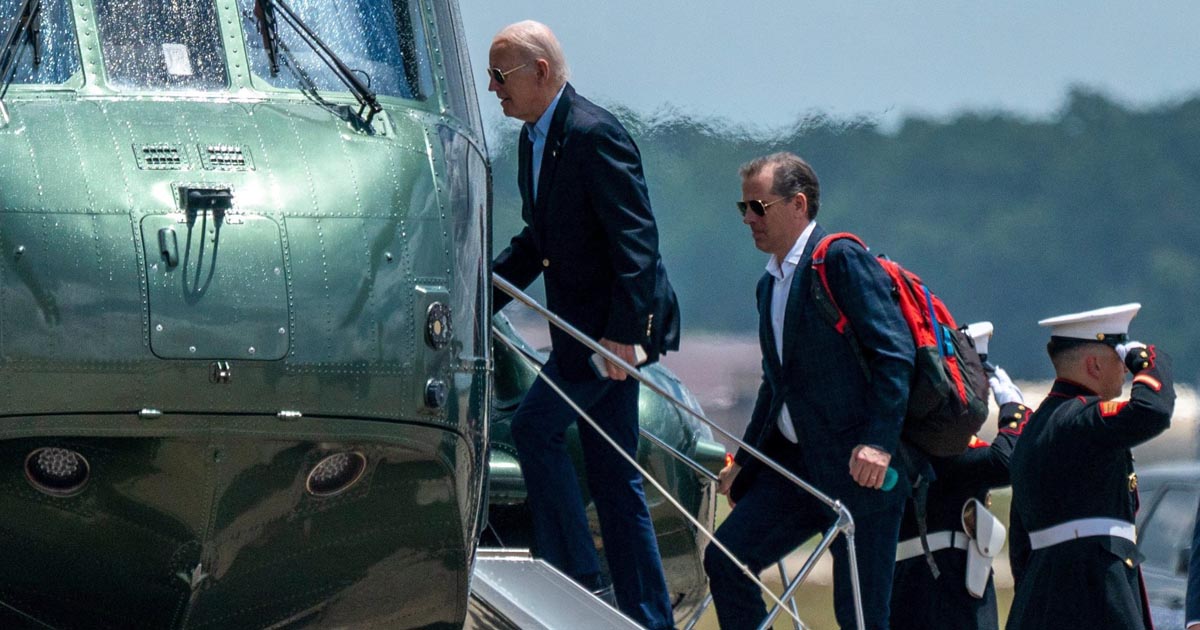 President Biden received a recurring payment of $1,380 from his son Hunter's law firm beginning in late 2018 shortly after a bank money laundering officer warned that the same account was receiving millions of dollars in Chinese government-linked funds without "any services rendered."
A bank order shows that Owasco PC set up a "monthly" transfer to then-former Vice President Joseph R. Biden Jr., with a voided check for the future president included in the documentation, which was released Monday by the House Oversight Committee.
A source told The Post that at least three recurring payments were made — on Sept. 17, Oct. 15 and Nov. 15, 2018 — totaling $4,140 to the elder Biden from Owasco PC, according to the bank records of the firm.
"President Biden and his family must be held accountable for this blatant corruption," Oversight Committee Chairman James Comer (R-Ky.) said in a video release.
"Today, the House Oversight Committee is releasing subpoenaed bank records that show Hunter Biden's business entity, Owasco PC, made direct monthly payments to Joe Biden. This wasn't a payment from Hunter Biden's personal account but an account for his corporation that received payments from China and other shady corners of the world," Comer said.
"At this moment, Hunter Biden is under an investigation by the Department of Justice for using Owasco PC for tax evasion and other serious crimes. And based on whistleblower testimony, we know the Justice Department made a concerted effort to prevent investigators from asking questions about Joe Biden. I wonder why?"
Earlier that year, a January 2019 email from assistant Katie Dodge to Hunter Biden annotated various expenses including "Ford Raptor — Reimbursement to JRB — $1380."
The provenance of the funds is unclear, however, and additional records show that Hunter Biden was knee-deep in two of his most controversial business relationships at the time, with Ukraine's Burisma Holdings and CEFC China Energy.
The evidence emerged as House Republicans prepare to question first brother James Biden on Wednesday and Hunter next week about the president's role in his family's dealings in countries such as China and Ukraine — with a possible floor vote to authorize the ongoing impeachment inquiry this month.
While a presidential candidate, Joe Biden denied that he ever discussed business with his relatives, but evidence has since shown that he met with his relatives' associates from both the Burisma and CEFC ventures.
Documents from the first son's abandoned laptop show that Burisma board adviser Vadym Pozharskyi sought "bank reference" information on Sept. 14, 2018 — one day before the initial transfer to Joe Biden was sought. However, the transaction was not executed for another two days, apparently due to a later-than-expected form submission.
Joe Biden met Pozharskyi at an April 17, 2015, dinner at DC's Café Milano. An unproven FBI informant tip said that Burisma owner Mykola Zlochevsky claimed in 2016 he was "coerced" into paying $10 million in bribes to the Bidens for their assistance in ousting prosecutor Viktor Shokin.
Hunter also was on the tail end of disbursing millions of dollars received from CEFC China Energy — one of two major Biden family dealings with Chinese government-linked firms.
On June 26, 2018 — less than three months before Joe Biden began to receive the monthly transfers — an internal Bank Secrecy Act expert warned colleagues that the institution should reconsider its relationship with Hunter as a result of Owasco PC seeming to receive Chinese funds without "any services rendered."
CEFC transferred $5 million to another Biden family-linked entity, Hudson West III, in August 2017 after Hunter warned a China-based associate of his father's wrath if a business deal was aborted. Much of the large transfer later went to Hunter's Owasco PC.
Prior bank records released by the Oversight Committee indicate that Joe Biden received payments of $40,000 and $200,000 from his brother James, who also was involved in the CEFC venture and other foreign-focused enterprises.
Comer alleged that the $40,000 transferred to Joe Biden's bank account on Sept 3, 2017, was from "laundered" Chinese funds.
James Biden paid Joe Biden $200,000 on March 1, 2018 — the same day that James received a $200,000 transfer from troubled rural hospital company Americore after pledging to use his political connections to secure a Middle Eastern investor, according to bankruptcy filings.
The White House says there's evidence that both transfers were loan repayments, but Republicans argue they have not seen loan agreement documents and note that the funds distributed to James came from a law firm, rather than Joe Biden himself, further clouding the picture.