After months of quietly signaling her support for Ron DeSantis, Iowa Gov. Kim Reynolds will formally endorse the Florida governor for president at a Des Moines rally Monday, sources close to both confirmed to the Des Moines Register.
The endorsement is an enormous win for DeSantis, who hopes to harness Reynolds' star power among Iowa Republicans as he looks to jumpstart his stagnant campaign and establish himself as a clear alternative to front-runner Donald Trump in the race's critical final months.
Reynolds plans to speak at DeSantis' predebate rally Monday as well as a Davenport meet-and-greet Tuesday morning. She will then fly to Miami to help him fundraise around Wednesday's debate.
In an Oct. 25 call with Iowa reporters, DeSantis said earning Reynolds' formal endorsement would be "a huge get" for his campaign.
"I think what she's been able to do in Iowa has really been a model for how people should govern," he said. "… Clearly, I think she could have a really significant impact. And I think any candidate running would be a fool not to want to have the support of Reynolds."
The decision is likely to anger Trump, who has already lashed out at Reynolds over her apparent coziness with DeSantis, accusing her of being insufficiently loyal. Reynolds was a firm Trump ally while he was in the White House, but she withheld any endorsement of him early in the 2024 race.
Indeed, soon after the news broke, Trump's campaign fired off a statement saying, "Kim Reynolds apparently has begun her retirement tour early as she clearly does not have any ambition for higher office."
"Earlier this year, she promised her constituents that she would remain neutral in the race, yet she has completely gone back on that promise," the Trump campaign said. "Regardless, her endorsement will not make any difference in this race."
It's rare, though not unprecedented, for Iowa's top elected officials to weigh in on behalf of candidates ahead of the caucuses.
U.S. Sen. Chuck Grassley endorsed his good friend, U.S. Sen. Bob Dole, in 1988 and 1996, and former Gov. Terry Branstad encouraged Iowans to caucus for anyone but U.S. Sen. Ted Cruz in 2016.
But it's far more common for Iowa's high-profile political figures to take a hands-off approach. Grassley and others have pledged to remain neutral this cycle.
Reynolds, too, had initially ruled out endorsing anyone ahead of the Iowa Caucuses, saying she preferred to welcome the full slate of candidates into the state. But, more recently, she opened the door to the possibility.
At an Oct. 25 news conference, Reynolds said she was still weighing an endorsement, suggesting she felt compelled by big national issues like inflation and border security.
"It's just too important," she said. "This next election is too important."
Reynolds has appeared on the campaign trail with every presidential contender. But she appeared to strike a strong, early relationship with DeSantis, introducing him to Iowans during his first trip to the state in March and appearing frequently with him and his wife, Casey.
Reynolds and DeSantis have charted similar political paths, growing their national profiles amid the COVID-19 pandemic when they led Republican states in pushing back against shutdowns and mask mandates while leaning into controversial culture war issues.
Both governors have signed laws prohibiting school instruction in LGBTQ topics, offering state-funded private school scholarships to all families, and banning abortions after six weeks of pregnancy. Trump called the Florida version of that bill "a terrible mistake."
DeSantis has even said he would consider Reynolds as a vice-presidential candidate.
How much will Kim Reynolds' endorsement help Ron DeSantis ahead of the Iowa caucuses?
According to an October Des Moines Register/NBC News/Mediacom Iowa Poll of likely Republican caucusgoers, DeSantis is tied for second place with former United Nations Ambassador Nikki Haley. They are at 16% — well behind former president Trump, who is at 43%.
No other candidate cracks double digits.
DeSantis' campaign and allied super PAC have poured millions of dollars into amassing the state's largest field operation ahead of the caucuses, though he has failed to gain traction in the polls. In fact, his standing has slipped in the Iowa Poll and in other national polling.
Reynolds, who remains deeply popular among Iowa's Republican base, could be a powerful ally in helping to consolidate support.
"I would say with a great deal of confidence that Kim Reynolds is the only person in the state of Iowa that could be a king or a queenmaker," Republican Party of Iowa Chair Jeff Kaufmann previously told the Register. "There's a lot of people who like to cast themselves as kingmaker because it helps them to push their organizations, but she's the only one that could be."
In Iowa, Kim Reynolds is more popular than Donald Trump
According to Iowa Poll data, Reynolds is viewed more favorably among likely Republican caucusgoers than any of the presidential candidates.
In August, the poll found that 81% viewed her favorably, including 50% who viewed her very favorably. Another 18% viewed her unfavorably and 1% were not sure.
In the October poll, which did not ask about Reynolds, 69% of likely GOP caucusgoers say they view DeSantis favorably and 26% view him unfavorably. Another 5% are not sure.
Trump is viewed favorably by 66% and unfavorably by 32% with just 1% not sure.
But it's also not clear whether a single endorsement can substantially move the needle in DeSantis' favor.

⬇️ Top Picks for You ⬇️
Venezuela Is Preparing to Invade Oil-Rich Neighbor Guyana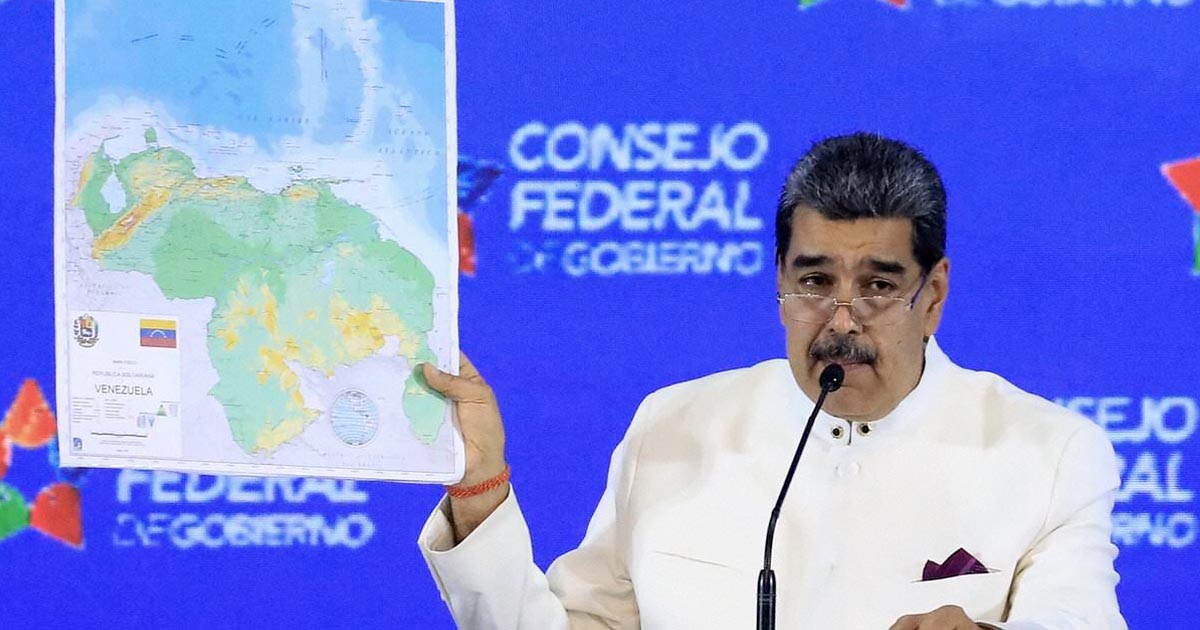 Venezuela's president on Tuesday published a new map of the region showing two thirds of neighboring Guyana 'reclaimed' by Caracas and ordered the state-owned energy companies to 'immediately' begin exploration in the area, as fears rose that Nicolas Maduro could start a war.
Venezuela has claimed Guyana's Esequiba region for over 100 years – ever since the border of the present-day country was drawn up, in 1899. But on Sunday, with his own popularity falling in the face of a newly-unified opposition, Maduro organized a 'referendum' on whether to pursue Venezuela's claim to the territory.
Voters were asked if they agreed with creating a Venezuelan state in the Esequiba region, providing its population with Venezuelan citizenship, and 'incorporating that state into the map of Venezuelan territory.'
The Maduro-controlled Venezuelan National Electoral Council said voters chose 'yes' more than 95 percent of the time on each of five questions on the ballot, and on Tuesday Maduro published his new map.
He has appointed a general, Alexis Rodríguez Cabello, as head of the region and on Tuesday dispatched him to the town of Tumeremo, a remote mining town in the jungle, 120 miles from the border.
Esequiba, about the size of Florida, is rich in minerals and accounts for two thirds of the territory of Guyana – an English speaking nation, which gained its independence from Britain in 1966. Guyana is the only English-speaking country in South America.
Venezuela protested an oil tender announced by Guyana in September, arguing that the offshore areas are subject to dispute and the companies awarded the fields will not have the rights to explore them.
Guyana has denounced Sunday's referendum as pretext to annex the land: in the days running up to it, the Venezuelan defense minister Vladimir Padrino Lopez, known for his ties to his counterparts in Russia and Iran, posted a video of Venezuela troops on parade, waving flags saying 'Guyana Esequiba', colored in the Venezuelan flag.
President Irfaan Ali called the move by Maduro 'reckless' and said his country plans to alert both regional and world leaders of Maduro's attempt to disrupt the peace in the hemisphere.
'It is unfortunate that President Maduro would choose the road of defying an international court order. This speaks volumes about the way in which President Maduro prefers to operate and also points to the fact that he's unconcerned about the peace and security of this region,' he told The Miami Herald.
'The order of the [U.N. court] made it very clear that Venezuela cannot act or take any action that would disrupt the status quo and the status quo is that Guyana exercises governance and control of Essequibo,' he said.
He added that he is seeking the support of the United Nations Security Council, the United States, the Caribbean Community, the Organization of American States and other countries to ensure Guyana's territory is 'not violated.'
'We once again call on Venezuela to retract from this reckless, adventurous move and to allow international law and the ruling of the [U.N. court] to guide our action,' Ali added.
El pueblo y su #FANB están movilizados, decididos e imperturbables a recuperar nuestra Guayana Esequiba, nos mueve el amor infinito a la patria y a cada milímetro del sagrado territorio venezolano, el cual defenderemos por todas las vías y por todos los medios que estén a nuestro… pic.twitter.com/B60slT8xSs

— Vladimir Padrino L. (@vladimirpadrino) November 29, 2023
Guyana has appealed to the International Court of Justice, the United Nations' top court, which on Friday ordered Venezuela not to take any action to change the status quo until the panel can rule on the two countries' competing claims. Any decision could take years.
Meanwhile, Guyana is nervously eyeing its giant neighbor to the north.
Venezuela's military, backed by Russia, Iran and Cuba, massively outnumbers tiny Guyana's: the Venezuelan military counts 123,000 active personnel versus only 3,400 for Guyana, according to an analysis in Brazil's Folha de Sao Paulo newspaper.
Guyana is also dwarfed by Venezuela in weaponry, with Venezuela having 514 armored vehicles compared to only six owned by Guyana.
Such an attack would draw a strong international response, with the lead likely played by Brazil, which borders both Venezuela and Guyana and whose military is significantly larger and more professional than either country's.
At the end of November, Brazil's defense ministry said it 'has intensified defensive actions' along its northern border.
'The Ministry of Defense has been monitoring the situation. Defensive actions have been intensified in the northern border region of the country, promoting a greater military presence,' it said in a statement.