Defense Minister Yoav Gallant said Monday that Hamas had lost control in the Gaza Strip, as the Israel Defense Forces moved to fully capture Gaza City.
"There is no force of Hamas capable of stopping the IDF. The IDF is advancing at every location. The Hamas organization has lost control in Gaza: Terrorists are fleeing south, civilians are looting Hamas bases. They have no confidence in the government," Gallant said, after holding an assessment on the fighting.
IDF soldiers of the Golani Brigade shared a historic photo on Monday showing the Israeli flag inside the Hamas parliament building in Gaza.
In the picture, the team of soldiers can be seen proudly waving Israeli flags in the terrorist organization's legislative council building.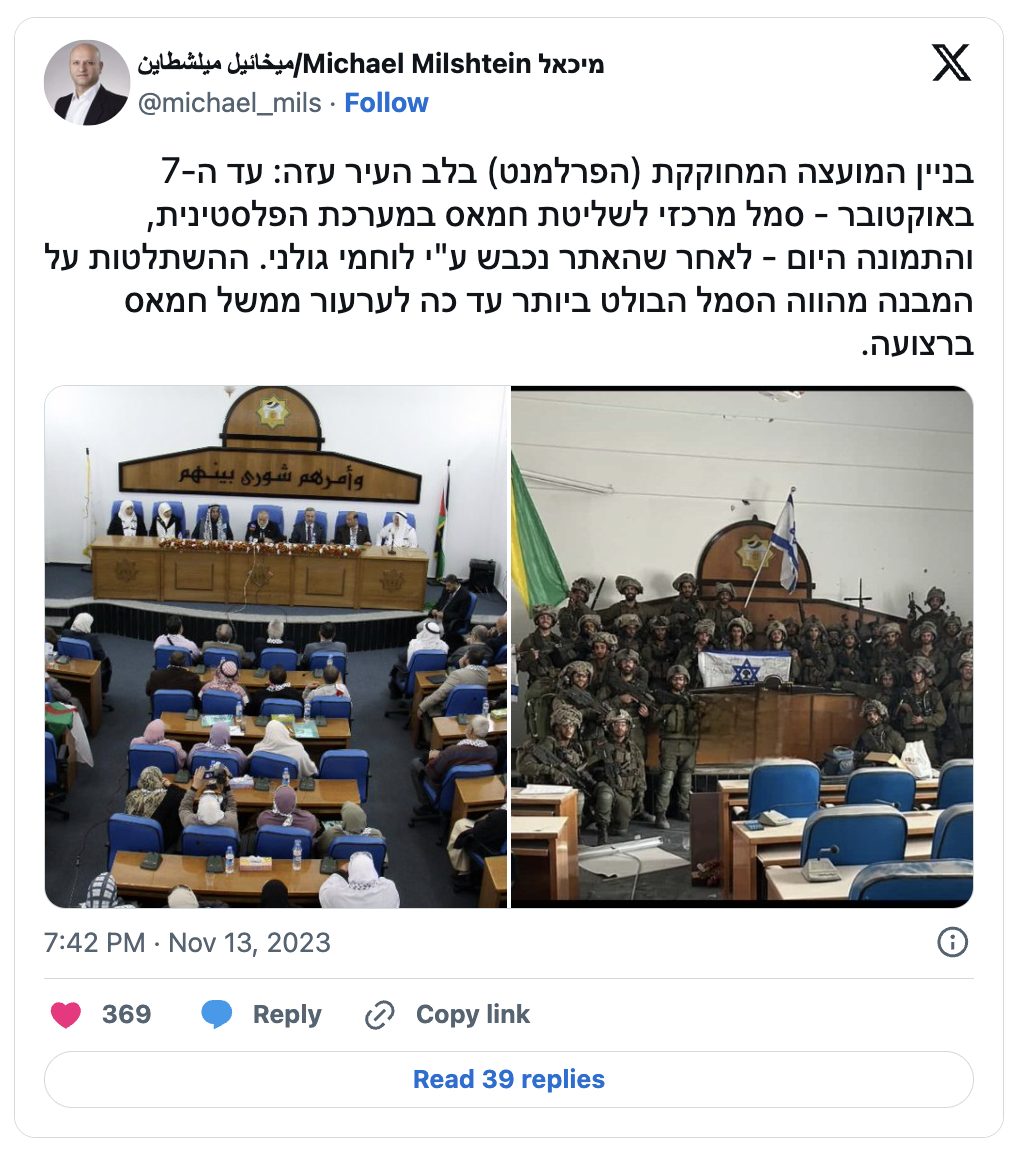 On Monday evening the army said forces raided Gaza City's Rantisi Hospital, which treats children, and that Hamas operatives had been holed up there. It said it had evidence indicating hostages were held there.
"Underneath the hospital, in the basement, we found a Hamas command and control center, suicide-bomb vests, grenades, AK-47 assault rifles, explosive devices, RPGs, and other weapons, computers, money, etc," Spokesman Daniel Hagari said, in an English-language press conference.
The military also said it had killed a group of gunmen who had fired on troops from another Gaza City hospital, publishing footage of the incident. It announced that it had killed a number of Hamas commanders in airstrikes over the past day, and provided details on its efforts to eliminate field commanders and disrupt the terror group's operations in the Gaza Strip over the past few weeks
Monday night saw a rocket barrage launched from Gaza at central Israel for the first time since Friday. Sirens also sound in Ashkelon and other areas of southern Israel. There were no reports of injuries or damage.
RPG cell in a hospital
Troops killed members of a terror cell that opened fire at Israeli forces from Al-Quds Hospital in Gaza City Monday. The cell at the hospital opened fire at troops of the 188th Armored Brigade with light arms and RPGs, while "embedded within a group of civilians at the entrance," according to the IDF.
Israel says Hamas has command centers under hospitals in Gaza and are using the civilians there, including patients, as human shields.
With air support, IDF troops returned fire at the Hamas operatives, killing 21 of them. No troops were hurt, but one tank was damaged by an RPG, the IDF added.
During the exchange of fire, the IDF said civilians were seen leaving the hospital, and other gunmen came out of adjacent buildings and hid among them.
After firing RPGs at troops, the IDF said the gunmen fled back into the hospital.
The military released footage of the battle that appeared to show RPG-wielding gunmen running into the hospital.
IDF says troops killed a terror cell that opened fire at Israeli forces from Al-Quds Hospital in Gaza City.

According to the IDF, the cell had opened fire at troops of the 188th Armored Brigade with light arms and RPGs, while being "embedded within a group of civilians at the… pic.twitter.com/Tq8h9tj64d

— Emanuel (Mannie) Fabian (@manniefabian) November 13, 2023
"This incident is another example of Hamas's continued abuse of civilian structures, including hospitals, to carry out attacks," the IDF said.
Hamas commanders killed, operations disrupted
The IDF said it had killed a number of Hamas commanders in airstrikes in the Strip over the past day. Among the senior officers was Yakub Ashur, the commander of Hamas's anti-tank guided missile array in the terror group's Khan Younis Brigade, the IDF says.
The IDF said Ashur, "as part of his role, took part in leading and directing offenses against IDF forces."
Separate strikes also killed Hamis Dababash, a veteran member of the terror group and the former head of Hamas's intelligence division; Tahsin Maslam, the head of the combat support company for Hamas's special operations in Beit Lahia; Jihad Azam, a Hamas intelligence officer in the Zeitoun neighborhood of Gaza City; and Munir Harb, head of information in the Rafah Brigade.
According to the IDF, before October 7, Hamas had some 30,000 fighters in the Gaza Strip, split into five regional brigades, 24 battalions and some 140 companies. Each Hamas brigade has an anti-tank missile array, sniper and engineering teams, air defenses, and a rocket firing array, the IDF says. Each brigade also has a number of outposts and strongholds in their respective regions.
The IDF said it had focused on killing the commanders of the brigades and battalions, especially those in northern Gaza where the military is carrying out its ground offensive.
According to the IDF, the Hamas battalions in northern Gaza have suffered "significant blows" and many are struggling to carry out large-scale organized attacks. It said Hamas's Shati Camp and Daraj-Tuffah battalions had been hit the hardest.
The Shati Camp Battalion's deputy commander, several company commanders and 200 more operatives have been killed in Israeli airstrikes and ground operations. Some of the battalion's main strongholds have been captured by the IDF, but it is also tasked with the terror group's main command center under Shifa Hospital, according to the military.
Meanwhile, the Daraj-Tuffah Battalion has also suffered heavy losses in IDF operations. The military says it has killed its entire senior command, including the battalion commander, his deputy, and several company commanders, along with 260 operatives.

⬇️ Top Picks for You ⬇️
Biden Got Recurring $1,380 Payment from Hunter's Firm Starting in 2018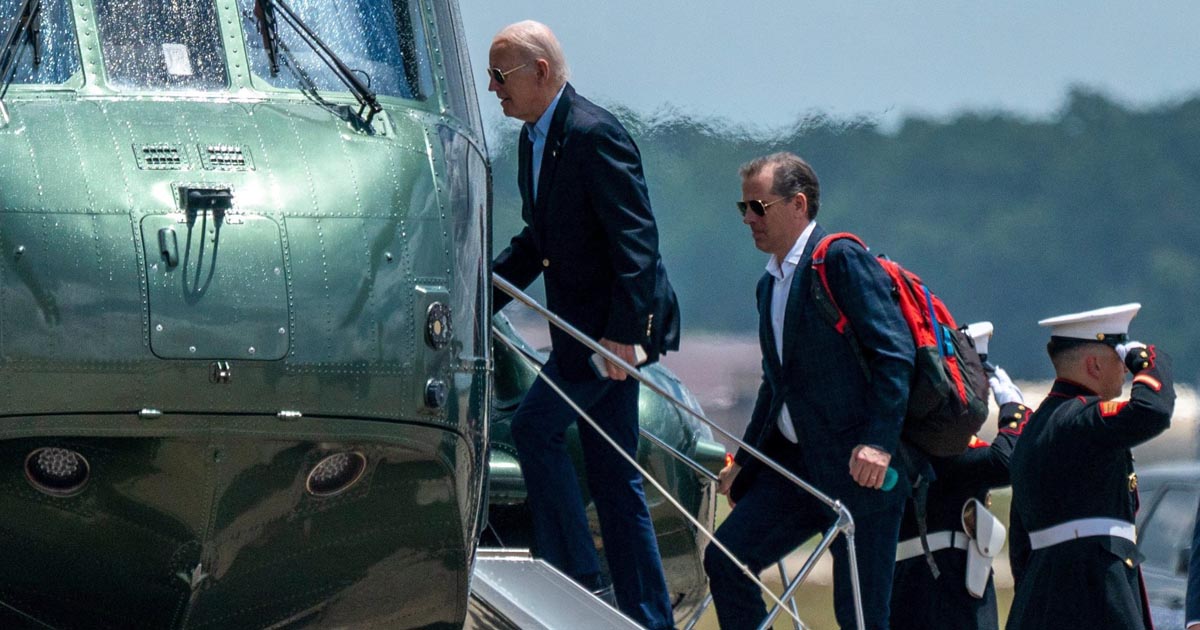 President Biden received a recurring payment of $1,380 from his son Hunter's law firm beginning in late 2018 shortly after a bank money laundering officer warned that the same account was receiving millions of dollars in Chinese government-linked funds without "any services rendered."
A bank order shows that Owasco PC set up a "monthly" transfer to then-former Vice President Joseph R. Biden Jr., with a voided check for the future president included in the documentation, which was released Monday by the House Oversight Committee.
A source told The Post that at least three recurring payments were made — on Sept. 17, Oct. 15 and Nov. 15, 2018 — totaling $4,140 to the elder Biden from Owasco PC, according to the bank records of the firm.
"President Biden and his family must be held accountable for this blatant corruption," Oversight Committee Chairman James Comer (R-Ky.) said in a video release.
"Today, the House Oversight Committee is releasing subpoenaed bank records that show Hunter Biden's business entity, Owasco PC, made direct monthly payments to Joe Biden. This wasn't a payment from Hunter Biden's personal account but an account for his corporation that received payments from China and other shady corners of the world," Comer said.
"At this moment, Hunter Biden is under an investigation by the Department of Justice for using Owasco PC for tax evasion and other serious crimes. And based on whistleblower testimony, we know the Justice Department made a concerted effort to prevent investigators from asking questions about Joe Biden. I wonder why?"
Earlier that year, a January 2019 email from assistant Katie Dodge to Hunter Biden annotated various expenses including "Ford Raptor — Reimbursement to JRB — $1380."
The provenance of the funds is unclear, however, and additional records show that Hunter Biden was knee-deep in two of his most controversial business relationships at the time, with Ukraine's Burisma Holdings and CEFC China Energy.
The evidence emerged as House Republicans prepare to question first brother James Biden on Wednesday and Hunter next week about the president's role in his family's dealings in countries such as China and Ukraine — with a possible floor vote to authorize the ongoing impeachment inquiry this month.
While a presidential candidate, Joe Biden denied that he ever discussed business with his relatives, but evidence has since shown that he met with his relatives' associates from both the Burisma and CEFC ventures.
Documents from the first son's abandoned laptop show that Burisma board adviser Vadym Pozharskyi sought "bank reference" information on Sept. 14, 2018 — one day before the initial transfer to Joe Biden was sought. However, the transaction was not executed for another two days, apparently due to a later-than-expected form submission.
Joe Biden met Pozharskyi at an April 17, 2015, dinner at DC's Café Milano. An unproven FBI informant tip said that Burisma owner Mykola Zlochevsky claimed in 2016 he was "coerced" into paying $10 million in bribes to the Bidens for their assistance in ousting prosecutor Viktor Shokin.
Hunter also was on the tail end of disbursing millions of dollars received from CEFC China Energy — one of two major Biden family dealings with Chinese government-linked firms.
On June 26, 2018 — less than three months before Joe Biden began to receive the monthly transfers — an internal Bank Secrecy Act expert warned colleagues that the institution should reconsider its relationship with Hunter as a result of Owasco PC seeming to receive Chinese funds without "any services rendered."
CEFC transferred $5 million to another Biden family-linked entity, Hudson West III, in August 2017 after Hunter warned a China-based associate of his father's wrath if a business deal was aborted. Much of the large transfer later went to Hunter's Owasco PC.
Prior bank records released by the Oversight Committee indicate that Joe Biden received payments of $40,000 and $200,000 from his brother James, who also was involved in the CEFC venture and other foreign-focused enterprises.
Comer alleged that the $40,000 transferred to Joe Biden's bank account on Sept 3, 2017, was from "laundered" Chinese funds.
James Biden paid Joe Biden $200,000 on March 1, 2018 — the same day that James received a $200,000 transfer from troubled rural hospital company Americore after pledging to use his political connections to secure a Middle Eastern investor, according to bankruptcy filings.
The White House says there's evidence that both transfers were loan repayments, but Republicans argue they have not seen loan agreement documents and note that the funds distributed to James came from a law firm, rather than Joe Biden himself, further clouding the picture.