The Israel Defense Forces said infantry forces and tanks entered the Gaza Strip on Friday in "localized raids" in order to clear the area of potential terrorists and locate missing Israelis in a likely precursor to a full-scale incursion in response to the weekend Hamas onslaught that killed more than 1,300 Israelis.
IDF spokesman Rear Adm. Daniel Hagari said armored and infantry forces carried out searches and "thwarted anti-tank guided missile squads that intended to infiltrate into Israeli territory."
"The forces located findings that may help in the effort to locate the missing," Hagari said. "We will continue to make every effort to find every detail about the missing and hostages," he added.
An estimated 150-200 people were taken hostage by Hamas during its murderous attack last Saturday. The IDF has so far notified the families of 120 hostages that their loved ones are being held in the Gaza Strip.
Later Friday, Hamas published a propaganda video showing its members holding young Israeli children and babies in a kibbutz in southern Israel last weekend, in an apparent attempt to downplay its murderous attack.
The video shows terrorists taking a number of small children and infants out of homes in Kibbutz Holit. One clip shows the terrorists giving a child a glass of water to drink, and another clip shows terrorists rocking a baby in a stroller.
Parents of the children are nowhere to be seen. It is not immediately clear if the children were among those taken hostage into Gaza.
There is clear evidence showing that Palestinian terrorists murdered several young children during its attack last weekend. (US Secretary of State Antony Blinken, in Tel Aviv on Thursday, cataloged some of what he called Hamas's "countless acts of terror in a litany of brutality and inhumanity," specifying, "Babies slaughtered, bodies desecrated, young people burned alive, women raped, parents executed in front of their children, children in front of their parents.")
Address to the nation
Prime Minister Benjamin Netanyahu sparked concern, when he suddenly announced late Friday that he would make a televised address to the nation. No Israeli prime minister has done so on Shabbat, the Jewish Day of Rest, since Prime Minister Yitzhak Rabin did so in 1994 to announce the failed rescue attempt of kidnapped IDF soldier Nachshon Wachsman.
However, it appeared that Netanyahu's address was only intended to boost morale or to allay criticism that he has not been seen with the families of the dead or hostages.
"Today, everyone knows that we're fighting for the homeland, and we're fighting like lions," he said. "We are all united."
"Much more will be told of the heroism of our people in the dark days of deep pain of that cursed Shabbat — stories that will be etched into Israel's identity," he said.
He says he spoke earlier today with more of the families who lost loved ones or whose loved ones are missing. "Their worlds have fallen in," he says. "I know."
"We'll never forget the atrocities that our enemies carried out," he said, "and we'll never forgive. And we'll never let the world, or anyone, forget these atrocities, [of a kind] that were not done to the Jewish people in many decades."
We're hitting "our enemies with unprecedented force," he said, but "I stress: It's only the beginning."
"Our enemies have only just begun to pay the price. I won't detail what will come next. But I'm telling you, it's only the beginning."
Israel is garnering "immense international support," he said. "We are ensuring the continuation of the war, with more ammunition and weaponry coming to Israel."
"We will destroy Hamas, and we will win. It will take time," Netanyahu says, "but we will end this war stronger than ever."
Opposition leader Yair Lapid slammed Netanyahu after the premier's primetime address.
"It is not unacceptable for the prime minister of Israel to send an entire country into a whirlwind of panic while waiting for his statement on Friday night during a time of emergency and then not say anything new either about the families of the abductees, not about the northern front, not about evacuation," Lapid tweeted.
"Such statements must not made by a prime minister unless he has new information to bring to his people and the country," he added.
Leaving Gaza City
The raids into Gaza came as Israel warned civilians in the northern Gaza Strip to evacuate their homes, as it appeared set to intensify its attacks on terrorist targets in the Gaza City region and possibly launch a ground invasion in response to Hamas's deadly onslaught against southern communities.
Hagari said residents of Gaza City have begun to move southward. "The population of Gaza City has started moving south significantly in order to protect itself," he said in a press conference.
Hamas had urged residents to stay.
The group called on Palestinians to "remain steadfast in your homes and to stand firm in the face of this disgusting psychological war waged by the occupation," according to a statement from its authority for refugee affairs.
A statement on the terror group's website called Israel "delusional" for thinking people will flee.
"Scenes of migration and displacement are a thing of the past and won't be repeated, except with the victorious return of our people to our occupied land," the group said.
Amid international criticism of the order, the White House said it was a "tall order," but that the United States understands Israel is trying to give civilians "fair warning."
"We understand what they're trying to do. They're trying to move civilians out of harm's way," National Security Council spokesman John Kirby told CNN.
"Now it's a tall order. It's a million people, and it's very urban, dense environment. It's already a combat zone. So I don't think anybody's underestimating the challenge here of effecting that evacuation."
Panic in Gaza
The IDF's evacuation order for northern Gaza set off a flurry of panic, according to accounts from inside the Strip.
"This is chaos, no one understands what to do," Inas Hamdan, an officer at the UN Palestinian refugee agency in Gaza City, told AP, grabbing whatever she could throw into her bags as the panicked shouts of her relatives could be heard around her. She said all the UN staff in Gaza City and northern Gaza have been told to evacuate south to Rafah.
Nebal Farsakh, a spokesperson for the Palestinian Red Crescent in Gaza City, said there is no way more than one million people could be safely moved that fast.
"Forget about food, forget about electricity, forget about fuel. The only concern now is just if you're going to make it, if you're going to live," Farsakh said, breaking into heaving sobs.
"What will happen to our patients?" she asked. "We have wounded, we have elderly, we have children who are in hospitals." Farsakh said many of the medics were refusing to evacuate hospitals and abandon patients. Instead, she said, they called their colleagues to say goodbye.
Al Jazeera correspondent Safwat al-Kahlout said relatives are trying to figure out where they can even go if they move south.
"More than one million Palestinians are panicking, are confused, and they don't have a plan, and they don't understand what to do. Now my children are asking me, 'Where should we go?' I said, I don't know."
Hagari said Hamas would be responsible for any harm to civilians who do not evacuate from the northern part of the Gaza Strip.
"Hamas is taking advantage of the residents of the Gaza Strip, bringing disaster upon them and calling on the residents of the Gaza Strip at this time as well not to listen to the IDF's recommendations," Hagari said.
"The responsibility for what may happen to those who do not evacuate is on Hamas's head," he said.

⬇️ Top Picks for You ⬇️
Biden Got Recurring $1,380 Payment from Hunter's Firm Starting in 2018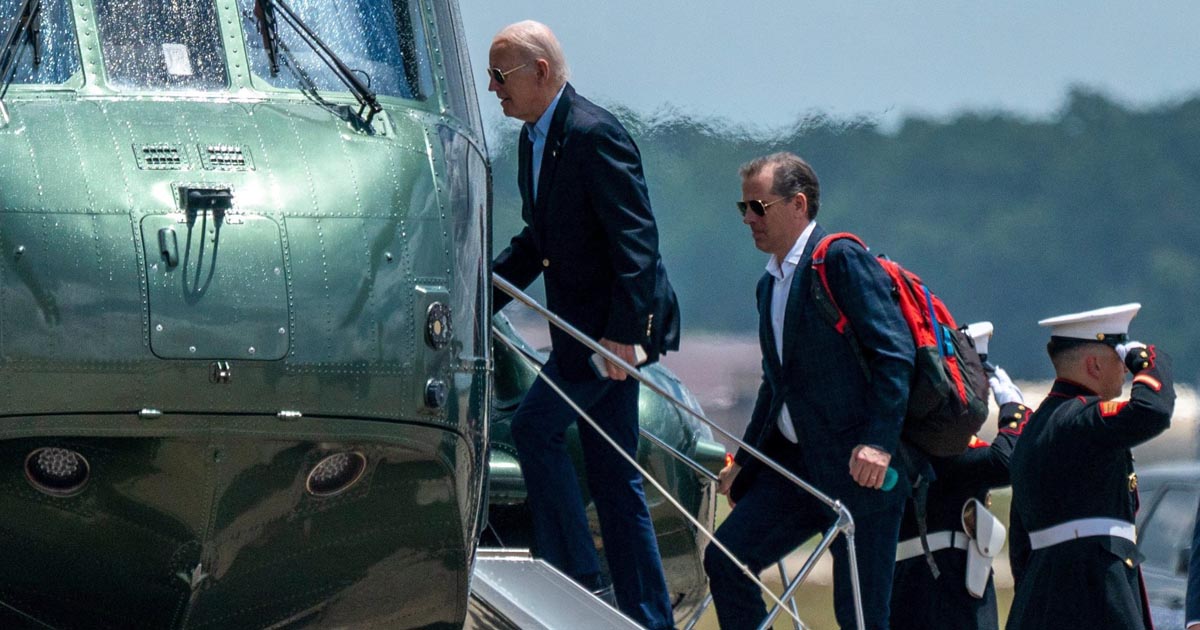 President Biden received a recurring payment of $1,380 from his son Hunter's law firm beginning in late 2018 shortly after a bank money laundering officer warned that the same account was receiving millions of dollars in Chinese government-linked funds without "any services rendered."
A bank order shows that Owasco PC set up a "monthly" transfer to then-former Vice President Joseph R. Biden Jr., with a voided check for the future president included in the documentation, which was released Monday by the House Oversight Committee.
A source told The Post that at least three recurring payments were made — on Sept. 17, Oct. 15 and Nov. 15, 2018 — totaling $4,140 to the elder Biden from Owasco PC, according to the bank records of the firm.
"President Biden and his family must be held accountable for this blatant corruption," Oversight Committee Chairman James Comer (R-Ky.) said in a video release.
"Today, the House Oversight Committee is releasing subpoenaed bank records that show Hunter Biden's business entity, Owasco PC, made direct monthly payments to Joe Biden. This wasn't a payment from Hunter Biden's personal account but an account for his corporation that received payments from China and other shady corners of the world," Comer said.
"At this moment, Hunter Biden is under an investigation by the Department of Justice for using Owasco PC for tax evasion and other serious crimes. And based on whistleblower testimony, we know the Justice Department made a concerted effort to prevent investigators from asking questions about Joe Biden. I wonder why?"
Earlier that year, a January 2019 email from assistant Katie Dodge to Hunter Biden annotated various expenses including "Ford Raptor — Reimbursement to JRB — $1380."
The provenance of the funds is unclear, however, and additional records show that Hunter Biden was knee-deep in two of his most controversial business relationships at the time, with Ukraine's Burisma Holdings and CEFC China Energy.
The evidence emerged as House Republicans prepare to question first brother James Biden on Wednesday and Hunter next week about the president's role in his family's dealings in countries such as China and Ukraine — with a possible floor vote to authorize the ongoing impeachment inquiry this month.
While a presidential candidate, Joe Biden denied that he ever discussed business with his relatives, but evidence has since shown that he met with his relatives' associates from both the Burisma and CEFC ventures.
Documents from the first son's abandoned laptop show that Burisma board adviser Vadym Pozharskyi sought "bank reference" information on Sept. 14, 2018 — one day before the initial transfer to Joe Biden was sought. However, the transaction was not executed for another two days, apparently due to a later-than-expected form submission.
Joe Biden met Pozharskyi at an April 17, 2015, dinner at DC's Café Milano. An unproven FBI informant tip said that Burisma owner Mykola Zlochevsky claimed in 2016 he was "coerced" into paying $10 million in bribes to the Bidens for their assistance in ousting prosecutor Viktor Shokin.
Hunter also was on the tail end of disbursing millions of dollars received from CEFC China Energy — one of two major Biden family dealings with Chinese government-linked firms.
On June 26, 2018 — less than three months before Joe Biden began to receive the monthly transfers — an internal Bank Secrecy Act expert warned colleagues that the institution should reconsider its relationship with Hunter as a result of Owasco PC seeming to receive Chinese funds without "any services rendered."
CEFC transferred $5 million to another Biden family-linked entity, Hudson West III, in August 2017 after Hunter warned a China-based associate of his father's wrath if a business deal was aborted. Much of the large transfer later went to Hunter's Owasco PC.
Prior bank records released by the Oversight Committee indicate that Joe Biden received payments of $40,000 and $200,000 from his brother James, who also was involved in the CEFC venture and other foreign-focused enterprises.
Comer alleged that the $40,000 transferred to Joe Biden's bank account on Sept 3, 2017, was from "laundered" Chinese funds.
James Biden paid Joe Biden $200,000 on March 1, 2018 — the same day that James received a $200,000 transfer from troubled rural hospital company Americore after pledging to use his political connections to secure a Middle Eastern investor, according to bankruptcy filings.
The White House says there's evidence that both transfers were loan repayments, but Republicans argue they have not seen loan agreement documents and note that the funds distributed to James came from a law firm, rather than Joe Biden himself, further clouding the picture.