Maya Kowalski sobbed heavily as a jury decided she had won her $220 million medical malpractice case on Thursday.
A Florida jury found Johns Hopkins All Children's Hospital liable for several offenses in the case, which was featured in the Netflix documentary "Take Care of Maya."
Now, 17, Kowalski gripped a cross and was overcome with emotion as the stunning verdict was announced in a tense St. Petersburg courtroom.
Kowalski's mother had admitted the then-10-year-old girl to the facility in 2015, telling doctors she was suffering from a chronic pain condition that required risky ketamine treatments.
Skeptical about Beata Kowalski's demands — and the severity of Maya's condition — staffers contacted Florida child welfare authorities.
Maya was soon removed from her parents' care and made an involuntary medical ward of the state.
After being barred from seeing Maya for 85 days and facing child abuse allegations, Beata Kowalski took her own life in the garage of the family home.
Contending that the hospital wrongfully committed Maya and cruelly separated her from her mother, the Kowalski family sued the facility for $220 million.
Kowalski and her brother exploded into heaving sobs midway through the reading of the verdict, as the clerk referred to Beata's Kowalski's suicide and the hospital's complicity in her death.
Maya testified at trial she still suffered from the debilitating effects of complex regional pain syndrome, a neurological condition.
The rare ailment can cause intense, widespread pain due to nervous system dysfunction.
She told jurors that hospitals staffers were dismissive of her condition and believed her mother was suffering from Munchausen by Proxy syndrome, where caregivers contrive or exaggerate a child's ailments for attention.
Hospital attorneys argued that staffers took drastic measures because they felt Kowalski's mother was endangering her with the ketamine treatments, which she had originally begun in Mexico.
"The reason why All Children's did what it did, the reason why All Children's tried to comfort Maya, the reason why All Children's tried to get her on a safe medical path is because the loving and caring providers at my clients' hospital believed in a better future for her if they could get her off the unnecessary drugs given at dangerous levels," hospital lawyer Ethen Shapiro said in his closing statement Tuesday
In a draft of a 2015 blog post Beata had composed in her daughter's voice, she had acknowledged the risks, writing how her previous induced ketamine coma in the Mexican clinic could potentially result in "total body failure/death."
Still writing from Maya's perspective, she wrote elsewhere that "if I was a horse I would be comatose or dead already" as a result of the severity of the treatments.
But Kowalski's lawyers cast hospital staff as guilty of being unfeeling and overreaching in separating the young girl from her mother, a measure that ultimately left her without one.
Kowalski cried repeatedly on the stand while recalling her mother's care, telling jurors she felt lonely and abandoned while a ward of the state.
Defense attorneys sought to shoot down Kowalski's claims of ongoing suffering from the disease.
Her lawyers said she was unable to attend several days of court due to pain, leading the hospital's counsel to introduce pictures of her out on the town just days later.
But Kowalski hit back, countering that she was simply attending her graduation in one of the images and was being unfairly smeared.
The jury sided with the teen in totality, finding the renowned hospital guilty of false imprisonment, malpractice and infliction of emotional distress.
The facility is facing tens of millions of dollars in penalties, although it is expected to appeal the verdict.
Attorneys for the hospital ripped the verdict, accusing the court of "clear and prejudicial errors."
"The evidence clearly showed that Johns Hopkins All Children's Hospital followed Florida's mandatory reporting law in reporting suspected child abuse and, when those suspicions were confirmed by the district court, fully complied with Department of Children and Families (DCF) and court orders," lawyer Howard Hunter said in a statement.
"We are determined to defend the vitally important obligation of mandatory reporters to report suspected child abuse and protect the smallest and most vulnerable among us."

⬇️ Top Picks for You ⬇️
Biden Got Recurring $1,380 Payment from Hunter's Firm Starting in 2018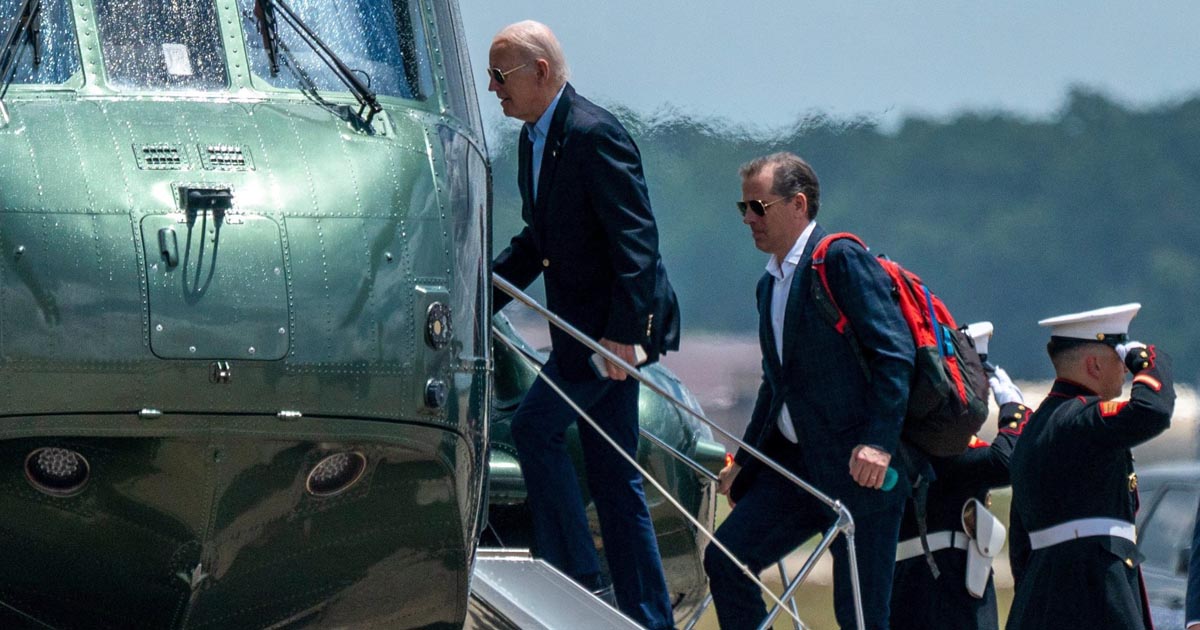 President Biden received a recurring payment of $1,380 from his son Hunter's law firm beginning in late 2018 shortly after a bank money laundering officer warned that the same account was receiving millions of dollars in Chinese government-linked funds without "any services rendered."
A bank order shows that Owasco PC set up a "monthly" transfer to then-former Vice President Joseph R. Biden Jr., with a voided check for the future president included in the documentation, which was released Monday by the House Oversight Committee.
A source told The Post that at least three recurring payments were made — on Sept. 17, Oct. 15 and Nov. 15, 2018 — totaling $4,140 to the elder Biden from Owasco PC, according to the bank records of the firm.
"President Biden and his family must be held accountable for this blatant corruption," Oversight Committee Chairman James Comer (R-Ky.) said in a video release.
"Today, the House Oversight Committee is releasing subpoenaed bank records that show Hunter Biden's business entity, Owasco PC, made direct monthly payments to Joe Biden. This wasn't a payment from Hunter Biden's personal account but an account for his corporation that received payments from China and other shady corners of the world," Comer said.
"At this moment, Hunter Biden is under an investigation by the Department of Justice for using Owasco PC for tax evasion and other serious crimes. And based on whistleblower testimony, we know the Justice Department made a concerted effort to prevent investigators from asking questions about Joe Biden. I wonder why?"
Earlier that year, a January 2019 email from assistant Katie Dodge to Hunter Biden annotated various expenses including "Ford Raptor — Reimbursement to JRB — $1380."
The provenance of the funds is unclear, however, and additional records show that Hunter Biden was knee-deep in two of his most controversial business relationships at the time, with Ukraine's Burisma Holdings and CEFC China Energy.
The evidence emerged as House Republicans prepare to question first brother James Biden on Wednesday and Hunter next week about the president's role in his family's dealings in countries such as China and Ukraine — with a possible floor vote to authorize the ongoing impeachment inquiry this month.
While a presidential candidate, Joe Biden denied that he ever discussed business with his relatives, but evidence has since shown that he met with his relatives' associates from both the Burisma and CEFC ventures.
Documents from the first son's abandoned laptop show that Burisma board adviser Vadym Pozharskyi sought "bank reference" information on Sept. 14, 2018 — one day before the initial transfer to Joe Biden was sought. However, the transaction was not executed for another two days, apparently due to a later-than-expected form submission.
Joe Biden met Pozharskyi at an April 17, 2015, dinner at DC's Café Milano. An unproven FBI informant tip said that Burisma owner Mykola Zlochevsky claimed in 2016 he was "coerced" into paying $10 million in bribes to the Bidens for their assistance in ousting prosecutor Viktor Shokin.
Hunter also was on the tail end of disbursing millions of dollars received from CEFC China Energy — one of two major Biden family dealings with Chinese government-linked firms.
On June 26, 2018 — less than three months before Joe Biden began to receive the monthly transfers — an internal Bank Secrecy Act expert warned colleagues that the institution should reconsider its relationship with Hunter as a result of Owasco PC seeming to receive Chinese funds without "any services rendered."
CEFC transferred $5 million to another Biden family-linked entity, Hudson West III, in August 2017 after Hunter warned a China-based associate of his father's wrath if a business deal was aborted. Much of the large transfer later went to Hunter's Owasco PC.
Prior bank records released by the Oversight Committee indicate that Joe Biden received payments of $40,000 and $200,000 from his brother James, who also was involved in the CEFC venture and other foreign-focused enterprises.
Comer alleged that the $40,000 transferred to Joe Biden's bank account on Sept 3, 2017, was from "laundered" Chinese funds.
James Biden paid Joe Biden $200,000 on March 1, 2018 — the same day that James received a $200,000 transfer from troubled rural hospital company Americore after pledging to use his political connections to secure a Middle Eastern investor, according to bankruptcy filings.
The White House says there's evidence that both transfers were loan repayments, but Republicans argue they have not seen loan agreement documents and note that the funds distributed to James came from a law firm, rather than Joe Biden himself, further clouding the picture.